Oculus Rift S review - Virtual Reality Headset
Since the launch of the Oculus Rift S, I've had the opportunity to put the S through its paces. Throughout this review, I'll make references to the previous-gen Rift and the wireless Oculus Quest for comparison.

Oculus Rift S box contents
Quick set-up guide
The headset (has built-in speakers)
mDP to DP adapter
Headset cable
2 Controllers
2 AA batteries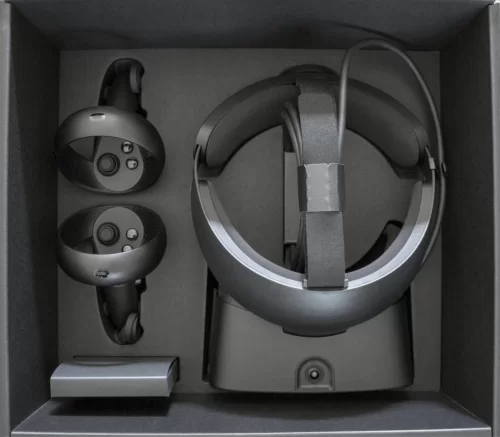 About the Oculus Rift S
Launched in May 2019, the Oculus Rift S is the Rift's successor, shortly followed by the user-friendly, wireless Quest and newer Oculus Quest 2. They are both excellent headsets priced at around £400.
Although the Rift S requires a PC connection, games and experiences are delivered to the headset raw. What I mean by this is that providing you have a half decent computer and GPU (graphics processing unit) you won't be missing out on visual aesthetics latency or experience any jitter (game lagging). This is in contrast to the Oculus Quest, where some games, like Robo Recall, need their graphics simplified in order to deliver a playable experience. So, if you want to play the best VR games and experience the content as intended by the game developers, the Rift S is the right choice. Don't get me wrong, the Quest still has some great games and many look just as good - it's just that I feel you're not getting the full experience.

Visual Display
The Oculus Rifts S display utilises several technologies to achieve excellent visual clarity. The headset comprises of dual 1280 x 1440 LCDs (liquid crystal displays), with a combined resolution of 2560 x 1440px. The Quest's OLED (organic light emitting diode) displays however, boast a slightly higher resolution of 1400 x 1600, with a combined resolution of 2880 x 1600px. So...better resolution makes it sharper and clearer, right? Well, not necessarily! Let's take a look and summarise the differences between the two.
OLED v LCD
OLEDs are the new kids on the display block. Their biggest benefit is that they change state very quickly - as in turning on and off. Because of this, OLEDs have a low persistence which makes the sequence of images stable. So, when using rapid head movement, the images don't ghost or float with you.
In addition, OLEDs offer better colour integrity. As OLEDs make their own light, this means that they can create 'true black' by switching off individual pixels - this technically means that you can get infinite contrast ratios. On the other hand, since LCDs need a backlight, this light will still be visible through switched off pixels. Thus, 'black' on an LCD display is actually closer to a dark grey.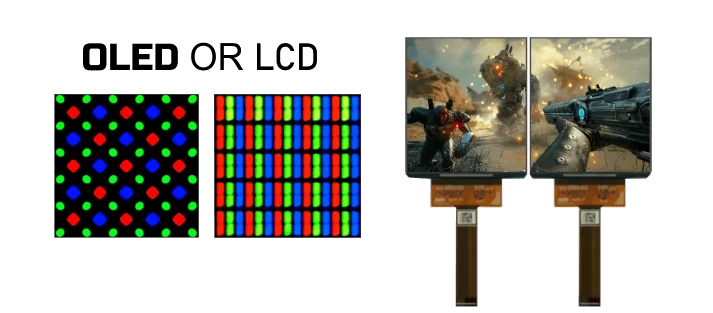 So given that in addition to having deeper blacks, OLEDs also display more vivid colours at a faster refresh rate, do LCDs offer something that OLED displays don't? The answer is a resounding yes! LCDs have a greater pixel density, usually composed of 3 sub-pixels: a red, green, and blue one. This gives them 50% more sub-pixels than OLEDs. This results in greater sharpness for the same rendering cost. In addition, the fill factor of the lenses is three times better than OLED, greatly reducing that "screen door" effect that we all hate.
Next Gen Displays
The next generation of LCDs are quantum dot displays, which offer similar performance as an OLED display. Technology is also advancing rapidly for micro OLED displays. Like everything, it all comes down to cost, but it won't be long before all headset manufacturers settle on a comparable display medium, whatever that may be.
For the future of VR, UHPD or Ultra High Pixel Density displays would be my educated guess - They will be ultra thin and flexible with a much higher pixel density, offering a whopping 3000 PPI and not just within the focused area of your eyes. Latency will be vastly reduced and motion sickness will become a thing of the past. This would be a vast improvement over the Valve Index, as it only has a PPI of 598 PPI per eye, whereas UHPD will have 1500+!
The next step is AR contact lenses. Already in development.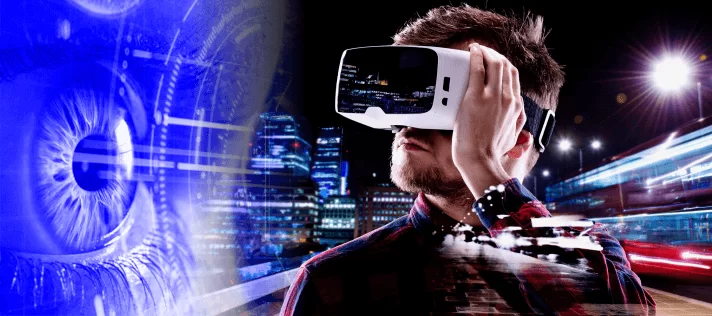 Refresh my Field of View
Whereas the previous Rift had a refresh rate of 90Hz, the Rift S's has dropped to 80Hz, and the Quest delivers just 72Hz. But is the step-down noticeable? I'd say no. With the Quest marketed as a low to mid-range headset, as well as being powered by a mobile processor, it was important that the rate was set at 72Hz for performance reasons and costs. Saying that, the Quest seemed to cope well with the games I tried, but your mileage may vary. Having said that, Oculus (Facebook) have recently launched the Oculus Quest 2. Admittedly the Quest 2 only runs at 72Hz at present, but will run at 90Hz. Not only that, the Oculus Quest 2 comes with a new processor, Qualcomm's XR2. Oculus says the new XR2 processor has 6GB of RAM for improved performance and will offer vast improvements in gaming.
I'm glad that the FOV (field of view) didn't change on the Rift S. As it predecessor, it still remains at 110°, which is the 'norm' whereas the Quest lies slightly lower at 100°.
Sound
Oculus decided to do without mounted headphones and instead integrated the speakers into the strap. Sound-wise this was a step back from the original Rift, but Oculus has made up for it by improving other features.
Both the Oculus Rift S and Quest follow suit when it comes to sound. It does the job, but the audio isn't great by any means. You could use headphones, but it's awkward to fit them over or under the Rift S's "Halo" type head-strap. To top it off, if you wear glasses, it becomes more frustrating and somewhat uncomfortable.
It's far less of a challenge getting better sound on the Quest. Setting headphones aside, simply plug in some earbuds using the 3.5mm jack on the left side of the headset and at least then you'll have some half decent sound.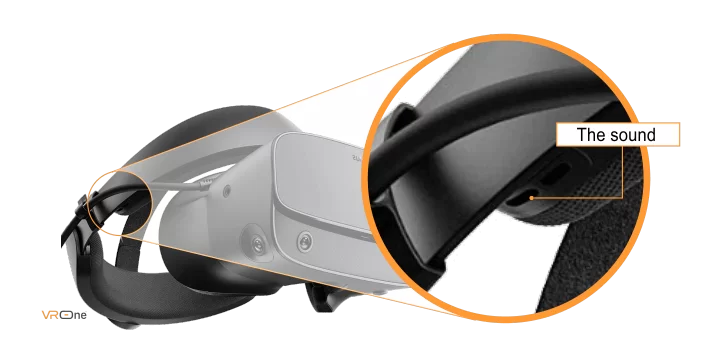 A better fit
Comfort wise, I feel that the Rift S is an overall improvement on the Rift and certainly better than the Quest. The padding is adequate and you'll get a nice snug fit. When setup properly it doesn't move, even during the most intense game play. The Rift S isn't as comfortable as the Valve Index, but I guess at a third of the cost it's obvious to see why.
Tracking
The Rift S headset comes with an insight tracking system, much like the Quest. It uses 5 sensors to provide some pretty impressive tracking. Head, body and hand movements were tracked accurately. We had no issues with disconnects or bothersome tracking hiccups. For the record, we tested with games like Beat Saber, Thrill of the Fight, and the first-person shooter, Gunheart VR.
Base Stations
Oh..Good! There aren't any.
Controllers
No gripe here with the controllers. They take a little getting used to if you originally owned the Oculus Rift. They are lightweight and like the Rift and the Quest all the buttons are perfectly coordinated with your digits.
Games
A small collection of some top AAA games I'd recommend playing are; Stormland, Defector, Arktika.1, Gunheart, Arizona Sunshine, Asgard's Wrath and Zero Caliber, to name a few. Obviously I wouldn't be giving the game Half-Life: Alyx any justice without a mention, as this is by far one of the best VR games ever created to date.

Visit our VR Games section
Conclusion
Personally, The Rift S is my primary VR gaming headset and in my opinion, for the price and what it delivers is the best VR headset. I think the Oculus Quest is next best, mainly thanks to its portability. The Rift S, unlike its predecessor, doesn't require base-station sensors to track you. The resolution is pretty damn good and it's comfortable to wear.
Although there are some minor issues with the Rift S, it's still an improvement on the original Oculus Rift headset. It makes for an exceptional VR experience with fewer cables and far better tracking.
Should you buy the Oculus Rift S?
If you're a true gamer with a fairly decent PC and you only want the best gaming experiences, at a reasonable price, the Oculus Rift S is the headset for you, however, should you want to go a notch up from the Rift S, you may want to consider Hewlett Packard's latest VR headset, the new HP Reverb G2. The G2 is a game changer when it comes to graphics and offers the best picture quality out of any other VR headset currently on the market. The G2's displays consist of 2 full RGB striped matrix LCD panels, delivering a whopping resolution of 2160 x 2160px per eye, providing a combined resolution of 4,320 x 2160px. There's always the Quest 2 if you don't have a computer. But if you only want the best, whatever the cost, then the Vive Cosmos or Valve Index might be your cup of tea.
Best Graphics Cards
The best budget graphics card (GPU) for gaming is the NVIDIA GTX 1660 Super. It can handle most of today's modern games and is an excellent choice for those starting out on VR. For the more demanding games and those more serious about the level of quality and fidelity in regards to playing games and higher resolutions, the best graphics cards is NVIDIA's RTX 3000 Series. RTX graphics cards are built on NVIDIA's latest Ampere architecture. These latest range of GPUs include dedicated hardware for ray-tracing and some other clever features like DLSS (deep learning super sampling) a hardware learning algorithm that essentially cleans up high resolution frames on the fly improving image quality. If you're after a GPU that is capable of handling a little more from games without falling short, then consider the GeForce RTX 3080. The 3080 is an excellent card, more than capable of playing PC games, right up-to 4K resolution and when It comes to VR, you can rest assured knowing that your visuals will be clean and fluid, with no lagging, no matter what game you're playing.
Where to buy
Amazon always seems to have great deals on headsets, so the Rift S can usually be snatched up at a fair price.

What's your view on the Oculus Rift S headset? Share your thoughts with me using the comment box below.
To Summarise