About Defector
From the developers of Wilson's Heart - Twisted Pixel brings you Defector - an action spy adventure shooter. The game is for Single User play only. Defector is compatible with the following VR headsets: Oculus Rift and Rift S. The game is rated for players aged 16+.
Game Languages: English
Game duration: Expect about 4 - 5 hours of gameplayI
I spy
You're an undercover high-class operative with high-risk assignments across the globe. Defector is a game of facing danger while using tactics, technology and advanced weapons to defeat your opposition. Every mission's fate is decided by the choices you make.
If you like the Bourne and James Bond franchises, Defector is a good choice of game, brought to you by Twisted Pixel. You're a secret agent, à la James Bond, and the campaign is based on you and your team stopping an end-of-the-world-style plan. If you've played Blood & Truth on a PlayStation VR this videogame will make you think of that, as you're grilled in interviews and retelling the story to the superiors in "The Agency".
Watch the video trailer
Levels and action
The level you'll have seen advertised is the first one, where you drive a car out the back of a plane and land inside another plane. It's a great introduction to the game, but don't expect the rest of the game to be equally as exciting because it's not. There is another sequence later on, involving the shooting down of a helicopter, but there's not much else that retains the initial sparkle you get from the game's introduction.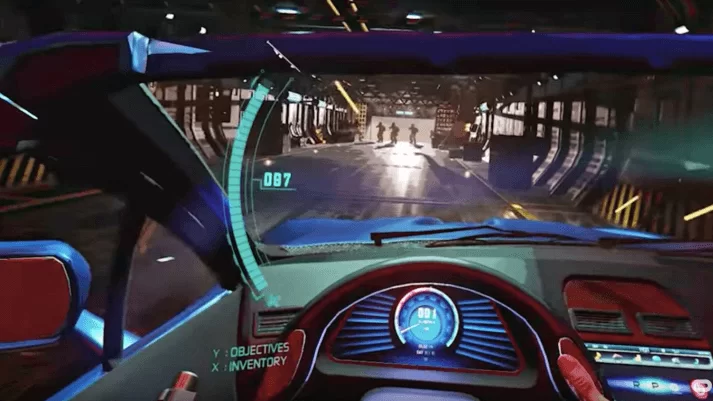 But this isn't to say the game gets boring. There are some great additions to the game; when you go to an Indian market, for example, you can play some gambling games like Black Jack – it's really easy to spend a lot of time there! The first level also has a bodyguard that you can fist fight with, which is quite fun – especially if you pick him up by his collar and throw him into the mirror!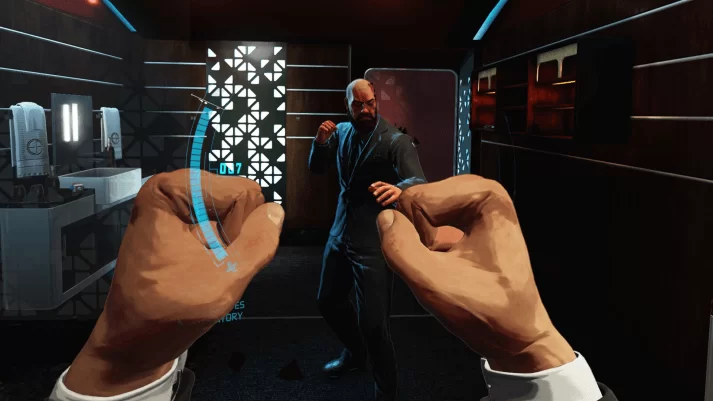 Weapons
There are some interesting weapons in Defector. You have pistols capable of setting your opponents alight and gauntlets that are capable of deploying blades of energy, as well as shooting electrified rounds. There are negatives here too though; your holster does tend to drift and twist around a bit, which puts your ammo in an unnatural position.
Conversations and movement
Defector's narrative and conversations are definitely a positive. The dialogues that you have are two-way for the most part and are linear. You can choose up to four responses, one of which was usually correct. For some characters, getting the wrong answer can lead to death - typical for a spy character - so you need to keep your wits about you and look out for clues. On the downside, movement is locked when you're talking so it can feel a bit restrictive for the type of game you're in.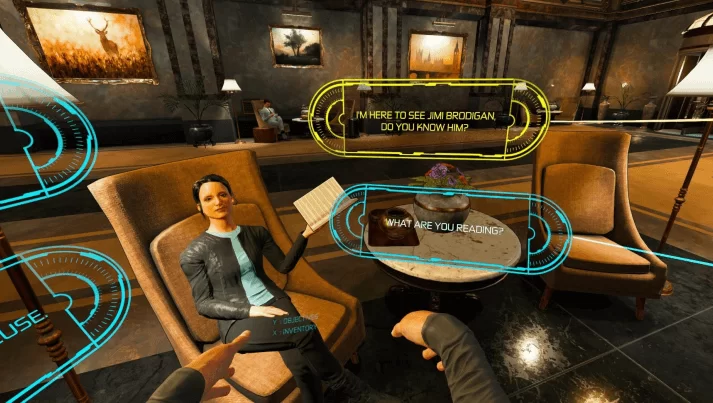 The game's movement can be tweaked about. You can adjust the settings to add snap turns or vignettes, for example.
Campaign length and replayability
Defector was pretty heavily advertised as a big release, which made it disappointing that a single run through only took around four hours. The game only has 5 levels but there are a few replay elements for extra entertainment. Four of the five levels have a story branch that is specific and outcomes are altered with specific actions. You can unlock things like character models, development art and even a cheat list, reminiscent of games in times gone by.
The game has a quick-start mode meaning that you can choose when you start in a level, which is nice for replaying the game.
Final thoughts
Overall, Defector has its positives and its negatives. There are great ideas in the game and the production values are high-class. It would have been nice to have more variety in gameplay i.e. typical 'spy' activities like being able to rappel down a ravine or jump out of a window. This isn't a Blood & Truth for the Oculus Rift S sadly, but it's an enjoyable game all the same.
What was your experience playing Defector? Do you have any game tips we should know about? Hey! Why not just share your thoughts with me using the comment box below.