About Stormland VR
Stormland: The World Above is a single player SiFi exploration adventure, developed by Insomniac Games exclusively for the Oculus Rift and Rift S virtual reality headsets - Sadly, this game is not native to the Oculus Quest unless you have the Oculus Link Cable.
Age Rating: 12+ (IARC - PEGI)
Game Languages: English
Game Length: Expect approximately 5 - 20 hours of gameplay
Download Size: 15.29 GB (disc space required)
Synopsis
Stormland VR is a game developed by Insomniac Games, specifically designed for the Oculus Rift and Rift S.
Although Stormland has taken years to develop, you'll quickly see why. Insomniac Games have put an immense effort into creating this stunning VR masterpiece. It's everything you could expect from a game, and more! Without a doubt, Stormland VR definitely sits comfortably at the top of the gaming charts and is on-par with some of the top rated VR games out there. To be frank, we feel it'll be some time before other game developers come even close to matching a game of this caliber. PlayStation owners... ditch your console, get a Rift and buy Stormland...Now!
Stormland VR is an amazingly polished, sci-fi action adventure - accompanied throughout by a detailed story from start to finish. You'll discover a vast, almost open-world gameplay experience, that is both beautifully crafted, as well as truly immersive - so much so, it leaves us astounded each time we play it.
Game Play Options
There's no right or wrong way to play Stormland VR. There's the single player campaign for those who want to play the game their way. But for the more adventurous, play the campaign in co-op. It's so much fun playing with a buddy. We like to scout out enemy locations and make our plan of attack before engaging in combat.
As an aside, if you own the new Rift S headset, or the Oculus Quest 2, via the link cable, we recommend using good quality headphones as opposed the integrated ones.
The beginning
You start the game as a humanoid robot gardener, Vespa, located on an exotic planet somewhere in a far distant galaxy. Here, humans and androids used to live in perfect harmony. Decades later you reboot to find yourself all alone, apart from occasional flashbacks of your distant past.
The once tranquil planet has been transformed by the Tempest, who once attacked your civilisation. Now, it has created a settlement in the sky, Stormland. Although you don't know this at the beginning of the game, it becomes apparent later on as the story unfolds.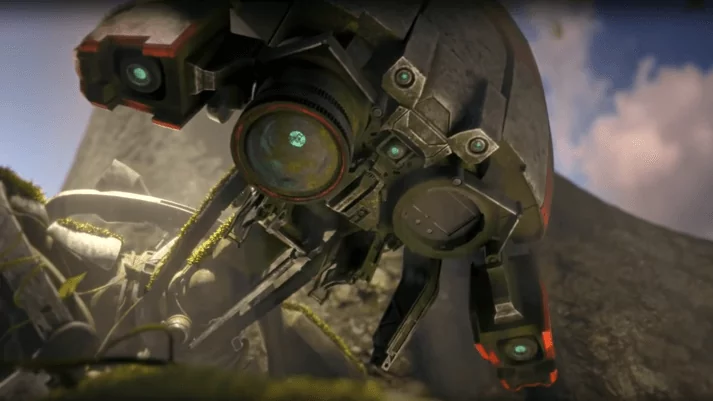 You start off with amnesia but as you explore the world, your energy, damaged limbs and brain processor are gradually restored, revealing past memories from before the attack. These visions help you better understand what you have to do to restore your broken body to continue your quest. These visions are an integral part of the game as they serve as a kind of tutorial for you. You quickly learn how to use your controllers (hands) and move around.
Getting around
In Stormland VR you have the freedom to move almost anywhere you like. You not only have the ability to walk and run, you can also climb - once you've attached the Grapple plates that is! Climb by simply moving your arms up in the air; making grabbing motions whilst squeezing the Oculus Touch grip controls.
The actions are intuitive and very easy to get used to. Hoist yourself up cliffs and climb various man-made structures, such as the tower beacons. These are ideal for scoping out the general area before gliding down to a specific spot or area of interest. You may suffer from a little vertigo if you're not accustomed to flying in VR, it may even make you feel a little nauseous...However, the sheer excitement of playing Stormland will make you loathe to stop gameplay - even if you're projectile vomiting.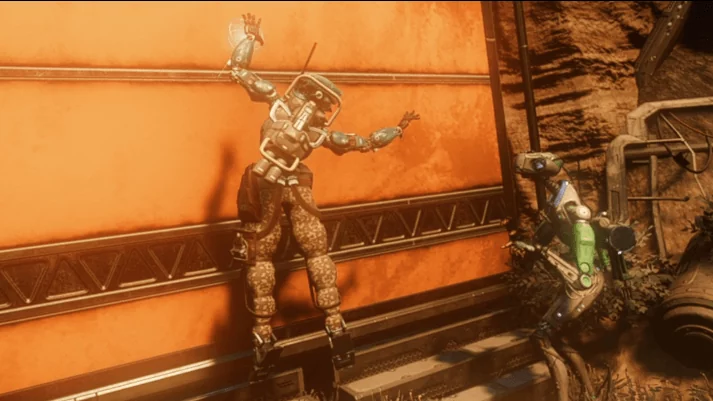 In the main open world map there is a group of islands separated by clouds. To get to each of these islands, you have the ability to fly. Flying is cleverly achieved by holding the grips on your controllers and extending your arms, and woosh you're off - raise them higher and reach super speed! Oh, don't forget the arm 'Slipstream Thruster' located at the workbench or you won't be flying anywhere.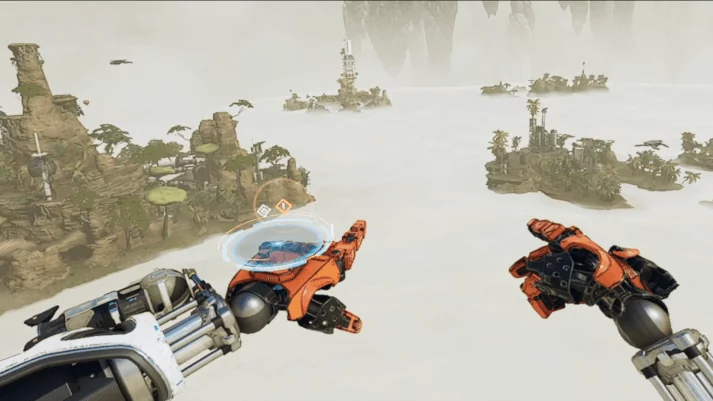 Current and new objectives are accessed by raising and rotating your inferior hand so your palm faces upwards. This action brings up the palm menu which shows you a summary of what to do next and the occasional tip. Looking at the back of your hand brings up the wrist compass. This is essentially a small holographic map, indicating where to go next and other points of interest.
Throughout the game you'll encounter many static, hand-activated Transport bays, crafting bays, workbenches and other interactive hi-tech equipment. These are all there to assist you on your quest. Important upgrades, such as arm and body upgrades, weapons and health are a necessity.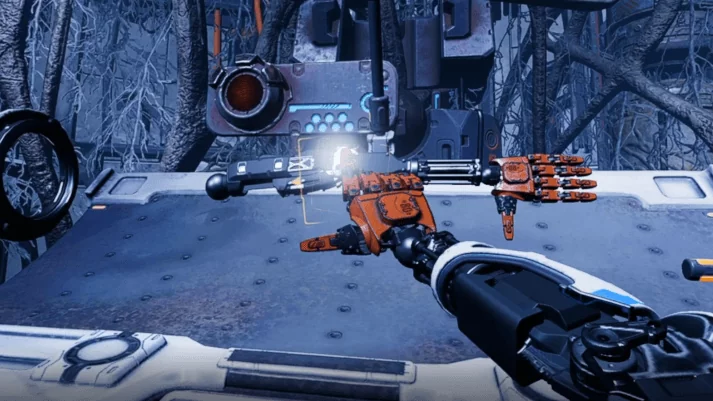 Weapons and enemies
Your basic, standard weapon is the hand laser, which you construct at a crafting station early on in the game.
And in case you're wondering, yes! There's a various array of guns available to you, not to mention grenades for maximum carnage. The guns are powerful, snazzy, little shooters, capable of destroying almost anything. In fact, nearly everything in the game appears to be destructive in some way or another.
An important upgrade to accompany your weapons is the shield arm, which is used on your inferior arm to protect you when under fire. Generally all upgrades are built by removing your non-dominant arm at a workbench and leaving the cleverly automated construction bench to do it's stuff, then snapping your arm back in place.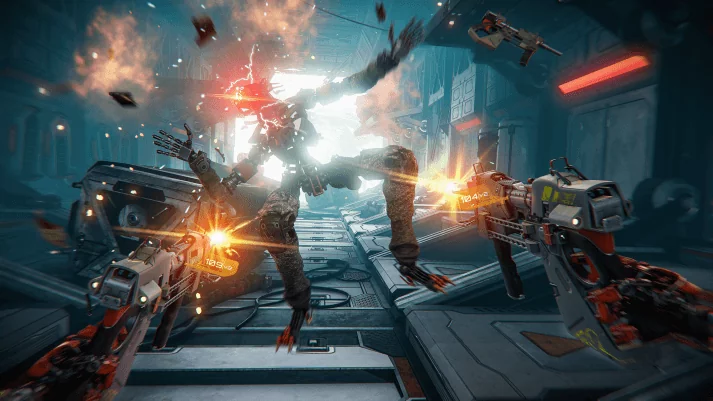 The first enemies you're likely to encounter are hovering attack droids. A capsule containing the enemy droids are dropped at various locations via spacecraft. The capsule then releases the droids to scan and hunt you down. The other enemies are humanoid robots. These are very similar to you in construction and possess similar firepower. Once you've blasted them away, you can search their remains for weapons and gather any other resources left behind.
Gathering resources
To maintain your robotic avatar you'll need biotic energy - your health, essentially. Biotic energy comes in the form of various fruits. Grab these tasty morsels and consume them by crushing with your hand. Dismantle any energy canisters to recharge yourself, collect various metals, such as aluminium and gold, by shooting at them. These elements are used for upgrades throughout the game. You can even dismantle guns and various canisters for additional resources, should you already have them.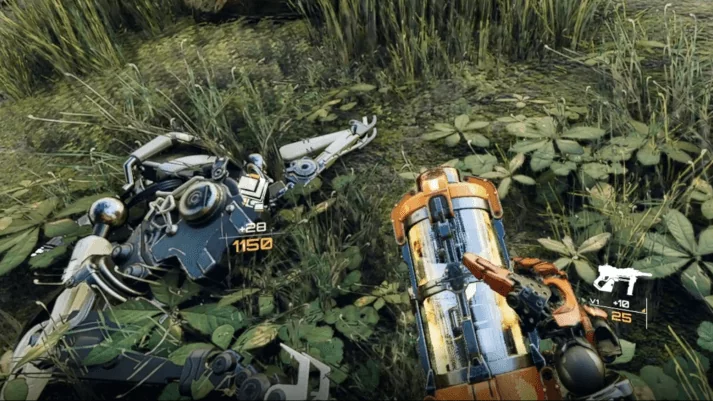 ---
Verdict
Stormland VR without a doubt is a AAA game. In some areas we noticed the game seemed to have somewhat of a Portal look and feel to it. Anyway! Everyone here at VROne had a blast on Stormland, quite literally! We did a stint on single and co-op play and both were equally fun. Many agreed, it was one of the best VR games they've ever played!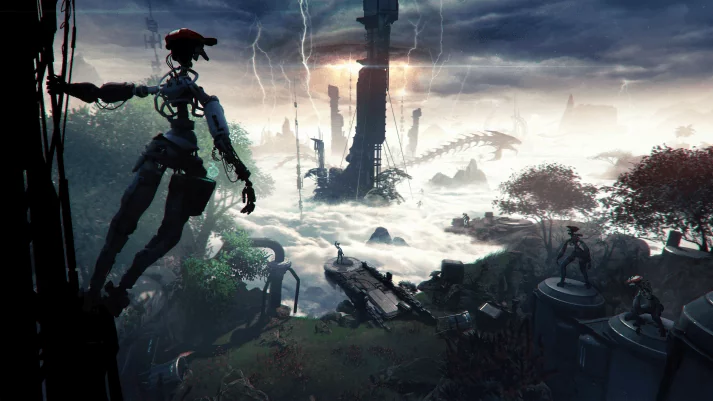 Overall, we simply loved the concept and thought that the entire storyline was very well executed. The interaction with the characters, environments and unique experiences makes Stormland VR truly heaven sent. Insomniac Games, we take our hat off to you. "Please sir, can we have some more!"
Your opinions count
Let us know what you think about the game Stormland: The World Above in the comments section below...