About Lone Echo
Lone Echo. A single player sci-fi adventure, developed by Ready At Dawn for the Oculus Rift and Rift S - fully supporting the Oculus Touch controllers. The game is rated for players aged 12+.
Game Languages: Chinese (China), English, French (France), German, Japanese, Korean, Spanish (Mexico).
Game duration: Expect about 5 - 6 hours of gameplay.
Storage Space Required: 17.11 GB
Synopsis
Inspired by the movements of astronauts on the International Space Station, Lone Echo is acclaimed developer Ready At Dawn's first foray into the world of VR. You play as Jack, an android aboard a mining ship orbiting Saturn. Moments into the game, something collides with the ship, taking out some vital equipment. As you investigate alongside Captain Olivia, the only other crew member, the plot will take a mind-boggling turn as the very boundaries of time start to blur.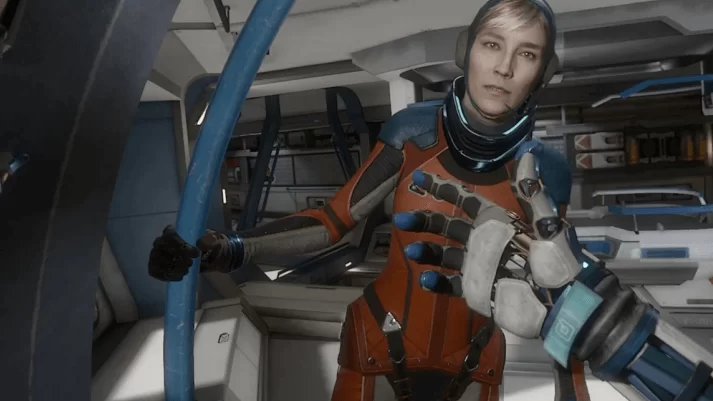 Zero-Gravity in VR
What made Lone Echo really stand out to me was its unique movement mechanics. Inspired by the movements of real-life astronauts, Ready at Dawn decided to give players a taste of life on board a spaceship. To get around, you need to pull yourself along through zero-gravity: clutching onto handholds and conveniently placed detritus. As you can imagine, this is a little slower than normal movement, which lends itself well to building up tension in the more dramatic sequences.

Total Immersion
I think the beauty of Lone Echo is best understood by comparing it to titles like Beat Saber, that are almost self-consciously VR. In contrast, Lone Echo managed to completely immerse me in this far-flung world. Everything from the relaxed banter between me and Captain Olivia, to the little details like tapping the side of my head to activate my flashlight helped me to lose myself in the game.
Watch the Lone Echo video trailer
---
Watch and interact to the sequel: Lone Echo 2 - 360 degree video experience
Lone Echo 2 - 360 Experience
The graphics perfectly capture the quiet beauty of outer space and surprisingly, still hold up a few years after release. I reckon that fans of the Mass Effect series or Kim Stanley Robinson's novels will appreciate getting visuals not just of the planets, but the actual spacecraft. Personally, I've always loved how sci-fi conjures up new technology, so getting a closer look at the spaceship as I pottered around doing my repairs was a huge bonus for me.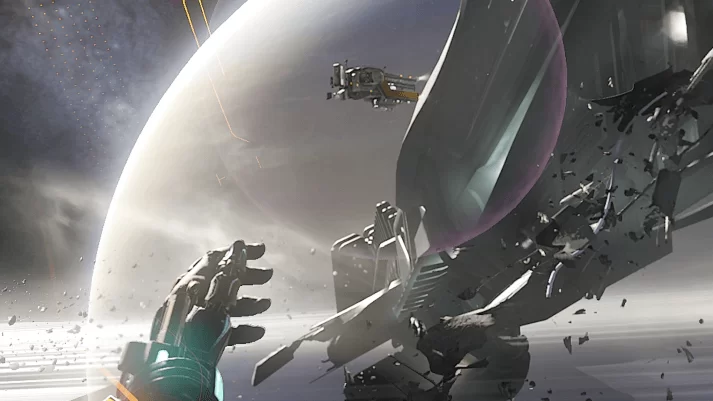 A Few Nitpicks
All of that being said, I did find the checkpoint system confusing. There's no way to manually save - which normally wouldn't be an issue. Unfortunately, the game doesn't flag cleared checkpoints either. Thanks to this, I did occasionally find that once I'd loaded my game, I'd lost the majority of my last session's progress. Luckily this isn't as large of an issue as it might have been, given the game's length, but it was still frustrating.
In terms of combat, I'd also have appreciated being given more of a learning curve, rather than being dropped into the deep end straight away. Jack has very limited health, which tends to turn what could have been a more exciting shoot-out into a struggle to just avoid getting hit.
Pros
Great writing, particularly in interactions between the characters
Realistic zero-gravity movement and animation
Beautiful graphics
Intuitive controls
Cons
Unclear checkpoint system
Tricky combat with minimal HP
Our Verdict
Despite these quibbles, I wouldn't hesitate to recommend Lone Echo to anyone, sci-fi fan or not. I think this title represents a clear path for the future for VR as a competitor to conventional gaming. Frankly, gamers won't relax their death grips on their PS4 controllers for anything less than stellar storytelling that takes immersion to new heights.
Want to buy it?
If you're considering buying Lone Echo, wondering what the game is all about and whether you'll like it, why not play the sequel 'Lone Echo 2: Trailer Experience' before you shell-out your hard-earned cash. It's available as a free download from the Oculus store. The trailer experience offers a glimpse into the highly anticipated sequel Lone Echo 2. The only major difference between Lone Echo and Lone Echo 2 is that in Lone Echo 2 there are enemies which the player has to avoid and distract. The launch of Lone Echo 2 was expected in March 2020, but has been delayed as many of the key game developers are having to work from home due to the Coronavirus.
Why not follow this review or subscribe to VROne.co.uk and we'll keep you updated.
Watch Lone Echo 2 trailer
---
How did you find Lone Echo? Share your opinions with the rest of the gang in the comment box below.