Genre and headset compatibility
Arizona Sunshine is an action horror, first person shooter game developed by Vertigo Games. Available on the Oculus Rift, Rift S, Quest, Quest 2, Quest 3, Meta Quest Pro, HTC Vive, Valve Index, Windows Mixed Reality and PlayStation VR headsets. The game fully supports handheld VR controllers. The game is rated for players aged 18+.
Game Modes: Co-op, Multiplayer, Single User
Supported Languages: Chinese (China), English, French (France), German, Italian, Japanese, Korean, Russian, Spanish (Spain)
Game length: Expect about 3-5 hours of gameplay.
Download Size: 25.91 GB (disc space required)
Synopsis
Arizona Sunshine is a VR zombie game set in the desert of southwestern America. Your objective is to survive the zombie hordes, and make it to the safe haven.
At the start of the game, you find yourself beaten down by the searing heat of the Arizona desert, little more than a backpacking hobo. You must find sanctuary, guided by the occasional radio transmission. You not only have to survive the desert's grueling conditions, you need to scavenge weapons to protect yourself from waves of zombies. You'll have to navigate these salivating hordes in your desperate search for human contact.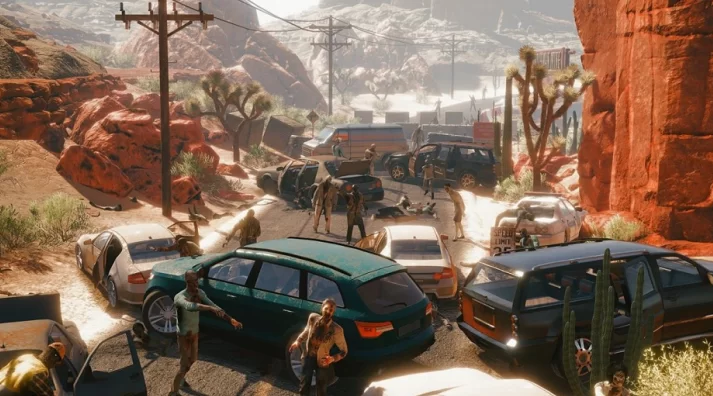 Exclusive VR Zombie Shooter
This VR-only title offers a fairly decent storyline that you can play solo, or co-op style with a buddy. Arizona Sunshine's online horde mode lets you launch a large-scale offensive with up to four players. Moving around is a doddle thanks to the standard VR teleportation feature, which is great if you're prone to VR sickness.
Arizona Sunshine requires a good amount of standing room. I played in an area around 4' x 5', which gave me plenty of space to move around. Fortunately, you don't need much more than that, since the game uses point-to-point teleportation.
The expansive map design gives you loads of freedom to move around and explore your virtual environment, but you'll find that it's more of a point A to point B affair than a open-world experience.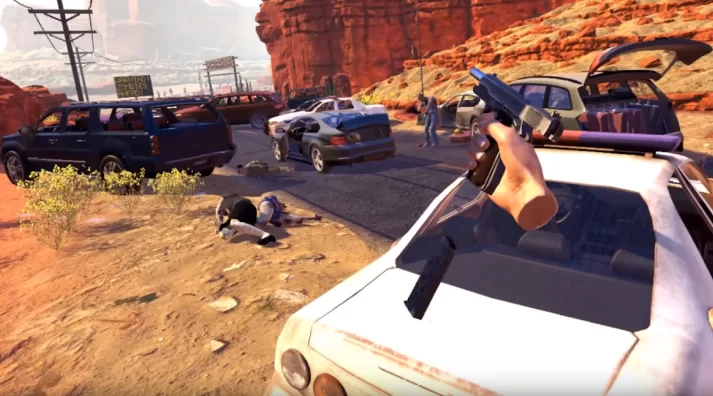 There's a great variety to the level design. One minute you'll find yourself weaving in and out of abandoned cars blasting zombies to kingdom come, the next you're deep underground with only a torch to guide you.
Watch the video trailer
Zombie head popping candy
Although fun to play, especially with a friend, the game is pretty much a mid-range Zombie shooter where you get to shoot rather slow-paced zombies, similar to those in The Walking Dead. Occasionally you'll get a zombie that charges at you, but nothing more exciting than that. You'll also see the odd one wearing a crash helmet or body armour, but they're easily taken down. Although this sounds repetitive, the shooting is so much fun that it makes for a really enjoyable experience. The zombies are easy enough to pick off, with a single headshot usually doing the job. It's like shooting a real gun: you raise your arm, close one eye, line up your shot, and pull the trigger with the satisfying pop of a perfect headshot. There's also the odd puzzle to solve, cunningly worked in to add to your immersion.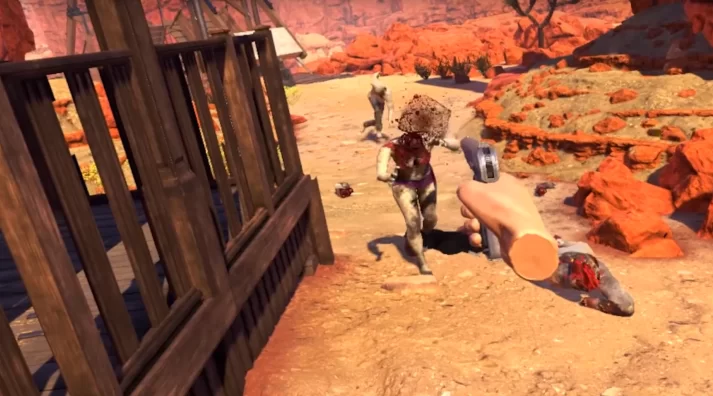 You'll find a variety of weapons in the game: machine guns, rifles, a shotgun and my favourites, the revolver and magnum. Boom! Instant kill. As you can only holster two guns, at some point you'll have to drop a weapon in order to pick up a new one. In other scenarios, like when you pick up a torch, you'll also have to sacrifice one of your guns. You'll run out of ammo really fast, so be precise and use your bullets sparingly. It took awhile to get used to reloading the weapons, especially if you're used to playing games with totally different loading mechanics. In Arizona Sunshine, to reload you need to eject your magazine or empty the bullet shells by pressing a button on the controller, then lower the weapon down to your waist to reload it. That said, once mastered it becomes natural, just like riding a bike.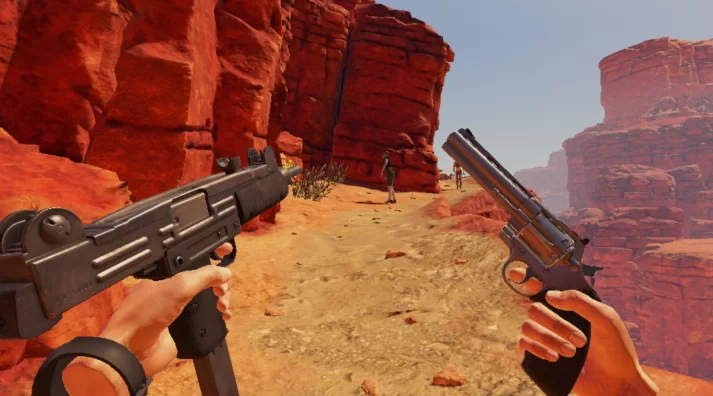 Ammo is scattered throughout the game so be sure to explore your environment carefully. You'll find ammo clips and grenades on the seats and in the boots of cars. In buildings, look for ammo in cabinets and drawers. If you're like me, and get constantly get frustrated when running out of ammo, play the campaign on easy. There seems to be much more ammo lying about and the overall gameplay is much easier.
Recharging your health: Your health level is shown on your virtual watch. Chomp on burgers or chocolate to replenish your health. These rejuvenating yet slightly bizarre desert snacks are most common in houses, often in the kitchen fridge. There's a fair number of buildings scattered throughout the game, so a health boost is always nearby.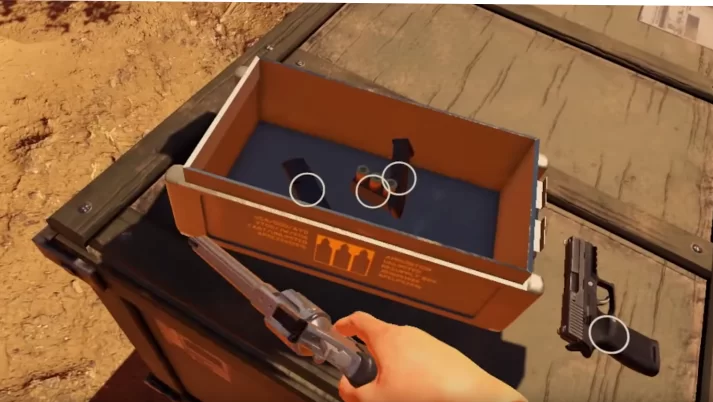 Verdict
The negatives
Throwing objects like grenades was really difficult. I found it hard to throw them more than several feet, which often resulting in blowing myself up. After a little experimentation, I eventually managed to lob a few good ones. Unfortunately, getting a perfect shot when I desperately needed one often ended in disaster. I finally resorted to underarm throws which at least sent the grenades a little further. In the end, I found the throwing mechanics so clunky that I often avoided grenades altogether, unlike the throwing mechanics in the game Half-Life: Alyx, which works perfectly well.
I had a blast playing in horde mode, but it became fairly boring after a while. Great if you need target practice, but not if you're after something more challenging.
There isn't a large variety of zombie models, but admittedly this is a minor criticism.
The positives
Arizona Sunshine is a barrel of fun if you have a good enough PC to run it and a decent VR setup - preferably the Oculus Rift S for a game of this caliber. There's hours of gameplay and plenty of replayability, especially if you play in co-op. The sniper rifle was a nice touch and was pretty good fun, although a little tricky to master.
The physics and map design of Arizona Sunshine is near-perfectly crafted. I experienced the odd glitch here and there with an occasional crash, but nothing to write home about. Overall the game is arguably one of the best zombie VR games I've played. If you like zombie shooter games, then you'll love this.
There's more!
If you like Arizona Sunshine, the developers, Vertigo Games, have released two expansion packs: The Damned DLC for £4.99 and Deadman DLC, at just £2.09. Both give you approximately three hours of extra gameplay. You'll need to purchase them first via Steam and install them within the game.
Download The Damned DLC and Deadman DLC from Steam



For those who like Arizona Sunshine, you'll probably be happy to know that Vertigo Games are launching a new Zombie Shooter 'After the Fall' in the next month or so. The game follows a similar premise, in that it's an apocalyptic zombie shooter, only rather than being set in the burning Arizona desert, you're stuck in an ice-age.
Performance Issues
Playing Arizona Sunshine on the Oculus Rift was a little frustrating, as tracking quickly became an issue. When using just two sensors, the game constantly broke immersion as it struggled to spot me. When I upped the sensor count to three and did a little tinkering, I found the sweet spot. In contrast, the Rift S worked wonders and I had no issues whatsoever.
Arizona Sunshine is pretty GPU intensive. Even with the game running on a Nvidia 1080, it did struggle a little to the point where I had to tweak a few things down to get the frame rate steady.
PlayStation VR owners; From what we've heard and seen, the user experience on the PlayStation 4 isn't that great. So be wary before you splash out with your hard earned cash. Shame really because it's a great game.
Pros
Shooting mechanics are really good
Optional co-op in full campaign mode
Play with up to four players in horde mode
Great gun mechanics
Scenery and level design keep you on your toes
Cons
Suffers from a lack of depth when playing in horde mode
Limited checkpoints
Occasional crashes and glitches
Clunky throwing mechanics
Lack of ammo


Did you know, Arizona Sunshine is listed in our review: Best Oculus Quest Games.
What were your experiences playing Arizona Sunshine? Share your thoughts and opinions with me using the comment box below.
P.S: Vertigo Games are about to launch Arizona Sunshine 2 in late 2023.