Synopsis
VR Awards Game of the Year 2019. A Fisherman's Tale is a narrative puzzle adventure game published by Vertigo Games. The game is available on the Oculus Quest, Rift and Rift S. A Fisherman's Tale fully supports handheld VR controllers. The game is ideal for kids, but equally enjoyable for any age from 7+
Age Rating: 7+ (IARC - PEGI)
Game Languages: English, Chinese (China), French (France), German
Game Length: Expect about 45 - 50 minutes of gameplay.
Download Size: 2.71 GB (disc space required)
A Fisherman's Tale
Bored? A Fisherman's Tale will certainly cheer you up! The game is a narrative driven adventure game - ideal for those who have an hour to spare, like a little fun, and love whacky puzzles.
Strange, but fun!
A Fisherman's Tale is certainly a strange type of game - to the point that you think you may have smoked something you shouldn't. It's hard to explain, all I can say is, it's probably quite different to anything you've ever played before. You play as a fisherman's puppet (hee hee! See what I mean!), whose aim is to light up the lighthouse you live in. A big storm is brewing and as the lighthouse keeper it's your duty to warn sea-bearing vessels of the impending danger.
A Fisherman's Tale is a single player game in which you explore and interact with your surroundings, to find items and complete puzzles in order to progress in the game.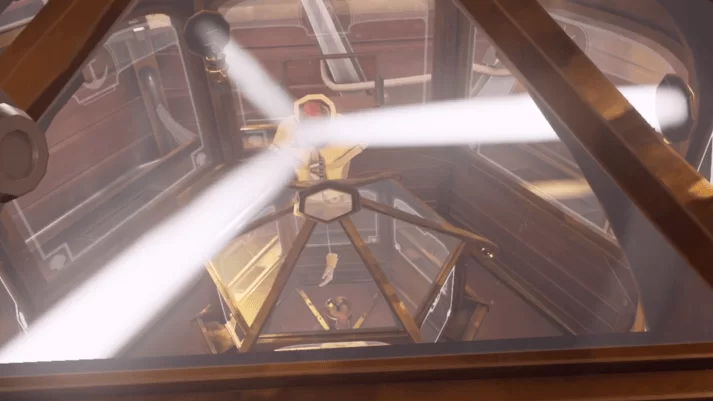 Gameplay
What makes this game special, and a little mind-bending, is the way in which you solve puzzles. Almost all of your actions are mimicked by both a small and a giant version of yourself, at the same time. The Fisherman character – you - has built a perfect replica of the lighthouse and lean-to outhouse in which he lives, only in miniature form, a doll's house essentially, where every item on the inside is a perfectly scaled-down model of every item within the lighthouse. In a nutshell, it is a cloned version of your home. Before you ask, no, I'm not smoking weed… The puzzles are real mind-benders. I mean, you really need to think outside the box and be a little creative. It's quite literally an adventure turned inside out and upside down. The game certainly breaks some new boundaries when it comes to VR, I'm sure.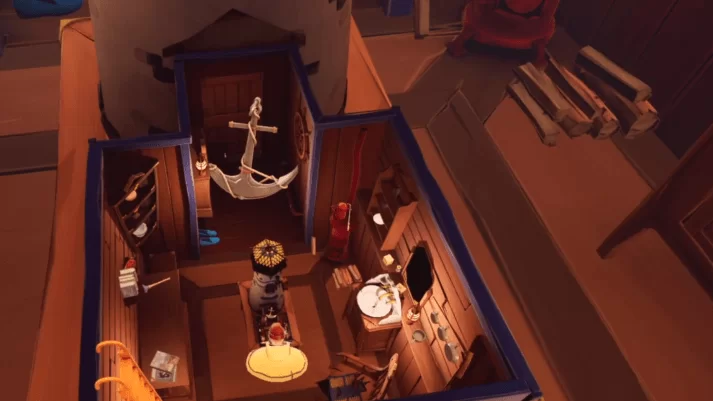 The game starts off, as with most games, with a typical introduction from the narrator to kick-off the story, which I must say is very well narrated throughout. After the narrator has given you the general blurb, who you are and why you're there, it's not long before he's subtly introducing you to a few mundane tasks, such as brushing your teeth and opening the window shutters. Not long after that you're injected into some of the more challenging puzzle solving.
The first things you get to grips with are the controllers. The controls are pretty intuitive and really easy to get used to, especially once you've mastered the reach and grab function, which extends your hands by a few feet at the press of a button and retracts your hand by pressing again. This handy function saves you bending down or physically reaching out to pick up objects.
A Fisherman's Tale - game trailer
Many of the puzzles involve combining objects to complete a specific task. Some puzzles can be solved within the environment you're in, but not all the time! The clever thing about this game is remembering that you co-exist in two different worlds at the same time… right! Let me put that out! For example, an item may appear to be the correct object to solve a puzzle when you're within your real surroundings, but may be too big. At this point you reach into your miniature world (dolls house), picking up the same object but in a smaller size, using it to complete the puzzle.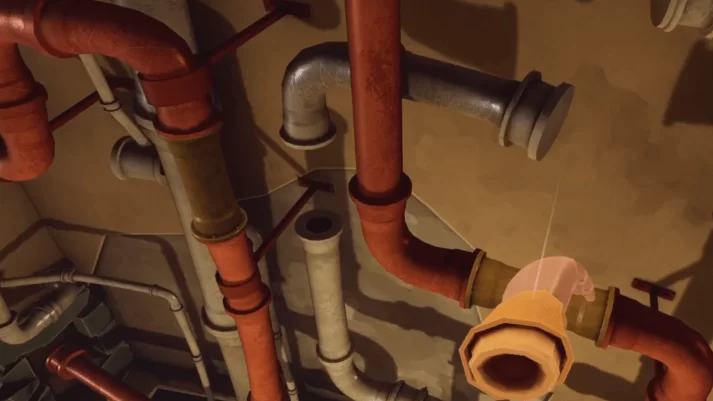 Using your hand to reach into the dolls house can be a little cumbersome at times as your hand is almost the size of the entire room. You'll also have to keep an eye on where your hands are when solving the more intricate puzzles. This is because you often reach across the boundaries of the large and small environment at the same time, and as you do so you'll see your own hand appear in the same room - Creepy! It can get a little confusing and frustrating at times, but you do get used to it. It's cleverly done and great fun.
Most of the puzzles are fairly easy but there were a few that left me pondering. The narrator gives you plenty of clues throughout, so you should never really get stuck. Moving around is simple enough. The game uses the common 'point and click' teleport function and works as expected. You shouldn't experience any motion sickness with this game, as you hardly move around much, because the rooms are quite small and you're often just standing there contemplating how to solve puzzles.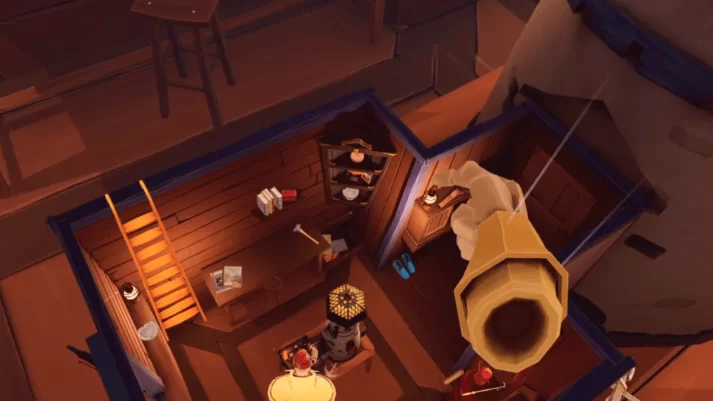 You may experience a couple of issues when colliding with some of the animated characters, such as the fish swimming through your head, but apart from that the game mechanics and most of everything else works exactly as intended.
Game Experience
A Fisherman's Tale keeps you interested not only due to the puzzle-solving, but also its quintessential charm in the gameplay. It has a visual style that, although simple, works really well. The narration and voice are that of a chirpy Frenchman who you can quite literally hear smiling throughout. Although French, it's just a mild accent, so you won't have any difficulty understanding his instructions, they're very clear and concise throughout and suit the game's style very well. It adds to the experience, I mean, who better than a Frenchman when playing a game that has anything to do with the sea.
The game also offers the odd amusing aspects thanks to a few characters that you will come across. The narrator continues his highbrow delivery without becoming annoying, which is refreshing in a game of this calibre. He also helps you out, which is nice, giving hints or repeating things if he thinks a puzzle is taking you a little bit too long. If this annoys you then you can turn it off from within the settings menu. The game will obviously become a little more challenging, but to be perfectly honest it's not that difficult anyway.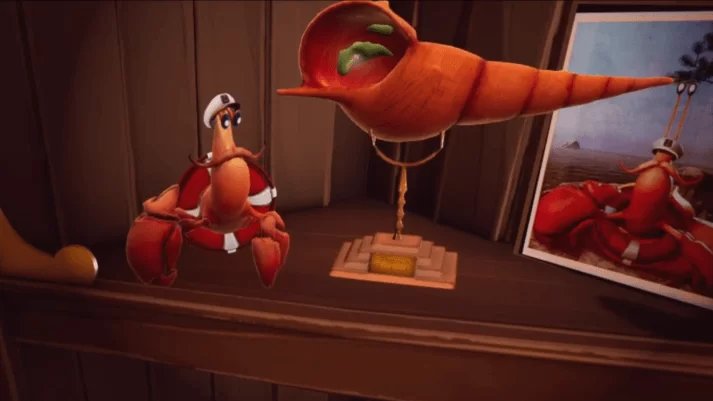 The Graphics
One of the most striking elements of this game is how beautiful the game looks. Admittedly it is a little on the cartoonish side, graphics wise, but had somewhat of a cosy feel to it. A Fisherman's Tale has both standing and sit-down play modes. Personally I opted for the sit-down mode, as I wanted to be able to take my time and complete the game at my own leisure. Not only that, I had been playing Pistol Whip for over an hour, so my legs were killing me!
In A Fisherman's Tale everything takes place inside and the rooms were quite small, which left me feeling a little claustrophobic at times.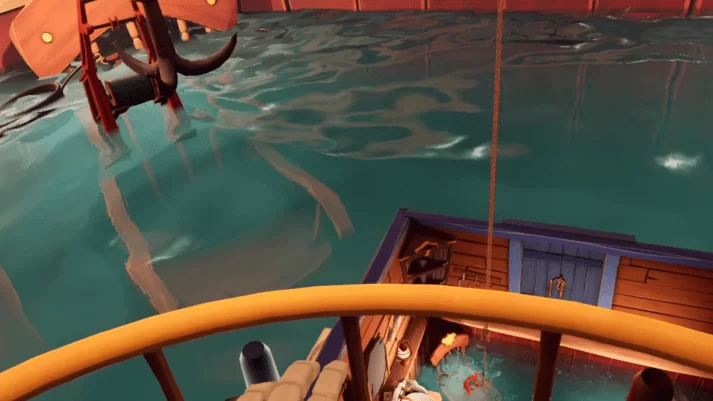 Longevity
Although A Fisherman's Tale is a great game, it's short. The game only took me an hour to complete and that included the time I took to pause when I got stuck, so it really is a quick game. I guess it depends on the player and how good they are at solving puzzles.
Sadly A Fisherman's Tale is a game with little replayability. I certainly wouldn't play it again. Despite this, it's still an unusual VR game experience because of the way you solve the puzzles in a kind of multidimensional way, which was very different to almost any game I'd ever played before.
Verdict
To conclude; A Fisherman's Tale is a fairly typical puzzle solving game with a twist of lime, and a drop of honey, (damn grass!) - giving you a first-person virtual reality experience that you must play, if only once. It's well worth the investment even if just for a single sitting. At £9.99, it's a reasonably priced game, so you definitely won't feel like you've been ripped off. It almost certainly will leave you wanting more though. If A Fisherman's Tale 2 came out, would I buy it? Most definitely!
Did you know, A Fisherman's Tale is listed in our review: Best Oculus Quest Games.

What was your experience playing A Fisherman's Tale? Why not just share your thoughts with me using the comment box below.