The All-In-One, Wireless VR Experience
Please note: The Oculus Quest has been discontinued and has now been replaced by the Oculus Quest 2.
Spotlight
Oculus once again hits its mark. After successful launches of both the Oculus Rift and Rift S, not to mention its partnership with Samsung to develop the best-selling Samsung Gear VR, it's no surprise that the Oculus Quest would follow suit. In the third quarter alone, Oculus sold approximately 180,000 headsets. To date, it's said that Oculus has sold a staggering 4000,000 units so far! So it's gotta be good, right?
What's so good about the Oculus Quest
Firstly, the vast majority of VR headsets require a wired connection from the headset to a PC...But not the Quest! Oculus decided that in order to provide a better user experience they would ditch the wires and have the headset as an untethered, standalone device. This gives users the freedom of unrestricted movement and makes it portable enough to use almost anywhere.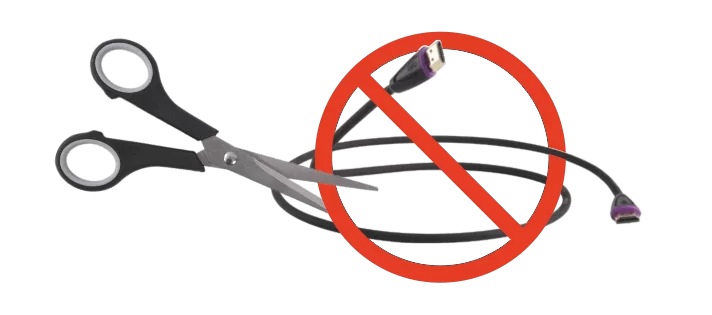 Quest technology in a nutshell
The Oculus Quest is a chargeable headset, driven by a Snapdragon 835 mobile processor. Although this processor is nowhere near as powerful as the average PC, it does what it was intended to do very well. The Quest's other key feature is its storage (memory capacity). Working in conjunction with the processor and some clever built-in software, VR content and Oculus games is downloaded wirelessly onto an internal memory card. The amount of memory depends on the headset model - either 64GB, or 128GB. The appropriately named Oculus Insight is the inside-out tracking system. It relies on four wide-angle cameras located on each corner of the headset to track the headset spatially.
Expectations
Admittedly, I wasn't expecting much from the Oculus Quest. And certainly not after finding out that it runs on a mobile processor and has a limited display refresh rate of 72Hz! Then again, with a price tag of £399, I kind of was expecting more...
So, what's in the box?
You'll find….
A basic looking headset
2 Controllers
2 AA batteries (a battery for each controller)
A USB cable and 15W USB AC power adapter
A frame spacer (for those who wear glasses)
A user guide
All for One and One for all!
Since being purchased by Facebook, Oculus is essentially focusing on producing user-friendly, mid-range, and budget headsets. Their aim is to bring VR to the masses at a reasonably affordable price. The Quest is the middle ground between the content-based, app-centric Oculus Go and the gaming-oriented, tethered Oculus Rift S. If you are a casual gamer and new to VR, the Oculus Quest was designed with you in mind.
Oculus Quest Set-up
I must say, I was pleasantly surprised at how easy and straightforward it was to set-up the headset. Once the headset was paired with the Oculus Smart Play app, it was a doddle!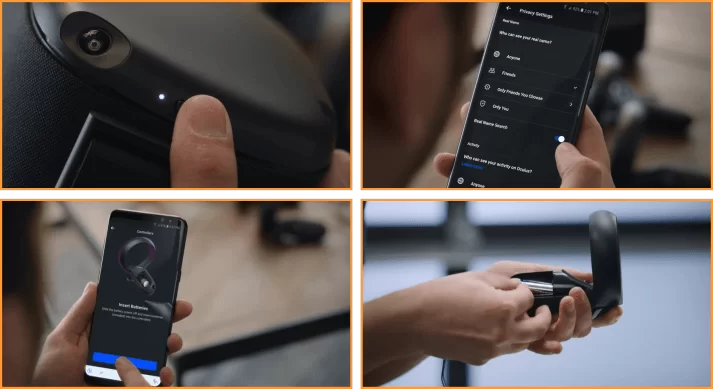 Setting the play area (or in their terms, the Guardian Boundary) was also easy. It's essentially the same as Oculus Rift S. Handy! Oculus also allows you to save several Guardian Boundaries, should you play in different rooms, or frequently take it to a friend's house. The other thing that left me smiling is that there are no sensors to set-up. Absolutely Brilliant!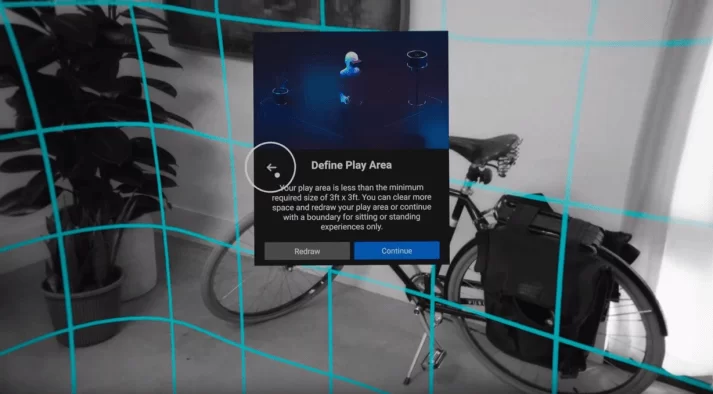 A fully charged Quest should last between 2 - 3 hours. With heavy game play, expect the Quest to last a little over 2 hours. Just like many devices, battery drain depends on the type of games played or the type of media you consume.
On the head, son
Slipping the headset on, aligning it and strapping it down literally takes seconds. When mastered, it's as easy as putting on a hat. It fits quite snugly, but it isn't too heavy and is fairly comfortable. There's also a couple of handy features on the bottom of the headset. There's a slider for adjusting your IPD, which moves the lenses left and right to match the distance between your pupils. It also features a volume rocker button, rarely seen on VR headsets. This allows you to quickly adjust volume levels while playing, although you can still adjust the volume from within the Oculus app.

With the headset calibrated and nicely seated on my noggin, the Quest almost immediately comes to life, and again, like the Rift S, the virtual room interface is cool, snazzy and very easy to use. Not only do you have access to a fairly extensive games library and various VR experiences (some free), you can also use video streaming sites like Netflix and YouTube.
The Quest headset has four external cameras which allow you to see the real world. They also track the IR LED's on the controllers, as mentioned above, negating the need for independent sensors. It's all good stuff!

The proof is in the pudding
As always, we try to play the same game when reviewing VR headsets so we can compare our experiences, just like we did with the Valve Index. So… Beat Saber it is! Oh, and if you've never tried Beat Saber, or Pistol Whip they're both great games - really good fun and you'll get a work-out in while playing.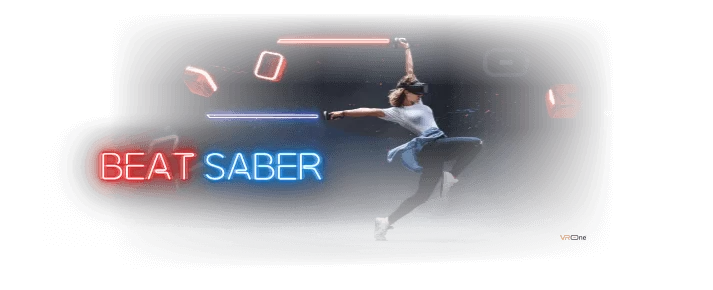 Visually, we noticed a slight binocular effect, but not enough to be a big issue. There's also a little light leakage from around the nose area and noticeable god-rays, although not too bad. When engrossed in gameplay you'll quickly forget they're there anyway.
The tracking was excellent. The headset cameras had no issues whatsoever tracking the controllers, even while blasting our arms up and down, left and right, at lightning speeds. One caveat though - the battery covers kept sliding off, so I had to tape them up with a little PVC tape. It wasn't a big issue, just distracting more than anything. If you're not playing energetic games often, I reckon it won't bother you.
Unfortunately, I found that after just 40 minutes of Beat Saber the headset became increasingly uncomfortable. As it's front-heavy, all the weight was forced down onto my cheek bones. This led to the straps tightening, and the pressure on my forehead increasing.
Heads up Hands up!: Oculus claims that they are releasing hand tracking for the Oculus Quest sometime in 2020. This means that you won't need to use controllers at all. I can't wait to see that!

Resolution
The Oculus Quest display is surprising sharp, with a pretty impressive resolution of 1400 x 1600 pixels per eye, which is a dual OLED, PenTile matrix. So not quite as sharp as what you might find on the Valve Index, but it's comparable with something like a Vive Pro. However, the Quest doesn't impress with its refresh rate, at 72 Hz. The average tethered headset has a refresh rate of 80-90 Hz and the Valve Index has the potential of delivering a whopping 144 Hz!
Sound Check
In terms of sound, the Quest follows in the Rift S's lacklustre footsteps. It does the job, but isn't great by any means. However, this is easily fixed by simply plugging in some headphones or using the 3.5mm jacks on either side of the headset and boom, proper sound!
Play space
Oculus claim that the Quest play area can be up to a maximum of 6 metres by 6 metres, which is already pretty big! But with a little tweaking, we managed to set-up a play area of almost 9 metres!
The thing is your play area moves with you, right? So technically it's endless, but you might struggle setting up boundaries if you've wandered off near a cliffside. Well, Oculus do say that you shouldn't be playing outside anyway!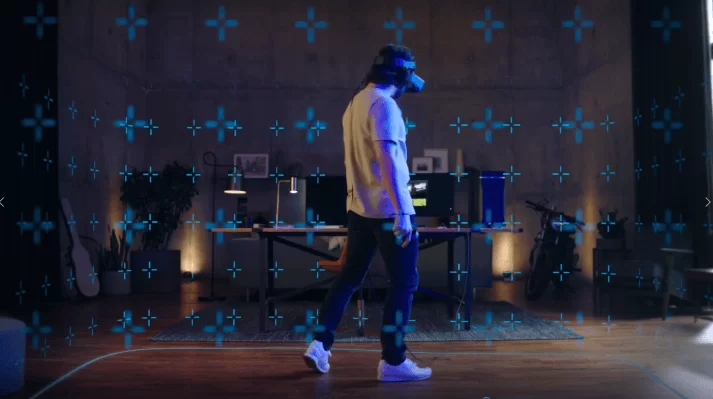 Casting content from the Quest
Oculus has a cast option that allows others to see what the player is experiencing in VR. It's a nice gimmick, allowing others, to a certain extent, to share the experience. Previously, you could only cast on the 3rd gen Chromecast, and Chromecast Ultra, but Oculus has expanded this to include older devices.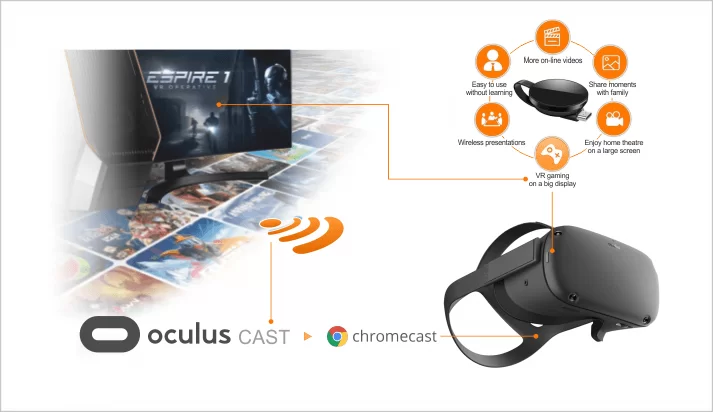 Before attempting to cast, ensure that both the Quest and Chromecast device are connected to the same WiFi network to get it to work. You can even cast to the Google Nest Hub, Nvidia Shield TV, a tablet or mobile device! Having said that, we noticed some latency issues, with the game appearing choppy occasionally. If you do experience problems, we suggest you choose a lower output resolution.
How to Cast from the Oculus Quest
Compatible Chromecast here:

Conclusion
The Quest's best feature is that its wire-free. Thanks to this, you can take your headset literally anywhere - it's easy to play at a friend's house and share the experience, especially with casting.
Tracking wise, I was astounded how well this little beauty performed and how clear and crisp the graphics were. The OLED displays delivered dark blacks, something I miss on my primary headset, the Oculus Rift S, with its LCD displays.
I liked the sliding IPD adjustment feature on the Quest. The volume button was also a nice touch. The frame spacer, for those who wear glasses, came in handy and seemed to work pretty well.
The controllers look good and are lightweight, all the buttons are perfectly coordinated with your digits. They're easy to master and have a good feel to them.
Here's an extra handy feature I noticed: if you happen to step outside your Guardian Boundary, you are automatically switched to room view, using the built-in passthrough technology.
When I took a closer look at the lenses, I saw that Oculus seem to have improved their quality. You don't seem to see those distinct rings as often as on those first generation headsets and even some of the newer headsets, such as the Rift S and HTC.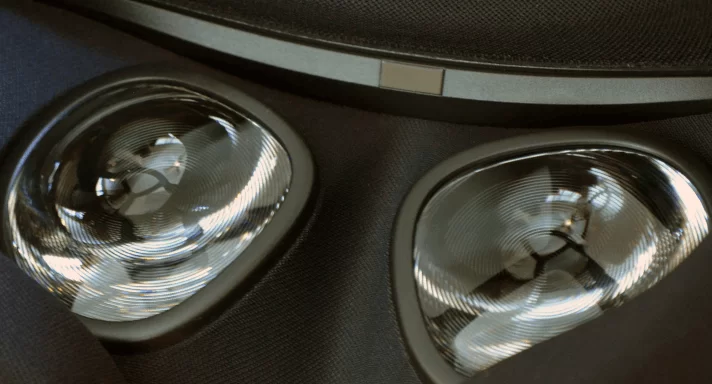 Is the Quest for you?
The Oculus Quest is no doubt an alternative to the Rift S and I would strongly say to those who can afford the £399 price tag, go for it! I believe right now, the Quest should be the entry level headset for anyone new to VR. The price is roughly the same as the Rift S, yet it doesn't require a powerful PC to run. The only major drawback of the Quest is its processing power. So many AAA game titles that run perfectly well on tethered headsets, do struggle on the Quest. For these demanding Oculus games to run well, the graphics need simplifying, and by that I mean, the gorgeous visuals would have to be sacrificed. But wait...
Oculus Link; In November 2019, Oculus announced a new way to access Rift games and experiences from a gaming PC on the Oculus Quest. Quest owners who own a compatible gaming PC can simply plug their headset into a USB 3 port, using the Oculus premium optical fiber cable (Oculus link cable). They can then use the Oculus desktop app to browse and purchase Rift apps and games to play on Quest - plus access Rift's Oculus Home and Dash. So Quest users can now enjoy AAA PC VR games like Asgard's Wrath and Stormland on Quest... I wonder how Half Life Alyx performs, food for thought. The Oculus Link lets you explore the richness of the Rift content library when connected to a PC, while keeping the untethered portability of the Quest - the choice is yours. Certainly up-to now, the Quest is the best standalone VR headset available.
If you're thinking about connecting your Quest to your PC via the Oculus link cable, that's fine, just bear in mind - you'll need a compatible graphics card (GPU). A good all round graphics card for the Oculus Quest, and one that we recommend if you're on a budget, is the NVIDIA GeForce GTX 1660 SUPER VENTUS. There are more expensive alternatives should you ever decide on going fully tethered at any point. For further information on the latest GPUs and their performance, check out the article best graphics cards.

On a final note, I'm excited to see that VR is heading in the right direction. Within a year or two VR will surely reach the next level. Whatever that may be, remains to be seen, but I know it's going to get a whole lot better.
Personally, I'll be sticking with my Rift S. But I'll be keeping an eye out on the next generation of headsets.
Setting up the Quest
Setting-up the Quest headset and your Oculus account is simple. First, you'll need to charge the headset using the supplied USB cable. When the indicator light turns green, you're good to go. You just need a strong WiFi signal to ensure trouble-free set-up.
Next, download the Oculus Smart Play app; Here at the Apple Store or Google Play if you have an Android device. You won't need your Smartphone every time you use the headset, but you will need it for the initial set-up. Install the app, allowing it access to Bluetooth and create an account, if you don't have one already. You can make an account either using your email or Facebook account. We recommend Facebook, as it allows you to easily find and add friends and share content. The games and apps you download will be linked to your account for secure and quick access. Continue through the set-up, selecting the Oculus Quest as your main headset device, then follow these seven easy steps to pair your headset to your account.
If you haven't already done so, plug the headset into the USB power adapter. If it's not on, press and hold the power button for 2 seconds.
Put the headset on and look for a 5 digit code. Type this code into the app and the headset will begin to pair with the Oculus Smart Play app.
When the headset pairing is complete, select your WiFi network, and enter the WiFi password.
Now pair the controllers. Slide the battery covers off the controllers and insert a battery into each. Now, from within the app, press next and the app will connect to both controllers. If they aren't connected straight away, the app will prompt you to pair each one individually.
Hold the Menu button and 'Y' button to pair your left controller. Once the light starts blinking, press continue on the app and follow the steps for the right controller, but this time, holding the Oculus button and 'B' button.
5. Add a payment method, so that you can purchase apps and games.
6. Next, you'll be shown a short video on how to use your Quest safely. Once you have acknowledged that you have read and agreed to the health and safety warnings, you've successfully set-up the Oculus Quest.
I have to say, the set-up is a breeze; it's just so intuitive. You can't go wrong!
You may be interested to know what everyone is playing on the Quest: Best Oculus Quest Games.
How did you find the Oculus Quest? Share your thoughts and opinions with us using the comment box below.