Best VR headsets: Oculus Quest 2 - HP Reverb G2 - Valve Index
Which Headset?
The best VR Headset for you might be completely different to the one preferred by a friend. That's because phone, PC and console users all have different requirements and desires. This 'Best VR Headsets Review' should help establish which VR headset would be the best for any VR user. User experience isn't the only deciding factor of course - the cost is a major influence when choosing which headset to go for. Check out the latest Black Friday VR headsets in the Amazon Sale.
Different types of VR Headset
There are many different types of VR headsets and a huge range of prices. There are some relatively low-cost headsets that work by putting a smartphone inside. At the other end of the scale there are high-end VR headsets that link up to gaming PCs for VR gaming. As far as VR content is concerned, across the board there is a substantially increasing, wide range of content for all VR headsets. Whatever usage you have in mind for your VR headset - immersive apps, movies, games or something else, this review details what's out there for you, whether you're a VR newbie wanting to try out VR for the first time, or an experienced VR gamer.
For those new to VR, see if you can find someone who has a headset you can try. Bear in mind though, that there are many types of headset and you might not get on with the first one you try. If you can, it's a good idea to try out several different types to see which you prefer.
Which headset is best for me?
Firstly, you need to consider what you are going to use the headset for: Are you a PC gamer? Someone who prefers consoles? Or do you want to use your smartphone? For those people new to Virtual Reality, it can be really stressful and confusing choosing a headset. Now that VR has become much more popular, HMD's have become cheaper and more accessible than ever before. There are so many choices - most of them claiming to be the best – it's no wonder the decision is so difficult!
Think about your budget too. VR headsets range in price from simple cardboard headsets you can buy with the coins you find down the back of your sofa, to top of the range headsets with prices over £1000. Most people tend to go for mid-range.
Headsets for Mobile Users
If you're new to VR and fancy seeing what all the fuss is about before you buy an expensive headset, smartphone-compatible VR headsets are great, although probably not the best choice in regards to a proper VR experience. You can actually get your hands on a cardboard VR headset for less than a tenner! Even if you decide VR isn't for you or it's not worth the investment, you can always drop it in the recycling with no massive loss of funds!
Samsung Gear VR
One example of a reasonably priced intro to VR is the Samsung Gear VR headset. This starts from around £35 but does require a compatible smartphone like a Samsung S6 or newer. It is a much more comfortable experience than a cardboard VR headset too. The Samsung Gear VR headset has access to around 800 VR games and experiences, the quality of which ranges from excellent to not worth the effort downloading, just like many apps for smartphones.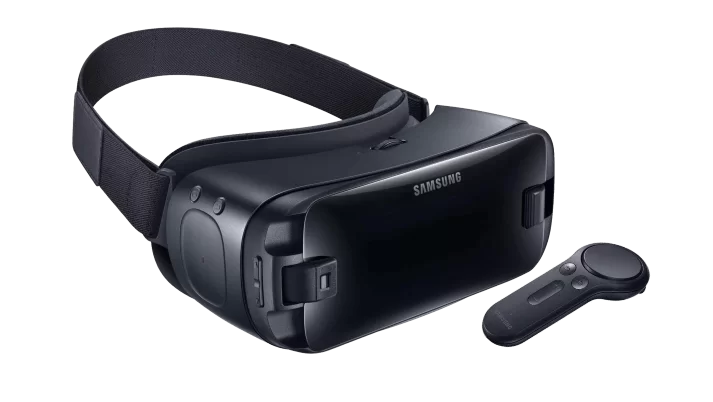 Headsets for other phones
iPhone users have a slightly harder job finding a compatible headset as Apple haven't released their own. There are, however, compatible headsets out there, such as the VR Shinecon, and the slightly more expensive Destek V4 VR, that iPhone owners can use. The Destek V4 VR headset is universal so will work with most iPhones as well as a lot of other smartphones like the Samsung offerings, so this could be a good buy for a family sharing a VR headset, all having different types of smartphone, or you could take it to friend's to try out too. Apple is rumoured to be developing its own VR/AR headset, the Apple T288. So watch this space or Join VROne and we'll keep you in the loop!
Destek also has another great headset that is specifically made for Daydream smartphones like the Google Pixel range.
Pansonite 3D VR Glasses
This is a great VR headset at a really reasonable price (around £36). It is compatible with many different smartphones and is both lightweight and comfortable. The Pansonite is probably the closest you can get to a high-end VR headset without the price tag. On the front, it has a cloth design, not dissimilar to the Daydream by Google, and it has a plastic headband that is adjustable and similar to PlayStation VR. It includes built-in headphones too, with an aux input. This is great for smartphones that still have headphone jacks or adapters for one. There is also a dial on the top where you can adjust the focus of the glasses.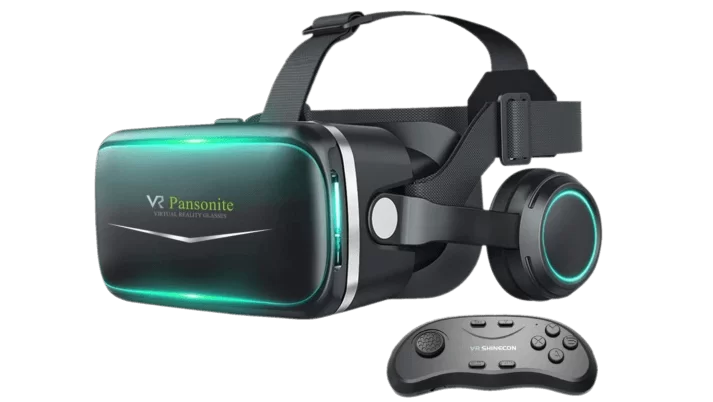 Your phone is placed in a small flap on the front and leaves the camera uncovered so that you can play AR mobile games. There is some light leakage but in general, the Pansonite does block out almost all of the external light, giving you a really immersive experience.
Pros and cons of smartphone headsets
As well as being cheap, smartphone headsets are standalone and don't require any power. This means they are portable too - so they are great for sharing VR with others, who might not otherwise have the opportunity to be introduced to it. Mostly, smartphone headsets are easy to set up and work by inserting your phone into the front section of the headset. Finally, because they are standalone headsets, you don't end up tripping over any wires when you're playing.
In terms of negatives, you have to make sure you get a headset that is compatible with your mobile device. Secondly, you will find they use up a lot of your mobile phone's battery, and inevitably make the device (and you) quite hot and sweaty. They are also quite limited in terms of the games and VR experience they have on offer. Finally, the visual display is down to your smartphone itself and its capabilities and generally the visual clarity isn't that good.
VR for smartphones is a bit of a gimmick really - although a really fun one! If you're really into your VR then a smartphone-based headset isn't going to cut it for very long. Smartphone VR isn't quite on a par with other types of VR headsets. If you really can afford it, the Oculus Go is a much better option with so much more to offer.
Tethered/Standalone Universal VR Headsets
This type of headset is unique. In fact, the only VR headset of this type is the Oculus Quest and the newer Oculus Quest 2. This revolutionary design means you can use the headset both tethered and as a standalone device (hybrid) so you can experience VR attached to your PC, as well as being wire-free. The advantage of being tethered offers players additional titles they can't get on standalone headsets. Essentially, you connect the Quest to your PC via the Oculus Link cable in order to access both the Oculus Dash and the Oculus Home interface, extending your game library, allowing you to play the best Oculus Rift games too. Oculus also released hand and finger tracking for both the Quest and Quest 2, which is pretty cool.
Game data, or VR content for a better word, gets stored on the device's own memory drive. There are two storage options: on the original Quest the standard headset has two storage capacities, 64GB and a 128GB option. The newer Oculus Quest 2 also offers a 64GB, with the option to 'Go Large' at a whopping 256GD.
Price-wise the newer Quest 2 is cheaper than the original Quest. The new 64GB version is just £299 and £399 for the 256GB.
Tethered VR headsets
This is the most common type of VR headset - you are plugged into a PC via a wire. Generally speaking, a tethered VR headset gives the user a much more immersive experience than headsets that are standalone/untethered. There are drawbacks to tethered headsets, however, one being that the headset, although running software of its own, is heavily reliant on your PCs graphics card and processing power. Most headset manufacturers will tell you what the headset needs in order to function optimally, so it's a good idea to check this carefully. Aside from the Oculus Quest 2 mentioned above, there are a whole host of tethered headsets on offer. In the VR world, it is the Vive Cosmos and Oculus headsets that generally get the most praise and there is a lot of deliberation over which one of these is better, having said that, Hewlett Packard has recently developed their latest headset, the HP Reverb G2, and is said to be a vast improvement over the Reverb G1. The G2 is due to be shipped late November and during December 2020. It will interesting to see how the Reverb G2 compares to the likes of the others... full test and review pending.
If money is no object and you're a hard-core gamer wanting the best VR gaming experience you can get, then the HP Reverb G2, HTC Cosmos and the Valve Index should be up there for your deliberation. Let's look at some of the best-tethered headsets available in more detail:
The Oculus Quest 2
We've talked a lot about the Oculus Quest 2, but it really is a great device. It costs just £299 for the 64GB version and £399 for the 256GB model, so is slightly on the expensive side, but is a seamless VR solution that is all-in-one. It is also capable of casting content to TVs or smartphones meaning you can share your virtual reality experience with others. There is a large library of VR games and various experiences to choose from. Used wire-free, the Quest 2 offers large room-scale VR capabilities.
Since this device has integrated sensors, players can walk around their designated playing space and won't have to worry about hitting a piece of furniture or running into a wall.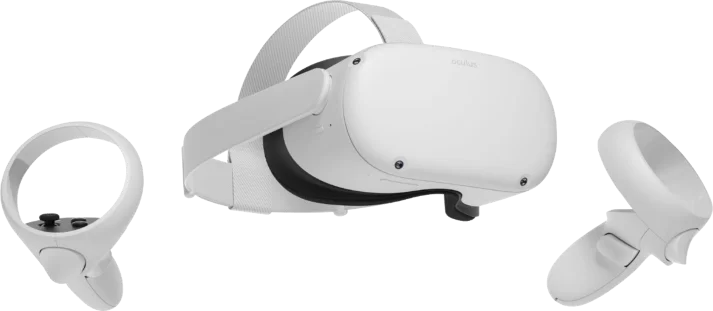 The touch controllers on Oculus devices are arguably the best to be had. They are lightweight and comfortable meaning that you won't get cramp in your hands even if you play for a considerable amount of time. The batteries used in the Quest 2 last 2-3 times longer than that of any Oculus Touch Controllers. Some titles also allow you to go controller-free with the Oculus hand-tracking feature.
Another factor to consider is that Oculus has started to develop Virtual Reality's social capabilities and has launched multiplayer and cross-buy titles, so bear that in mind.
The Oculus Rift S
The Rift S is the 2nd-generation version of the original Oculus Rift launched in 2016. It costs about the same as the Quest 2 256GB version and retails at around £399. Similar to the Quest 2, the Oculus Rift S offers room-tracking built-in, and has a great gaming repertoire in its library with games like Vader Immortal, Job Simulator, Superhot, Half Life Alyx and Beat Saber to name a few. You do need a PC for the Rift S, and if you already have the original Rift, then the S isn't much of an upgrade for the money. Having said that, it is an exceptional device with great VR experiences, but is somewhat of an outdated headset now and is no longer being made. The Oculus Quest 2 does offer more in regards to resolution, but It lacks the ability to display images in their fully intended glory, so fidelity-wise, many of the detailed textures, lighting and real-world reflections are intentionally downgraded to suit the performance capabilities of the headset.
The Rift S has a combined resolution of 2560 x 1400 (1280 x 1440 per eye) and a refresh rate of 80 Hz. Since it weighs around one pound, it is comfortable for hours of gaming. The audio is crisp and is integrated into the headband, which is a nice feature and although cosmetically an improvement on the first generation Rift, the sound isn't quite as good.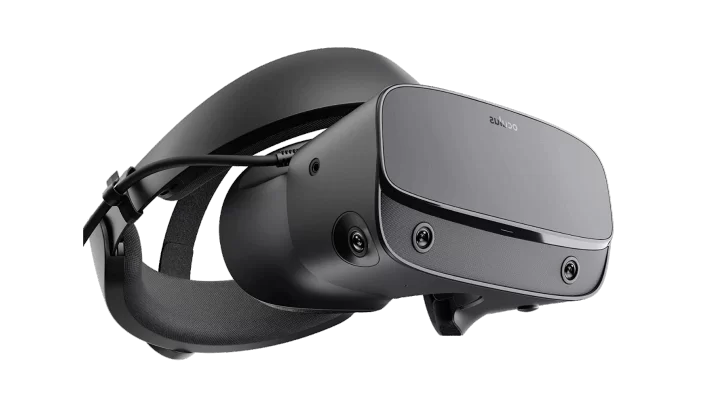 This Rift S offers Oculus Insight tracking which means you can play room-scale VR games without having to set up any external sensors. The included Touch Controllers mean that players can have sword fights, climb mountains and create art easily in VR. Overall, the Oculus Rift S is a decent PC-tethered VR headset that has a huge gaming library and a decent price.
HTC Vive Cosmos
Costing around £650 - £800, the HTC Vive Cosmos is great for those VR immersive experiences many users seek. This is arguably one of the best, tethered VR headsets, for use with a PC. It has room tracking as an automatic feature, and when using your headset you can switch to the pass-through camera, giving you access to visuals of your real world without removing the headset.
Remarkably, you can make the HTC Vive Cosmos wireless with an add-on (costing another £200 or thereabouts). There is no inbuilt audio but you can buy a Deluxe Audio Strap to add on. The graphics are really smooth on the Cosmos and there is very little latency. The touch controllers are highly adaptable and easy to use too. There are a few negatives though, the Vive Cosmos requires a lot of light in order for the controllers work properly and the headset doesn't quite fit perfectly on the lower rear part of the scull. For more information, see the full in-depth review of the HTC Vive Cosmos.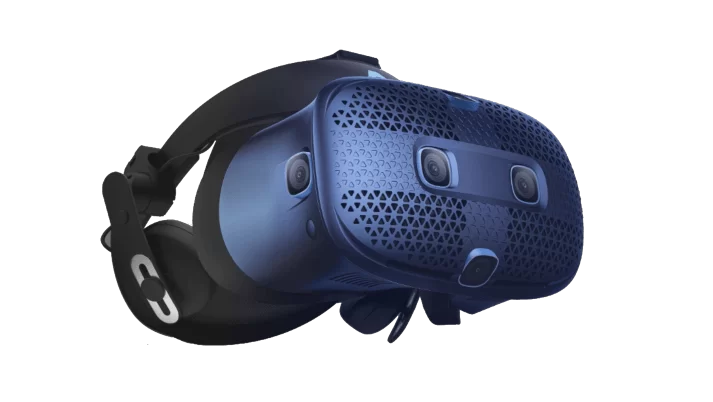 In terms of content, the HTC Vive Cosmos is playing catch up with Oculus, but still has more than 395 VR games and apps that are good. As well as buying apps and games outright, HTC runs a system called Viveport, which is a subscription service allowing players to choose five apps or games to play each month.
The Valve Index
If you want a VR headset that has excellent tracking and controls in VR, the Valve Index is it. The company 'Valve' certainly know a thing or two, having worked on Lighthouse tracking technology and HTC, which have fed into the development of the Index.
This device feels top-notch as soon as you first wear it. It is constructed to a high spec, has excellent built-in speakers, and cushions that are really comfortable. On the downside, it is noticeably more weighty than most other headsets available, weighing in at 1.78 pounds.
One of the highlights of the Valve Index is the controllers. Unlike many other VR controllers, the Valve Index controllers actually strap onto your hands, meaning you don't have to hold them all the time, avoiding the cramping that is so common with touch controllers. What's more, they can be customized to your own hands and have controls that are pressure-sensitive, which means that, for games that support it, you can have a more immersive experience.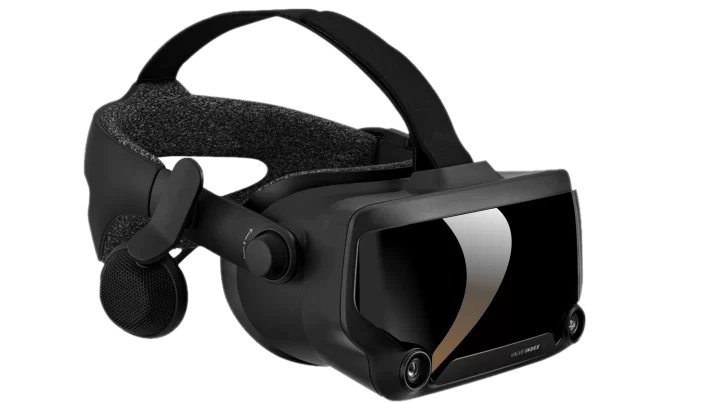 Display-wise, you have a range of refresh rates that can be changed, however, this solely depends on your PCs processing power. The display itself is an LCD panel that can output high-resolution images as good, if-not better than all of its rivals, with the exception of the HP Reverb G2. On the front, there is a set of cameras and a USB expansion slot 'The Frunk'. In theory, this expansion slot allows for the headset to receive upgrades without the need to be replaced entirely.
Aside from its weight, one negative issue is that the controllers need a USB-C cable to recharge, but this isn't included - presumably because the company thinks you might already have one (which you will if, for example, you have one of the latest Samsung smartphones that use this cable for charging).
HP Reverb G2
The latest and newest arrival is the HP Reverb G2. The G2 offers the best resolution of any other VR headset in its class. It boasts an impressive resolution of 2160 x 2160p per eye, providing a combined resolution of 4320 x 2160p - so, quite literally a 4K headset. The headset is similar to that of the Valve Index in that it's tethered to a PC, however, the Reverb G2 utilises four inside-out tracking cameras, two on the front and one on each side, as well as internal sensors for position detection, whereas the Valve Index relies on external sensors tracking. If you'd like to find out more about the HP reverb G2, be sure to read our full review: HP reverb G2.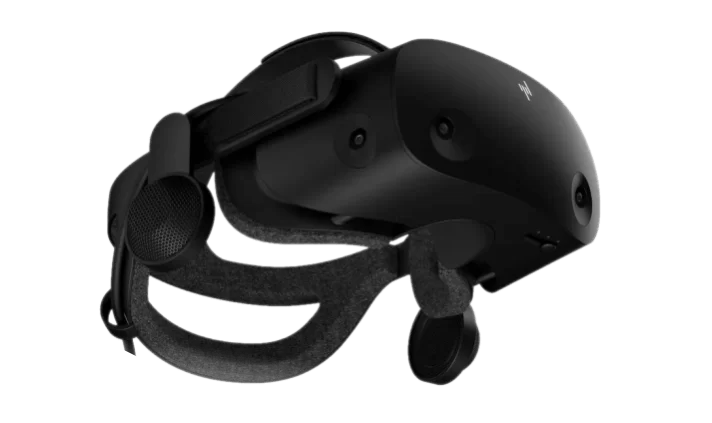 Console VR headsets
The Sony PlayStation VR retails at around the £350 mark (you can buy it here) and offers a VR gaming solution for those of you who are interested in console gaming as well as VR. In fact, if you already own a PS4, this is the best (and most affordable) way to get a high-end VR experience. It is relatively affordable in comparison to other headsets and is pretty easy to set up and begin playing. It takes around 30 minutes to set up and start gaming. PlayStation VR has a good game library too with the likes of Star Wars Battlefront: Rogue One X-Wing and Batman: Arkham VR as exclusives and established VR game hits like Job Simulator and Eve: Valkyrie.
The Sony VR headset is both cosy and stylish, as well as easy to use. It does have a lower resolution when you compare it to the Rift or the Vive but it can deliver a refresh rate of 120 Hz depending on the game you are playing, which is one of the highest refresh rates there is, with exception to the Valve index.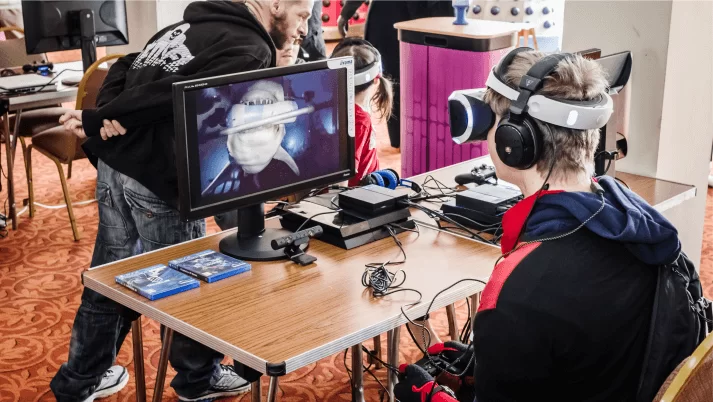 Another bonus of the PSVR headset is that you can use it in Cinematic mode, in which you can watch movies in a cinema-style setup. It's great with 4K Blu-rays. The PlayStation VR also allows others to watch what you're doing via its Social Screen option.
Many gamers might be waiting for the PS5 to be launched, but PS VR will likely remain the same for the new PS5. There is very little competition VR-wise with other consoles. The Xbox One and the Nintendo Switch don't have VR options and it is rumoured that the new Xbox Series X to be launched just before Christmastime won't have this feature either. Simply put, if you prefer consoles and want a VR experience, there really is only one option - PlayStation VR. For those who are thinking about purchasing the PS5, Sony will be launching their second generation headset sometime in 2021.
Standalone Headsets
Standalone headsets are not the same as smartphone headsets although they both have no wires. One of the best-untethered headsets out there is the Oculus Go and the Oculus Quest 2.
Oculus Go
The Oculus Go is a standalone headset that costs around £170, which is a great price considering what you get for your money. It is a completely wireless headset with a huge library of VR games and VR apps. There is some reliance on your smartphone though, so it's not entirely free of other technology, but because it is not directly connected to it, like in smartphone VR headsets, your phone's battery is preserved.
In terms of games, the Oculus Go has been described as a headset for people who like to fight baddies in VR. There has, however, been a heavy influence of Facebook of late, which has meant the Go has a greater focus on social and entertainment apps. You can, for example, create your own VR apartment and invite friends over to share videos, watch Netflix or play games. The display is crisp and vibrant and motion blur is minimal too. Sound-wise, the audio is immersive and spatial.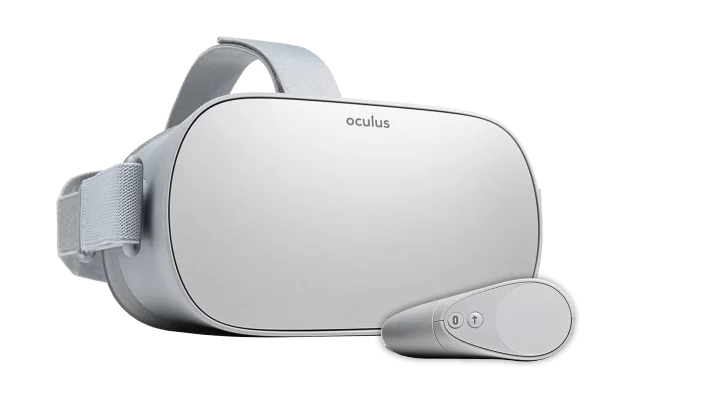 The major fall-back with the Oculus Go - is that it doesn't have is room-tracking capability or six degrees of freedom (6DOF), meaning that you can't duck or dodge in games.
Conclusion: What is the best VR headset?
As we said at the beginning, it really does depend on your individual needs and price range. If you have a gaming PC that is powerful and under three years old, a tethered headset like the Oculus Rift S is a very good option, and although Oculus has discontinued production, you may still be able to pick one up cheap on Ebay, but don't go paying over the odds for one. This headset will make the most of your PCs existing hardware and power to give you one of the most immersive and authentic VR experiences available right now. If you are a PS4 gamer, the obvious choice is to buy the PlayStation VR. The running contender at the moment for first-spot, as far as the best tethered, camera-tracked-headset is concerned, is the HP Reverb G2. In regards to portability and ease of use, hands-down, the Oculus Quest 2 will be the choice for many.
For most people, price will be a considerable factor. Strangely, a Virtual Reality headset isn't priced on whether it is standalone or tethered - there are headsets at various prices in both types. As with many things, buy the best that you can reasonably afford; there are a lot of cheap cardboard headsets out there that basically just hold your smartphone in front of your eyes.
Technically speaking, of all of the headsets mentioned in this review, the Valve Index is the best headset specification-wise. It is expensive though, and will be out of many people's price range. The Oculus Quest 2 is also a contender, since it is wire-free, although it isn't as powerful as others and has limited games of high quality. If we're going to go for the best all-rounder, it has to be the Oculus Rift S, and as we predict, will soon to be replaced by the Reverb G2. The HTC Vive Cosmos is undeniably a great headset, but when you consider price and performance, the Oculus Rift S is the better overall headset. With the Rift S, you get so much more for your money and it is much more comfortable and compact.
HP Reverb G2: Once again, lets not forget the latest headset from HP, the Reverb G2 - available for pre-order now and due for delivery December 2020. The main feature, and what appeals to most - is that It offers an impressive resolution of 2160 x 2160px per eye, providing a combined resolution of 4,320 x 2160px (that's right, 4K) currently the best resolution of any VR headset on the market.
We had the opportunity to trial a pre-production headset and were very impressed. Since then, HP have made some improvements to the headset, so our expectations are still high, however, there are a few draw-backs with the G2 - mainly it's ability to track the controllers wasn't that great, quite common with any headset that utilises inside-out tracking, having said that, we are quite optimistic that HP have made improvements to this as well. It's also one the lightest headsets we've tried, and very comfortable too. The biggest caveat is that in order to fully appreciate the high resolution display, a modern PC is required, along with a powerful graphics card (GPU).
The HP Reverb is currently available for pre-orders and costs £639.
How many headsets have you tried? What do you think is the best overall headset? Add your comments in the section below...