The Best GPU for VR
Virtual reality is swiftly becoming the future of gaming. The technology is still relatively new, but is developing at breakneck speeds, making VR experiences better and more realistic as time goes on and as better-quality hardware becomes available. Setting up your system is a fundamental part of VR gaming and you need to make sure that you have the right components, the most important being the graphics card, or GPU as it's commonly referred to. Currently, not all graphics cards on the market are compatible with VR technology, making it even more important to know exactly what you should be looking for.
Whether you're upgrading your existing computer to make it compatible with VR, or you're building a new one from scratch, we have compiled a list of points you should consider when buying a graphics card for use with VR, and some of our top picks for all budgets and levels of interest.
VR Ready Graphics Cards
For those who are new to VR, a graphics card is a necessary piece of computer technology (hardware) that you're going to need to invest in, if you want the best gaming experience. The graphics card is what brings the image from the computer onto the monitor, or to the displays within a VR headset. Not all graphics cards are going to work seamlessly with all VR headsets, so it's important to find one with the right capabilities. In many cases, you can find cards that are referred to as "VR-ready", providing sufficient hardware specifications to create a decent, reliable virtual reality experience without major lagging, discombobulated visuals, or any other adverse effects like software crashes. Although "VR-ready" graphics cards act as a good pointer in regards to choice, it doesn't necessarily mean they all have the horsepower to run every modern-day VR game with complete fluidity or at super high resolutions and unlimited frame rates. There's much more to it than that.

GPU
A graphics processing unit (GPU) is the chip on a graphics card that is responsible for rendering the graphics, ideally at a speed fast enough to make virtual reality experiences fun, without any jitter. When deciding which graphics card to buy, it's always important to pay particular attention to its specs. Card specs vary and may leave you confused, hindering the buying process. We've written this guide to help you make the right choice.
VR Sickness
Although virtual reality has been around for years, it has only been in the past few years that VR has really taken off. It has now become good enough to deliver life-like experiences that are both enjoyable and interactive, with less of the nausea commonly associated with some of the older generation virtual reality headsets. VR sickness, however, isn't always down to the GPU; it often depends on the type of game and how the game developer has created the user experience in which it's intended to be played, such as how you move around in a virtual environment. A poorly developed VR game can lead to sickness, no matter how powerful and expensive the graphic card is, unless you're an experienced hard-core, seafaring VR gamer, who is already accustomed to any virtual experience thrown at them.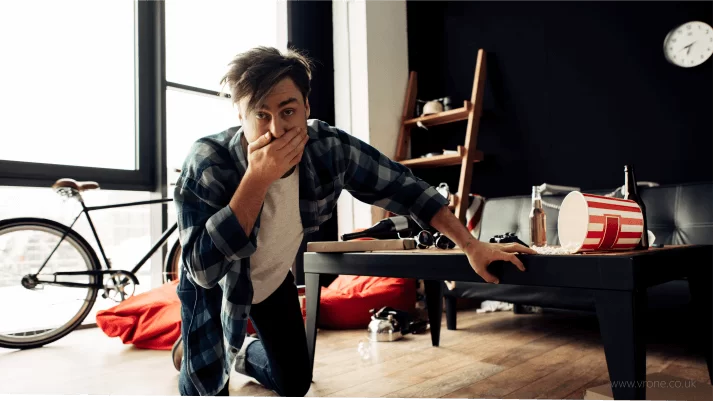 Image Resolution - Fidelity
The image quality of VR is still quite new and the display technology is still playing catch-up, (until the HP Reverb G2 becomes available) certainly when it comes to the newer and higher fidelity games, as well as the hardware needed to play them. New GPUs are being released frequently, each one often better than the last. Buying a new graphics card now will certainly offer a much better VR experience than you might have had less than a year ago, and it goes without saying that graphics cards will be even more powerful in the future in order to keep up to date with the latest games, as well as the computer hardware.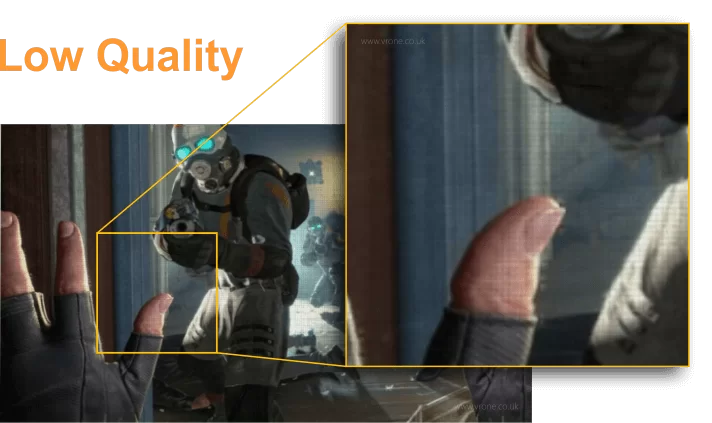 In reality, the technology behind any of today's modern graphics cards will probably become obsolete within a matter of a year or two, well before the card wears out or breaks down. Given the speed that gaming and VR technology is progressing, you can expect current graphics cards to struggle with new games in just a few years time, however, this depends on whether you go for a top of the range, 2nd-Gen RTX card - such as Nvidia's flagship GPU, the NVIDIA RTX 3080, or the cheaper alternative, the Nvidia RTX 3070. Both are excellent GPUs and offer the best performance out of the entire RTX 3000 series.
So, what about the 1st-Gen RTX 2000 series GPU's?
The 1st-Gen RTX 2000 GPUs are still a good choice, and although they've been super-seeded by the RTX 3000 series, they're not quite obsolete yet. You could get a good deal on an RTX 2070 Super or, better still, the NVIDIA GeForce RTX 2080 Ti, but don't pay over the odds for one. The newer GPUs are far cheaper, better engineered, technically more advanced and will handle almost anything thrown at them. I talk more about the benefits of the RTX 3080 and the 3070 a little further down.
Graphics cards for VR gaming
Finding the right graphics card specifically for VR gaming shouldn't be too hard. In fact, a quick Google search should bring up a number of different options that are all labelled as "VR Ready". This is not unique to graphics cards alone, whole computer setups can be bought with the purpose of running VR applications. The two most reputable brands of graphics cards that work with VR technology are NVIDIA and AMD, both quality products offering similar specs in regards to speed and performance. There are other brand options out there, but they are far less common.
Recommended GPU specs for VR
Spec-wise VR headsets are all somewhat similar. Manufacturers will generally provide specific information on the minimum system requirements that are required in order to meet the needs of their hardware - such as the operating system, processor, memory, graphics card, display ports etc.
The three main tethered headset brands that have the greatest hold in the VR market are Oculus, HTC and Valve. The headsets offered by these manufacturers all offer a high-quality VR experience. It's down to personal preference which one you choose. If you're building your computer system around a headset you already own or want to buy, take into consideration these "Minimum Specs" for graphics cards:
NVIDIA GeForce® GTX 970
NVIDIA GeForce® GTX 1060
AMD Radeon™ RX 480
AMD Radeon™ R9 290
As long as your graphics card performs at this level or better, you should be able to run VR. As above, Oculus, HTC and the Valve headset all have roughly the same minimum requirements for graphics cards, so it doesn't matter whether you buy the GPU first or the VR headset, they should be compatible provided that your GPU is equal to, or above, the minimum specs.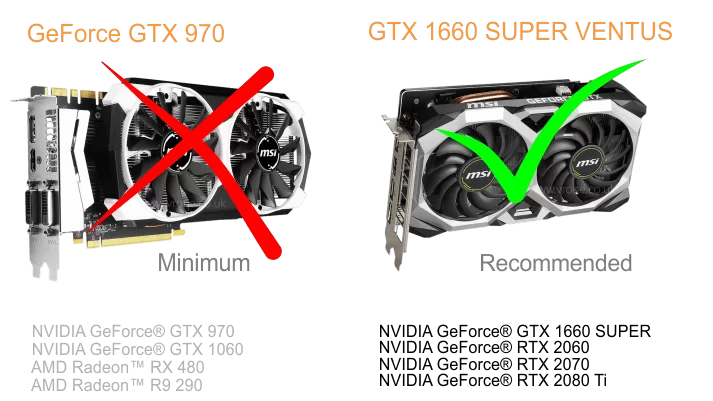 Remember, the graphics cards mentioned above are the minimum requirement for leading brand headsets, and yes, although these cards will run adequately well, it doesn't mean you'll get the best out of all the games you play. If you visit the website of any headset manufacturer you'll see they also mention "Recommended Specs". As a rule-of-thumb, to get the VR experiences you deserve from your headset, you should at least meet or exceed the "Recommended Specs" set by the manufacturer.
Having a VR system that works isn't always the same as one that works well. So let's look further into the best graphics cards that will not only facilitate VR gaming and experiences, but also provide you with the best options in order to deliver some truly impressive visuals for today's best VR headsets.
The best card for beginners or those on a budget
If you've already done a little research into GPUs, you've probably come across some top of the range graphics cards running into the thousand pound range, with some cards costing as much as £4,000! But we won't be going anywhere near that price bracket. In most cases, spending the extra money is definitely going to reward you with better game play experience, but this doesn't mean you can't start small and work your way up. If you're a VR beginner and you don't know if you want to fully commit to an expensive setup, or are simply looking for an option that isn't as costly, you do still have some options.
Second Hand GPU
For those on a really tight budget, there's always eBay. There are a lot of gamer's out there that constantly recycle their graphics cards and it's possible to get some really good deals. Just keep in mind that these probably won't come with a warranty, so don't go paying over the odds for one.
Buy New
Here are some great choices that we believe should be the entry level for GPUs when it comes to VR.
---
Best budget Graphics Card for VR
NVIDIA GeForce GTX 1660 SUPER VENTUS
This graphics card was released at the end of 2019 and has to be one of the best options for those who are starting out, or on a budget. It's a very popular card for many gamers. The card has a fairly impressive memory speed of 14 Gbps and 6GB of GDDR6 (Double Data Rate memory), it also has more than enough outputs; 3x DisplayPorts, an HDMI port and to top it off, has a dual fan cooling system. The card will cost around £236, which is excellent value, certainly when you consider the price of other cards that offer a similar performance. For example, the slightly older GeForce GTX 1660Ti, offering marginally better performance, will set you back somewhere between £270 and £320.
The GTX 1660 Super has enough power to handle most VR games adequately well. To be honest, we wouldn't recommend you spending anything less than £200 on a graphics card.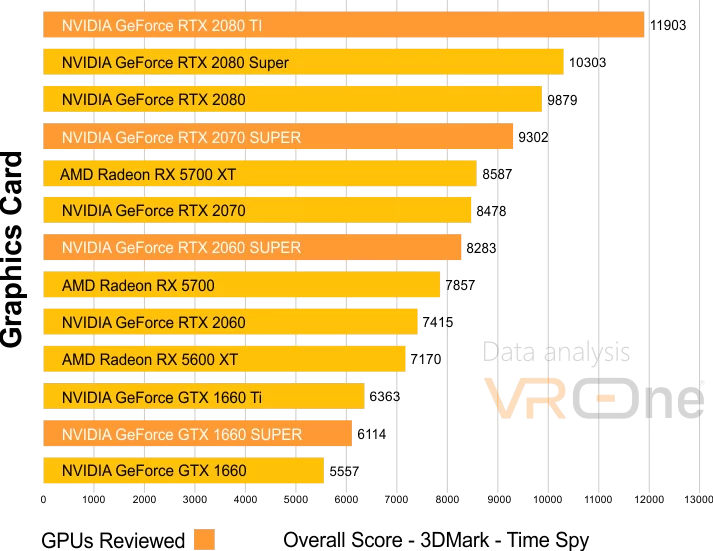 Best budget Graphics Card for Oculus Quest (via data link cable)
If you own a Quest and want to experience a wider array of games from the Rift library using the Oculus link cable, then - budget wise - the GTX 1660 Super is probably one of the best graphics cards for the Oculus Quest, however if you're only interested in playing Half-Life: Alyx in all its glory, then we recommend something more substantial, such as the GeForce RTX 2060 Super. Keep in mind, there are new games being created all the time and they're probably going to get more GPU hungry as time goes on.

---
MSI GeForce RTX 2060 Super Ventus OC Edition
If you are looking for a GPU that is capable of handling a little more from games without falling short, then consider the GeForce RTX 2060 Super. This has an 8GB GDDR6 video memory, a boost clock of 1665 MHz, and capabilities that can handle 1440p resolution as well as 1080p. At roughly £400.00, this is slightly pricier than some of the more budget options available, but the increase in quality is worth it. Expect approximately a 32% increase in overall performance over the GTX 1660 Super.
MSI, the brand that created this model, also offers MSI Afterburner to accompany this card. This is a type of software that can automatically find and enable the highest possible overclock settings that will still provide stable gameplay. This is great for those who just want to play the latest games uninterrupted with as little tinkering as possible.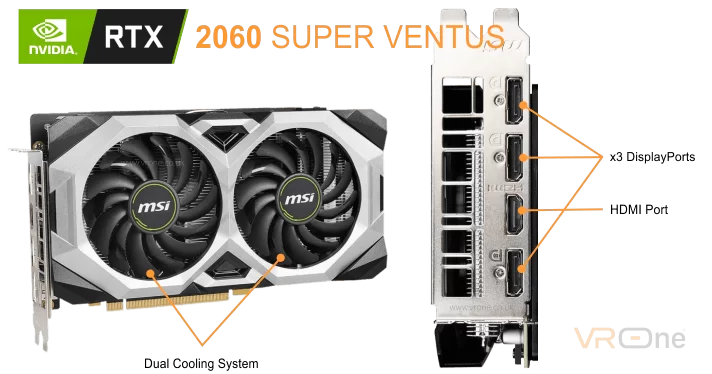 Not only is the '2060 Super' the kind of card capable of playing all existing VR games, but it utilises some of the latest technology in order to handle all the new games that may come out in the near future as well. This provides you with enough time to get your money's worth out of the card, without feeling as though its quality is holding you back from exploring potential developments in VR.

---
Nvidia GeForce RTX 2070 Super Founders Edition
Released shortly after its predecessor, this is another model that's worth its weight in gold and is a notch up from the 2060 Super, if you can afford to spend a little more. At £490 the price is climbing slightly, but you are rewarded with a better experience. This card comes with 8GB GDDR6 (256-bit) on-board memory with speeds of up to 14 Gbps. It also has a slightly higher boost clock-speed of 1710 MHz, compared to the 2060 Super, at 1665MHz. It can easily handle games with 1440p and 4k resolution on gaming monitors, not to mention providing you with a great VR gaming experience that rarely requires you to sacrifice frame rates by lowering the in-game settings.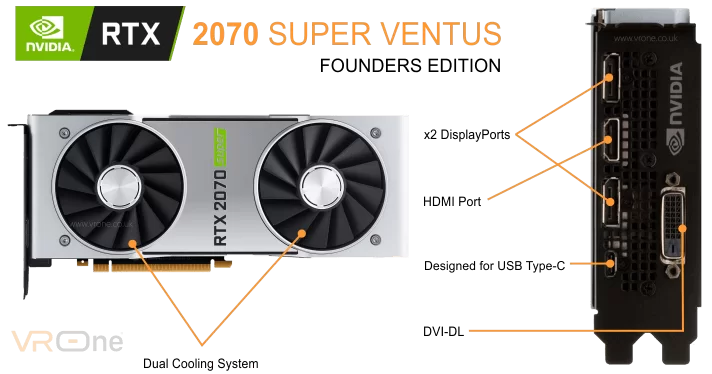 The Nvidia GeForce RTX 2070 Super Founders Edition costs roughly the same as the regular RTX 2070 of the same brand, but it does perform slightly better on a lot of fronts. Nvidia claims that the Super range (including the Super Founders Edition) is 15% faster than the non-Super 2070 GPU. You might as well go ahead and get the superior card at the same price, for a slightly better VR experience, however, don't expect this card to blow the socks off the 2060 Super, you'll only benefit from a 12% increase (approximately) in performance over the GTX 2060 Super. So is the extra £90 worth it?
---
Best high-end graphics cards
If money is no problem, then why not go for the best graphics cards on the market? In most cases, when it comes to GPUs - and anything else for that matter - quality does come with a higher price tag. One of the major benefits in purchasing a top of the range graphics card is the fact that they are generally more capable of handling the future developments associated with new VR games. Weaker, cheaper graphics cards will tend to struggle and it won't be long before they become obsolete. Those with higher specs will provide smoother visual clarity and better frame rates, minimising VR sickness, so overall a much better VR experience. High-end cards will generally last longer, unlike cheaper GPUs that are constantly pushed to the limits of their capability, high-end cards don't necessarily need to work as hard all the time, so they'll generally have a longer life-span and take far longer to become obsolete. From this perspective, they can be considered as a better investment and a better payoff in the long run.
If you're after a high-end graphics card, then I recommend you choose one of NVIDIA's new 2nd generation, 3000 Series GPUs; the RTX 3080, which is the flagship card (£699) or the cheaper version, the RTX 3070 (£499). Both are excellent cards and offer exceptional performance over the 1st generation; RTX 2060, 2070, 2080, Super variants, even the 2080 Ti. If you're after something really powerful, there's always NVIDIA's monster GPU, the Nvidia RTX 3090 - AKA 'BFGPU' - it's currently the best graphics card and is set to replace the outdated and over-priced Titan.
AMD Radeon
Let's not forget AMD's latest graphics cards; Radeon™ RX 6000 Series GPUs. There are currently three to choose from - The RX 6900 XT, RX 6800 XT and the RX 6800. These three presets range from "calm" to save power, "balanced", and "rage", unleashing the card's full potential. AMD boasts that when pushed to their maximum capacity, the cards in the 6000 Series have enough juice to display up to 8K HDR (High Dynamic Range) experiences.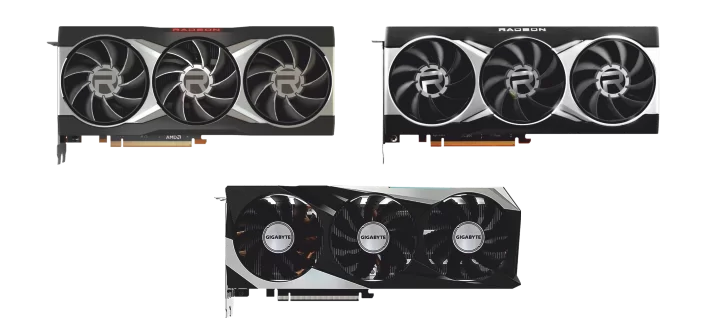 ---
Asus ROG Strix RTX 2080 Ti
If spending over £1,000 on a graphics card isn't going to break your bank, then this might be the card you've been looking for. Its GPU features 4,352 CUDA cores, a 14Gbps memory clock, 11GB of GDDR6 memory, and a factory overclocked 1665MHz boost clock, which is clearly superior to counterparts that fall in the 6GB - 8 GB range. The ROG TRX 2080 Ti has all of the connection ports necessary for VR and multiple monitors. There are two DisplayPorts (1.4), two HDMI 2.0b ports, supports HDPC (2.2), as well as a USB Type-C port for hooking up your VR headset (Oculus Quest). This truly is an excellent card, great for playing PC games in 1440p or 4K resolution and when It comes to VR, you can rest assured knowing that your visuals will be clean and fluid, with no lagging, no matter what game you're playing. When only the best will do, the 2080 Ti is the ideal partner to one of the newer generation VR headsets, such as the Valve Index, HTC Vive Cosmos or the HP Reverb G2. The latest 2nd generation GPU from Nvidia, a replacement for the 2080 Ti - is the 2nd-Gen RTX 3080.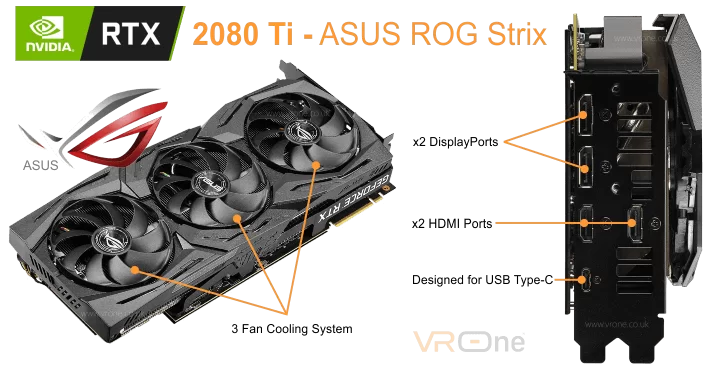 The ROG Strix RTX 2080 Ti has three fans that promise to be "whisper-quiet", and are far more capable of maintaining controlled temperatures than alternative graphics cards, most of which only have two fans. It's also dust resistant, offering more protection that will ideally translate into longevity for the card. Perhaps the only downside to this card (aside from the price tag) is that it is larger than many of its equivalent counterparts. It's 12" long, 5.13" high and 2.13" wide - which may prevent it from fitting into all PC cases.
Expect the ROG Strix TRX 2080 Ti to cost around £1,279.

If you're still after a card that is essentially exactly the same as the Asus ROG Strix RTX 2080 Ti, apart from the additional fan, but have limited space in your case, there are smaller and cheaper versions available; The GEFORCE RTX 2080 Ti or Ventus version - is 10.5" long, 4.56" high and just over 2" wide. Expect to pay between £1,000 - £1.100. Check out the prices here.
---
Nvidia Titan RTX
This graphics card is one that truly looks as expensive as it is, and is considered to be one of the best and fastest GPUs currently available. Its GPU features 4,608 CUDA cores running at 1770 MHz. It has a whopping 24GB of GDDR6 memory running at 14 Gigabits per second for up to 672 GB/s of memory bandwidth. You will never have to worry about latency or jolting visuals, as this GPU will give you smooth, crisp visuals without batting an eyelid. Capable of providing up to 8K resolutions, this GPU will last for years to come.
The Titan RTX graphics card comes with a hefty price tag of over £2,000, however, it was never developed or intended to be used for gaming, or VR for that matter. The card was purpose-built for workstation PC's, primarily used for accelerating AI, ray tracing and applications that require high levels of visual power. If you want the ultimate card high-end GPU for gaming, go for the 2080 Ti.
SLI. Is it worth it?
It is possible to combine the power of two GPUs at the same time, but is it worth it? If you have a case large enough and you have a suitable motherboard with more than one slot for a graphics card, and a hefty power supply, then you can definitely use more than one GPU at the same time, either for PC gaming or use with VR. The Dual-GPU function is not a new concept for gamers, however, in order for it to work properly with Nvidia cards you need to have two identical graphics cards. From the perspective of an Nvidia graphics card, the Dual-GPU option is referred to as SLI (Scalable Link Interface), however, AMD's version of a GPU link-up is referred to as CrossFire. They essentially work in the same way, but just use a different terminology.
Using two graphics cards is actually a great way to help prevent "GPU bottlenecks". This term refers to situations where you may have an impressive CPU, but the game experience is still limited due to the capabilities of the GPU - it becomes a weak link in the system. Using two GPUs simultaneously is a solution that can potentially prevent those troublesome bottlenecks and allow for a greater frame rate and therefore a better game experience. Adding a second card means that frames are now rendered on alternating GPUs, speeding up the process to make your visuals appear smoother. If you find your frame rate lagging, you may wish to invest in a second GPU, instead of upgrading your current graphics card.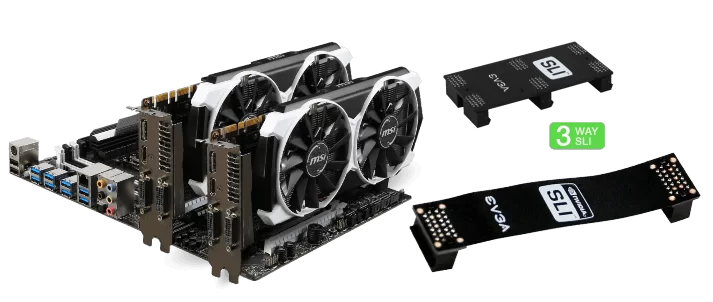 As mentioned previously, if you do choose to add a second Nvidia graphics card to your setup, you must make sure that it is compatible with your first one. If you are using CrossFire, this simply means purchasing a second AMD graphics card and using a connector, also known as a bridge. The second graphics card doesn't have to be identical to the first, although they should be similar (a full list of compatible cards can be found on the brand's CrossFire webpage). Once again, in order for Dual-GPU functions to work for SLI, the two GPUs must be the same (you will need two identical Nvidia graphics cards). Just to point out, as far as the 2nd gen - NVIDIA 3000 Series cards are concerned, only the RTX 3090 supports SLI.
It's important to note; Not all VR games can facilitate this technology, however there are some games, such as Serious Sam VR: The Last Hope and Funhouse that have been specifically designed with dual technology in mind. If you try and use dual-GPUs with other games it can sometimes lead to an even worse VR experience, through a phenomenon called micro-stuttering (jumpy visuals). It's also important to point out that two graphics cards in close proximity to each other are also going to generate more heat than a single card, which can increase the risk of damage to your hardware.
Given the current situation and lack of support from a large number of games, using two graphics cards is probably not going to give you the results that you are looking for. If you know that the VR games you constantly enjoy playing are compatible using Dual-GPU or CrossFire, then go ahead, but for all other scenarios, you are better off buying a single, more expensive graphics card, than using two cards that are lower in quality.
Final thoughts
There are a number of different graphics cards on the market that will suit all budgets and provide a quality VR gaming experience. For those who are new to the world of VR, opting for the most expensive GPU will provide the necessary power, but it is possible to achieve the same results with a cheaper alternative, such as the GTX 1660 Super. It really depends on the type of games you want to play. For example, the 1660 Super will work perfectly well with Beat Saber, Pistol Whip, Arizona Sunshine, Lone Echo, Robo Recall and many other VR titles.
Perhaps one of the benefits to buying a cheaper graphics card is that you can afford to replace it more frequently, as older technology becomes obsolete. As GPUs and VR games continue to develop at a rapid pace, it can feel like a never-ending cycle of buying graphics cards to keep up with those more demanding AAA games. I guess that's okay in a way; while it's certainly not cost effective, it is easier because having access to £200 is more realistic than having instant access to £500 or more… Think about it, buying batteries is a similar proposition: Many of us buy disposable batteries because, as a one off purchase, they're cheap. The initial outlay for a rechargeable battery may be 10 times the cost of a disposable battery, but they do last 400 times longer, working out far cheaper in the long run, but we still buy disposables! Having said all that, in my personal opinion, as far as today's graphics cards go, I would wait a little and save up for either the GeForce RTX 3070 or go balls out and buy the NVIDIA GEFORCE RTX 3080.
Conversely, buying a more expensive alternative can help to protect you against future innovation. It will probably last a lot longer than a cheaper, poorer-quality alternative that is incapable of keeping up with the demands of new game releases. As newer games come out with better quality graphics, the demands on our graphics cards will become more and more apparent. Expensive GPUs will be able to keep up with the trend for longer, allowing you to get more out of your purchase.
Ultimately, there is no single graphics card that is superior to all others. Provided that you have invested in a GPU that can meet the necessary specifications to facilitate the game and keep up with the rest of the computer hardware, then you can't go wrong. Personal preference and game taste really does play a big part in your choice.
It should also come down to the rest of your setup. You should consider the fact that your GPU is only going to be as good as the rest of your hardware - bottlenecks can just as easily happen in the CPU if that's the inferior part of your computer compared to the GPU. If you are planning to upgrade your setup later on, then it might be worth investing in a really good graphics card, but don't expect miracles if the rest of your hardware isn't the same quality.
Are you thinking of replacing your GPU?
Is your graphics card broken? Before you go shelling out hundreds of pounds on a new graphics card, you may want to check your existing GPU first. We've written a handy guide to assist you in fixing a broken GPU. There can be many reasons why graphics cards stop working, such as overheating - caused by the build-up of dust - or a Driver or Bios update for your Motherboard. Check out the article: Graphics Card Troubleshooting.
Do you own any of the graphics cards mentioned here? Tell us what you think in the comments area below…