Back then: Nvidia RTX 2000 Series
Doesn't time fly! It's been a whole two years since Nvidia's CEO, Jensen Huang unveiled the 2000 series graphics cards at Gamescom in Cologne, Germany in August 2018. Back then the 2000 series were considered a technical marvel and to a certain degree they still are! The GPUs utilised Nvidia's new Turing architecture, that was set to revolutionise gaming and real-time ray-tracing, replacing the Pascal based GTX 1080 which had already passed its sell-by date.

The primary keynotes were Nvidia's new RTX 2070, 2080 and their flagship model, the RTX 2080 Ti, which out-performed their previous generation GPUs by up to 6 times, the main feature being the performance and support for ray-tracing, based on the latest Turing architecture. What a card eh?
---
Now: Nvidia RTX 3000 Series
On 1st of September, Nvidia's CEO, Jensen Huang, unveiled the latest, revolutionary range of GPUs, the 3000 series - the RTX 3070, RTX 3080 and the RTX 3090.
Official Launch Event RTX 3000 Series
The new RTX 3000 series graphics cards utilises Ampere, Nvidia's 2nd generation RTX architecture. Ampere is a big step for Nvidia, in that these new GPUs feature faster 2nd generation ray tracing cores, faster 3rd gen Tensor cores and new streaming multiprocessors, that together deliver faster frame rates, stunning real-world visuals and enhanced AI acceleration for gamers, developers and creators. You can also expect up to double the performance based on the previous gen cards, with good energy-efficiency, due to Turing, as the result of the new 8nm process. To cap it off, Nvidia's Founders Edition cards utilise a dual axial flow-through cooling system.
The RTX 3000 series are the latest, first-class gaming cards, offering up to 24GB of super-fast GDDR6X memory - they're also the first graphics cards with HDMI 2.1, ideal for 4K, and up to 8K gaming. The cards also support the AV1 codec, which enables users to enjoy high resolution video streams using remarkably less bandwidth. The 3000 series GPUs are also PCIe 4.0 compliant, but they do fully support backward compatibility and will work on PCIe 3.0 motherboards too. Phew!
---
PCI Express 4.0
So, what is PCIe 4.0 then? Essentially PCIe 4.0 doubles the connection speed between the Graphics card and the rest of the PC, delivering faster speeds and higher processing capabilities than ever before. This improves performance when working with ultra-high-resolution - HDR video, not to mention playing the most demanding games.
The new RTX 3000 series GPUs are PCIe 4.0 compliant, utilising a full PCIe 4.0 x16 slot and allow for 32GB/second of I/O bandwidth in each direction, double what the RTX 2000 series cards had access to - so that's good right? Well yes, as it future proofs the GPU, at least for the next few years, however, you'll need a motherboard that supports it. Problem is there aren't many brands that include PCIe 4.0 in their motherboards, despite its advantages and recent adoptions – including super-fast PCIe 4.0 NVMe SSDs. Having said that, I'm banking on a huge jump in PCIe 4.0 motherboards to hit the market, simply because of the release of the RTX 3000 series, which is going to be a popular card along with the next gen GPUs from AMD's Big Navi and variants of RDNA 2. After all, if you own the best GPU and one capable of faster speeds, you want a motherboard that supports its features right?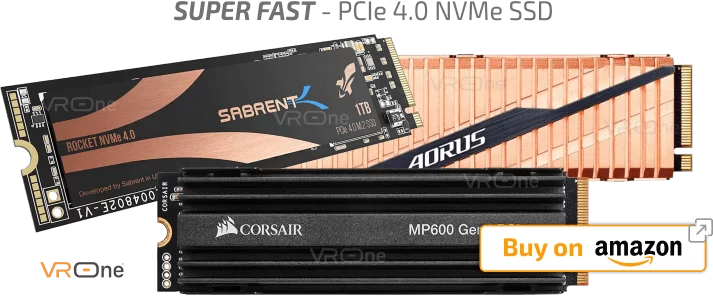 First-come; AMD was the first to quickly develop PCI Express 4.0 into their motherboards, primarily the X570, along with the more recent mid-range release, the B550 chipset, a more affordable alternative to the X570 chipset.
---
PCIe 4.0 Motherboards
At the time of writing this, there were only three motherboard chipsets that supported PCI Express 4.0; AMD X570, B550, including Intel's new line of boards, the Z490. Admittedly Intel were a little late getting on the PCIe 4.0 bandwagon, but maybe they'll be first in-line for PCIe 5.0, already announced and on its way.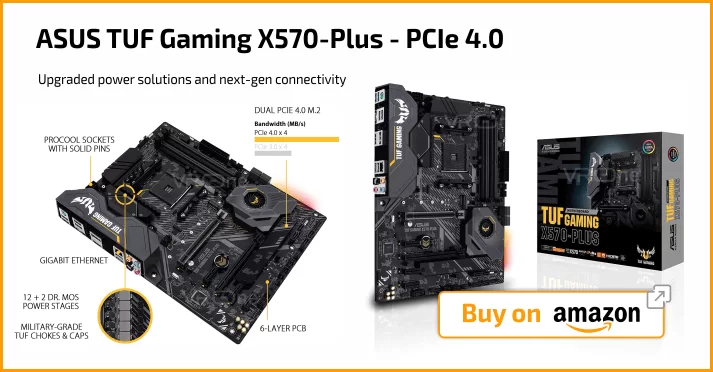 NOTE: Although Nvidia originally expressed some concerns regarding the RXT 3090 having issues with running 8K at 60FPS, potentially creating somewhat of a small bottleneck with PCIe 3.0 given that the card is PCIe 4.0 compliant. Tony Tamasi, senior vice president tech guru said;
Tony Tamasi:


"System performance is impacted by many factors, and the impact varies between applications. The impact is typically less than a few percent going from a x16 PCIe 4.0 to x16 PCIe 3.0. CPU selection often has a larger impact on performance. We look forward to new platforms that can fully take advantage of Gen4 capabilities for potential performance increases."
Tech and Apps
Other technologies include Nvidia Reflex, which reduces system latency, offering PC gamers faster gaming response times; and there's Nvidia Broadcast - ideal for YouTube bloggers - essentially turning any room into a home-based-video broadcast studio, negating the need for a green-screen. If you're familiar with Microsoft Teams meetings, you'll know exactly what I'm talking about. Nvidia Studio is also a nice enhancement for those who make creative applications, now running faster than ever before… and let's not forget DLSS.
---
DLSS
Oh yeah… er what's that then? Well, for those of you who don't know what DLSS is - it stands for 'Deep Learning Super Sampling'. Essentially DLSS uses the power of AI (Artificial Intelligence) to boost frame rates. For gamers, as well as creative apps, it provides real-time super resolution; a much higher image quality whilst still providing good levels of performance. So, for those who are aiming for 60 frames per second, but having difficulty achieving it, DLSS is a good choice. With DLSS on, you can see and appreciate all those intricate details that the game developer artists arduously put so much effort into.
Having said that, DLSS is only native to RTX GPUs and not all games support it, but for the ones that do, you'll certainly appreciate the detailed textures and crisp life-like visuals, and with Nvidia's new Ampere architecture you can rest assured of solid frame rates with fluid gameplay, even at 4K resolution!
According to Nvidia, there are a lot more games on the way that will support DLSS, but several games they've announced still haven't received their intended DLSS support. I guess we'll have to just wait and see.
Which Graphics Cards Support DLSS?
The DLSS architecture is only supported and available on Nvidia's 2000 and 3000 Series. The following GPUs that are capable of running DLSS are;
RTX 2060
RTX 2060 Super
RTX 2070
RTX 2070 Super
RTX 2080
RTX 2080 Super
RTX 2080 Ti
RTX 3070
RTX 3080
RTX 3090
What about DLSS 2.0
DLSS 2.0 is Nvidia's next big leap in AI rendering. DLSS 2.0 is essentially the same as DLSS, in that it sets out to achieve the same thing, however the latest version is said to be more efficient in how it utilises the Tensor Cores, making it twice as fast as its predecessor. DLSS 2.0, already superseded by DLSS 2.1, offers gamers a mix of 3 image quality modes; Quality, Balanced and Performance. These control the game's internal rendering resolution, with the Performance mode enabling up to 4X super resolution, so for example 1080p up to a whopping 4K. With the latest advances in DLSS 2.1, PC VR gaming will also benefit. Find out more about DLSS.
---
RTX IO GPU-Accelerated Storage Technology
What graphics cards support the new RTX IO?
Nvidia's new RTX 3080, 3090 and 3070 GPUs are all capable of utilising Nvidia's RTX IO, but are only supported on Windows 10. Right! Got that, but what the hell is it and how does it work?
Instant gaming has always been the life-long dream for many gamers and developers alike. We all want our games to load in the quickest possible time. Even with the super-fast performance of today's top-end Gen4 NVMe SSDs, this goal still remained somewhat out of reach. This was because modern-day game engines have essentially exceeded the capacity of common storage APIs, so Nvidia created a new generation of I/O architecture to try and alleviate the problem.
Games Bottle-necked by Traditional I/O
The example diagram shows the flow of data via the PCIe through the CPU to the System Memory and back through the PCIe before it even reaches the GPU. Not an efficient or fast process by any means - "Round and round the Mulberry Bush…"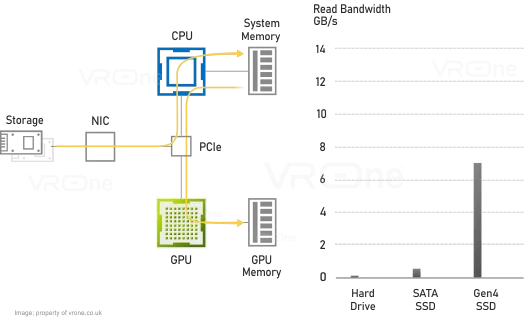 New RTX I/O
Leveraging Nvidia's latest Ampere architecture in the new RTX 3000 Series of GPUs, Nvidia created RTX IO. In essence the newer technologies incorporate and enable rapid GPU-based loading and game asset decompression techniques, vastly speeding up I/O performance by up to an incredible 100x compared to average hard drives and traditional storage APIs. When used in tandem with Microsoft's new Direct Storage for Windows API, the new RTX IO dumps dozens of CPU cores' worth of work to the RTX graphics card instead, enabling almost instantaneous game loading, opening a whole new world for detailed, open world games.
Announcing RTX IO
100x Throughput, 20x Lower CPU Utilisation | Supports Microsoft Direct Storage for Windows. See how the data streams differently.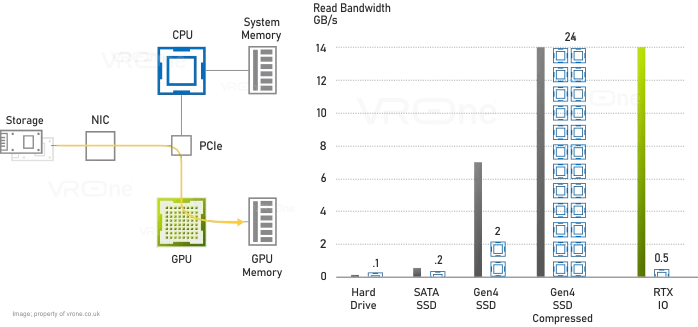 The advantages are reduced stutter for object pop-in, and high quality textures can be streamed at blazing speeds, so whatever game you're playing, everything still runs whisper smooth and looks equally as good. With the addition of lossless compression, game downloads and install sizes can also be reduced, allowing avid gamers to store even more games on their SSD while also improving their delivery performance.
RTX IO FAQ
Q: Does RTX IO allow use of SSD storage space as VRAM?
A:

RTX IO allows the reading of data from SSDs at far greater speeds than traditional methods, such as the typical standard HDD and SATA SSD. The real beauty of RTX IO allows the data to be stored and read in a compressed format by the graphics card, for decompression and then reused by the GPU. It doesn't allow the SSD to replace frame buffer memory as such, but it allows the data from the SSD to be transferred to the GPU and its memory much faster, with much less CPU overhead - almost negating the need for the processor altogether, to a certain degree… dare I say that!
Q: Is there a specific SSD speed requirement for RTX IO?
A:

No. there's no SSD speed requirement for RTX IO, but faster SSDs will make all the difference, such as the next Gen4 NVMe SSDs, like the Corsair MP600, the Gigabyte AORUS, not to mention the new Sabrent Rocket, reasonably priced, offering great value and performance compared to many Gen4 NVMe SSDs.

The pay-back is faster load times, including the capability for games to stream far more data into the world dynamically. RTX IO accelerates SSD performance regardless of its speed, by reducing the CPU load required for I/O, and by enabling GPU-based decompression. Compression ratios are typically 2:1, so that would effectively boost the read performance of any SSD by a factor of 2.
---
Nvidia RTX 3000 Series Specs and Comparison Chart
Features
RTX 3090
RTX 3080
RTX 3070
RTX 2080 Ti

Cuda Cores

10496

8704

5888

4352

Boost Clock

1.7 GHz

1.71 GHz

1.73 GHz

1545 MHz

Memory Clock

19.5 Gbps GDDR6X

19 Gbps GDDR6X

14 Gbps GDDR6

14 Gbps GDDR6

Memory Bus Width

384-bit

320-bit

256-bit

352-bit

VRAM

24 GB

10 GB

8 GB

11 GB

Texture Rate

556.0 GTexel/s

465.1 GTexel/s

317.4 GTexel/s

420.2 GTexel/s

FP16 (half) performance

35.58 TFLOPS(1:1)

29.77 TFLOPS(1:1)

20.31 TFLOPS(1:1)

26.90 TFLOPs (2:1)

FP32 (float) performance

35.58 TFLOPS

29.77 TFLOPS

20.31 TFLOPS

13.45 TFLOPs

FP64 (double) performance

1,112 GFLOPS(1:32)

930.2 GFLOPS(1:32)

634.8 GFLOPS(1:32)

420.2 GFLOPS (1:32)

TDP

350W

320W

220W

250W

Suggested PSU

750W

700W

550W

600W

GPU

GA102

GA102

GA104

TU102

NVLink SLI

YES

NO

NO

YES

Bus Interface

PCIe 4.0 x16

PCIe 4.0 x16

PCIe 4.0 x16

PCIe 3.0 x16

HDMI

2.1

2.1

2.1

2.0b

HDCP

2.3

2.3

2.3

2.2

Length

12.3"

11.2"

9.5"

10.5"

Width

5.4"

4.4"

4.4"

4.6"

Height

3 Slots

2 Slots

2 Slots

2 Slots

Transistor Count

28 Million

28 Million

17.4 Million

18.6 Million

Architecture

Ampere

Ampere

Ampere

Turing

Foundry (Man-Process)

Samsung 8nm

Samsung 8nm

Samsung 8nm

TSMC 12nm "FFN"

Launch Date

24th Sept 2020

17th Sept 2020

28th Oct 2020

20th Sept 2018

Launch Price

£1499

£699

£499

£999



BUY RTX 3090

BUY RTX 3080

BUY RTX 3070
BUY RTX 2080Ti
Nvidia RTX 3000 Series Prices
Pricewise, you have to agree, the RTX 3000 series is very reasonably priced, certainly in comparison to the first gen RTX cards. Even now the average 2080 Ti is still in excess of £1,000 and the RTX 2070 Super is still at the £450 mark, that's just £50 shy of the RTX 3070, which is a far superior card. Let's not forget the Titan RTX… now, let me see; £2,500 for the inferior Titan or Nivia's 'BFGPU' the RTX 3090… I'll take two please!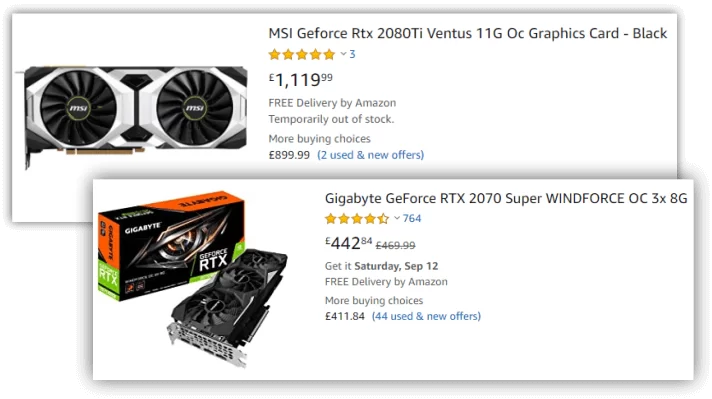 Perfect Timing
I think it was a very good, strategic move by Nvidia to beat AMD to the market. AMD is already having to drop the prices of their next gen GPUs 'BIG Navi' and other RDNA 2 alternatives to compete with the RTX 3000 series, so great for the consumer in both worlds! The launch will probably also have some impact on game console sales, with the likes of the much awaited Xbox Series X and the PlayStation 5 taking a hit. That's business for you. Good move Nvidia and well executed!
Price Drop - 1st Gen RTX
A preemptive, educated guess; I see a considerable price drop on the first gen RXT GPUs as and when the new 3000 series cards hit the shelves. And what about all those retailers and stockists who have stockpiles of all those potentially depreciated GPUs? They're going to have to lower their prices or bite the bullet, I mean who's going to buy an outdated RTX 2070, 2080 or 2080 Ti, when you can buy Nvidia's new 2nd-Gen GPU for roughly the same price… it's a no-brainer! Having said that, it may depend solely on the availability of the 3000 series and whether those wanting to upgrade now, can be bothered to wait. My guess is they won't be able to manufacture the new GPUs quick enough and everywhere will be sold out in a matter of weeks, or days even!
Where to buy the RTX 3080, 3070 or 3090 on Preorder
Sadly there's nowhere on the web offering pre-orders for the RTX 3000 series at present, however, Nvidia's website does provide you with a notification option that will email you when they become available. Bestbuy also has the 'Notify me' option to buy.
See our buy page options here: Buy RTX 3080 - Buy RTX 3090 - Buy RTX 3070
Overclockers UK offers probably the most extensive range of aftermarket, RTX 3000 series GPUs, where they offer the likes of Ausus for anywhere between £649 - £850, EVGA: £659, KFA2: £649, Palit : £659 and Zotac: £649, there are also 3 variants of Inno3D GPUS, ranging from £650 - £680. There are 4 variants of the popular Gigabyte cards: £700 - £800, capping it off with my favourite brand, MSI, with graphics cards ranging from £700 - £750. Heck that's a lot of stock! Overclockers is certainly the place to go if you can't get your hands on one of the Founders Edition cards from Nvidia, so keep that in mind.
Founders Edition Prices - Nvidia RTX 3000 Series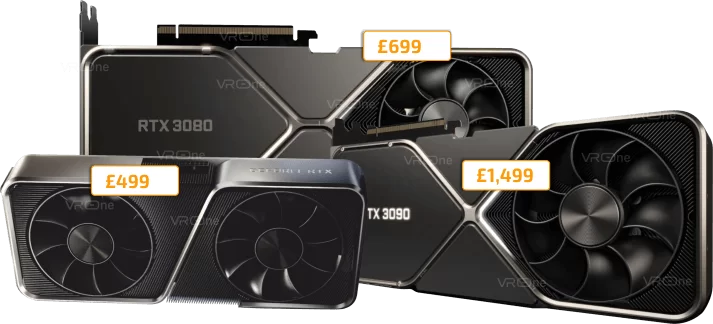 Nvidia GeForce RTX 3090: £1,499 - available from 24th September, 2020
Nvidia GeForce RTX 3080: £699 - available from 17th September, 2020
Nvidia GeForce RTX 3070: £499 - available end of October, 2020
---
Nvidia RTX 3090: The New Titan
The beast of all cards; referred to by Nvidia's CEO, Jensen Huang as the 'BFGPU' and rightly so, he couldn't have summarised it any better! The RTX 3090 is the mother of all GPUs - it simply piddles over anything out there. Essentially the 3090 seems set to be the replacement for the Titan RTX, although Nvidia never actually said it would be, but it seems obvious to us it is, or will be. Well... it had a good run and had to go sooner or later! Don't get me wrong, the Titan is still a beast of a card, only missing a few of its claws now.
Read the full review and Specs of the Nvidia RTX 3090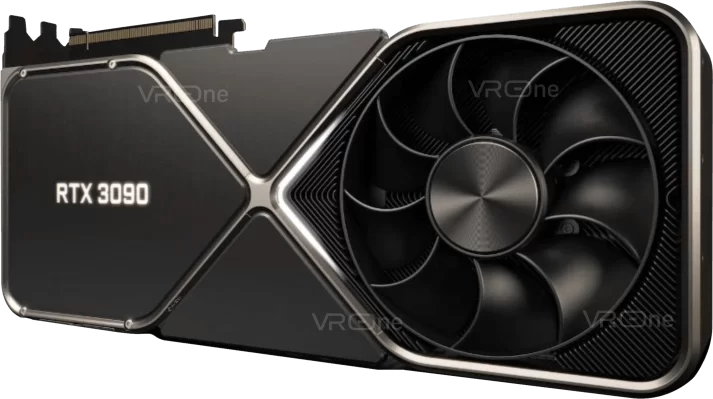 The next in the line-up to the RTX 3090 is the RTX 3080. Both graphics cards are extremely powerful GPUs, and if there ever was such a thing, the RTX 3080 would comfortably sit on the olympic podium of GPUs.
---
Nvidia RTX 3080
The RTX 3080 is Nvidia's flagship GPU. Unlike the 3090, the RTX 3080 is tailored more towards the high end gamer and, although still an expensive card, it's more palatable at £700 than its £1,200 big brother, the RTX 2080 Ti. The RTX 3090 only offers about a 20% increase in Cuda Cores, and yes there is that extra 14 GB of GDDR6X memory, but depending on what kind of gaming setup you have, or are looking at building, and what type of gaming you prefer, remember that both these GPUs are still overkill. The question is whether you are happy enough playing AAA games at 144 FPS, and if so, at how high of a resolution? As pointed out by Jensen Huang in the Official Launch Event of the RTX 3000 Series, gamers would only expect about a 15 - 20% increase in FPS on the 3090. I guess we'll know more when we see the benchmark results come out shortly after launch. It's entirely up to you if you can justify the £800 price jump for that little extra performance. In my opinion the RTX 3080 is for the serious gamer. The 3090 is for the developers and those who render with the likes of Blender and ray tracing.
Read the full review and Specs of the Nvidia RTX 3080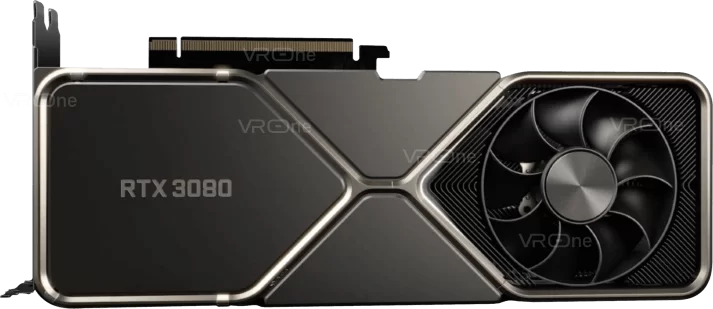 ---
Nvidia RTX 3070
The RTX 3070 is Nvidia's budget graphics card. When I say budget I don't mean it's basic and cheap, far from it! It hasn't quite got all the bells and whistles that the 3090 and 3080 do, and it only utilises 8GB of GDDR6 as opposed to the faster GDDR6X memory offered by the latter, however, it's still an excellent card and performance-wise, is on par with the 2080 Ti - a truly awesome gamers card which held the pole-position for 2 years. Frankly I feel the RTX 3070 will hit the sweetspot for most hard-core gamers. It's rumoured to be approximately 60% faster than the RTX 2070 and includes more than double the amount of Cuda Cores, and Tensor Cores are increased by 1.27 times, generating better performance with DLSS/DLSS 2.1 AI Acceleration.
Read the full review and Specs of the Nvidia RTX 3070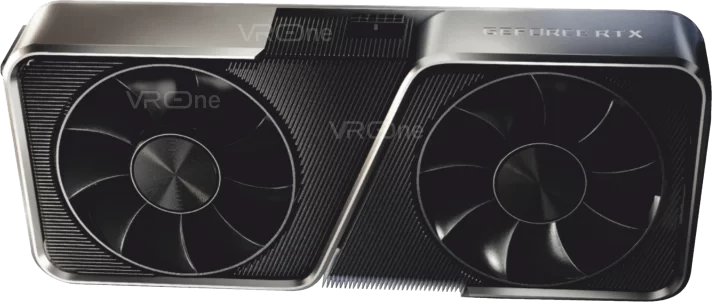 I hope you found this article interesting. Don't forget to read the full reviews and specs of the RTX 3080, 3090 and the RTX 3070, we don't want you to miss out on anything.
What are your expectations of Nvidia's new RTX 3000 series? Please let us know in the comments box below.