Fast Affordable Gaming
The RTX 3070 is Nvidia's new 2nd generation, mid-range, budget GPU. I say mid-range because I anticipate the launch of the 3060... hey! And you never know, NVIDIA may launch the likes of a 3070 Ti or 3060/Ti or 'Super' variants, we'll just have to wait and see.
Yes. Although I mention the RTX 3070 is currently Nvidia's budget GPU, I don't mean it's crude or sub-standard in any way, far from it! Admittedly it hasn't got the faster GDDR6X memory but it does offer a modest payload of 8GB of GDDR6, which is pretty damn good, certainly for the price. Surprisingly, performance-wise the RTX 3070 is on par with the 2080 Ti, so is the ideal choice for those on a budget and powerful enough to handle high-end gaming. The RTX 3070 also has an impressive amount of Ray Tracing Cuda Cores over the first-gen RTX too, and the Tensor Cores have increased by 1.27 times which means better performance with DLSS AI Acceleration.
Freebees
For a limited time, from now until October 29th, 2020 or while stocks last, Nvidia are offering a PC digital download of Watch Dogs: Legion to experience second generation ray tracing cinematic-quality visuals, and performance enhancing AI-powered DLSS. Nvidia is also including a 1-year GeForce NOW Founders membership*, allowing you to experience legendary GeForce gaming anywhere, streaming your library of PC games across all your devices from the cloud.
*Limit one download code per game per customer. Terms and Conditions
Price and Availability
The Nvidia GeForce RTX 3070 will be available sometime in October 2020 and will retail for £499, an excellent price considering that performance is equal to that of the legacy RTX 2080 Ti, which still retails at £1,000+. There are other alternatives to the RTX 3070, so if you're strapped for cash you could pick-up a bargain on Ebay. Find out more on the best graphics cards here. In regards to the definite release date or price changes for that matter, I'll post them on this page in the comments section below...
---
RTX 3070 Connections
The card is powered by a single 1x 8-pin to 12-pin power connector, but does come boxed with the necessary 12-pin adapter cable. The RTX 3070 has a maximum power draw rating of 220W. The GPU is future-proofed, utilising PCI-Express 4.0 x16. Its display outputs include 3x DisplayPorts and 1x HDMI 2.1. Sadly there's no option for cross-bridging as the 3070 does not support SLI. The RTX 3070 measures 9.5" (242 mm) in length x 4.4" (112 mm), taking up 2 Slots.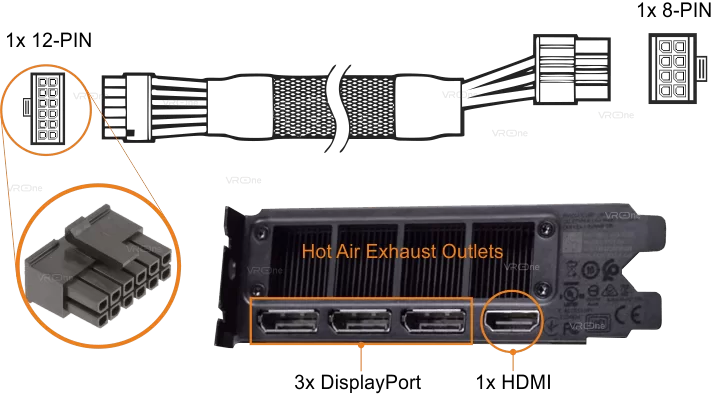 Cooling the RTX 3070
Just like the 3090 and the 3080 the RTX 3070 also has a pretty good cooling system. There are two parts to the cooling system, although It appears it's only the front fan that utilitises the flow-through design, working by drawing in cool air from the outside, through the GPU and pushing the hot air straight out the graphics card bracket. The second fan at the rear of the card just acts as a cooling fan, blowing cool air over the heat pipes, allowing hot air to be extracted by the computer system fans. There's lots of room for good airflow in the 3070, as it utilises a wafer-thin PCB, in fact it's 50% smaller than the previous generation, allowing more room for air to pass through.

RTX 3070 Speed and Power
The RTX 3070 is said to offer the performance and processing power of the RTX 2080 Ti, however, know-one really knows for sure how well the 3070 will perform just yet. The 3070 boasts 20 Shader-T-FLOPS, 40 RT-TFLOPS and has 163 Tensor-TFLOPS. The graphics card also utilises 8GB of GDDR6 memory.
RXT 3070 compared to RXT 2080 Ti
Features
RTX 3070
RTX 2080 Ti

Cuda Cores

5888

4352

Boost Clock

1.73 GHz

1545 MHz

Memory Clock

14 Gbps GDDR6

14 Gbps GDDR6

Memory Bus Width

256-bit

352-bit

VRAM

8 GB

11 GB

Texture Rate

317.4 GTexel/s

420.2 GTexel/s

FP16 (half) performance

20.31 TFLOPS(1:1)

26.90 TFLOPs (2:1)

FP32 (float) performance

20.31 TFLOPS

13.45 TFLOPs

FP64 (double) performance

634.8 GFLOPS(1:32)

420.2 GFLOPS(1:32)

TDP

220W

250W

Suggested PSU

550W

600W

GPU

GA104

TU102

NVLink SLI

NO

YES

Bus Interface

PCIe 4.0 x16

PCIe 3.0 x16

HDMI

2.1

2.0b

HDCP

2.3

2.2

Length

9.5"

10.5"

Width

4.4"

4.6"

Height

2 Slots

2 Slots

Transistor Count

17.4 Million

18.6 Million

Architecture

Ampere

Turing

Foundry (Man-Process)

Samsung 8nm

TSMC 12nm "FFN"

Launch Date

October 2020

20th Sept 2018

Launch Price

£499

£1100



BUY RTX 3070
BUY RTX 2080 Ti
If you feel the Nvidia RTX 3070 isn't powerful enough for you, check out the features and specifications of Nvidia's flagship GPU, the Nvidia RTX 3080. If you're not shy of a penny and have £1,500 kicking around, and you only want the best Nvidia has to offer, take a look at the 'BFGPU' the Nvidia RTX 3090.
What are your expectations of Nvidia's new RTX 3070? Please let us know in the comments box below.