Introduction
Welcome my fellow VR enthusiast.
Isn't it amazing, the speed at which VR is evolving? I still remember buying my very first VR headset, the Oculus Samsung Gear, shortly followed by the Oculus Rift CV1. That was way back in 2012, nine years ago! VR's certainly moved on since then. Now we're spoilt for choice... so much so, it can be difficult deciding which VR headset to buy. There's the HTC Cosmos, Valve Index and more recently the Oculus Quest 2, not to mention HP's latest high resolution headset, the HP Reverb G2. The pace doesn't appear to have slowed down either, and rumours suggest that even Apple are jumping on the band-wagon now, although their headset won't be available until 2022, at the earliest. For those interested, I suggest you start saving now, as it will probably take you two years to save up for it!

Having said that, there is something else to look forward to. A new headset is about to hit the market, and this one ticks all the boxes. I guess you know I'm referring to DecaGear 1, or you wouldn't be reading this.
The DecaGear 1 VR headset is the creation of Megadodo Simulation Games PTE LTD, AKA 'Megadodo Games' (Deca) - a Singapore-based company currently located in Thailand. Although Deca is close to finalising the product, they're not quite there yet. Like many new products, the headset is still undergoing its final tweaks, so it's possible some of its design features and hardware components will be subject to change over the coming months. See also DecaGear VR headset Specs.
The company originally intended to ship the first batch of VR headsets sometime in May this year, but recently changed the date to sometime during Q3 of 2021. To be honest, I did feel May was a little optimistic given the current pandemic situation … but fingers crossed they'll deliver on their latest promise.
Should you want to keep updated about the release date of the DecaGear headset, we've provided a dedicated page just for that, so be sure to check it out for the latest shipping updates.

Actually I'm really glad you're here, I can't wait to share my excitement with you, so read on and discover everything we know about the latest PC-VR headset, as I preview the 'DecaGear 1' (DG1) and cover some of the promising features the headset is said to offer.
Before I get started I'd just like to point out that, although we've heavily researched the headset ourselves, much of the information you read here was sourced from the manufacturers website www.deca.net, and the video interview conducted by Sebastian Ang from MRTV, which premiered in late October, 2020.
We've tried to capture as much information about the DecaGear VR system as possible, and we'll do our best to keep this page updated with any new findings, so if you're not a member yet, now's a good time to join VROne.
Features Overview
The DecaGear 1 is the world's very first consumer facial tracking, virtual reality headset, for the PC. It has self-contained tracking, utilising four primary external cameras, similar to that of the Oculus Quest and the HP Reverb G2, but what really sets this headset apart from others, is that the DecaGear 1 has an additional two cameras used for facial tracking. More on that later.
Resolution wise the headset is said to be on-par with the latest high fidelity headsets, so expect nothing but the best when it comes to visuals. Another key feature of the DecaGear 1, is that it has been specifically built to support multiplayer gaming and experiences, such as natural locomotion, based on the player's hip direction. The headset includes pressure sensitive hand controllers with built-in all finger tracking, similar to that of the Valve controller (knuckles)… and if that isn't enough, the headset also offers a standalone wireless gaming solution, similar to that of the Oculus Quest, with the exception that games are stored and retrieved wirelessly via the PC or Cloud, rather than from a storage device within the headset.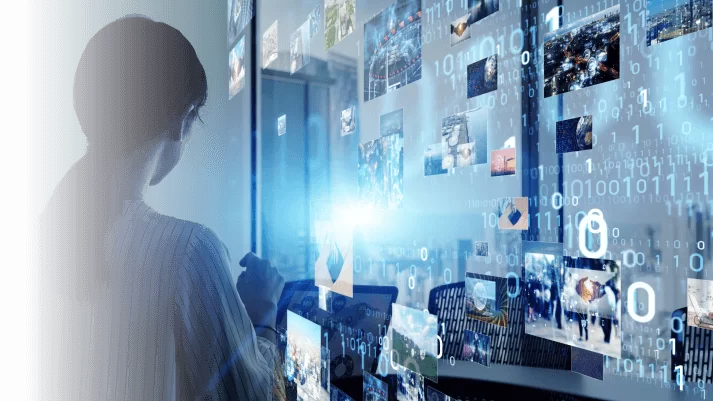 May I also point out, the DecaGear 1 is not a Windows Mixed Reality (WMR) headset. The DG1 is a virtual reality headset that is fully compatible with the SteamVR gaming platform, just like the Valve Index. So essentially there is no special software required, all you need is SteamVR - meaning you'll have immediate access to thousands of VR games from day one.
Stunning Visuals
The DecaGear 1 headset is said to offer stunning visuals. There are two single, 2.89" full RGB striped matrix LCD panels, which run at 90Hz, each outputting a resolution of 2160 x 2160px (1058 PPI) per eye, providing a combined resolution of 4320 x 2160px. That's a whopping 9.3 million pixels, two and a half times more than the Oculus Rift S.... Umm, I'm sure I've written this somewhere before!
The Field of View (FOV) of the lenses will apparently offer a minimum of 114°…although the company is looking into another lens, in the hope that the FOV can be widened (fingers crossed). For those who know the HP Reverb G2 specs well, that also has an FOV of 114°. Hey - you never know, the DecaGear 1 may even use the same LCD panels and Fresnel lenses. If they do, it's also likely the LCD panels will deliver bright, vivid colours, be free from mura, and have a reduced screen-door effect, similar to that of the G2.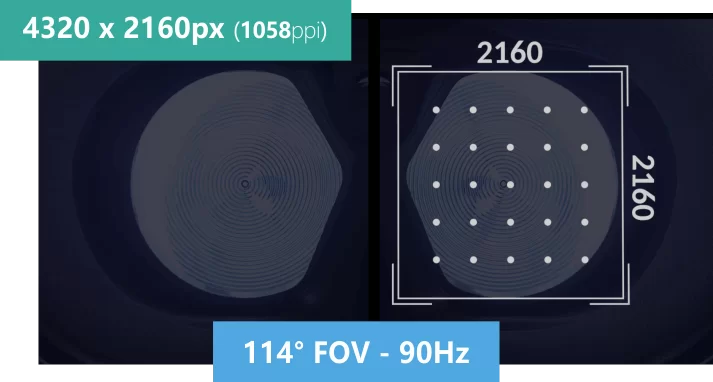 Interpupillary Distance (IPD)
The headset has a custom made mechanical IPD adjustment mechanism, which is located on the bottom-right side of the headset. Currently the IPD can be adjusted anywhere between 60 - 72mm, although this hasn't been fully confirmed. Again, fingers crossed.
---
Unique Face Tracking Cameras
The headset manufacturer 'Deca' utilises FaceFlow, their new, in-game, facial tracking system. It consists of two global-shutter, infrared cameras that cover and detect your face movements. There's a top camera to track your eyes from within and from outside the headset there's a camera located on the bottom lip of the headset that tracks your mouth. Combined, these camera's track more than 50 facial muscle movements (FACS), delivering amazing expressiveness, including various eye movements like frowning or winking, and tracking the pupils of your eyes, showing when when you look left or right, as well as detecting a smile, or even sticking out your tongue, among many other things. All-in-all FaceFlow makes your VR experience more realistic, allowing you to better interact with others at a more personal level. There are also plans to roll-out an SDK in order for developers to integrate FaceFlow into their applications, such as VRChat.
For peace of mind, and for those who are conscious about security, you'll be glad to know the face data the headset collects stays on your computer and is never uploaded or shared with anyone else.
---
Headset and Controller Tracking
Facial tracking aside, the DecaGear 1 utilises four primary inside-out cameras used for tracking, so there's no need for external sensors (base stations).
The tracking technology used in the headset was produced in-house. The technology consists of two systems that work in unison, the headset and controller tracking, both of which utilise 'Simultaneous Localisation And Mapping', AKA: SLAM, that in essence is used for constructing or updating a map of an unknown environment while simultaneously keeping track of a user's location within it - basically translating the data gathered from the outside world into a virtual environment.
The cameras span a range of up to 225° for maximum coverage in order to better track the controllers from almost anywhere and with excellent precision.
There are no plans for body tracking yet, like tracking the feet, but there may be plans to introduce this in the future.
From what we've seen, we're very optimistic and expect the controller tracking to be the best in its class, and by that I mean specifically 'inside-out tracking'. Having said that, the proof is in the pudding, so we won't know for sure until we get our hands on one… damn coronavirus!
More information on the Deca Gear Controller and tracking can be found in a separate article.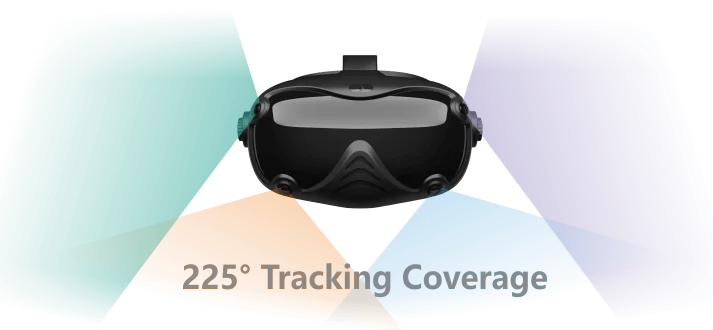 ---
Controllers: Finger Tracking & Grab Sensors
What's really exciting about this headset, setting it apart from others in its class, is what you get for the money. As well as being the first consumer headset to offer facial tracking, the DecaGear 1 will also be the first Standalone VR headset with controllers that use full finger tracking and grab motion sensors, just like that of the Valve Index controller. Liking the sound of that? Now, considering 'Deca' made it perfectly clear in a public statement that their headset is set to cost no more than $449, it's certainly going to attract attention. I mean - in direct comparison - just the Index controllers alone are $260! Having said that, I guess it all comes down to how well the Deca Controllers function, more importantly, how well the tracking performs. Then there's the overall build quality of the headset itself to consider. At a price like that, it does make you wonder. More on that later...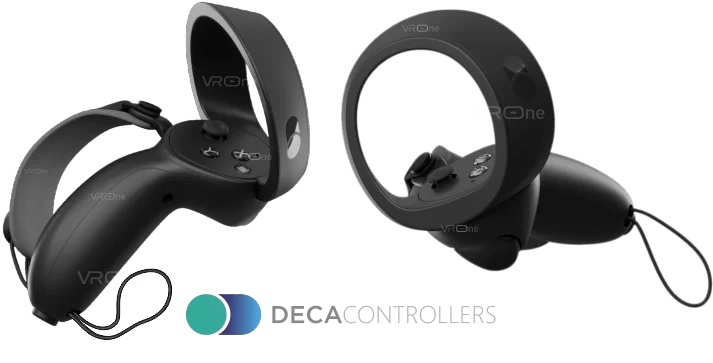 DecaMove
DecaMove is a navigational gadget exclusive to the DecaGear 1 and is included as part of the DecaGear VR system. The device allows you to naturally navigate with your hip. It's attached to your belt or the waist of your trousers or skirt.
DecaMove is a small, lightweight device that doesn't restrict player movement in any way. The device allows you to freely and easily navigate while in-game as well as detecting common postures like bending forward, crouching, or lying on the floor, all of which can be easily performed.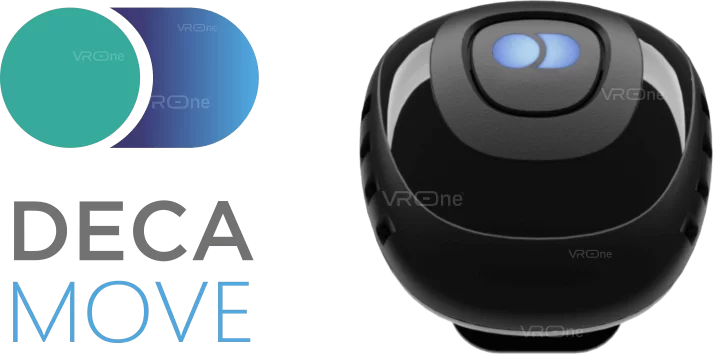 ---
DecaAir: Wireless Play
As with most VR headsets there's usually an option to buy additional gadgets and accessories, and DecaAir is just one of them. The promise here is to make wireless gaming from a PC, or the Cloud, a reality by using Wi-Fi 5 or 6 (ax) technology, in the hope of achieving a similar experience to that of the Oculus Quest headsets.
DecaAir consists of a 7000mAh battery pack that connects to the back of the head strap, it not only allows up to 6 hours of VR gaming, but assists in distributing the overall headset weight, making it lighter on the front, alleviating pressure on the face, allowing you to play more comfortably for extended periods, unlike many other all-in-one headsets.

May I point out; There's very little information on the company website (

deca.net

) regarding DecaAir, which doesn't surprise me. As far as wireless technology goes, in my opinion, it would be a massive achievement if they actually manage to pull this off, mainly due to latency over wireless streaming. Having said that, it's still early days, so anything could happen, we'll just have to wait and see.
The DecaAir will be sold as a separate device and is said to cost £37 ($49).
---
Front Faceplate
The front faceplate, AKA 'Cool Goggles' is an aftermarket accessory that simply magnetically attaches to the front of the headset carcass for easy swapping. The faceplate is simply there for aesthetic purposes in order to customise your headset. No doubt they'll be a variety of designs. Deca hasn't said what type of designs will be available or whether they'll just be CAD printed vinyl graphics, however there's potentially endless possibilities in regards to designs. Cost wise, your guess is as good as mine, but £3 - £8 ($5 - $10) would seem to be a reasonable price.
Further information on the DecaGear Cool Goggles can be found in a separate article.

Please Note: The images above are copyright and are only shown for illustrative purposes.
Where to Buy the DecaGear
So, where can you get your hands head on one of these - right now?
For those who didn't manage to secure a pre-order back in the early part of 2020, for the first production run of headsets, can still place an order, although you probably won't receive it until quarter 3 of 2022, so sometime between July and September. The pre-order will include a DecaGear headset, two controllers and the DecaMove, hip navigational device.
There's no need to pay for anything right now, or enter any payments details, as the price of the headset is still undetermined. As far as the price, Deca say "It won't cost anymore than £400 ($549)". All you need to do is fill out a simple online form - on doing so, you'll receive an order number: Consider the pre order number as a reservation for the headset. When your order is about to enter the manufacturing phase, you'll receive a 2nd email with a link to make a payment and update your shipping address. Once the payment is cleared your headset will go into assembly, packaging and and then shipped out to your delivery address. You can pre-order the DecaGear here.
Pre-orders placed Feb 2020
Delivery update: For those who have ordered a headset or considering buying one, please check the latest delivery updates.
The DecaGear VR system was originally available for pre-order back in February 2020 - for a mere £327 ($449). For those fortunate enough to have pre-order one back then, should expect delivery of their headset sometime during the fourth quarter of 2021 - October / December time. At the time, those securing their order at the publicised price and in order to lock-in the price, there was an additional fee of $10, having said that, those who pre-ordered a headset in early 2020 can still cancel their order at anytime and will receive a full refund. The additional $10 fee was to ensure customers got the headset from the first production run - NOT late May 2020 as previously published. Sadly, with the current situation of Covid 19 affecting many businesses, my guess is the DG1 headset won't be available until nearer the end of November 2021. Having said that, Megadodo Games will be updating us should things change, so we should have a more accurate time-frame should things change. For more information on the company's commitment to orders and their terms and conditions, please read their pre-order agreement for DecaGear 1 VR system.

So, what was the crack with the additional $10 fee?
The company 'Deca' saw the $10 fee as an indication that the buyer is more likely to make a purchase and was interjected to act as an encouragement factor on behalf of the company, essentially in order to gauge the interest of potential sales, and to assist in estimating factory lead-time when it came to the first phase of production - It was a good idea. Considering what happened to the high demands and limited availability of the HP Reverb G2… not to mention the mistake NVIDIA made in under estimating the sales of their RTX 3000 series GPUs; so it made perfect sense at the time!
If you are Interested in buying the headset, you can join the waitlist and pre-order your DecaGear 1 here. We've already pre-ordered our headset and can't wait to try it out. We've also contacted the company directly in order to try and get a pre-production model, prior to the official release.
Conclusion
I was a little sceptical about the company Megadodo Games being 100% legit at first. The fact that I'd never heard of them before caused further concern, but then again, why would I have heard of them? I mean, they've never created a virtual reality headset before and if they had, I'd certainly know about it, so it did set alarm bells ringing in the interim. Having said that, I'm sure if they were operating illegally or pulling a scam in any way, we'd know by now. I mean we know who they are... right?

Negativity aside, it's blatantly obvious the company is small, but that's probably not a bad thing. I mean, think about it… Megadodo Games only employs about 60 people so their overheads are likely to be very low, certainly in comparison to the likes of business giants such as HP and Oculus. Not only that, I'm sure there's far less red tape holding them back from achieving their primary goal. From what I saw in the YouTube video published by MRTV - late 2020, it appears they employ a dedicated team of fully engaged, competent engineers and they certainly seem to know what they're talking about. In my opinion I'd rather have a tight-knit group of enthusiastic, hard working people working on my headset, than the likes of greedy, larger corporations. The team at Deca seemed very knowledgeable and certainly appeared dedicated to the project. I have no doubt in my mind they will achieve everything they set out to do.

If you have any comments regarding the DecaGear 1 VR headset or DecaMove and would like to share them with others, please leave a comment in the box below…