You'll Like the Way you Move
DecaMove is 'a hip-based navigation system for better locomotion in VR', but what exactly does that mean? What is DecaMove and what are the benefits?
DecaMove is a small 2" add-on device which assists in navigation in VR. The device can be clipped on to your belt or the waistline of your pants, or anywhere around the waist for that matter, without restricting the player in any way. This gives the user the ability to navigate more freely and assists with recognising postures like crouching, bending forward or even lying on the floor, all of which is easy to do.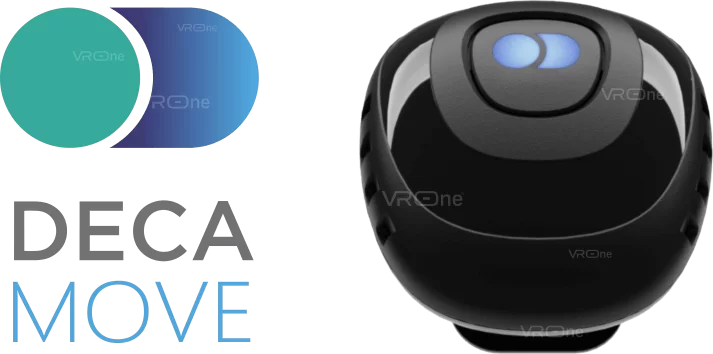 Traditional Methods of Movement
There are two common ways in which we move in VR. The first, and most commonly used is Point and Click Teleportation, using the controller to pin-point and select the location where we want to move to. Although this movement is adequate for some single player experiences, it breaks the immersion, certainly more so in Multiplayer situations. The second and preferred way for many who are more accustomed to moving around in VR, is to move using continuous locomotion, or artificial movement, by using the controller joystick. This allows the player to move throughout the gaming environment without the need of teleportation. Direction, however, is set by the controllers or headset rotation which can cause confusion and disorientation, often leading to VR sickness.
Megadodo Games (Deca) believes that a boundless and efficient locomotion control without teleportation is the key to properly move through Multiplayer worlds, making it a whole lot easier to move in VR.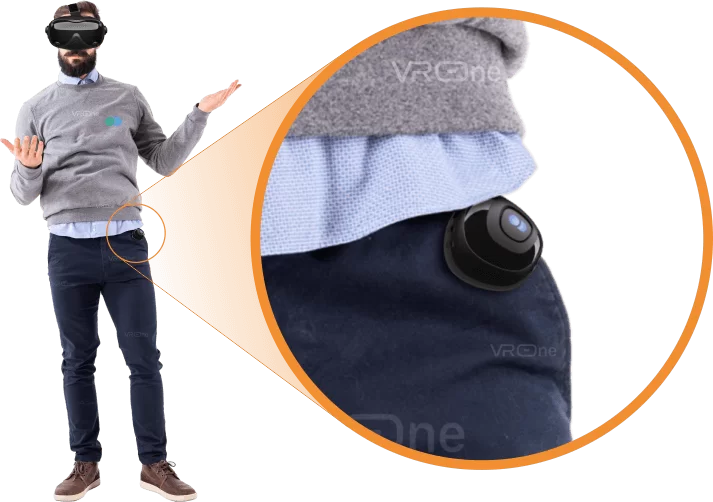 How Does it Work?
With DecaMove, navigation is based on the players hip direction, freeing their hand movements for interaction and their head to look around, which gives the player a great advantage, for example; running away from someone who is shooting at you from behind, whilst also trying to locate the shooter, is now possible, whereas with headset based navigation, you would start running towards whichever direction you are looking.
Maneuvering with the hip is comfortable, intuitive and requires minimal effort. Deca are convinced that DecaMove will allow players in both multiplayer and solo VR experiences, to move confidently and comfortably without teleportation and breaking immersion.
Other Features
The DecaMove is said to support a play area of up to 10 meters from the PC, providing there's a stable NRF reception.
Calibration is rarely needed, the DecaMove can remain accurate for a lengthy play time, and if and when calibration is needed, players just need to look straight and place their hands together for 2 seconds for a very quick calibration process, no other input is required.
The device has a strong, accurate haptic engine, providing a sense of touch or interaction along the waistline.
There's an optional Heading UI overlay, which displays an arrow that represents the hip heading. There's also a battery indicator.
The DecaGear SDK allows game and app developers to easily and quickly integrate all of the system's unique features. Future plans for DecaSpace SDKs will allow players to communicate and navigate between games seamlessly whilst in VR.
Verified SteamVR Games
Although most SteamVR games are supported, the following verified games that take advantage of DecaMove are; Angry Birds: Isle of Pigs, Asgard's Wrath, Creed: Rise to Glory, Defector and Stormland. Deca also mentions that users can manually set the game bindings for any game within SteamVR, although they don't mention how this is achieved. I have no doubt more games will support DecaMove as more developers integrate this into their apps.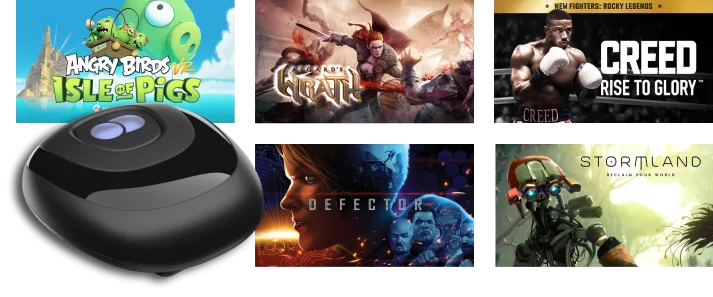 When the time is ready and you have your DecaGear 1 VR headset up and running, we've provided the DecaMove setup and Quick Start Guide. This guide is subject to change and will be updated as and when anything changes. Alternatively you could refer to deca.net's own set-up guide.
Minimum Requirements for DecaMove
Windows 10
SteamVR: Version 1.14 or greater
x1 USB 2.0 or 3.0 port
Supported Headsets
DecaGear 1
HP Reverb G2
HTC Vive and Vive Pro, HTC Cosmos
Oculus Rift S, Oculus Quest and Quest 2 using Oculus link
Samsung Odyssey
Valve Index.
Cost and Box Contents
DecaMove can be purchased separately for $59. The box contains a USB A to USB C Type charging cable, the tracking device, an antenna and USB antenna receiver.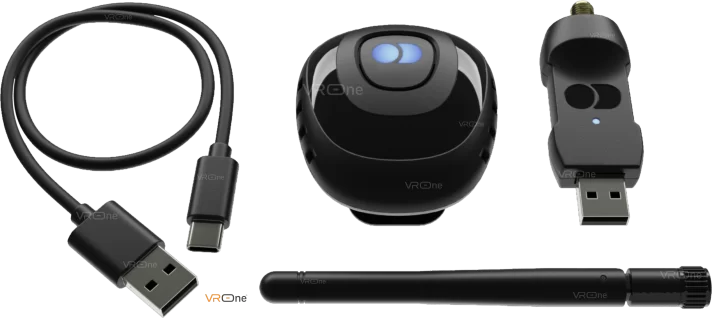 Downloads and Setup
You can find all the necessary download apps and Firmware updates for the DecaMove Standalone edition here: DecaGear Downloads.
If you have any comments regarding DecaMove or the DecaGear 1 VR headset and would like to express your opinions, please leave a comment in the box below...