HP Reverb G2: Full Specs
Resolution:

2160 x 2160 pixels per eye (4320 x 2160 combined resolution)

Display: Dual LCD 2.89'' diagonal with Pulse Backlight technology (RGB sub-pixels)
Refresh rate:

90 Hz with recommended system specs

FOV:

114 degrees, Fresnel-Aspherical Lenses

Eye relief:

64mm +/- 4mm by hardware slider

Tracking:

2 front-facing cameras and 2 side-facing cameras

Sensors:

HP Reverb G2 inside/out 6 DOF motion tracking, gyroscope, accelerometer, and magnetometer

Connections:

DisplayPort™ 1.3, USB 3.0 type C, power adapter

Cables:

One 6m 2-in-1 (DisplayPort™ 1.3 + USB 3.0 Type C®) cable, and one power adapter (for use when USB-C® does not have power delivery). Mini DisplayPort™ to Full size DisplayPort™ adapter

Faceplate:

Replaceable face cushions.

Dimensions (without straps):

2.95x7.32x3.31 inches (75x186x84 mm)

Weight:

1.2lb (550g)
Compare the HP Reverb with other tethered VR headsets
---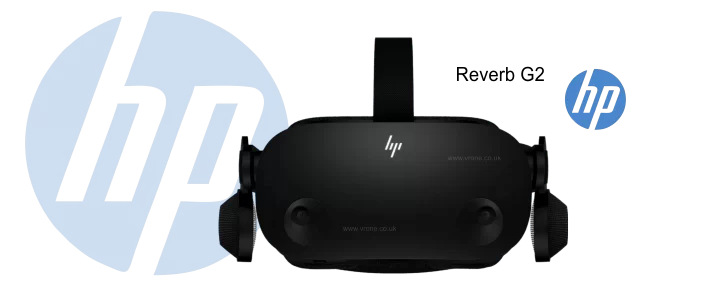 Box Contents
HP have certainly ensured to include everything to get you up and running. They even provide a power adapter for USB Type C to USB 3.0.
HP Reverb G2 VR Headset

6m cable for desktop/mobile PCs

Power adapter for USB Type C to USB 3.0

Power Plug

Four AA batteries

2 motion controllers

1 DisplayPort to Mini-DisplayPort™ adapter

Setup documentation

1 year warranty
HP Reverb FOV
The Reverb G2 has an FOV of 114° which is the same as HPs original Reverb. Having said that, HP has made a significant improvement by expanding the sweet spot throughout almost 85% of its field of view. The lenses work in tandem with the high-res displays, creating sharp, crystal clear visuals.
Recommended Computer Specs for the HP Reverb G2
HP recommends a CPU of Intel® Core™ i5, or i7, Intel® Xeon E3-1240 v5, equivalent or better, or AMD Ryzen 5 equivalent or better. The minimum recommended Memory is 8 GB RAM or more. You'll also require a Video Out DisplayPort 1.3 and at least one USB port 3.0 Type C, however HP provides a USB Type C power adapter with the headset, for those that don't have one. Finally you must have the Windows 10 OS (May 2019 update or later).
Recommended GPUs for the HP Reverb G2
The Reverb G2 requires a graphics card (GPU) capable of running DirectX 12. For the best experience, Hewlett Packard recommends the following GPUs: The NVIDIA® GeForce GTX 1080, NVIDIA GeForce GTX 1080 Ti, NVIDIA GeForce RTX 2060 SUPER, NVIDIA GeForce RTX 2070, NVIDIA GeForce RTX 2070 SUPER, NVIDIA GeForce RTX 2080, NVIDIA GeForce RTX 2080 SUPER, NVIDIA GeForce 2080 Ti, NVIDIA RTX 3070, NVIDIA RTX 3080, AMD Radeon™ RX 5700, AMD Radeon RX 5700 XT, and the AMD Radeon 7.
For more information on this headset HP Reverb G2 preview.
Where to buy the HP Reverb G2.
---
Do you have anything to say about the specs of the HP Reverb G2? Share your comments with us in the box below...