Review In Summary
Developed in collaboration with Valve and Microsoft, HP's newest headset, the HP Reverb G2, delivers a more immersive VR experience than ever before. The G2 appears to have everything you could ever want from a VR headset: it's lightweight, comfortable, boasts excellent visuals, provides immersive soundscapes via its off-ear speaker system, has good tracking, performance capability and so much more. Without a doubt, the Reverb G2 introduces a new standard in VR and has certainly whipped up a storm with competitors HTC, Oculus and Valve.
The Reverb G2 is a PC, Windows Mixed Reality - VR headset. It doesn't require Lighthouse base stations, as the headset uses inside-out camera tracking, similar to the Rift S and Vive Cosmos. The HP Reverb G2 is a vast improvement over its predecessor, the G1, with improved controllers, comfortable head strap and face-plate padding, manual IPD adjustment, as well as better sound and visual clarity.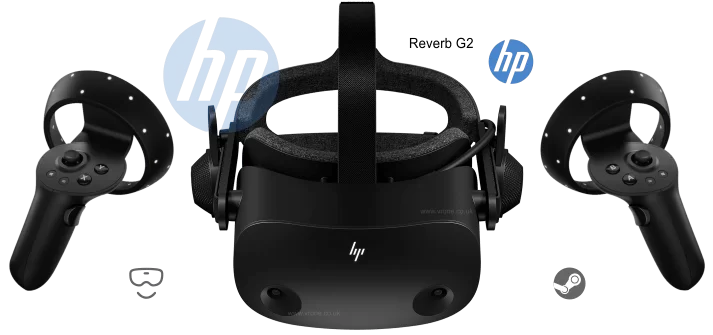 In The Box
HP Reverb G2 Virtual Reality Headset
6m headset cable for desktop and mobile PCs
Power adapter
Four AA batteries (2 per controller)
2 motion controllers
1 DisplayPort to Mini-DisplayPort™ adapter
USB-C to USB-A adapter
Setup document
1 year limited warranty
Incredible Resolution
As far as resolution goes, the HP Reverb G2 has the same resolution as the G1. However, the G2's LCD displays have been massively improved, delivering far better picture quality. In fact, it's said that the G2 has the best picture quality out of any other VR headset currently on the market. The displays consist of 2 full RGB striped matrix LCD panels, running at 90Hz, with a whopping resolution of 2160 x 2160px per eye, providing a combined resolution of 4,320 x 2160px - blowing the socks off any of the leading VR headsets. To give you an idea of just how good the resolution is: the display offers a whopping 9.3 million pixels, two and a half times more than the Rift S - which is already pretty damn good!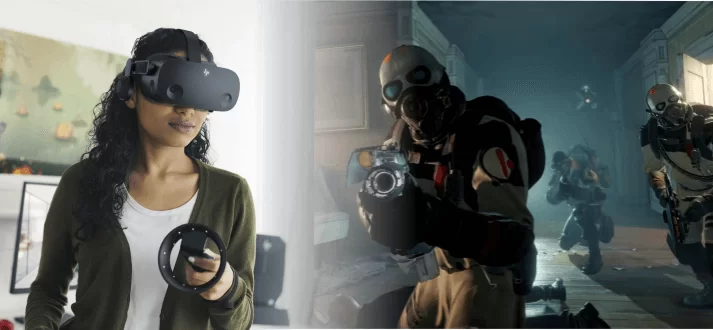 The colours are superb and intense, even for an LCD display; so much so, the vibrancy almost appears to be on-par with OLED - with the exception, of true black, then again, the blacks are pretty damn good in our opinion. The other major benefit of the super high-resolution display is for text: it's crisp enough that you could actually work in VR without any visual artifacts whatsoever!... not that you'd want to.
Test HMD App
As proof of concept and to determine whether the HP Reverb G2 offered the best in the way of visuals, our colleague in the US conducted some tests of his own using a VR application from the Spanish VR community Real o Virtual. The application TEST HMD is a VR environment based on both SteamVR Workshops and Standalone (Unreal). It's been specifically designed for testing the resolution of VR headsets, such as determining how readable text is via Snellen charts, similar to that of a standard eye test. Beyond this, it offers a tool for measuring the HMD's FOV, the clarity of text sizes by distance, a lens and geometry test, a test for glare, God-rays and many more. We've yet to test this ourselves as of now, but will be performing all those important tests at a later date.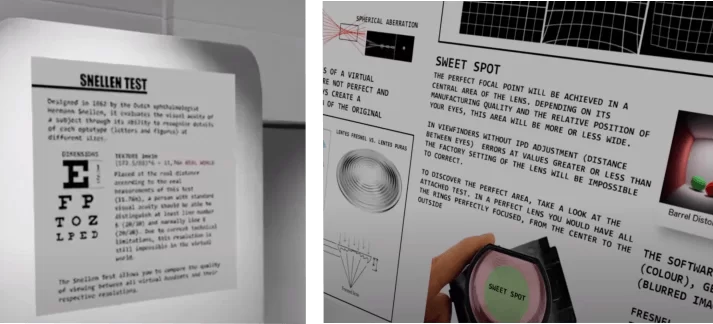 The TEST HMD program allows the user to collect and compare data with many other popular VR headsets. When inside the environment the user is free to explore and walk around from one test area to another. The tool is constantly evolving, so be sure to frequently check out the latest updates.
There is a small charge for the app of $3.99, but it's well worth it for those who like to tinker!
Download TEST HMD here.
Lenses
The Reverb G2 has more clarity over the previous gen with new industry-leading Fresnel lenses designed by Valve. These have been designed for better clarity, less Ghosting and a vast improvement of the sweet spot, which now spans more of the Field of View (FOV). There's not much of an issue with Godrays either - they seem to have less glare than any other VR headset that we've tried. Finally, there's a manual slider underneath the headset for adjusting the IPD. This can be set anywhere between 60-68mm, which is usually more than enough.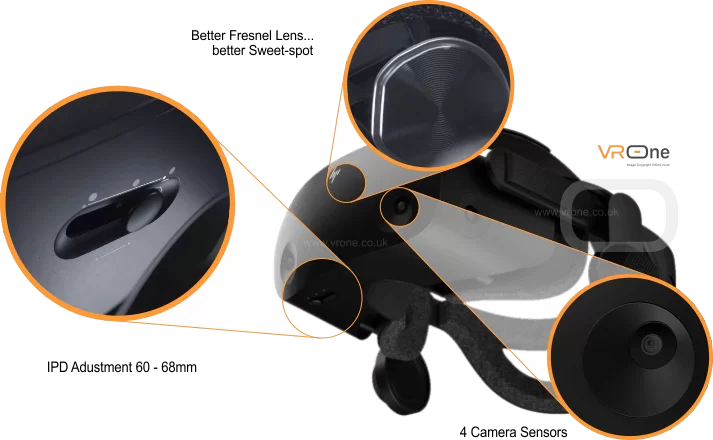 Screen Door Effect
Gone are the days of the Screen Door Effect (SDE) that plagued first-generation VR headsets like the Rift and Vive. With the Reverb G2, SDE is now a thing of the past.
Mura Effect
The Mura effect, or "clouding", a result of patchy, poor color and brightness consistency, also appears nonexistent, certainly from our perspective. This is likely thanks to the use of LCD displays, as this tends to be more of an issue with miscalibrated OLEDs.
Field of View (FOV)
The HP Reverb G2 has a field of view of 114° which is the same as the original headset. However, HP has made significant improvements in the viewing experience by further expanding the sweet spot, so another thumbs up in my opinion, although not on-par with the Valve Index. The lenses of the G2, in conjunction with the high-res displays work very well, creating perfect, life-like visuals.
Want the full specs of the headset? Check them out here: HP Reverb G2 Specs
More Cameras and Better Tracking
With four inside-out tracking cameras, two on the front and one on each side, as well as internal sensors for position detection, there's no need for external tracking whatsoever! Having said that, for the serious VR enthusiasts who want nothing but the best experience, it is possible to replace the G2 controllers with the 'Valve Index Knuckle Controllers' by using the right software and hardware. Then again, I'm still impressed how well HP has managed to create such effective tracking with so few cameras - particularly compared to the Vive Comos, which has six! Then gain, the tracking still isn't quite as good as the Oculus Rift S.
Passthrough
You'll also be happy to know that the G2 does have a passthrough option, should you want a peek into what's going on in the real world. It only allows you to see in black and white, but considering the price along with the wow factor of it's high resolution displays, who cares!
G2 Controllers
The controllers of the HP Reverb G2 are a sure improvement over its predecessor. With a more ergonomic design, the controllers feel more comfortable to hold onto. There's no mucking around here: they automatically pair themselves to the headset by simply holding down the Windows button on the controller. Plus, you'll get good tracking tracking performance with the integrated Bluetooth® connection. The controllers use IMU (inertial measurement unit) and a wide array of active LEDs in order to track the headset and controllers accurately; whether you're aiming down the barrel of a sniper rifle, firing a bow and arrow, throwing objects or reaching behind your head. Yes, there are the odd gaps in tracking (particularly when raising your hands overhead), but nothing to write home about. Although base-station tracking is still superior, on average the G2 controllers do a fairly good job overall. Having said that, if you feel that the controller tracking on the G2 isn't good enough you could always replace the HP Reverb G2 controllers for the Valve Index controllers (knuckles). It's an expensive solution, but your hand tracking will be vastly improved.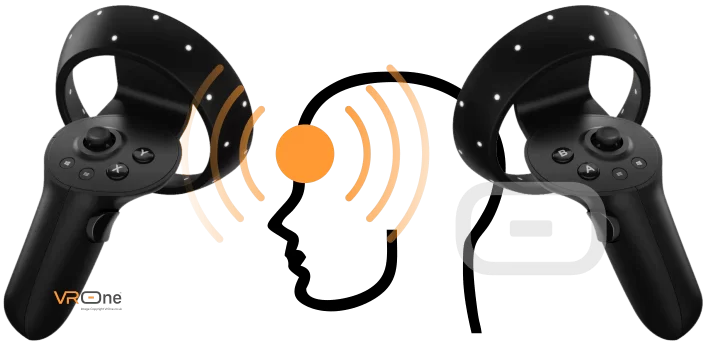 The controllers closely resemble the Oculus Touch controllers and have the same layout, which is handy - pardon the pun. Both controllers have triggers, and grip buttons, as well as a thumbstick, the usual Y and X buttons on the left controller, and B and A buttons on the right. They also have two low-profile buttons, the menu (select) button and an additional Windows button for pairing the controllers, powering them up and connecting to the Windows Mixed Reality Portal.
The added benefit of these controllers is that they are backward compatible with other Windows Mixed Reality Headsets. I guess the only drawback is that they require two AA batteries and because the controllers use light tracking, the batteries don't last long. Expect anywhere between 4-8 hours of use depending on the type of game you're playing.
G2 Controller Dimensions
(W L H) 4.7 x 6.8 x 4.7 inches (119 x 170 x 119mm)
Audio
The Reverb G2 uses the same audio speakers as Valve's industry-leading speakers. The composite honeycomb panel speakers emit their full frequency across an almost 180° range. This allows the G2 to accommodate the widest possible array of ear and head shapes without sacrificing sound quality. Just like the Valve, they attach to the left and right side straps, sitting off the ear by 10mm, allowing for a more comfortable fit. The speakers can be rotated backwards on the horizontal axis as well as slid up or down for perfect ear alignment. The speakers are easy enough to remove, but as the G2 doesn't come with a headphone jack, taking them off is pretty pointless - unless, of course, you choose to use a Bluetooth headset, should the originals ever break.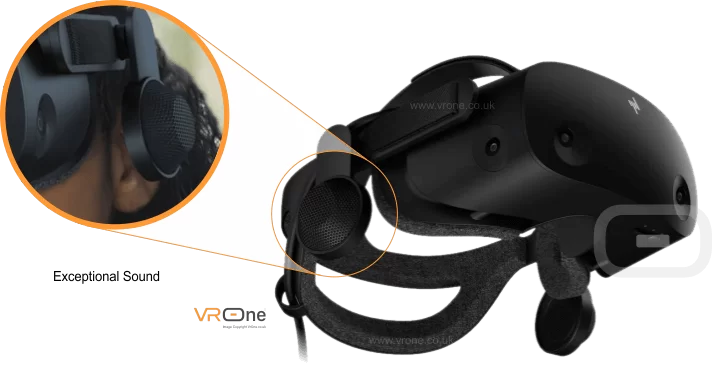 Microphone
The headset has dual microphones which are unchanged from the first-generation Reverb. There's a dedicated microphone for gaming and one that's connected to Windows via Cortana. I must say the microphones work very well and sounded crystal clear, just as expected.
Cable
Finally, a cable with a little extra; connecting directly to the headset, the G2 has a new and improved six metre cable that is thinner, lighter and longer than ever: allowing for more room to move freely, without that irritating feeling of dragging a deep-sea cable around with you.
Comfort
Maximum comfort for a longer wear time
If you've had the opportunity to wear the Valve Index, the HP Reverb G2 should feel familiar to you. A pretty cool feature is that the entire halo strap can be folded up at a 90° angle, allowing the front face of the headset to be placed against your face before pulling the strap down and over the back of your head. This makes putting the headset on and taking it off a doddle and ideal if you happen to wear glasses.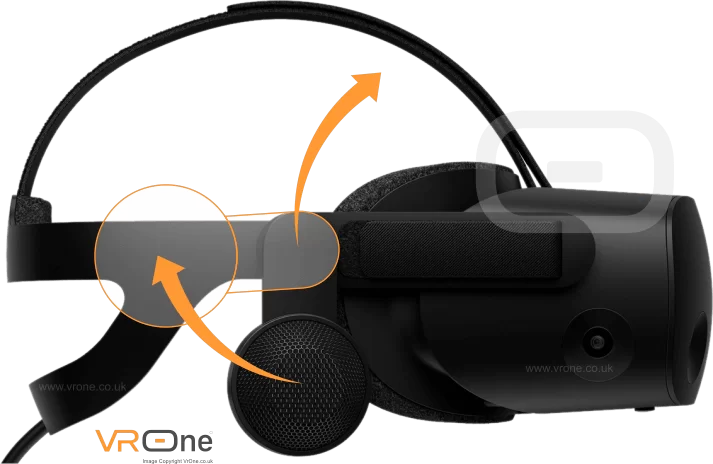 The headset fits snugly over the head and rests nicely at the base of the skull-cup. However, unlike the Valve Index and the Rift S, there's no dial on the back of the head strap to secure it firmly in place. Instead, there are adjustable Velcro straps on either side of the headset, similar to the Oculus Rift CV1. There's also the typical overhead centre strap. For added comfort, surfaces that touch your head and face are made from antimicrobial fabric, which is gentle on the skin and easy to clean. The padding has been specifically designed to be comfortable and to distribute pressure evenly. Just like the Valve Index, the face pad is also replaceable and can be detached easily, as it's magnetic.
The headset is well-balanced and offers maximum comfort for longer wear time, more so than the Index. The G2 weighs a mere 1.2 lbs compared to the Index, which weighs in at 1.78 lbs. I know it doesn't sound like much, but that makes the G2 nearly 40% lighter than the Index. Alongside the fantastic visuals, you'll barely notice that you're wearing a headset at all!
Comparing Headset Weights
Lightest to Heaviest
Oculus Rift CV1: 1.04 lbs = 471 grams
Oculus Quest 2: 1.12 lbs = 508 grams
Reverb G2: 1.2 lbs = 544 grams
Oculus Quest: 1.26 lbs = 572 grams
Oculus Rift S: 1.3 lbs = 590 grams
Vive Cosmos: 1.4 lbs = 635 grams
Vive Pro: 1.7 lbs = 771 grams
Valve Index: 1.78 = 807 grams
Using the G2 with Glasses
HP has allowed plenty of room for those who wear glasses. However, for those who use wider frames, you may experience difficulties putting on and removing the headset. However, there is a work-around for this, you can use lens frame adapters, which house custom prescription lenses that go over the original Fresnel lenses for a hassle-free experience.
Compatibility
The Reverb G2 offers compatibility across both SteamVR and Windows Mixed Reality, with seamless access to everything VR. You even have the ability to play Oculus games, providing you have the Revive app installed, which can be downloaded from GitHub for free.
Recommended PC Specs for the HP Reverb G2
Following the guidelines set by Microsoft's Windows Mixed Reality platform, HP recommends a Processor (CPU): Intel® Core™ i5, or i7, Intel® Xeon E3-1240 v5, equivalent or better, or AMD Ryzen 5 equivalent or better. The minimum recommended Memory is 8 GB RAM but more preferably 16 GB. You'll also require a Video Out DisplayPort 1.3 and at least one USB port 3.0 Type C, however HP provides a USB Type C power adapter with the headset, for those that don't have one. Finally you must have the Windows 10 OS (May 2019 update or later).
Recommended Graphics Cards for the HP Reverb G2
The Reverb G2 requires a graphics card (GPU) capable of running DirectX 12. For the best experience, HP recommends the following GPUs: The NVIDIA® GeForce GTX 1080, NVIDIA GeForce GTX 1080 Ti, NVIDIA GeForce RTX 2060 SUPER, NVIDIA GeForce RTX 2070, NVIDIA GeForce RTX 2070 SUPER, NVIDIA GeForce RTX 2080, NVIDIA GeForce RTX 2080 SUPER, NVIDIA GeForce 2080 Ti, NVIDIA RTX 3070, NVIDIA RTX 3080, NVIDIA RTX 3090, AMD Radeon™ RX 5700, AMD Radeon RX 5700 XT, and the AMD Radeon 7.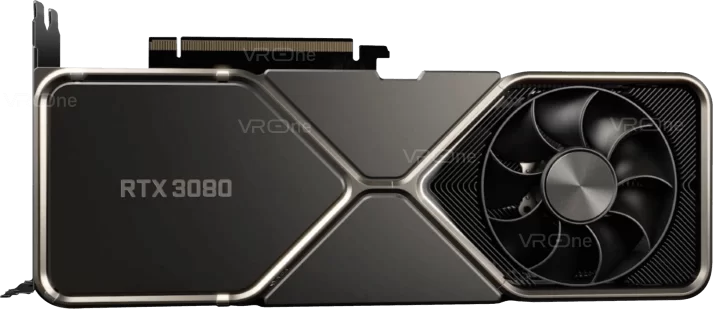 Graphics cards that will run at half the resolution
For those with less powerful GPUs, you won't be able to take full advantage of the Reverb G2's impressive display. However, the following graphics cards will still make it work, if only at half the resolution. The list is as follows: NVIDIA® GeForce GTX 1060, NVIDIA, GeForce GTX 1660, NVIDIA GeForce GTX 1660ti, NVIDIA GeForce GTX 1070, NVIDIA GeForce RTX 2060, AMD Radeon™ RX 580, AMD Radeon RX 5500XT, AMD Radeon RX 590, AMD Radeon RX 5600 XT, AMD Radeon RX Vega56, and the AMD Radeon RX Vega64.
Recommended GPUs from a Workstation point of view
Graphics cards that will typically run the Reverb G2 at full resolution on a workstation: The NVIDIA® Quadro® P5200, NVIDIA Quadro RTX 4000, NVIDIA Quadro RTX 5000, NVIDIA Quadro RTX 6000, NVIDIA Quadro® RTX 8000, AMD Radeon™ Pro WX 8200, AMD Radeon Pro WX 9200, and the AMD Radeon Pro W5700.
HP Reverb G2 Technical Specs
Display: Dual LCD 2.89'' diagonal with Pulse Backlight technology
Resolution: 2160 x 2160 pixels per eye (4320 x 2160 pixels combined). RGB sub-pixels
Refresh rate: 90Hz with recommended system specs
Field of view: ~114 degrees, Fresnel-Aspherical
Tracking: 2 front-facing cameras and 2 side-facing cameras
Sensors: HP Reverb G2 inside/out 6 DOF motion tracking, gyroscope, accelerometer, and magnetometer
Eye adjustments: 64mm +/- 4mm by hardware slider
Cables: One 6m 2-in-1 (DisplayPort™ 1.3 + USB 3.0 Type C®) cable, and one power adapter (for use with power plug)
Mini DisplayPort™ to Full size DisplayPort™ adapter
A supplied USB-C to USB-A adapter
Mechanical ID: Replaceable face cushions
Dimensions (without straps): 2.95x7.32x3.31 inches (75x186x84 mm)
Weight: 1.2lb (550g)
Verdict
Without a doubt, HP's Reverb G2 is certainly an improvement over the original Reverb (G1). This VR headset is certainly the next-generation headset in regards to resolution: I mean, 2160 x 2160px per eye is just insane! With HP's Valve-made Fresnel lenses working in tandem with high-resolution LCD panels, expect near-perfect real world visuals, with a high-contrast, crisp colours and razor sharp text. And because the pixels have reduced image persistence (RIP), a deeper black is achieved. Beyond this, thanks to the high pixel density, there's no screen-door effect, mura or other visual anomalies associated with most VR headsets. The FOV at 114° is decent enough, as is its 90Hz refresh rate. Although the G2 utilises Fresnel lenses, there will always be some Godrays, but nothing like that of older generation lenses.
The headset is well-balanced and very comfortable, comparable to that of the Oculus CV1. It fits more snugly than the Rift S and certainly a better fit than HTC's Vive Cosmos, as it sits nicely on the lower cup of the skull. Weight wise, at just 1.2lb (550g) you'll hardly notice that you're wearing it.
The new controllers are a vast improvement over the original Reverb. The original's weren't very ergonomic by any measure. The G1 touchpad was used as the buttons, making the controllers difficult to use, mainly for those not accustomed to touchpads. Happily, and for some, HP has done away with all that now. The new Reverb G2 Controllers look and feel sleeker and are more comfortable, thanks to the redesign of the handle. They also have proper buttons, almost identical to that of the Oculus Touch Controllers, with the typical thumbstick, grip and trigger mechanisms, as well as the Y, X, and B, A button configuration and placement that we're all accustomed to. But having said that, they are bigger and heavier than the Oculus Touch Controllers; certainly the extra batteries don't help.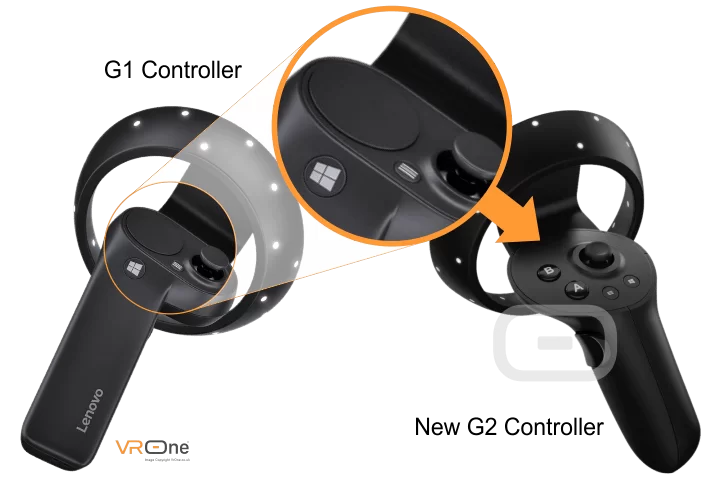 Should You Buy the HP Reverb G2?
There's simply nothing out there that even comes close to the Reverb G2, especially when it comes to resolution. Having said that, the G2 does have some missing nuts and bolts; There's no mechanical tightening knob on the rear strap, like you have on the Oculus Rift S or Valve Index, however, this isn't a major issue if you're the only one that's going to use it. Also keep in mind that the tracking, although adequate for most games, isn't without its flaws. There are only four cameras used for tracking, as opposed to the five camera's on the Rift S. Having said that, the camera's are well-placed on the G2, but the absence of a top camera can interfere with some games, such as those that require you to raise your hands above your head. Gunheart is a prime example, although you'll be happy to know that Half-Life Alyx worked almost flawlessly.
If you're one of those who was thinking about buying the Vive Cosmos or the Valve Index, you may want to reconsider. With its current price-tag marked at £639 for those of us in the UK, which we feel is excellent value.
---
Where to Buy the Reverb G2
UK Residents
The HP Reverb G2 is currently available for pre-order at System Active. Headset and Controllers are priced at £639. There's also the option to buy the headset only for £538 (includes VAT and postage within the UK). NB: Price and availability may be subject to change.
European Residents
For those who live in Europe, Bestware and UnboundVR sell the headset for approximately €699.00 (includes sales tax). Price may be subject to change depending on headset availability.
Delivery costs
Zone 1: € 4.78; To Germany - € 4.78 (via DHL or UPS)
Zone 2: € 14.52; To Belgium, Denmark, France, Luxembourg, Netherlands, Austria, Poland, Czech Republic, Croatia, Slovakia, Slovenia, Finland, United Kingdom, Monaco, and Sweden (via UPS only).
Zone 3: € 19.40; To Bulgaria, Estonia, Lithuania, Latvia , Romania, Hungary, Greece, Ireland, Portugal (except Madeira and Azores), Spain (except Canary Islands) - (via UPS only).
Zone 4: € 29.15; To Andorra, Guernsey, Jersey, Liechtenstein, Norway, San Marino and Switzerland - (via UPS only).
Zone 5: To Portugal (Azores and Madeira) - via UPS Express € 68.14.
Zone 6: To Malta, Cyprus, Spain (Canary Islands) - via UPS Express € 87.63.
US Residents
The HP Reverb G2 is currently only available for pre-order. For US residents, the headset can be pre-ordered via one of HP's official resellers, Connection, where you can pre-order the headset for $599.99. You can also buy the headset directly through the HP Website.
When will I receive my HP Reverb G2?
Because of global, high demands, most suppliers are back to the 'Pre-Order' phase, so please check your suppliers website for availability and shipping dates.
Video Reviews
We've recently created a video series dedicated to the Reverb G2. Our first video 'Unboxing' - where I focus on first impressions, as I unbox the headset for the very first time. In the second video, 'Setting up the G2' I cover everything you need to know about the headset set-up, including all the necessary software you need to run all your favourite SteamVR and Oculus games and apps. The third video 'G2 Troubleshooting' covers common errors associated with the headset, such as USB error 7-12, 7-14 and display connection problems (error 1.4). There's also a small part on controller bindings for specific games. Finally, there's also a detailed tutorial regarding image stuttering and how to improve the image quality in some games.
I will be providing links to all these videos on our homepage in the next few months, so be sure not to miss them.
To Conclude
As if the Valve Index wasn't impressive enough, we now have the true next-gen headset: the Reverb G2. Not an overly superior headset than the Index, but truly exceptional in terms of visuals. We're sure most hard-core VR enthusiasts out there will be adding the Reverb G2 to their most wanted list. We've already received ours and are still in the process of fully testing it.
If you already own the G2 and are having problems with image stuttering or other errors, be sure to check out our HP Reverb G2 troubleshooting guide. We cover most of the common errors you're likely to encounter when using the headset.
Given the above; What's your opinion of the HP Reverb G2? Or, do you intend on getting one? Share your comments with us in the box below...