About Beat Saber
Beat Games brings you Beat Saber - a highly immersive rhythmic, music gaming experience you've never seen before! Beat Saber is a single player game - Compatible with the Oculus Quest and Touch, Oculus Rift, Rifts S, Valve Index, HTC Vive and Windows Mixed Reality, virtual reality headsets. The game is rated for players aged 3+.
Supported Languages: English
Expected gameplay: about 5 - 18 hours (replayable)
Get Into the Beat!
It can be difficult to show newbies the appeal of VR, but Beat Saber is a fantastic introduction to the technology. It appeals to all and is simple enough to be accessible; not requiring room-scale setup and available even on Playstation VR's single camera.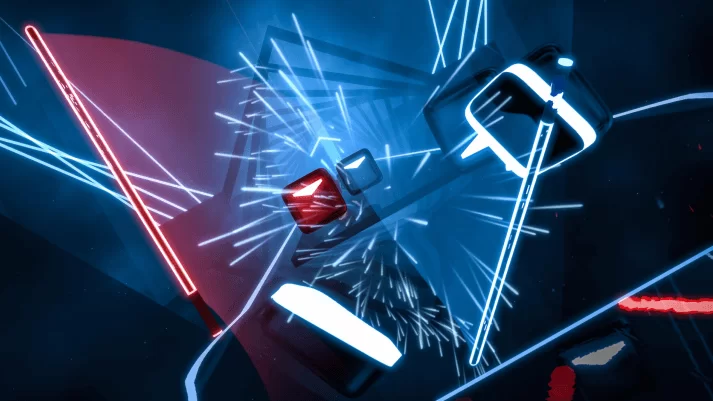 The Game
Essentially, a volley of coloured boxes come streaming towards you. Your goal is to slash these in rhythm to the music, with your controllers turning into lightsabers. It certainly makes for a satisfying, if sweaty gaming experience. Though the sabers don't make the great thrumming sounds you'd expect from Star Wars, they do make satisfying whizzing sounds that mesh well with the music.
The Music
You don't have to be a fan of dance music to appreciate this game and its graphics. Jaroslav Beck's original soundtrack is surprisingly catchy, with songs called "Escape", "$100 Bills" and "Legend" that quickly turn into earworms! No matter how many times you play, only a couple of the nineteen included songs get annoying. That being said, the selection does seem somewhat limited when compared to a lot of rhythm games. Unfortunately, only the PC version supports importing custom songs. The game's developer, Beat Games, has said that there will be more original music available as well as big-name artists' tracks. Until then, this does feel like the game's biggest limitation.
Gameplay
Though it seems straightforward, there is a large amount of nuance that makes chasing higher scores a real challenge. The basic aim is to hit the right colour-coded block with the correct saber in the intended direction. The majority of the time, you will hit red blocks to your left and blue blocks to your right. The patterns are sometimes symmetrical and sometimes asymmetrical, which causes a challenge like rubbing your belly with one hand and patting your head with the other. Some tracks have a single left-side blue block in the middle of a load of reds (or vice versa) just to confuse you! It sounds simple but the reality is that these are pretty easy to miss when the pace is picking up. Also, when you miss one block, it takes a few seconds to get back into the swing of it again so you risk missing a few more.
Modes
It's quite simple to get through a course on Easy mode or Normal mode. Hard mode is where it starts to get, well, hard! You'll be faced with a torrent of blocks that come to you so quickly that you'll have to look a few blocks further down than the ones you're swinging at so you can plan your moves quickly enough.
Apart from that, there are some obstacles like low ceilings or walls that mean you have to duck or take a step to the side all while swinging your saber. There's always room for improvement in your technique, which makes this game so replayable.
Watch the Beat Saber Video Trailer
The game also offers other modes for a different challenge. In campaign mode, the challenge gradually increases by only showing you the direction to swipe for a brief moment before disappearing. A different mode takes away the required directions altogether which means you can hit the blue and red blocks in any direction. The game makes up for the lack of directional requirements by mixing up the colours together at a higher frequency than normal. Finally, there is a mode that uses a single saber, which is just as difficult. Each mode is tough in its own way and having the variety extends replayability when you've completed all of the songs.
Scoring and the Leaderboard
Being high up on the leaderboard is more than just hitting each block before it passes you. You need to use precision in your swing, as your score is based on how you execute the swing and how close to the middle of the block your saber passes through. Be bold: you're encouraged to make exaggerated movements using a lot of force. Even if you've gone through a song with no mistakes, you can still repeat it and get a higher score using a better technique.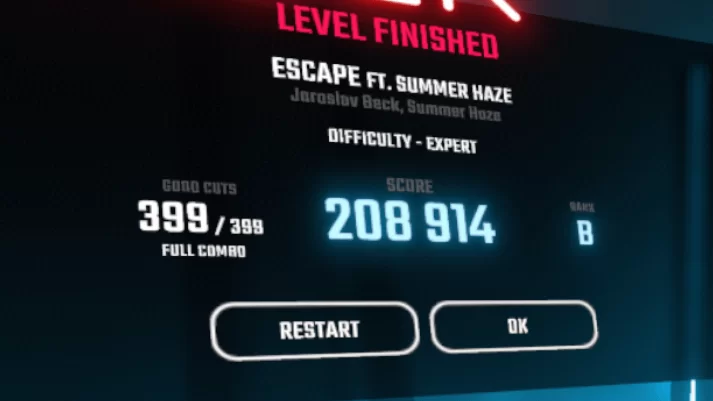 Verdict
A good Beat Saber session will really leave you breathless! It's an exhilarating workout. When you're in the groove and swinging blue and red sabers to slice the coloured boxes, you'll feel like a Jedi knight at a disco! This game is challenging but definitely lacking in terms of song choices. What songs there are, however, are infinitely replayable and the variety of modes and the scoring system encourage you to go back for more.
For those who love music and rhythm games, this is a great find – and thankfully, you don't need a plastic guitar like the bygone days of Guitar Hero! If you're playing on PC, don't forget you can expand this with custom tracks too!
So, for anyone considering VR for the first time or trying to show others what it's all about, Beat Saber is a great option. Who would have imagined that slicing red and blue blocks with a lightsaber to the beat could be as addictive as this?
If you're into this type of game, love playing to funky beats and don't mind working up a bit of a sweat, I highly recommend you try Pistol Whip. It offers similar fast-paced action and is great fun to play!
Did you know, Beat Saber is listed in our review: Best Oculus Quest Games.
What was your experience with Beat Saber? Share your thoughts with me using the comment box below.