Enter the Rift
The Oculus Rift has been around since March 2016 and has recently seen a new-generation upgrade – the Oculus Rift S - but are the improvements worth forking out for? Let's find out. The Oculus Rift is still an excellent piece of kit with a lot of great features and has actually had a price cut over the years. Let's take a look at what it offers.
Design
The headset of the Oculus Rift is understated and simple. It comprises a plain, black rectangular-shaped visor with round edges and not a lot of visual flair. The panel on the front is almost entirely flat, branded with a single Oculus logo. The Rift has been cleverly designed to be lightweight and adaptable, comfortable to wear and easy to put on. The headset has 3 adjustable Velcro straps including soft comfortable padding that runs around the rim of the interior faceplate. It has left and right integrated headphones and a built in microphone, ideal for collaborating with other gamers when playing Multiplayer games.
It's possible to wear your glasses with the headset, but this makes the headset feel a bit tight. Depending on your spectacle frames, it can be a little awkward to put on or take off and could hamper the headset's wearability for long periods of time.
The Rift headset is connected to a PC through a long cable that splits at the end to an HDMI connector and a USB 3.0 connector. The cable descends along the left strap before it runs clear of the Rift headset.
Specifications
Both the Rift and HTC Vive come outfitted with two OLED panels, outputting a sharp, vibrant resolution of 1080 x 1200 pixels delivered to each eye, boasting a combined resolution of 2160 x 1200. With a minimum refresh rate of 90Hz latency, in order to reduce motion sickness and vertigo. Since the Rift is a fairly high-spec device, it won't be able to run on any old PC. You will need a top-end gaming PC; if you want to enjoy all that it has to offer.
The Rift delivers unparalleled graphical fidelity thanks to technological breakthroughs like Asynchronous Space Warp (ASW). ASW makes it possible to bring high-end VR experiences to more PCs across a wide spectrum of configurations.
Setup
Unboxing the Oculus Rift box, you'll see the Rift headset, two sensors, two controllers and seven VR apps for free. This includes Robo Recall and Lucky's Tale. You will also get all of the necessary cables for hooking up your headset.
To set it up, you need to plug your headset into an HDMI port of the GPU. You also need to connect the USB cables from the Rift headset and sensor into two USB 3.0 ports on the PC. This is pretty short and simple and takes around 10 minutes.
For room-scale experiences you have to mark out around 6.5 square feet as a safe place so you don't bump into anything, then you just need to pop your hands in the tether and you're good to go.
With a clear line of sight, the packaged Oculus Sensors tracks constellations of IR LEDs to translate your movements in VR. Its stand is ideal for most common setups and its standard 1/4 20 mount works with most tripods. Personally, we recommend that you substitute the stands for wall-mounted brackets. If you experience judder or tracking issues when playing games, you may want to consider purchasing an additional sensor.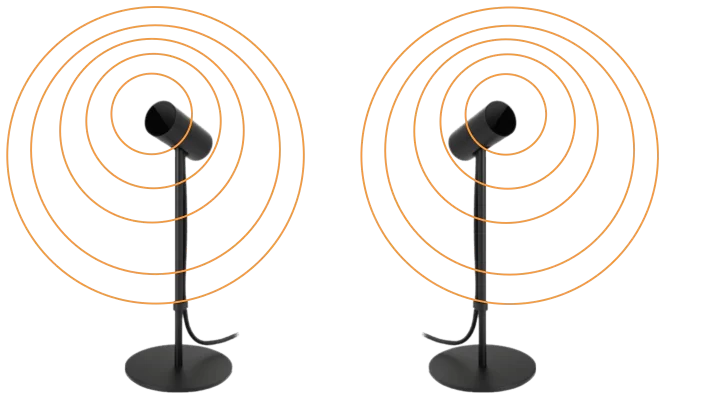 NOTE: It is recommended that both of the supplied sensors use a USB 3.0 port. If you decide to add a further sensor to your set-up it will require a USB 2.0 or higher port. Oculus states: "Two-sensor 360° tracking is an experimental feature - not all experiences may work as expected. Three-sensor 360° is fully supported."
Depending on your set-up, you may need to extend the length of your USB cables. The standard lengths of the headset and sensor cables are 2.5 meters (8 feet) long. If you do need to extend the length of the sensor wiring, be careful what you choose. We had tracking issues with some makes, however the VANDESAIL SuperSpeed USB 3.0 Male to Female extension cable worked a treat for us. The two pack USB is competitively priced at as little as £8.
Sound
Experience incredible immersive audio with Oculus Rift. What you hear is as important as what you see. Rift's integrated 360° spatial audio takes the immersive power of VR to new depths. The sound of something creeping up behind you, or bullets whizzing over your head, truly adds realism to your gaming experience.
If you find the integrated headset Oculus On-Ear Headphones too bulky, you can purchase the official Oculus Rift Earphones for anywhere from £25 - £43. Yes, I know; but it's got Oculus stamped on it! But you don't have to use the official earphones.
Watch the Official Rift Video
Controllers
The Oculus Touch controllers are lightweight. Yes, they take a little time getting used to, but they're quickly mastered. The controller shape and button placement have been well thought out, they are simple in design, extremely ergonomic and perfect for literally any size hand. There's also a handy wrist tie to prevent you throwing it across the room, especially when tossing a virtual grenade or playing virtual golf. I guess the only downside with the controller was opening the sliding, magnetic battery compartment. Most probably don't see it as a problem, but personally I found it very awkward at first, to the point where I felt as if I was fumbling around with a Rubik's Cube or opening a secret compartment, Tomb Raider style.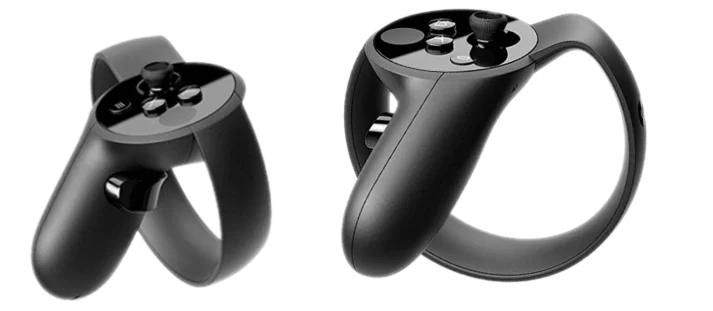 What it feels like to play
Similar to other VR headsets, you are completely immersed in play with the Oculus Rift - two separate images are combined into one, generating that life-like open world. This works by being connected via the cable to your graphics card and using the camera to track the movement of your head. While wearing the headset you are able to stand or sit, or whatever you find comfortable, sometimes dependent on the game you are playing. Essentially, the Oculus Rift's graphic fidelity and smoothness will depend on your computer's graphics card and the processing power of your PC.
Games and Apps
Oculus has an excellent range of apps and vr games and their store is easy to navigate. You don't need to install any extra hardware, which is good. The Oculus game store has loads of VR experiences and they're not as hit and miss as they used to be. The newer Rift can also use games from the Viveport store and Steam.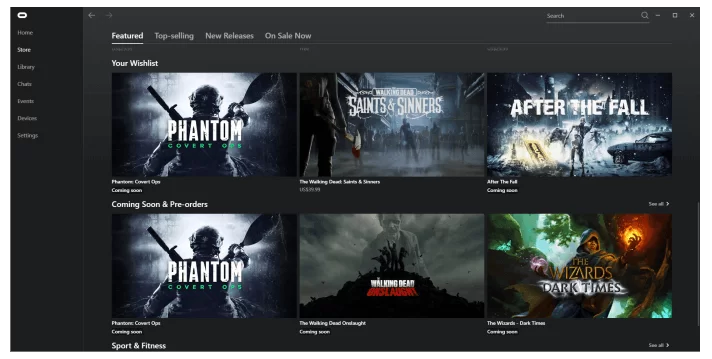 Is it worth upgrading to the Oculus Rift S instead?
Regardless of the version, the Oculus Rift is an excellent headset that is certainly worth the investment. Do you need to spend the extra money on the S? Not necessarily - especially since all games now and in the future will be compatible with both headsets. There are some benefits you'll get from the Rift S - it's slightly more comfortable and the visual clarity is noticeably better, as it has a resolution of 2560 x 1400px, with its predecessor only delivering a mere 2160 x 1200px.

Oculus Rift or Oculus Quest?
If you're looking to buy your first VR headset, how should you decide between the Rift (if you can still get hold of one) and the Oculus Quest 2? Well, probably the best feature of the Quest 2 is that it's wireless and doesn't need connecting to your PC. It's also similarly priced. The Quest controllers are slightly lighter and the headset does have a much higher resolution. As mentioned, the key feature is that the Quest 2 is a standalone device, whereas the Rift requires a PC with an HDMI connection (that also means some gaming laptops won't be able to connect to it). Ultimately, it depends on what you're looking for! They are both great VR headsets and although the Quest 2 offers more in the way of freedom of movement, it does lack some decent quality games. In our opinion if you want to fully experience those AAA game titles, such as Asgard's Wrath or the latest game from Valve, Half-Life: Alyx, go for the Oculus Rift S.
Where to buy
Oculus has stopped making the Rift CV 1 now, however, you may find the odd one kicking around on Amazon, new or second-hand. Alternatively you could try ebay, I'm sure you could snatch one up there at a fair price. Then again, to be perfectly honest, if you're gonna go for a tethered VR headset, go for the Rift S.
Best Graphic Cards
With the ever growing range of graphic cards (GPU) capable of handling VR, not to mention the common brand names of all the various makes and models, such as Radeon (AMD), Nvidia (GeForce), Asus and Sapphire... It's no wonder many get confused.
When it comes to choosing the right graphics card, there's so much choice! If you're a Hard-core gamer you may want to consider something like the Nvidia GeForce RTX 3070 or splash out on the best graphics card currently available, Nvidia's GeForce RTX 3080. At a beginners level, buy something like the NVIDIA 1660 Super Ventus for around the £230 mark or the AMD RX 590 for a little less, weighing in at around £175.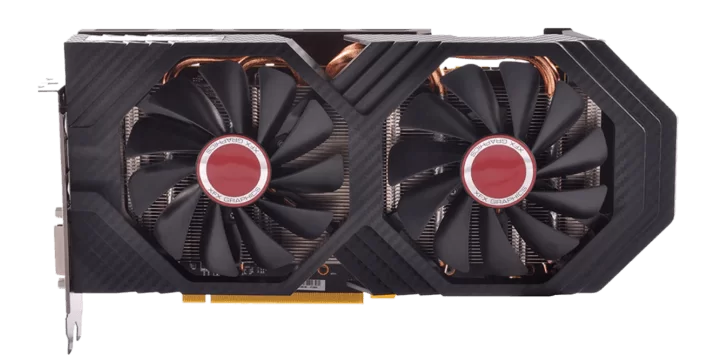 Final thoughts
Firstly, the Oculus Rift is a great headset for an excellent all-in cost that isn't prohibitively expensive. The display is crisp and the controllers are great, as is the in-headset room tracking. In terms of cons, yes there is a cable from the headset to the PC, but as long as you are aware of its position, it doesn't affect your gaming experience. The headset is quite bulky, so not as portable as some, and you can't flip it up like you can with other VR headsets, such as the HTC Cosmos. All in all, however, it is an excellent headset that offers a fantastic VR gaming experience.
Do you own an Oculus Rift headset? If so, what's your view and opinions on the Rift. Share your thoughts with me using the comment box below.