About The Lab
The Lab is a packaged series of experimental games brought to you by Valve - best of all it's FREE! Compatible with the Oculus Rift, Rifts S, Valve Index, HTC Vive and Windows Mixed Reality. The game is rated for players aged 3+.
Expected gameplay: about 1 - 2 hours (replayable)
Released in early 2016, The Lab showcased Valve's experiments with VR. Set in a pocket universe in the Portal series, the game highlights new gameplay opportunities and looks to the future of VR. Available to play on the Valve Index, HTC Vive, Oculus Rift and Windows Mixed Reality.
Synopsis
The Lab offers eight different minigames, each giving a look into the unique ways that VR could interpret various video game genres. These include: an Angry Birds analogue, a tower defence game, an intergalactic shoot 'em up, secrets galore, and the chance to become a robot mechanic. The rest aren't really games per se, it's more that they consider what avenues VR might go down in the future. Amongst these are an interactive solar system, detailed CT scans of the human body and a "virtual holiday" in the Icelandic wilderness, where you're accompanied by a robotic pup.
Gameplay
Despite the simplicity, there's something particularly endearing about many of the games in The Lab. My favourites of the minigames were "Longbow" and "Robot Repair". That I enjoyed the first so much particularly surprised me, since tower defense games normally aren't my cup of tea. However, getting to take an immediate, first person role brought "Longbow" to life for me in a way that traditional games just haven't. And to me - that's what VR is all about. This technology has a fantastic way of breathing new life into the old. The feeling of immersion elevated this genre to something I found myself actually really enjoying.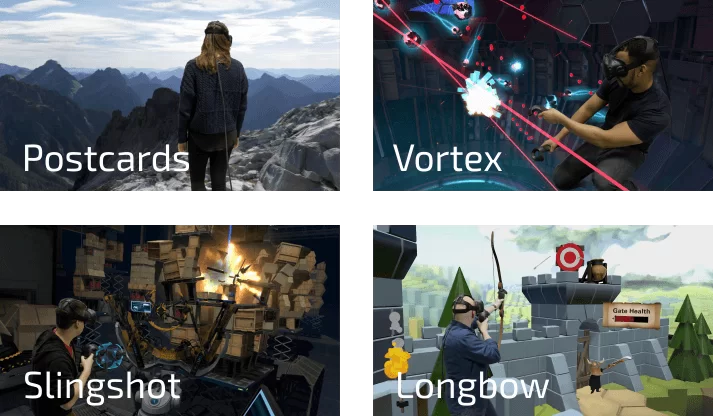 For "Robot Repair" - I was just happy to get another peek into the Portal universe. The dark humour was great, my only real criticism is that it's such a short clip! As this was originally released just as a tech demo, I wish they'd extended it further for The Lab.
The future of VR?
To be perfectly frank, the more experimental minigames weren't what I normally go for in a game. "Human Medical Scan" doesn't have quite the same cachet as a classic game of "Operation", if you ask me. But before I get too critical, it's important to remember what Valve was trying to accomplish with The Lab. This portion of The Lab, despite its complete lack of entertainment value, at least explores some novel applications for VR. In education, perhaps - for primary school and med students alike! But given that VR in any type of school hasn't really caught on in the years since, I question whether Valve was just banking on the novelty. Perhaps in the future, VR will have clearer applications as an educational tool.
Watch the Video
Pros
Experimental
A fun range of mini-games
Suitable for all ages
Free
Cons
Fairly basic, mini-games could be extended
Verdict
At the time, this game was one that got people buzzing about VR. You have to give it credit not just for providing a fun gameplay experience, but also for considering where VR might end up. But looking back at it now, it's easy to overlook this title for a game like Arktika.1 that simply has more to offer. That being said, it feels churlish to criticize a well-thought out, completely free game. It might not offer the mind-blowing experience of other titles, but The Lab is great to whip out for friends that have never tried VR before.
What did you think of The Lab? Share your thoughts with me using the comment box below.