Compatability
Moss. A single player/third person platform adventure game, developed by Polyarc. Available on the Oculus Rift, Rift S, Quest, HTC Vive, Valve Index and Windows Mixed Reality headsets. The game fully supports handheld VR controllers and game pads. The game is rated for players aged 7+
Game Languages: English, Chinese (China), Chinese (Hong Kong), Chinese (Taiwan), French (France), German, Italian, Japanese, Korean, Spanish (Spain)
Gameplay Duration: Approximately 3 - 5 hours
Moss
Moss is a fantastic action, exploration-adventure game, which combines a variety of cleverly integrated puzzles to excite and engage you throughout. It's the type of game that, once you start playing, you'll find it hard to stop, even after you have completed it. The game is very comfortable to play and can be played seated or standing, although I recommend playing the game in a seated position as it's a much better experience. As far as nausea goes, there isn't any. This is because you don't move within the game, so you're pretty much 100% safe from any VR related sickness.
Moss VR is a highly recommended VR game for all ages and is rated and hyped by many, as a must-have game for VR. The game is graphically stunning and beautiful in many ways. The interactions with the character and the puzzles alike, makes Moss a platform adventure game like no other. Moss definitely sits comfortably at the top with the best VR has to offer, certainly within it's genre; a firm favourite in fact, so much so that we rated Moss the overall winner of 'Best Oculus Quest Games 2020'.
Game Introduction
As with most games, story wise, there's usually some form of introduction and Moss is no exception. The game starts off in a church-like library environment. It places you seated and facing a large book entitled 'Moss'. After some short admiration of the cover, curiosity leads you to flip through the pages. As you do so you are greeted by a softly spoken female voice, the narrator, who introduces you to the World of Moss through a magical book. As the story unfolds, the scenes within the book's pages become animated, which further captivates you. When the narrator finishes, a bright light injects into the start of the game where you arrive peering down at a forest path overlooking a small ravine.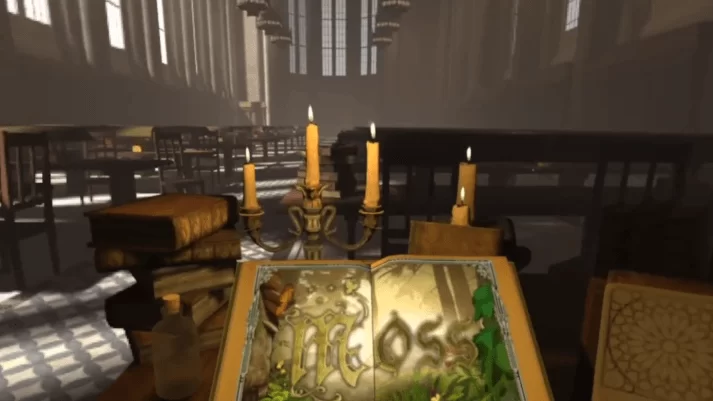 It's at this point that a fragment of glass tumbles from the trunk of a tree, setting the game in motion. It triggers Quill to appear on the scene, an adventurous little female mouse full of aspirations and dreams of greatness. It's not long before she (Quill) discovers the glass relic and an old magic awakens, triggering you into the gameplay as Quill's mythical, spiritual guardian, where you play as the key ally to our hero, Quill.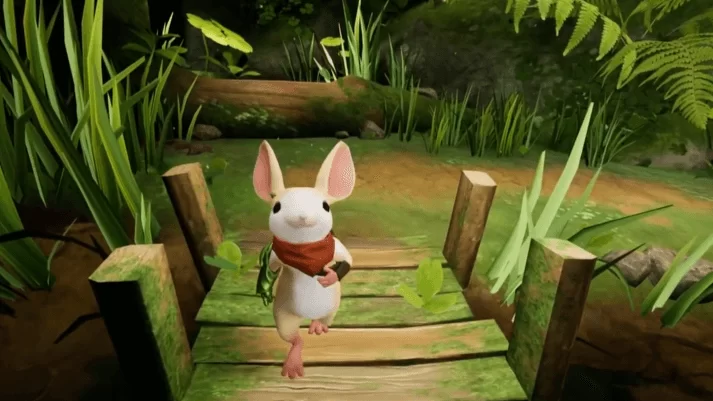 Now both you and Quill are introduced, you begin to help Quill on her quest, as her uncle is now in danger and Quill needs to make a journey with you by her side. You will travel together to explore caves, forests, and foreboding ruins that are filled with ancient artefacts, mysterious creatures, and sprawling jaw-dropping views - not to mention solving puzzles and battling fearsome enemies. Together, you must conquer and beat them all. From here on, the world in which you're immersed is fantasy storybook in style. Everything has been put together in the most beautiful way and the narrator continues to fill in the story where and when necessary.
Gameplay
Essentially, Moss is a 3D puzzle platform game but with the added bonus of providing you with a great adventure along the way. With you as Quill's trusted companion you work together to progress through the game. Many of the puzzles you complete are similar, with the typical tactic of moving square block-like objects, many of which you interact with in order for clearing or creating a path for you and Quill to continue on your journey. Consider Interactive objects (puzzles essentially), as your objectives. These puzzles are easy to spot as they have a distinct pattern on them which emit a blue glow, however, puzzles are varied and don't always come in the form of blocks, cylinders or wheels. There are also levers, poles, and switches, all of which do something, like the lowering of a bridge in order to cross a river. The puzzles are fairly easy and, given a little time, aren't too difficult to figure out, although later on in the game you may find some more challenging. I guess it gives you some time to admire the beautiful environment that surrounds you, helping you clear your mind before going back to crack the puzzle.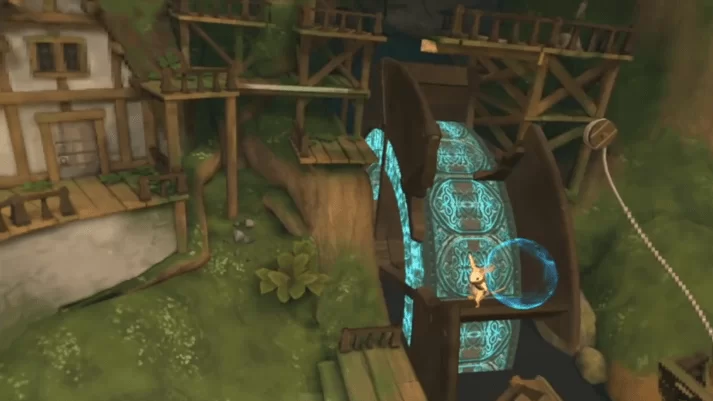 Explore and collect
It's important to explore your world, as you'll find different collectibles, mainly Scrolls and Relic Dust. There are 375 specks of Relic Dust, all of which can be found in 'breakable' objects. Anything you can smash with a sword swing is a 'breakable'; that includes barrels, pots, crates, vases, etc, and all will reveal Dust. The more Relic Dust you collect, the more trophies you'll unlock. Scrolls are more difficult to find than the Dust, sometimes you need to climb up high to get at them. There are 31 Scrolls hidden around the fantasy world and - as I said - they're not always obvious or easy to find. To be honest, I only found 26 of the scrolls myself and I thought I had looked everywhere!
A fairy tale wouldn't be a true fairy tale without some glitter and bling! As you progress through the world of Moss you'll eventually come across a pink fairy light. The light is there to guide Quill and you on your quest. I'll let you discover how you come across it, I don't want to spoil too much of the game for you. The sparkling light shows you the way and provides hints to assist with puzzle solving, so it's a good idea to keep an eye on where it goes.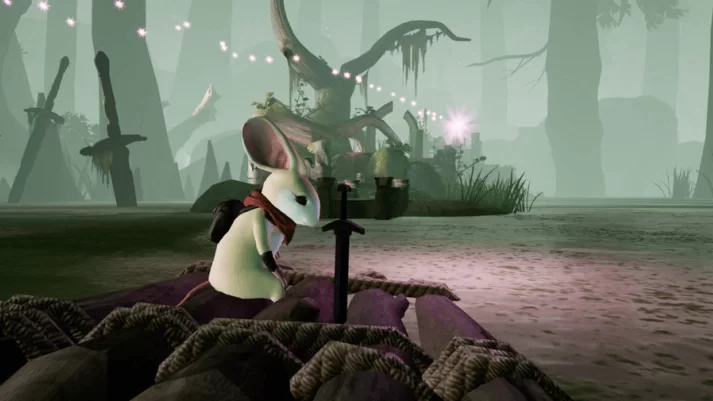 Don't worry about getting lost, stuck or losing the plot in any way. As you progress and enter different areas and scenes, the narrator interjects into the story. Again, this audio dialogue is presented via the magic, animated storytelling book.
Healing and combat
Quill can get hurt. It could be down to a simple fall or being struck by an enemy beetle. If Quill gets injured, you can quickly heal her by using your orbs (controllers), simply picking her up. Your orbs are also used later during combat, where you're also able to grab and move enemies to one side in order to slow down their attack, giving Quill and you more time to fend off others with the sword. The enemy beetles aren't much of a challenge and tactically wise are fairly easy to kill. 4 strikes from your sword is enough. The more challenging enemies throw fireballs at you, that you need to dodge, then it's just a case of finding the right moment before going in for the kill.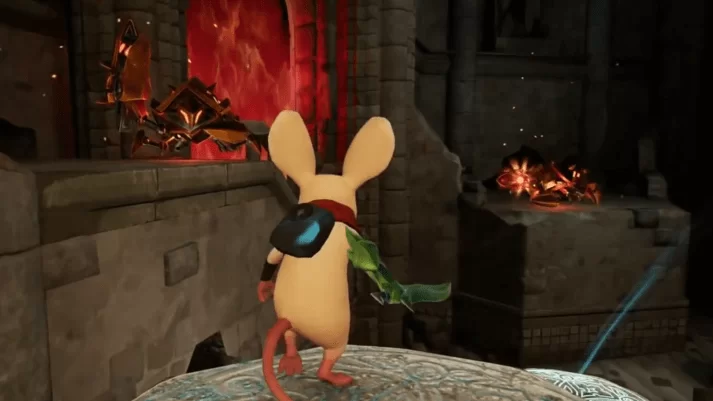 Some enemies can come in handy and assist with puzzle solving. Using your orbs, enemies can be moved and placed to interact with a puzzle, such as placing one on a pressure pad, then using Quill as the final piece to complete the puzzle. You can even get enemy beetles to fire at switches to help with the more challenging puzzles, as well as use their own firepower to aim at and destroy their own kind.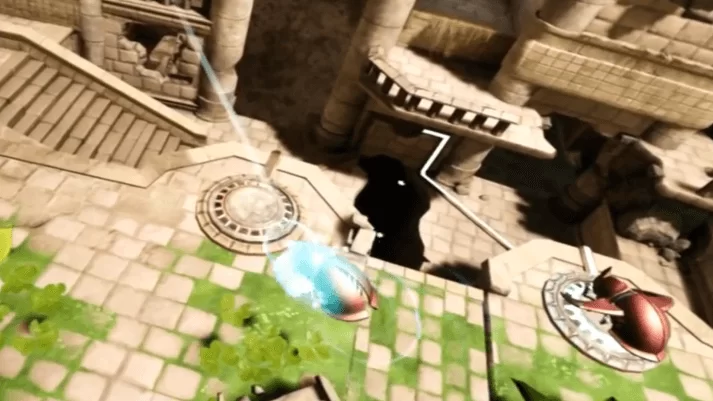 Visuals
The game as a whole is simply beautiful! The animation is almost flawless, everything is smooth, colourful and the character movement of Quill is fluid throughout. Quill, although just a game character, is very mouse-like even though she stands on two legs. The designers and animators did an excellent job with Quill and I'm sure they're pretty proud of their achievement. As far as immersion goes, by playing the role of Quill's guardian you really feel as if there is some kind of bond. You can even stroke Quill and she'll show a sense of delight when you do. I also liked that on the odd occasion she'll sometimes high-five you, which is pretty cool. Another neat thing I found out later on was that if you lean into the game to take a close look at something, Quill reacts to your movement, almost as if she is aware of your presence, further establishing that connection between you.
Although the visuals certainly added to the experience, it wasn't so great on the Oculus Quest. The lack of fidelity was certainly noticeable on most of the visuals, especially the water effects, where graphically you could see a noticeable downgrade in the overall quality - such as the lack of reflections - whereas the Rift S delivered the texture quality and reflections you'd expect from a PC driven headset.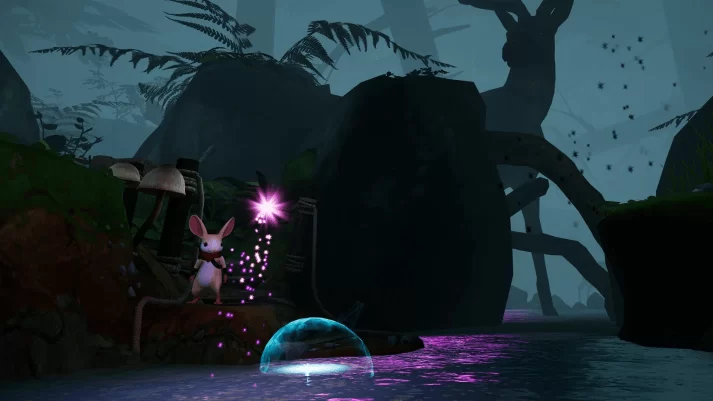 Sound
The sound adds to the already exceptional VR experience you get when you're playing Moss. We already talked about the smooth narrator's voice through the game, that continues as you progress. Added to this is the soft background music, perfectly and subtly introduced into the background, as well as the general ambient background sounds that create and captivate that storybook feel of fun and adventure.
Compatibility and Controls
Moss is available for almost every VR headset. These include the Oculus Quest and Rift, HTC Vive and Cosmos, Valve Index and Windows Mixed Reality, so ideal for headsets like the PlayStation VR. I'm pleased the game creators used common controller settings, which makes playing Moss simple whatever the platform or controller you use.
Positioning
You don't require much room to play Moss, remember you can play seated, so technically one square metre should be enough! It's most comfortable to play this game whilst seated and on occasion leaning into the game to have a look around, ideal for hunting down those elusive scrolls, whilst being careful not to chin your computer desk! It certainly helps to peep in for a closer look; sometimes it's imperative in order to find those pesky scrolls. As you'd expect, the tracking worked well, I mean it's not as if you're waving your arms around frantically or fast drawing a gun of any kind, like in most games, so no real tracking issues to worry about.
Longevity
Moss gameplay typically takes around 3 to 5 hours to play all the way through. However, there is also free downloadable content (DLC) called Twilight Garden, which can be unlocked, giving you an additional 1.5 hours of play - just make sure the Moss game is fully up-to-date first. In order to access the new content players need to find 3 different portals hidden amongst the levels of the main game. I won't tell you exactly where they are, but here's some tips on Moss VR.
Twilight Garden hidden portals
Portal 1: The first is located in The Mire Temple… all I will say it's that it's located in a doorway at the top of some steps, to the left. You'll have to go through about 4 or 5 loading scenes to get there. The picture should give it away…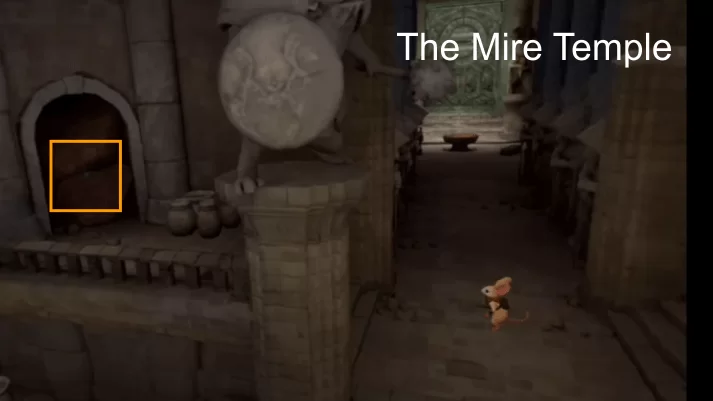 Portal 2: Found in the level Last Respite, the portal is located near the beginning of the level just as you come off the beach, located directly behind the 2nd cylindrical puzzle, between the four vertical wooden beams.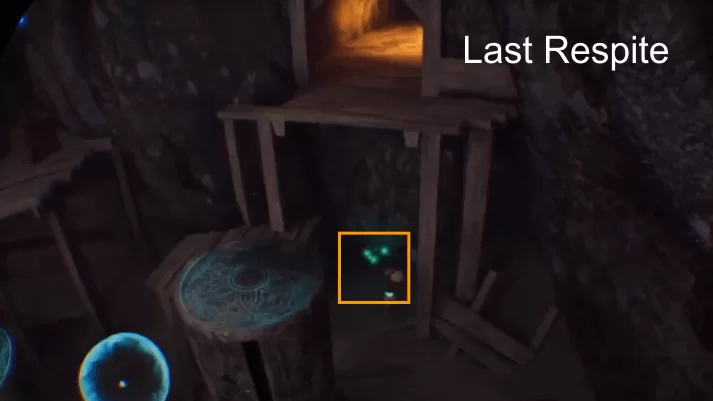 Portal 3: Found in the level The Abandoned City, located on the back wall, accessible via the centrepiece puzzle.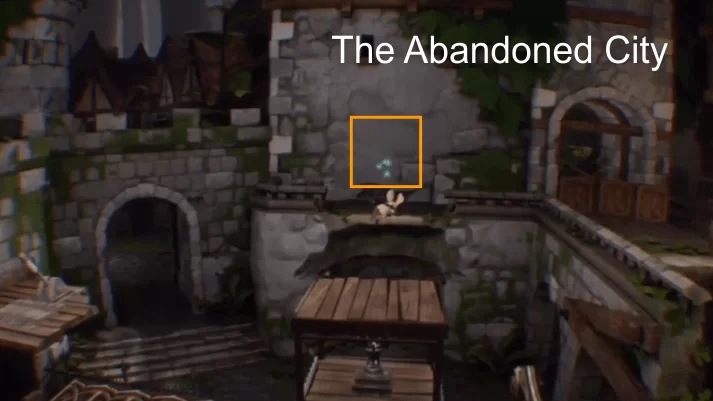 Within the new Twilight Garden puzzles, you'll find new abilities and weaponry (swords) that you find, as well as new costumes for Quill. These aren't just limited to the Twilight Garden, they can be used within the base game as well. As a result of this, you might find yourself wanting to play the whole game all over again with your newly found weapon.
Pros and Cons of Moss VR
As mentioned, one of the pros has to be the bond you will build with Quill. It's a rare thing to bond with a VR character, but this one is full of interactions and it's heartwarming to witness. The game is also beautiful in its design with added sound effects and little interactions here and there. Lastly, the added DLC makes the gameplay even longer and therefore an even better gaming experience and better value for the money.
What about the cons? Well, for many players who spend a lot of time playing computer games, the three to five hours of gameplay in the Moss world simply isn't long enough! Having said that, my only major gripe was that some of the sword battles did seem to go on a little too long, which frustrated me somewhat. Don't get me wrong, the fighting aspect is great fun and breaks up the game to a certain degree, but does drag at some points.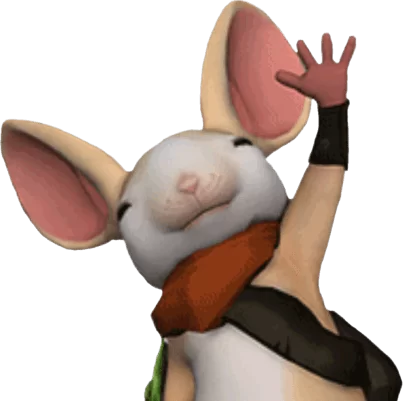 Verdict
Moss VR is perfect for those who love platform related puzzle-play games, and even for those who don't. If there's any game that's going to convert you to a platformer, it's Moss! The gameplay is so good, it's somewhat addictive and it's difficult to stop after completing a section, intrigue urges you on. It's certainly a must-play game and one that is a great choice for those new to VR.
The game is very user friendly with not too many controller actions to worry about and if you can't solve a puzzle, don't worry because if you wait long enough Quill will try to explain to you what to do, which is usually more than enough in order for you to complete your objective.
Moss has excellent level design. Everything looks so colourful and heartwarming, The camera angles that move with Quill are pretty much spot-on, providing a nice overview of the stunning locations you travel to. The game plays super smooth without any real confusing moments. Everything about Moss VR seems very organised and points you in the right direction right from the very beginning.
Did you know, Moss is listed in our review: Best Oculus Quest Games.

Have you played Moss? Share your thoughts and opinions with me using the comments box below.