About Robo Recall
Robo Recall. A single-player AAA arcade, action-shooter game. Developed by Epic Games for the Oculus Rift, Rift S and Quest virtual reality headsets. Fully supports Oculus touch controllers. The game is rated for players aged 7+.
Game Languages: English, French (France), German, Korean, Spanish (Mexico)
Game duration: Expect about 3 - 4 hours of gameplay (replayable)

Synopsis
Robo Recall. An action-packed, fast-paced FPS, with a somewhat similar premise to the hit movie I, Robot. Although Robo Recall is an arcade game at heart, it does a decent enough job of setting up the story. Set in the distant future where robots have become commonplace, you take on the role of Agent 34, a robot recaller working for the Robo-Ready corporation. You've been sanctioned to recall (read: destroy) defective rogue robots after a deadly computer virus has rendered them insane. You must rely on your reflexes and a vast arsenal of weaponry to eliminate the robot revolt in order to protect the corporation's reputation.
Robo Recall was built from the ground up specifically for the Oculus and their touch controllers. The graphics are stunning: a visual masterpiece filled with detailed robots and highly textured urban environments adds to the realism and immersion. The attention to detail is everywhere, giving the game an upbeat and fresh feel throughout.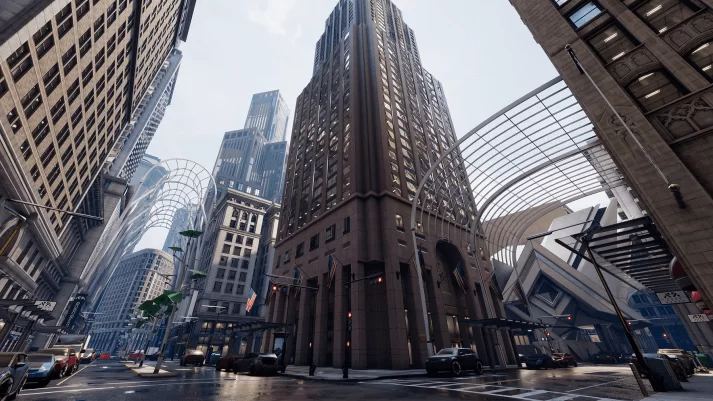 Gameplay
Sadly, Robo Recall doesn't provide an open world experience. Essentially the game is a wave shooter with set play boundaries. You certainly won't be climbing buildings or running across the roofs of cars. For that kind of freedom, we recommend you try Stormland or Gunheart. Both are top-notch AAA games…Anyway, back to Robo Recall.
You play Robo Recall in first-person, using your touch controllers to move around. You have an assortment of weapons at your disposal. These vary in power and kill range depending on the type used. The pistol, although accurate and with a long range, doesn't pack much of a punch. On the other hand, the shotgun is powerful but only close-up. Enemies drop their weapons once destroyed, so you can use theirs as well.
The weapon mechanics are awesome and very intuitive. You reload by simply dropping your weapons and reaching to your waist to grab a fresh set of bullets. When you acquire the shotgun or energy rifle, simply reach out over your shoulder to use it, discarding it when empty and repeating the shoulder grab process to reload. Another cool feature is the ability to dodge bullets Matrix-style. If you're quick enough, you can pluck a bullet or rocket in mid-flight and send it back toward the enemy.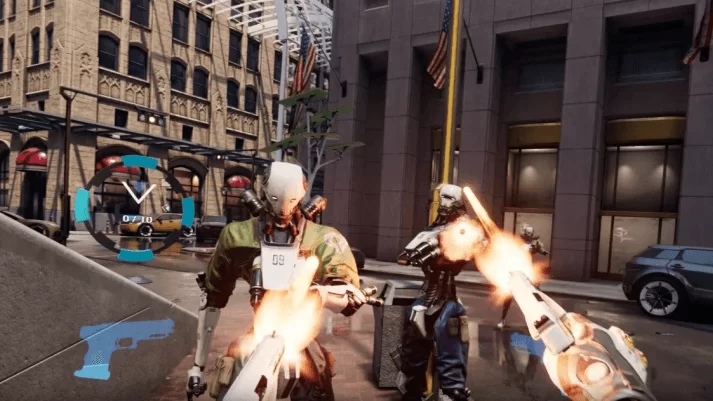 Shooting aside, there's quite an array of combat moves that you can use. When you're close to the enemy you can use your controllers in hand-to-hand combat. This lets you tear the limbs off of robots or smash two of them together. You can even use the enemy as a battering ram or throw them to fend off the enemy onslaught.
Although you earn points for shooting enemies, you'll get much higher scores by using creative combat moves; such as shooting an enemy in mid flight or killing a certain number of robots using their own bullets.This will increase your end of level score and give you a higher spot on the Global Leaderboard…That's if that kind of thing is important to you anyway.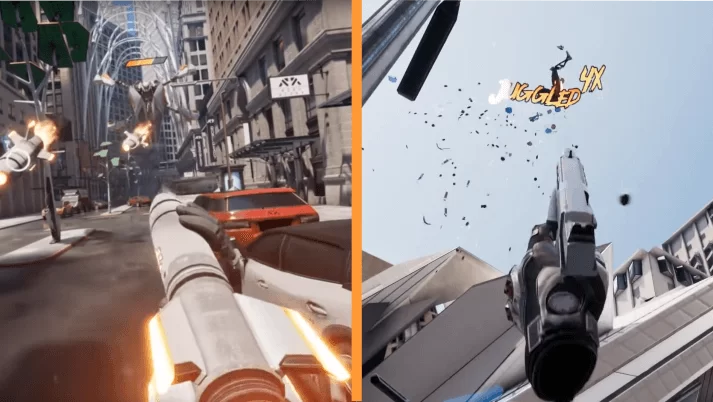 Verdict
Robo Recall is one must-own title for the Oculus headsets. It's worth every penny. I can't remember a time where we had so much fun here in the office. Epic Games have done an excellent job in delivering a convincing title with some amazing graphics.
Robo Recall is a full-on, adrenaline-pumping arcade experience that offers intense non-stop action throughout, it's so immersive! There's stunning visuals just about everywhere. The robot animations are fluid and well-executed. You'll also hear some amusing comments made by some of the robots which adds to the fun. Despite the fact that there's only nine levels throughout the entire game, the sheer amount of replayability easily makes up for it. The frenetic pace makes Robo Recall addictively fun.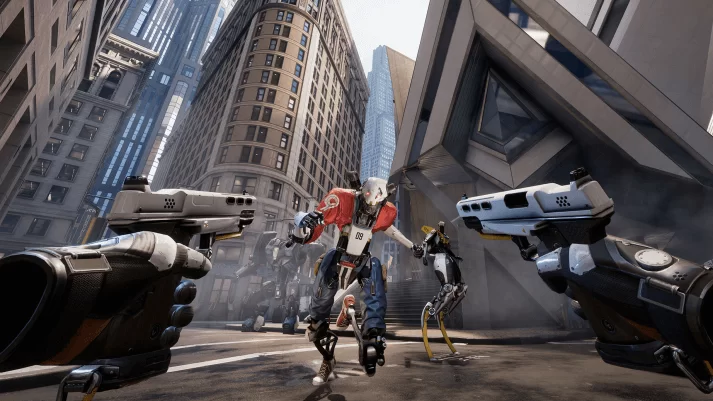 However, if you intend to play Robo Recall on the Oculus Rift, you may experience tracking issues when teleporting and moving around. To get around this, a third Lighthouse sensor is highly recommended. We didn't experience any tracking issues when we played on the Rift S or Quest, but to be honest we didn't expect to, thanks to their inbuilt tracking.
You shouldn't experience much in the way of motion sickness thanks to the teleportation system. We played for well over an hour without any nausea whatsoever.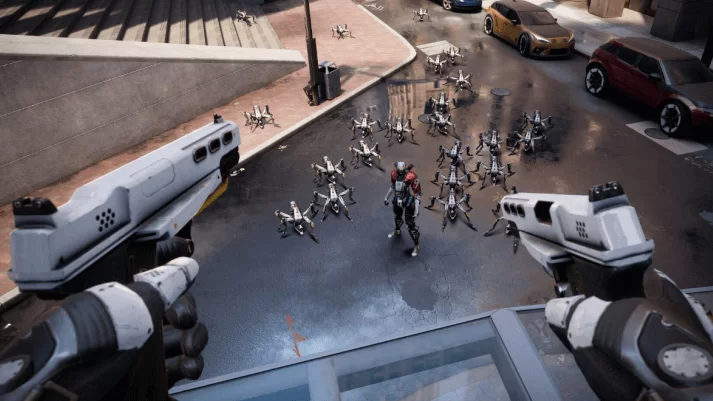 Did you know, Robo Recall is listed in our review: Best Oculus Quest Games.
Have you played Robo Recall? What were your experiences? Share your opinions with me using the comment box below.