To be, or not to be...
The HTC Vive Cosmos review: The battle for VR started with the Oculus Rift and HTC Vive, but now things are getting a little complicated. Facebook have proved with the Oculus Quest and Quest 2 that stand-alone VR is possible. Another heavyweight, Valve, have already pushed the limits of high-end VR with their Valve Index. Now comes the Vive Cosmos, HTC's successor to the Vive and Vive Pro. So what does the Cosmos bring to the table?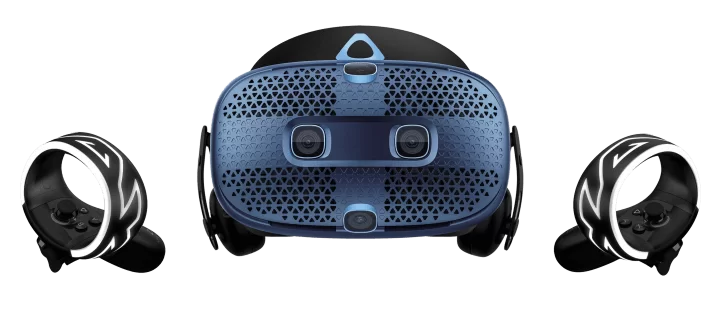 The Competition
To compete with the Oculus Quest and now the Oculus Quest 2, HTC has launched their version of a stand-alone headset, the Vive Focus Plus. This self-contained headset uses fully tracked motion controllers, similar to its predecessor. The Vive Focus launched with similar specs but with more limited tracking options.
Although the Focus Plus is mainly aimed at business customers, we feel it won't be long before its software is modified and the headset is introduced into the gaming market and into HTC's VivePort…fingers crossed!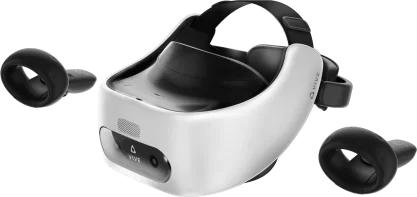 Overview
Technically the HTC Vive Cosmos is an upgrade in just about every way, apart from the hefty price tag of £700-800, making it over £300 more expensive than the Oculus Quest 2 and Rift S and slightly more expensive the superior HP Reverb G2. It appears that HTC is banking entirely on the specs to justify the cost; a high resolution LCD display, inside-out tracking, flip-up headset mount and high-tech motion controllers. But will it cut the mustard? Read on to find out.
Vive Cosmos box contents
Left & Right Controllers
HTC VIVE Cosmos Headset
Power Adapter
DisplayPort Cable
Headset Cable
USB 3.0 Cable
Link Box4
AA batteries
Cleaning Cloth
Documentation
VIVEPORT Redemption Code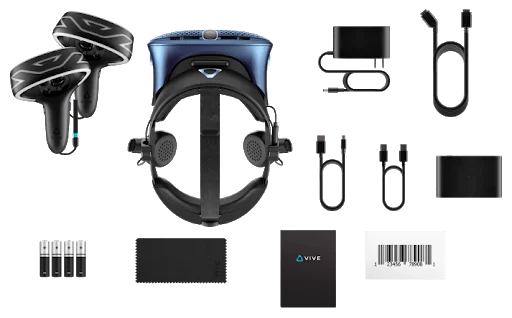 Where to buy the HTC Vive Cosmos in the UK
---
Where to buy the Vive Cosmos in the US
---
In a nutshell
Looks wise, HTC has retained the metallic blue chassis, similar to that of the Vive Pro. It's a nice touch and emblematic of Vive's high-end headsets. Apart from that, the Cosmos is pretty much like all other VR headsets. It has a "halo" type headstrap, similar to the Rifts S. The perforated faceplate is removable for future upgradeability with a modular faceplate system. This would allow you to change the device's capabilities, such as attaching a compatible SteamVR Tracking faceplate (more on this later).
In regards to tracking, the Cosmos has an array of six camera sensors, four on the front and one on each side. It has integrated, off-ear headphones and the headset flips up, just like many of the Windows Mixed Reality headsets, handy should you want to take a quick break or finish off your cold cup of tea. There's plenty of comfy padding on the rear and front of the headset, especially where it rests on the forehead and around the eyes.
The Cosmos controllers are well-made and look pretty snazzy - they even glow during use! The light they emit isn't just cosmetic, it's there to ensure accurate tracking of the controllers. It goes without saying why the controllers are powered by two AA batteries instead of just one!
How much?!
Launched October 2019, the HTC VIVE Cosmos is the fourth-generation headset to its predecessor, the VIVE. The original was shortly followed by the ridiculously expensive VIVE Pro. The older generation headsets are still available, although the first-gen will still set you back anywhere between £600 to £900, and the VIVE Pro will cost you a whopping £1,200, if you're lucky. Considering that the new kid on the block is priced at around £600, it's a no-brainer to go with the Cosmos if you're a dedicated VIVE fan. However, if you're after a top-end, hassle-free VR headset, why not consider the Valve Index?
VIVEPort and LENS
HTC have their own tutorial to help you get started. This is a part of the elaborate new VIVE reality system experience, although you'll be spending most of your time in LENS, HTC's new interface for exploring your VR library. The Cosmos also comes with a free subscription to VIVEPort Infinity, which gives you access to a huge amount of games and experiences. Depending on the headset offer, this subscription could last anywhere from two months to a year. VIVEPort typically costs £13.00 a month or £108 a year for the annual subscription (£9.00 per month). So, if you manage to get a free year's subscription with your headset purchase, that's an added bonus.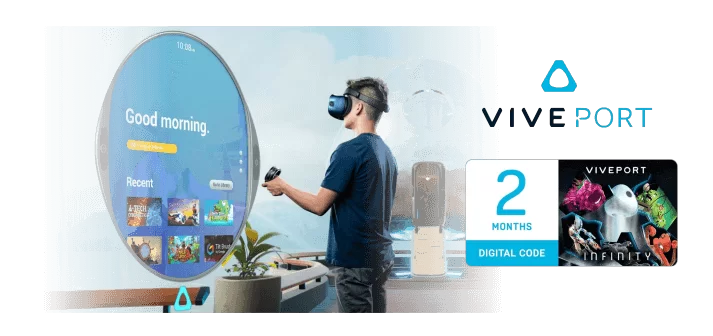 VIVEPort Infinity is also integrated directly into the LENS, so any games you've tagged will show up there, along with anything you've purchased via Steam or the VIVE Store. Infinity is also compatible with most VR devices, including VIVE, VIVE Pro, VIVE Focus, Oculus Rift, Oculus Rift S, Valve Index, Samsung Odyssey, Samsung Odyssey Plus, iQIYI QIYU II, Pico Neo, Pico G2, Skyworth S8000, and Shadow VR.
Visual Display
The VIVE Cosmos has a very high resolution display which provides excellent visuals, offering a combined resolution of 2880 x 1700px. The display is a RGB, sub pixel LCD panel, somewhat similar to the Valve Index. Although the Cosmos has a slightly larger vertical resolution (1700 as opposed to 1600) than the Index, the latter still seems to have better clarity. I'm not entirely sure why, but it seemed to have a better pixel fill... with that in mind, regardless of the resolution and whether you choose to go for the Valve Index or Cosmos, you won't truly benefit and appreciate the visuals if you don't have a decent enough graphics card. If you want to get the best from the Cosmos you're going to want a fairly powerful graphics card to go with it. If you're after near-perfect clarity and a smoother jitter-free gaming experience, a good choice would be the Nvidia GeForce RTX 2070 Super Founders Edition or buy the best graphics card available; Asus ROG Strix RTX 2080 Ti, you won't be disappointed, although it will leave a large hole in your pocket. However, there has been a recent price drop with the introduction of NVIDIA's latest 2nd-gen RTX graphics cards. The RTX 3070 and Nvidia's flagship GPU, the RTX 3080.
The optics on the Cosmos are fairly good. Godrays, ghosting and the screen-door effect are barely noticeable, but the sweet-spot, and the overall FOV (field of view) aren't great by any means. The headset has to be constantly adjusted to get the right clarity.
The Cosmos refresh rate is locked at 90Hz, which in our opinion should be the minimum for any 2nd-gen VR headset. The FOV is 110°, what we would call standard and comparable with most of today's modern day VR headsets.
Sound
The Cosmos has built-in headphones which sound pretty good. They can be removed fairly easily and simply unclipped, should you want to use your own. However, since the Cosmos has a "halo" type head-strap, it is a little fiddly to squeeze your own pair in.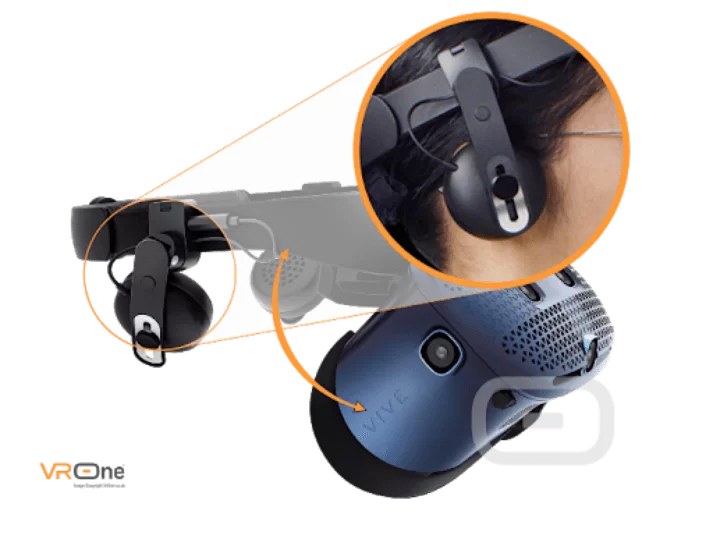 A better fit?
Comfort-wise the Vive Cosmos is comfortable with some good padding. However, because of the poor design of the "halo" strap, it doesn't fit as snuggly as the Rift S or Valve Index. Because of this, you can't pull the Cosmos down far enough on the back of your head to cup your skull without losing any clarity on the display. Quite frustrating if you're used to a more ergonomically designed headset, as it just doesn't feel right. The headset also felt a little front-heavy, probably due to the angle of the "halo" head-strap.
Wearing glasses in the headset didn't seem to be an issue. However, since there's no X and Y adjustment, you can't adjust the display to maximise your field of view.
There is a handy manual IPD adjustment on the front lower corner of the headset which can be adjusted anywhere between 61 to 73.
Flip-up display
The headset flip-up works particularly well, and is ideal when you need to get out of VR and interact with your environment. For example, during the set-up process, when accessing your computer, VIVEPort or getting a much-needed drink.
Tracking
The headset has 6 built-in cameras for tracking. Tracking worked fairly well but we did have issues with popup warnings saying that tracking required more light. However, HTC have allegedly released a patch to fix the issue. The headset does have RGB passthrough, allowing you to look around in the real world in colour but at a low resolution. Despite this, it does the job adequately.
Controllers
The Cosmos controllers look fantastic and look like they should perform well…but do they? As you'd expect, all the buttons are perfectly positioned to accommodate your thumbs, although the thumbstick can be a little uncomfortable after several hours of play. The controllers are solid, but a little on the heavy side, with handles that are a little too thick in my opinion. I do like that they glow when in use.
However, it became quickly apparent to me that it suffers from the same Achilles' heel as the Oculus Quest and Rift S. If you happen to hold the controllers too close to the headset, you've essentially created a blind spot, causing the headset to lose track of the controllers. Having said that, the severity of this issue depends on the type of game you're playing. It's much more noticable if you're looking down the scope of a rifle, for example. It's not a game-killer by any means, just frustrating more than anything as it breaks the immersion. I'm sure HTC can fix this issue with a software update. We'll just have to wait and see.
Expect the batteries to last between 2 to 2.5 hours. I had expected longer due to the two AA batteries, but then again, something's got to power those pretty controller lights. There's always rechargeable batteries if you find that you're eating through them too quickly.
Go Wireless
If VR wasn't expensive enough, HTC also sell many add-ons for their headsets, one of which is the VIVE Cosmos Wireless Adapter. It removes the need for cables, giving you free movement, and making gameplay far more immersive. Gone are the days of constantly tripping over wires! The adapter, powered by Intel® WiGig, offers a near-zero latency VR experience that's fast, responsive and offers maximum performance. The adapter communicates directly with your PC. Unfortunately for those who have already forked out £700, but want to cut the cord, HTC offer the adapter for around £350. You'll also need to purchase the attachment kit to connect it to your "halo" strap… another £55. Expect 2 - 2.5 hours of gameplay before having to recharge it, which is usually long enough.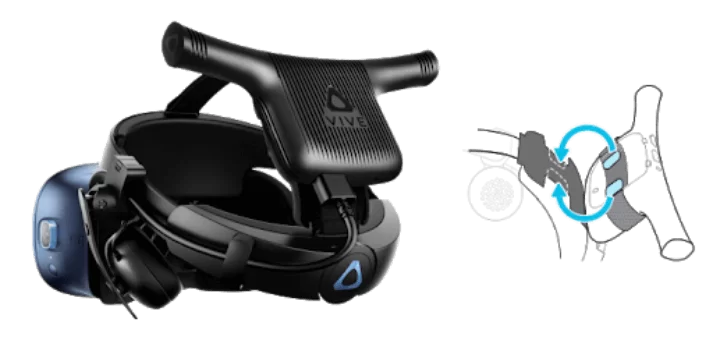 Conclusion
The VIVE Cosmos is a top range headset, but not necessarily the best VR headset and for the price, it doesn't offer much more than the Oculus Rift S. You could buy almost two Rifts for the cost of a single Cosmos! Yes, admittedly the Cosmos has a better resolution and refresh rate, but that's about it. To delve in a little deeper, take a look and compare VR headsets for a side-by-side comparison.
Lighthouse Tracking
As I mentioned earlier on, the Cosmos does have issues with tracking but it appears VIVE will be introducing an optional mod. This replacement faceplate will utilise Lighthouse tracking (base stations) in the hope of expanding the headset's functionality. That's all fine and dandy, but the Cosmos controllers won't work with SteamVR Tracking…"What!" I hear you cry? Yes, Cosmos owners will need to use other VIVE controllers compatible with SteamVR Tracking.
Okay, so as if the Cosmos isn't already overpriced - if you choose to go with SteamVR Tracking, HTC says the mod will cost less than £200… err, so £199 then? You'll also need two new controllers, either the old outdated VIVE controllers, £100 a piece or Valve's knuckle controllers at £150 a pop! Oh, and not to forget the obvious, two (but three recommended) SteamVR Tracking base stations, at around £150 each. It's just crazy! HTC expects to launch their new faceplate in Q1 2020. Well, good luck with that, I say.
Follow this article (top of page) for updates on the Cosmos and SteamVR Tracking
Should I buy the HTC Vive Comos?
Nah! While the Cosmos offers a better overall experience than the Rift S, I just can't recommend it. Go for either the Rift S, HP's latest Reverb G2, or if you're after something special and not shy of a bob or two, I'd have to recommend the Valve Index. Yes, it may cost you £300 - £400 more, but from our experience, it's well worth it. The only small drawback with the Valve Index is that it uses external sensors for tracking, but you'd rarely have any issues. So, if your after the best VR headset, check out the Valve Index review or for the latest, newest headset the HP Reverb G2.
What's your view on the HTC VIVE Cosmos headset?
Share your thoughts with me in the comment section below.