Facebook's next generation, hybrid VR headset is finally here.
The Oculus Quest 2 offers better comfort, performance and fidelity than that of its predecessor - and it's cheaper.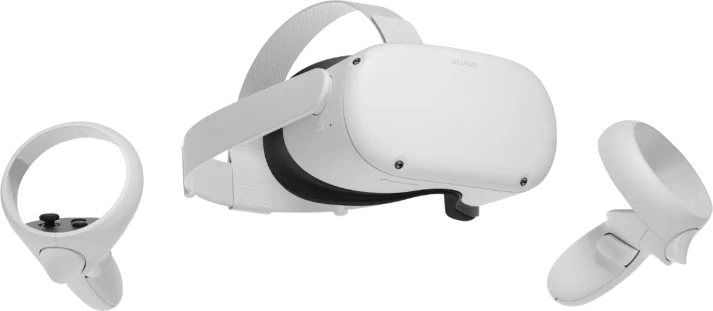 ---
But Where Can You Buy One?
The Oculus Quest 2 is now available to buy from many online retail outlets. Depending on your location, you can purchase the Quest 2 from either Oculus site or other official Oculus retailers. These include Currys PC World, Walmart, BestBuy, GameStop and Amazon worldwide. At present Oculus has fixed prices for both the 64GB and 256GB versions, but we do anticipate a price drop for both when Black Friday sales begin in late November 2020.
Where to Buy the Oculus Quest 2 in the UK
As above, all the US retailers have price matched at $299 for the 64GB version, and $399 for the 256GB model. With the Amazon Sale coming up shortly, you may want to check the Black Friday VR headsets section.
---
---
Where to Buy the Oculus Quest 2 in the US
---
---
---
VR is Evolving at a Rapid Pace
It's certainly clear that improvements in VR technology are accelerating. It's been four and a half years since the launch of the Oculus Rift, and the original Quest only launched just over a year and a half ago in May 2019. Now there's the Quest 2, ready to buy right now.

Should You Get the 64GB or 256GB Version?
The new Quest 2 is available in two different models and now offers even greater storage capacity for games, particularly, of course, with the new 256GB model. The downloading and installation of games works in the same way as the original Quest, utilising the built-in processor and some clever built-in software in order to download VR content via Wi-fi onto its internal memory card. Personally, I don't understand why Oculus is even offering a 64GB version - it's not as if games are getting any smaller! Frankly, for only the extra £100 and the huge jump in storage, nabbing the 256GB option is a no-brainer.
So, What's In the Box?
You'll find….
A light grey VR headset
2 Touch Controllers
2 AA batteries (a battery for each controller)
A USB cable and 15W USB AC power adapter
A frame spacer (for those who wear glasses)
A quick set-up guide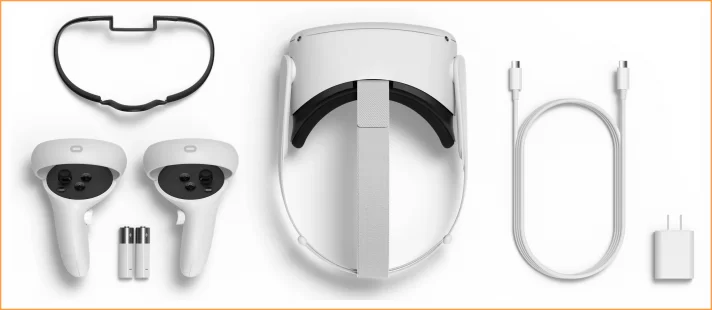 Wireless and Tethered Gaming
The Quest 2, just like its sister, is primarily a standalone headset. But saying that, both are hybrids: although natively wireless, they can be connected to a PC via the Oculus data-link cable. This allows users to play AAA games, as well as apps and experiences that aren't available wirelessly. Admittedly the experience isn't quite the same with the Oculus link cable, as your freedom of movement is somewhat restricted. That's the real beauty of the Oculus Quest and Quest 2: wireless headsets provide a truly unrestricted gaming experience.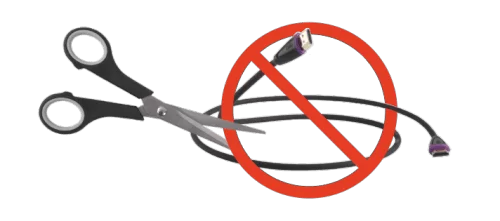 Display and Resolution
The Oculus Quest 2 has a single LCD display, consisting of an RGB stripe array, as opposed to the dual OLED panels on the original Quest. This has led to a vast improvement in clarity. In fact, the resolution on the Quest 2 is higher than that of the Valve Index - although not necessarily as good. The Quest 2 offers a resolution of 1832 x 1920p per eye. Yep! I know it sounds like a strange size - my guess is that it's down to Oculus not using manual IPD adjustment over software spacing. Don't quote me on that, but feel free to make your own suggestions down below.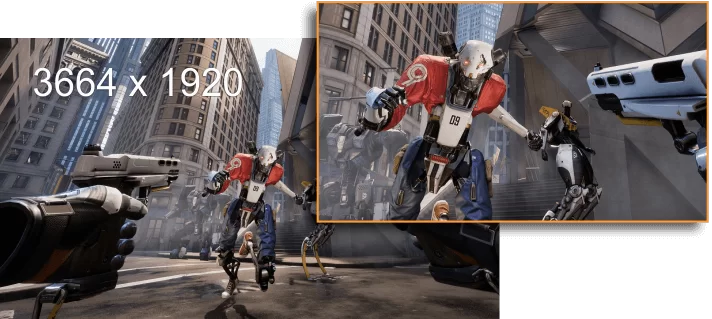 Overall, the Oculus Quest 2 has a combined resolution of 3664 x 1920p, which is pretty impressive, but still not as high as the HP Reverb G2 at 4320 x 2160p. Having said that, there's more to resolution than meets the eye! You also need to consider the FOV, God rays, Mura, the Screen-door effect and the quality of the Fresnel lenses themselves. All these are important factors in determining the abilities of a display.
To my eye, there haven't been any changes to the lenses. As they're still Fresnel lenses, God rays and other visual artifacts are still noticeable. Should you have the old Quest or a Rift S and use prescription lens covers, you'll be happy to know that the lens shape and design the same as the older headsets, so your existing lens covers will fit perfectly well.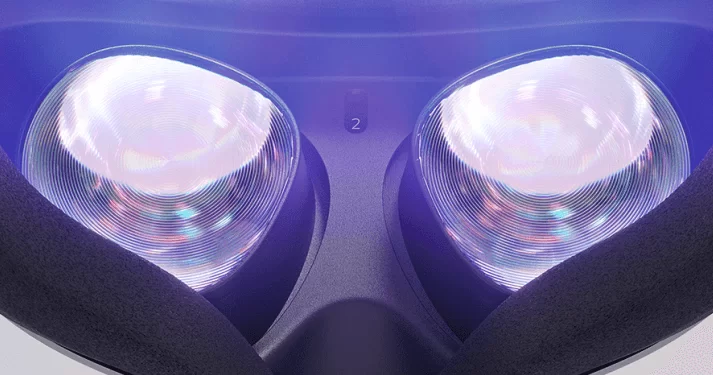 The Quest 2 comes with a new processor, Qualcomm's XR2. This is a significant improvement over the previous Snapdragon 835 mobile processor, native to the original Quest. Oculus says the new XR2 processor has 6GB of RAM for improved performance and a better gaming experience, with future enhancements for hand and finger tracking, as well as reduced latency.
The new XR2 chip runs Quest games at the new native resolution automatically, and at a faster frame-rate, since the new LCD panel runs at 90Hz. However - the headset is capped at 72Hz until next year, when Oculus releases an update that lets users toggle to the higher 90Hz refresh rate.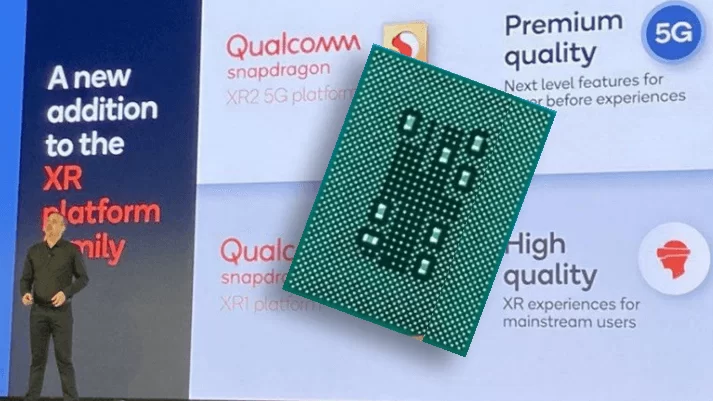 How Long Does the Battery Last?
Fully charged, the Quest 2 should last between 2-3 hours, so no improvement there from the original Quest. When watching a movie or doing some heavy game play, expect the headset battery to last closer to 2 hours. When fully drained, the headset takes about 2.5 hours to fully recharge. If you want more power, you can purchase the version of the Oculus Quest 2 Elite Strap with a built-in battery. I'm not sure how long the battery lasts on the Elite Strap as of yet, but will post my findings here as soon as I do.
Wearability and Features
The Quest 2 is fairly lightweight, weighing in at about 1.12lbs. However, just like the original Quest, the headset still feels oddly front-heavy. This is particularly obvious the more you have to move your head around. In particular, the headset ended up resting on my cheekbones in an uncomfortable way. Weight-distribution wise, this could have been better.
The strap leaves much to be desired. I feel it's a big step back from the original Quest design. It's a little on the flimsy side, similar to that of the Oculus Go. Unfortunately, Oculus has also done away with those side-strap tensioners, which is a real shame as they worked perfectly well on the original.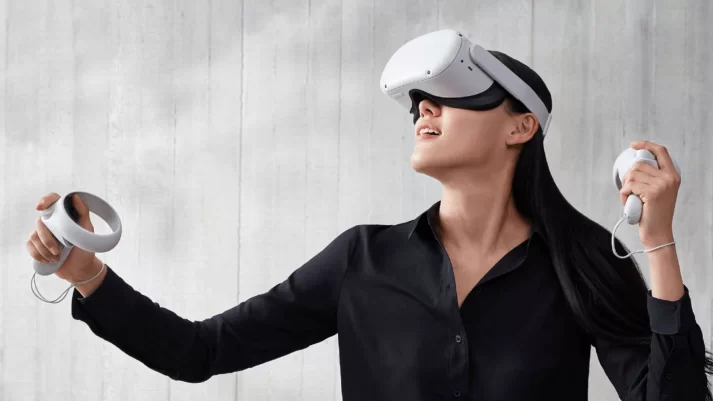 The primary overhead strap has the typical Velcro attachment, which works as expected. On the rear there's a simple belt buckle type attachment for tightening the strap, which worked much better than I thought and is fairly easy to adjust. Then again, it's still not as slick as the original.
Overall, the strap design leaves much to be desired. If it bothers you as much as it did me, Oculus does offer an alternative head strap for the Quest 2. More on that in the Accessories section.


Oculus did away with the conveniently located IPD adjustment slider on the bottom of the headset, so another step back there. Now to adjust the lens spacing, you have to slide the lenses themselves into one of three fixed positions: Position 1 being 58mm, 2, 63mm and position 3, 68mm. Many should be happy with Position 2, as 63mm is closest to the most common eye distance. However, the inability to adjust more closely is a shame for people with different needs. I can only imagine it has something to do with the headset having a single display panel.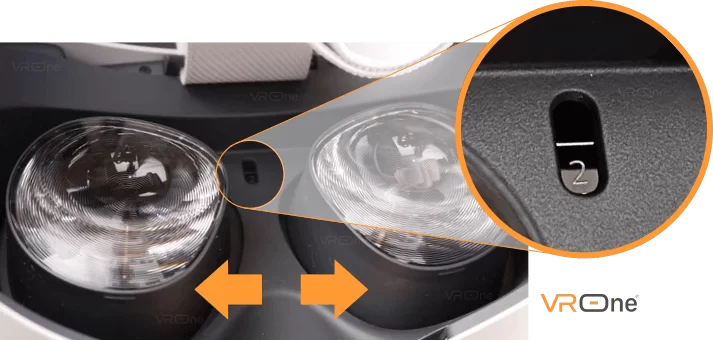 Just like the original Quest, the Quest 2 still features the volume rocker button, which allows you to quickly adjust volume levels. The position of the two microphones also remain unchanged. Just as well really, since that's the best place for them. The on/off power button and power indicator light are conveniently located on the side of the headset.
The speakers are built into the main part of the head strap. The sound quality isn't too bad, but the bass isn't that great. If it bothers you, there is a single 3.5mm headphone jack for plugging in your own headphones or earbuds.
There is a USB Type C Port for charging the headset, or for connecting to a PC via the Oculus link cable or compatible data cable.
Cameras and Tracking
Compared to the first-gen Quest, nothing has really changed in regards to tracking performance. Just like the original, the Oculus Quest 2 headset utilises four inside-out external cameras which allow you to see the real world by double tapping on the side of the headset. Visually, the Passthrough function is pretty basic, as everything's monochrome. It's just enough to let you glance into the real world to check where you are, or grab a quick sip of cold tea.

The cameras also track the IR LED's on the controllers, so the headset knows where your hands are in relation to the headset at all times.
Near-field tracking is still a bit of an issue, as with just about every headset that uses inside-out tracking. The headset is likely to lose sight of your controllers if your hands happen to be behind your head or too close to the headset. This is a particular issue when playing archery-style games, so definitely something to keep in mind when considering the Quest 2.
Controllers
The Oculus Quest 2 controllers look pretty much the same as the original Quest, but there are two subtle differences. Firstly, there's a little more space around the buttons for you to rest your thumb, an ergonomic design re-introduced from the first-gen Oculus Rift controllers. But more excitingly, Oculus claims that the batteries should last two to three times longer than those of the first Quest. They've managed this by modifying the controller sensors so that they're not constantly on.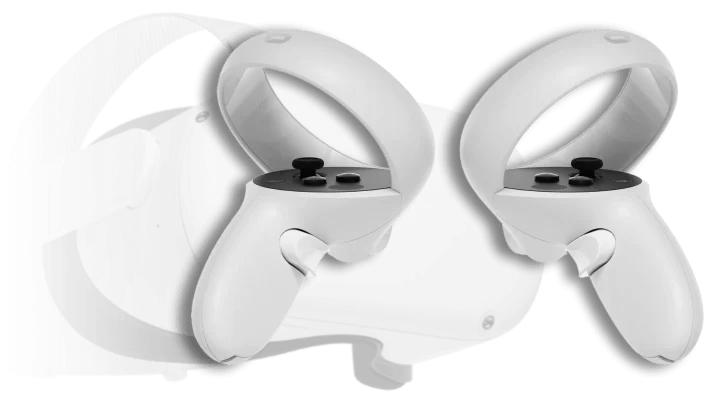 There's still only one AA battery per controller, but the batteries are now housed slightly differently. Inside the battery compartment, Oculus has improved the way that they're secured, preventing them from flying out with rapid hand movement.
---
Accessories
Quest 2 Elite Strap
Experience enhanced comfort with the Quest 2 Elite Strap. This ergonomic strap increases balance and support with a quick twist of the fit wheel, so you can stay level-headed in VR no matter what comes your way. Weight increase: 179g.
Available to buy from Amazon UK for £49
Available to buy from Amazon US for $49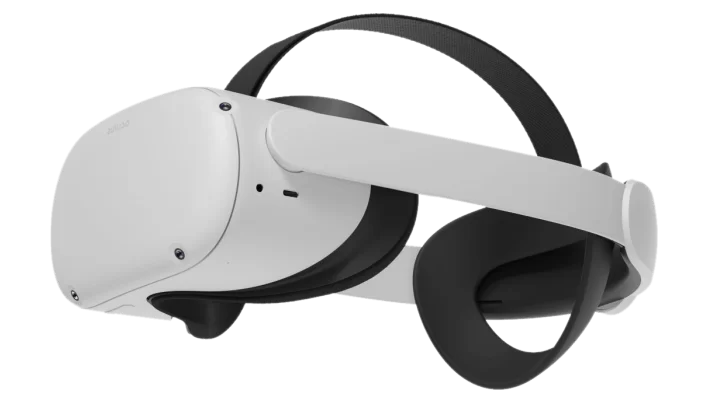 Elite Strap with Battery Pack and Carrying Case
Go all in with enhanced comfort and battery life. As well as better balance and support, the built-in battery extends playtime, letting you play straight from your first steps to the final mission. Weight increase: 321g.
£129 on Amazon UK
$129 on Amazon US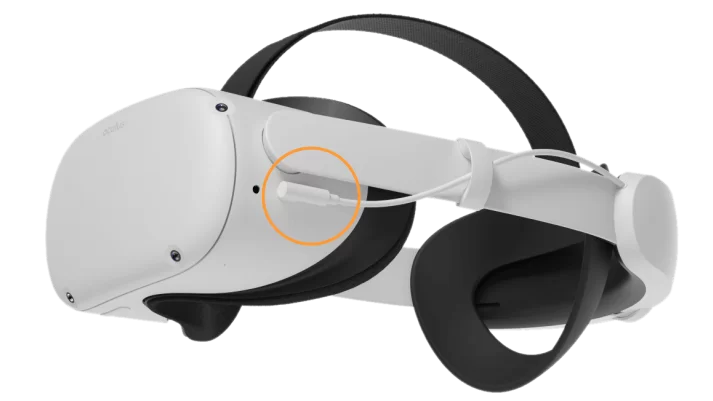 Fit Pack
Better fit, better immersion. The Quest 2 Fit Pack includes two alternate facial interfaces and light blockers for users with low nose bridges and wider or narrower cheekbones. All pieces are interchangeable and are made with the same breathable fabrics and foam as the standard fit. Weight increase: 87g.
Available for £39 from Amazon UK
Available for $46 buy from Amazon US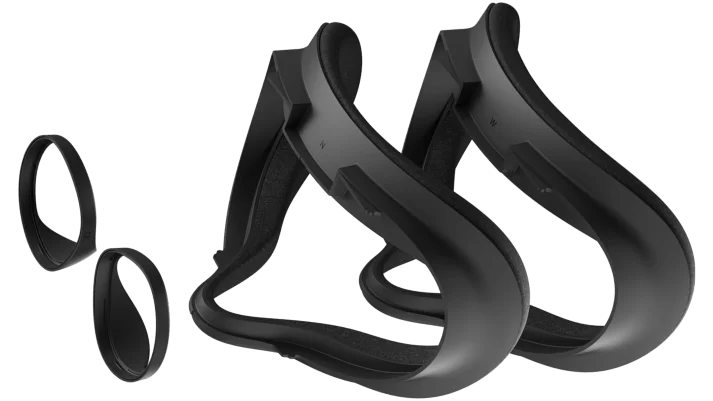 Carry Case
This lightweight carry case provides sturdy protection whether you're at home or on the go. The padded interior fits the Oculus Quest 2 headset with Elite Strap or Elite Strap with battery pack, two Touch controllers, charging cable and the power adapter.
£49 on Amazon UK
$49 on Amazon US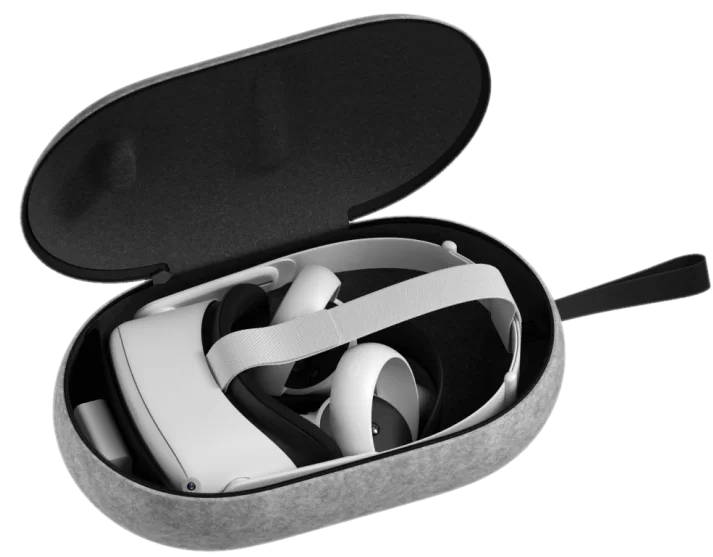 Other Headset Accessories
If you're after good overall sound, make use of the Quest 2's headset jack with a pair of Ludos Clamor earbuds. These lightweight, discreet earbuds offer great bass and a perfect balance of mids and treble. Get them now, while they're still on offer.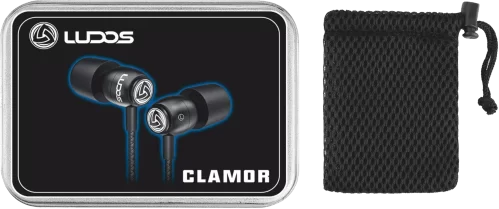 Find for £13.97 on Amazon UK
Find for $16.97 on Amazon US
---
Should You Buy the Quest 2?
The Oculus Quest 2 is definitely a solid alternative to tethered VR headsets, such as the Rift S, HTC Comos and the Valve Index. It's also a damn sight cheaper! This free-range headset is ideal for those that want a hassle-free gaming experience.
Space-wise - many of us haven't a big enough room to properly experience VR without banging into things and knocking stuff off shelves. The beauty of the Quest and Quest 2, is that you can use it literally anywhere! Just find a room that's big enough.
Better yet, there are some excellent VR games for the Quest 2: some of our favourites are Beat Saber, Pistol Whip, Moss, Robo Recall, Vader Immortal, Superhot VR and Arizona Sunshine.
Although the Quest 2 is natively wireless, the headset is flexible as there's always the option to connect to the PC for more resource-intensive games. If you do decide to venture down this route, make sure to check that your graphics card is compatible with the Oculus Link.
If you're new to VR, then the Oculus Quest 2 is a great entry level headset. The only major drawback is its processing power: it lacks the ability to display images in their fully intended glory. Many of the detailed textures, lighting and real-world reflections are intentionally downgraded to suit the Quest 2's capabilities. However, if this is your first time in VR, the headset is solid enough that you'd likely be none the wiser.
But if you want the best gaming experience - and already own a powerful computer - you'll need to go with a more expensive, tethered headset. The HP Reverb G2, HTC Cosmos or the Valve Index are all excellent options.
---
Should you upgrade from the Quest to the Quest 2?
Personally, I don't think upgrading is worth it. As it stands, the Quest is still a very good headset. I'd certainly cork it for the time being, at least until the Quest 2's increase in bandwidth to 90Hz is released.
---
Oculus Quest 2 compared to Quest
Features
Quest 2
Quest

Display Type

LCD

AMOLED

Resolution - per eye

1832 × 1920p

1440 × 1600p

Combined Resolution

3664 x 1920p

2880 x 1600p

Refresh Rate

72Hz - 90Hz

72Hz

Processor

Snapdragon XR2

Snapdragon 835

RAM

6GB

4GB

Headset Battery

2-3 hours

2-3 hours

Controller Battery

6 - 12 hours

4 - 9 hours

IPD

Fixed: 58mm, 63mm, 68mm

58–72mm

Field of View (FOV)

100°

100°

Degrees of Freedom

66DOF

6DOF

Models (storage)

64GB or 256GB

64GB or 128GB

Strap

Material

Rigid Plastic

Weight

1.12lb (503g)

1.3lb (580g)
Verdict
The Good Stuff
Wireless Gaming
The Quest 2's best feature is that it's wire-free: ideal for playing at a friend's house and sharing the experience with the Oculus casting feature.
Sleek Design
I like the look of the Quest 2. The light grey casing makes a nice change from the sea of black hardware in the office. It reminds me a little of Apple products - but luckily without the matching price tag.
Good Price
Price-wise, the Quest 2 is a bargain. The 64GB version only costs £299 and for just £100 more, you get four times the memory. The 256GB headset is the best choice in my opinion.
High Resolution
The resolution is a big leap: With a combined resolution of 3664 x 1920p, it's basically 4K, which I have to say is pretty impressive. Visually, everything is sharp with bright and vivid colours. The blacks were pretty good too, especially for an LCD display. Now, I'm just wondering how well the new high-res display will work at 90Hz. I guess we'll have to wait and see.
Controllers
The new controllers are lightweight, and look and feel good. I like the extra space around the button area for resting your thumb. You'll be happy to know that all the buttons are still in the same place and are perfectly aligned to accommodate your digits. With the good haptic feedback and longer battery life, this gets another thumbs up from me.
Helpful Accessories
The Quest 2 Elite Strap with the extra battery is a great idea, as are all the other Oculus accessories.
The Quest 2 comes boxed with a frame spacer, so convenient for those who wear glasses.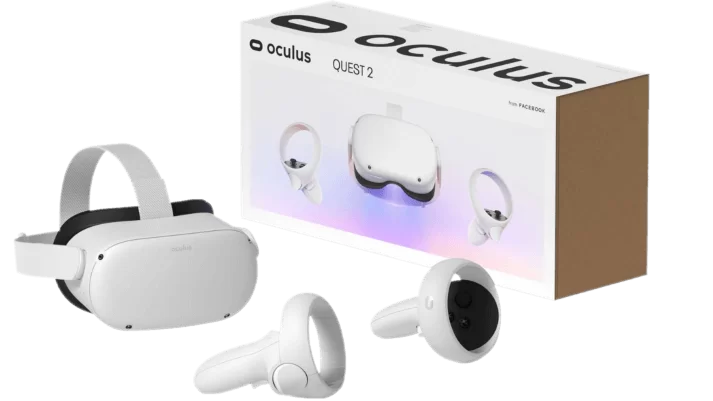 The not so good stuff...
Facebook
This shouldn't come as a surprise, given that Facebook acquired Oculus a couple years ago, but to use the Quest 2 you will need a Facebook account. Obviously this is done with the future intention of eventually expanding VR into their social media offer, but for the moment it's just frustrating gatekeeping.
Poor Balance
Like the original, the Quest 2 is a little front-heavy and badly balanced. The poorly designed strap system certainly doesn't help. It's annoying that you need to buy the Oculus Elite Strap to have a more comfortable experience, given that it's another £49 - or even £129 if you go for the version with the extra battery pack.
Built-In Speakers
The sound isn't great, but depending on how picky you are this might not put you off. Although Oculus states that the speakers offer cinematic 3D positional audio, the sound is not delivered particularly well. I'd recommend using your own headphones or earbuds.
Charger Cable
The charging cable isn't very long, which I found very frustrating. I guess this was one of the ways that Oculus kept the price down.
Refresh Rate
Another sticking point is that we still don't have access to a 90Hz refresh rate. We'll be relying on developers utilising the new SDK to create games at 90Hz - hopefully there'll be some good options out next year.
IPD Adjustment:
I'm not overly impressed with the new IPD adjustment feature. The IPD settings are essentially locked with only three settings to choose from. Oculus claims to have researched common eye distances in order to find three sweet spots, so at least in theory they should work for most people. All the same, it makes more sense to just let people sort it out for themselves.
What do you think of the Oculus Quest 2? Please leave your comments below, we'd love to hear what you have to say.