About Superhot VR
Developed by the Superhot Team. SUPERHOT VR breathes new life into the FPS genre, with its blending of Matrix-style slo-mo shoot outs and frenetic energy. Designed in collaboration with Oculus VR, compatible with the Oculus Rift S, Rift and the Oculus Quest. The game is rated for players aged 12+.
Game Languages: English, Chinese (China), Chinese (Taiwan), French (France), German, Italian, Japanese, Korean, Polish, Russian, Spanish (Spain)
Expected gameplay duration: 2 - 3 hours
Disc Space Required: 2.51 GB
Synopsis
The SUPERHOT team's first title pushes FPS to its limits, offering a punishing experience that will test your reflexes and ability to keep a level head. SUPERHOT VR will see you overwhelmed by a barrage of enemies, with no health regeneration or ammo conveniently lying around. But you do have one thing to your advantage: time only moves when you do. Naturally, this mechanic is a perfect fit for VR, giving you a virtual presence in the game unmatched by conventional gaming.
Getting to grips with this was definitely a challenge, but for me, that's all part and parcel of being a fan of VR gaming. SUPERHOT's innovation demonstrates the power of VR to take gaming beyond being hunched on your sofa clutching a sweaty remote. VR allows for gaming experiences the likes of which we've never seen before - and I can only hope for more titles that explore this uncharted territory.
Price
At the time of writing, SUPERHOT VR is available for - £18.99 / $24.99. Let's take a moment to make a quick review of the game to see if it's worth the price tag.
Gameplay
The first time I played, I felt pretty overwhelmed by the entire concept. Balancing the adrenaline that comes with trying to withstand waves of enemies with remembering to take a break to cobble together some semblance of a strategy was really tough for me. The most similar games I've played to this are third-person RPGs - the kind that give you plenty of time to plan your attack before the fight even properly gets going. So adapting to this fighting style was something of a stretch, to say the least.
As promised, there also weren't any convenient ammo caches lying around, so I quickly learnt to appreciate the variety of objects scattered around the levels. Knives, cameras, ashtrays and throwing stars are all at your disposal once you inevitably run out of bullets. However, I did find that often (more on this below) dodging was practical.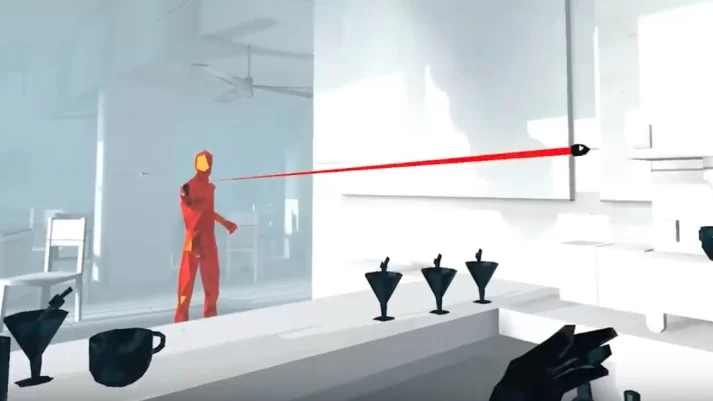 Some have criticized the game for being too short - and if you take to it more easily than I did, I can see why. Although the concept is great, I've found that many people were able to complete SUPERHOT within an hour or so. If you are chomping at the bit for more, there is a SUPERHOT Forever update that includes several more challenges and levels.
I'm really glad that I pushed through my initial reluctance; I came to appreciate the challenge it posed. SUPERHOT VR pushed me all the way out of my comfort zone, into a crazy, weirdly graceful world of relentless fighting juxtaposed against bullets frozen in mid-air.
Technical Difficulties
Unfortunately, I did have a couple of problems with my hitbox. For whatever reason, I found myself still getting hit by enemies even when I'm fairly certain that I'd dodged properly. However, I haven't seen others reporting this issue, so it might have been a problem with my rig.
Requirements
Unsurprisingly, given how active this game is, SUPERHOT VR requires a good amount of space. You'll need enough room to move around freely - and a little extra so you don't find yourself punching the walls by accident. Without a doubt, this game will give you a serious workout.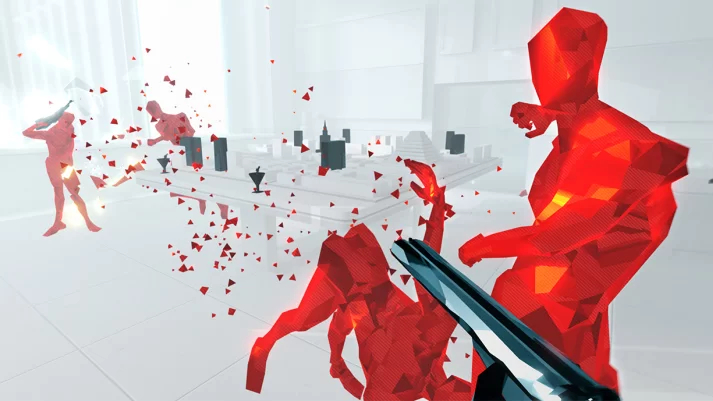 PROS
Challenging FPS
Great work-out
Getting to pull off crazy maneuvers
CONS
Occasional difficulties with hitbox tracking
Not the best value for money
Requires a fair bit of space

Final thoughts
SUPERHOT VR offers a fantastic gameplay experience by challenging the conventions of the FPS. It takes full advantage of the unique opportunities VR has to offer and is sure to get your heart racing. However, it suffers from a problem many VR titles have: not offering an equivalent amount of gameplay for the price of a conventional game.
Did you know, Superhot VR is listed in our review: Best Oculus Quest Games.
How did you find Superhot VR? Share your thoughts with me using the comment box below.