Synopsis
ILMxLAB - the creators of the VR game series Vader Immortal, brings you Vader Immortal: Episode I - a narrative, action-movie VR experience for the Oculus Quest, Rift and Rift S virtual reality headsets. The game fully supports Oculus touch controllers.
Age rating: The game is rated for players aged 16+
Supported languages: English, French (France), German, Italian, Japanese, Korean, Spanish (Mexico)
Gameplay duration: Expect approximately 1 hour of gameplay
First of all, Vader Immortal: Episode I is an experience - not a game as such. The game has been purposely designed not to break the immersion with game over screens and retries. Admittedly the game isn't very challenging, but remember not to miss the point of the narrative driven experience, that's what Vader Immortal: Episode I is all about, however the game is fully immersive, gripping and true to the Star Wars films.
Vader Immortal: Episode I
If you've been playing Beat Saber and have missed the Star Wars sound effects of swinging a lightsaber around, then Vader Immortal: Episode 1 is the game for you. This is a series of Star Wars VR games and there are three episodes in total. It is a fairly simple game mechanically-speaking and the story amazingly isn't interesting, but you get to have your turn in the Star Wars universe!

Firstly, it's important to remember that the plot in this VR experience is integral to the Star Wars franchise. In fact, the events are set between the events of Revenge of the Sith and what happens in A New Hope. You're not the Sith himself, however, which might be a disappointment to some players!
Watch the trailer
The plot
As the story goes, you're a smuggler who is working near Mustafar, Darth Vader's fiery home world. Unexpectedly, you're wrenched out of hyperspace at Vader's request as a force-sensitive character to uncover an ancient artefact from the distant past of Mustafar - an artefact that might be able to bring Padmé back from the dead. You find yourself as a descendant of an ancient bloodline capable of discovering the whereabouts of this artefact. ZO-E3, your droid companion, helps you to navigate the fortress and its dangers. Along the way, you'll sharpen your lightsaber skills and meet some new faces while you're discovering what Darth Vader is up to.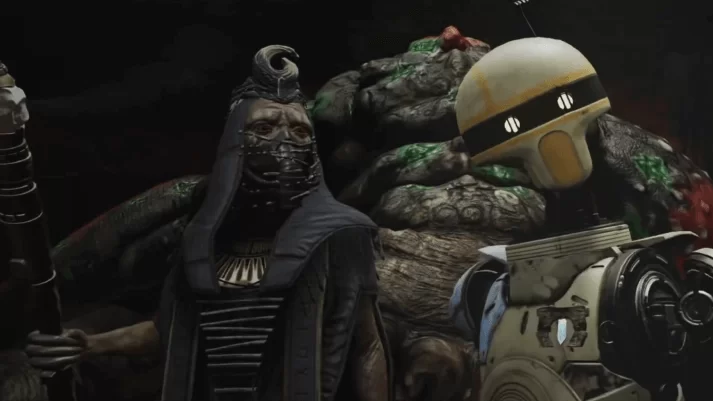 The title itself comprises of two parts. There is the main campaign, which takes less than one hour to complete, but this does, however, depend on the speed it takes you to complete the different sections, including the section where you get to hone your lightsaber skills. When you've completed the campaign, there is also a third part that allows you to skip to different chapters in the story.
Before playing
Before you dive into the campaign, though, it is worth configuring the settings and testing the comfort controls. The default movement is teleportation but you can change this to use smooth locomotion, as well as setting the various rotation options.
Since the title is both game and film (of sorts), it is tempting to sit down while playing. However, the sections where you need to use the lightsaber, you'll find far more immersive if playing standing up. You can play either way though.
The gameplay
You'll be instantly drawn into the excellent voice work and visuals, with Maya Rudolph playing the part of your co-pilot droid. As you fly over Mustafar you'll feel a sense of dread as you get nearer to the imposing stronghold owned by Vader. As soon as you venture inside the castle, you'll be immersed with numerous sights and sounds that will be very familiar. After all, we're Star Wars fans so this is what we came for! It isn't long until you meet the dark lord himself and he is just as remarkable as you would expect him to be.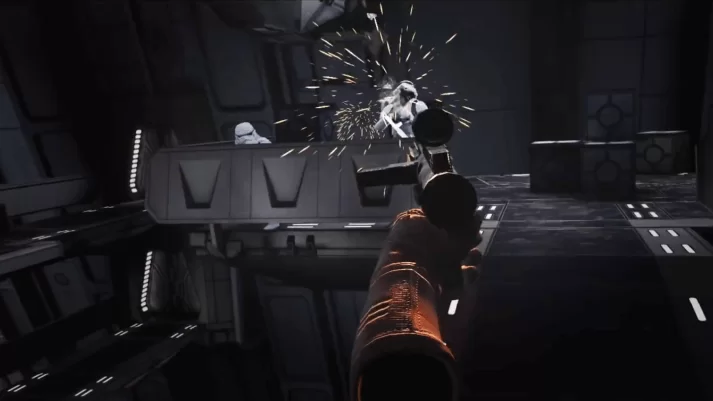 Face to Face with Vader
It's quite impressive when you get to meet the Dark Lord of the Sith up close and personal. It certainly feels imposing to have him standing in front of you, draped in his black armour. Even the very tall will still have to look up to see him. The texture quality of the Oculus Quest is fairly limited, certainly when compared to the visuals of the Rift S. Scott Lawrence is the voice actor and a great one at that. He sounds much more 'original' than Rogue One's James Earl Jones. It seems the game developers will be reserving any crossed sabers with the Lord himself until the subsequent episodes, which certainly gives us something to look forward to.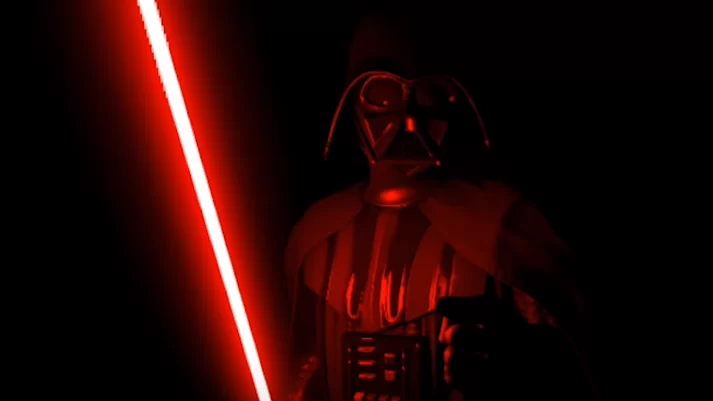 Other characters
You get to meet some inhabitants of Mustafa as a part of the plot, although they don't really stand out from the menagerie of Star Wars characters. There's also an Imperial character that's new, but feels almost redundant to Darth Vader. You'll recognise him by his half-cybernetic face, deep and muffled voice, and cyborg arm.
The campaign
The campaign has a decent pace to it and you never feel as though a particular moment is dragging on. Your interest is held with many interactive moments. The interaction is really important in the game as it helps to remind you of your character and your role in the action. You'll find yourself having to climb ladders and pulling door components apart, for example. The interactions are never so over-complicated that they ruin the campaign's flow, but you're kept busy and are never more than a few moments away from having a new thing to do.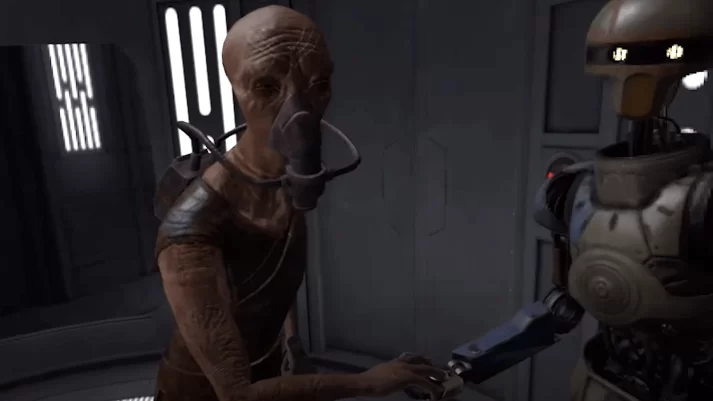 VR in Vader Immortal Episode 1
Not much of the VR in Vader Immortal: Episode 1 feels innovative or mechanically new, if you're already accustomed to VR and have played a few VR games before. That said, the activities you get to perform are put together very well. There are a pleasing number of tactile puzzles to get doors open, for example. These involve reconfiguring control panels, ripping them open, climbing pipes and ladders by reaching for handholds, lightsaber combat and the deflection of blaster bolts that come towards you as if you were on a baseball field.
At first, the lightsaber battles feel amazing. You will watch your opponent orchestrate their swing and, as you deflect it, the controllers send you some haptic vibration feedback that's very rewarding. There is also very responsive animation when your enemy's blade is locked. Wait until their guard is down and strike back. For lovers of slicing melon on Fruit Ninja, don't expect your opponent to be sliced down the middle on the first strike, but you will love how spectacular everything sounds and how fast the game is. One downside is that you will only fight two different enemy types, so after a while the fighting can feel quite "samey". If you want to muck around with your lightsaber, there's a fun training mode that involves you fighting waves of hovering drones - the ones that Luke Skywalker fought when he held his first lightsaber.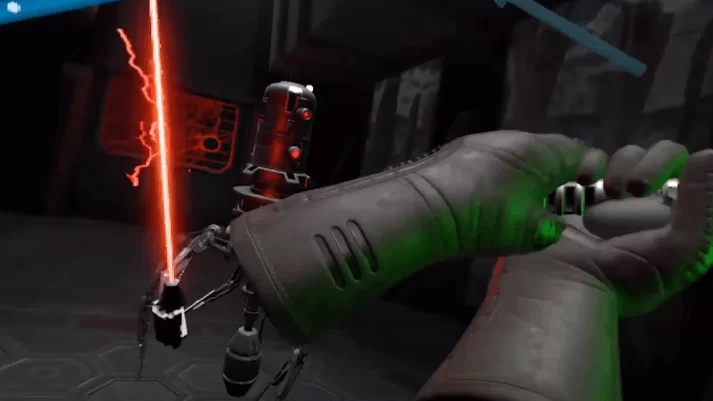 It could be argued even that the lightsaber sections are where you'll want to play the most. You get to fight all the flying little droids and repel their lasers. Oculus have certainly developed the best lightsaber experience on VR. The sounds make it that much more special than Beat Saber. Of course, you never expect Beat Saber to rip off the sounds of the Star Wars franchise, but it's always a surprise when they don't sound how Star Wars fans expect all lightsabers to sound!
Verdict
If you're wanting to bathe in Star Wars nostalgia and come face to face with the Dark Lord of the Sith himself, this game lets you do just that. The mechanics are pretty simple and there isn't really anything new in terms of the VR experiences and games already out there, but the gameplay is refined and the story is good enough to keep you interested. In terms of lightsaber combat, it would have been much more interesting to have a variety of enemies to fight against, especially in the last scene, but the saber does sound good and feels great to play with overall. Vader Immortal: A Star Wars VR Story - Episode 1 is certainly a title Star Wars fans will love to get their teeth into. After all, it's as close as many will get to holding a real lightsaber!
Did you know, Vader Immortal: Episode 1 is listed in our review: Best Oculus Quest Games.
Have you played Vader Immortal Episode 1? - Maybe you've played the entire series. Share your thoughts and opinions with me using the comment box below.