Review In Summary
Formerly known as Oculus, Meta has introduced the Meta Quest Pro, a remarkable virtual reality (VR) headset designed to provide users with an immersive digital experience. This advanced VR device stands out for its ability to transport users into digitally crafted worlds, opening doors to a diverse range of applications. From entertainment and education to productivity and social interaction, the Meta Quest Pro is engineered to excel in various scenarios.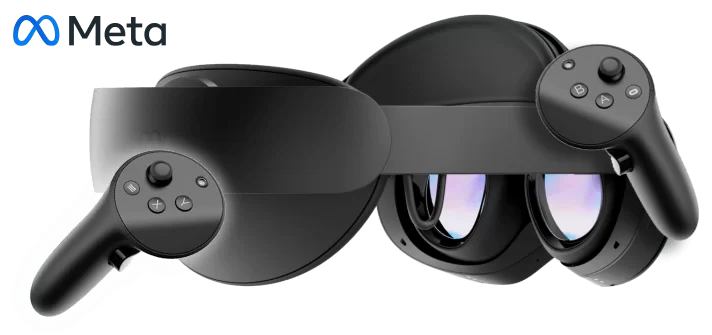 What's Included in the Package?
Inside the box, you'll find a comprehensive set of accessories to enhance your Meta Quest Pro experience. This includes 2 Meta Quest Touch Pro Controllers, a convenient charging dock, a 45W USB-C power adapter, a controller charge cable, a charging cable for the headset, 2 stylus tips, 2 partial light blockers for the left and right sides, a cable clip, a protective cover, a cleaning cloth, and 2 wrist straps.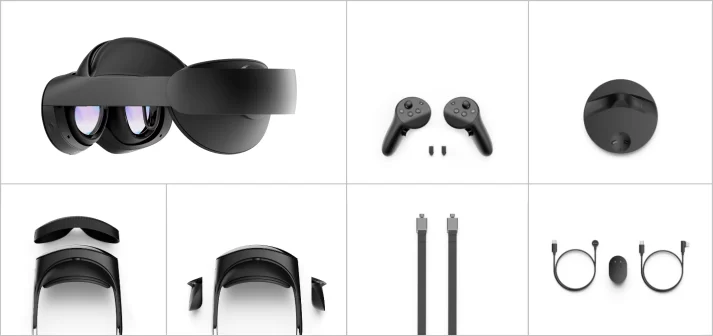 Enhanced VR Experience
The Meta Quest Pro is positioned as a premium offering in the VR market, priced at approximately £999.99. It builds upon the foundation of its predecessor, the Quest 2, boasting a remarkable 50% increase in speed, as claimed by Meta. The package includes a charging dock for effortless and rapid system charging, thanks to the included 45W adapter.
Versatile Usage Options
Users have the flexibility to use the Meta Quest Pro either as a standalone device or tethered for extended play sessions. For uninterrupted power, a 6.5-foot power cable is provided to keep the headset charged.
Immersive Audio
Equipped with built-in speakers, the Meta Quest Pro delivers crisp and clear audio. It also supports positional audio, providing an immersive soundscape where audio appears to come from various directions. However, it's worth noting that the bass may be lacking, but there's a 3.5mm headphone jack for those who prefer their own headphones.
Design and Comfort
The Meta Quest Pro sports an all-black exterior, a departure from Meta's previous white designs. Its comfortable and premium design features ample cushioning in the headband strap. Remarkably lightweight at just under 1.6 pounds, it offers a comfortable wearing experience. The left side of the headset houses a headphone jack, a USB-C charging port, a power button, and two dials for adjusting inter-pupillary distance (IPD) and headband tightness.
Quest Pro Controllers
The Quest Pro controllers, measuring 130 x 70 x 62mm and weighing 153g each, come with a Qualcomm Snapdragon 662 mobile processor and utilize SLAM technology with 3 camera sensors per controller for tracking. While lightweight and comfortable to hold, they lack the traditional tracking rings found in previous Meta controllers, instead relying on cameras for tracking. TruTouch Haptics provide feedback, and attachable stylus tips are included for virtual writing.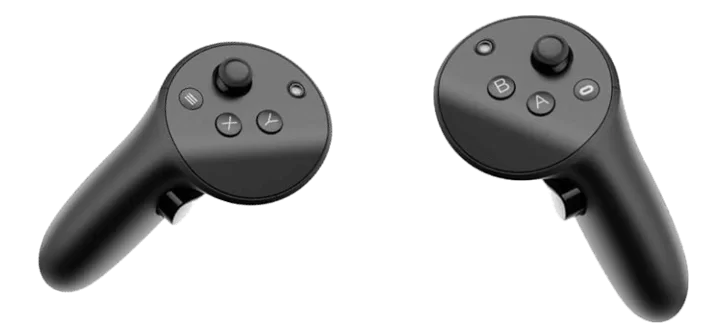 Hand-Tracking Option
Users have the option to use the Meta Quest Pro without controllers, which offers an improved experience compared to older hardware. However, it's important to note that hand-tracking isn't flawless and may not match the performance of controllers.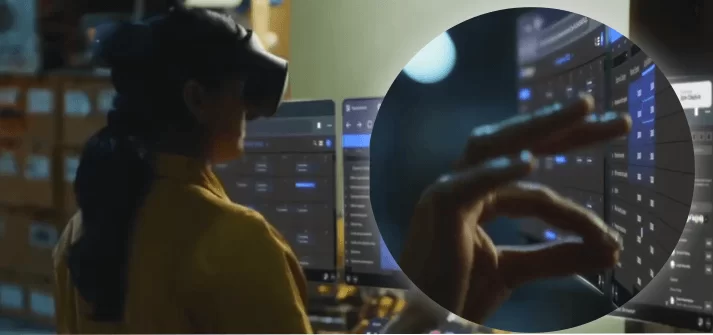 Battery and Tracking
Unlike the Quest 2, the controllers in the Meta Quest Pro feature rechargeable batteries. Hand-tracking has improved but may not be on par with higher-end VR systems due to the absence of base stations.
Specifications Overview
Weight: Just under 1.6 pounds
Size: 265mm (L) x 127mm (H) x 196mm (W)
Sound: Headphone jack
Microphone: Enhanced 3-mic array
Charging: USB-C port
RAM: 12GB Processor: Snapdragon XR2 Plus processor
Storage: 256GB
Internal tracking: 5 infrared eye and face tracking sensors with a 120-degree field of view each
Wi-Fi: Wi-Fi 6E (Available in supported Wi-Fi 6E regions)
Bluetooth: Bluetooth 5.2 for connecting peripherals
Display: Offers stunning visuals with a resolution of 1,920 x 1,800 per eye, thanks to new miniLED LCD panels
Refresh rate: A 90Hz refresh rate, though higher rates are available in some other models
Cons and Final Thoughts
While the Meta Quest Pro offers an impressive VR experience, it does come with some drawbacks. Battery life is relatively short when used as a standalone device, taking around two hours to fully charge. The headset's focus on mixed reality (MR) rather than exclusive VR may not be suitable for dedicated gamers. The design, which allows some visibility of the real world, can break immersion during true VR experiences. Additionally, certain features like color passthrough, face-tracking, and eye-tracking could use improvement.
Verdict
Setting up the Meta Quest Pro is straightforward, and it excels in mixed-reality scenarios. However, its high price tag and some design quirks may make it less appealing to all users, particularly dedicated gamers... Then again, there is the Meta Quest 3 to look forward to. UK customers can pre-order it here: https://amzn.to/48ptEGm
Given the above; What's your opinion of the Meta Quest Pro? Or, do you intend on getting one? Share your comments with us in the box below...
Meta Quest Pro Recommended Specs
Graphics Card (GPU)
If using device as untethered: MSI GeForce RTX 3060 VENTUS 2X 12G OC Gaming Graphics Card
Alternative Graphics Card
Gigabyte RTX 3060 Ti WINDFORCE OC 8GB Graphics Card
CPU
‍Intel® Core™ i5, or i7, Intel® Xeon E3-1240 v5 / AMD Ryzen 5 equivalent or better
Memory
‍8GB RAM. Recommended 16GB (if tethered)
Video Output
DisplayPort 1.3
USB Ports
1x USB 3.0 port orType C
Operating System (OS)
Windows 10 (May 2019 update or later)