From the creators of Arizona Sunshine, Vertigo Games brings you their next masterpiece 'After the Fall'. After the Fall is an action horror game developed by Vertigo Games. Available on the Oculus Rift, Rift S, Quest, HTC Vive, Valve Index, Windows Mixed Reality and PlayStation VR headsets. The game fully supports handheld VR controllers. The game is rated for players aged 18+.
Age Rating: 18+ (IARC - PEGI)
Game Modes: Single User, Co-op, Multiplayer
Game Languages: English, Chinese (Taiwan), French (France), German, Italian, Japanese, Korean, Spanish (Spain)
Game Length: 3 - 5 hours
Download Size: 34.8 GB (disc space required)
About After the Fall
You're in an alternate 1980s where the remains of civilization are all that's left in the infested and ice-covered ruins. Play alone or with up to 4 others to try to take back the city with weapons against colossal bosses, specials and huge hordes, working your way through the part-demolished buildings ridding them of the undead. After the Fall promises to be a game full of encounters, missions and events.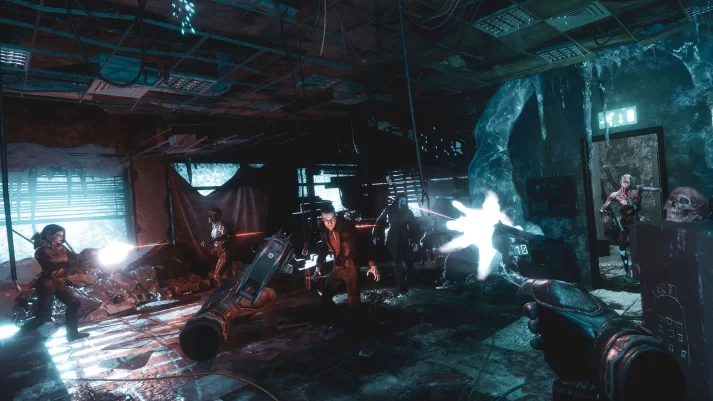 Multiplayer Co-op VR
This epic VR game comes from the makers of Arizona Sunshine and After the Fall designers are hoping to replicate its success. It is another FPS (first-person shooter) game in VR that involves snow zombies. Vertigo Games haven't really played around with their successful formula for After the Fall - it's similarly an all-out zombie shooting game that involves collecting supplies and popping heads with a co-op taste.
After the Fall video trailer
It's seamless in its gameplay and allows up to four people to play together in a hostile and vast VR world set in an alternate 1980s LA. They must fight for their survival. Don't expect hot Arizona - this alternate Los Angeles is a snowy and unforgiving place.
After the Fall means players from across the globe can play in the VR world and experience the atmospheric and cinematic gameplay.
For people wanting an FPS (first-person shooter) VR game with a zombie theme, Arizona Sunshine by Vertigo Games is up there with the most popular games, finding its way to a whole host of headsets in the last two or so years. This studio is seeking to replicate this game's success with a new first-person shooter game involving zombies - After the Fall.
Collapsed civilization
Civilization collapsed some 20 years prior and mankind finds itself in the middle of a would-be ice age of its own catastrophic doing. The climate suffered and people started meddling with experimental, designer drugs leading to mutations. Snowbreed, a terrible outbreak of zombie-like creatures, inundate this hellscape of snow and ice. You're a survivor, immune to the substance side-effects and you're the last hope for saving the city and humanity.
With real-life movements, you wield your catastrophic powers, developing your style of combat as you go.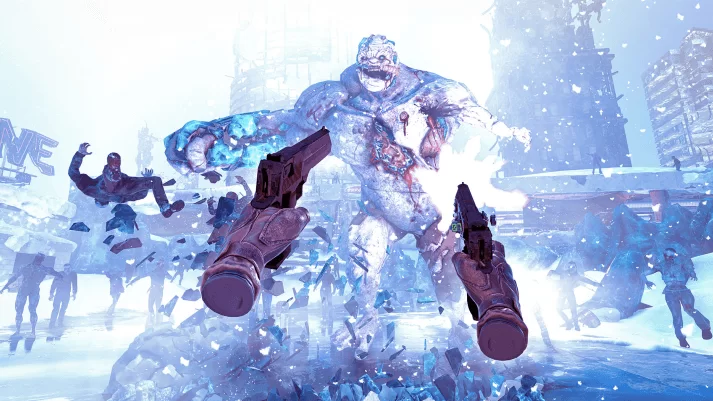 Weapons
Unlike many immersive FPS VR titles, After the Fall feels a bit more like it belongs in an arcade in terms of your weapons. You don't have to worry about reloading your weapons manually or storing them in your backpack. Some players might welcome this not having to worry about such things that make playing more realistically challenging while others might find this somewhat shallow and not immersive enough as other games.
There is a mixture of weapons to use sub-machine guns, pistols and a rocket launcher that is a novelty mounted on your wrist. With this, you're able to lock-on to multiple zombies if the hordes become a bit much.
VR interaction
Another thing about After the Fall in terms of VR interaction is your ability to pick up loot from a distance by attracting it magnetically. This doesn't really do any favours for those who love room-scale virtual reality whereby loot is picked up manually with the hands like in the real world.
Visuals
After the Fall's visuals are certainly striking. The environment is rich and pretty that give a nuclear-winter feel as the buildings are covered in snowfall. It has slick gameplay and is fast.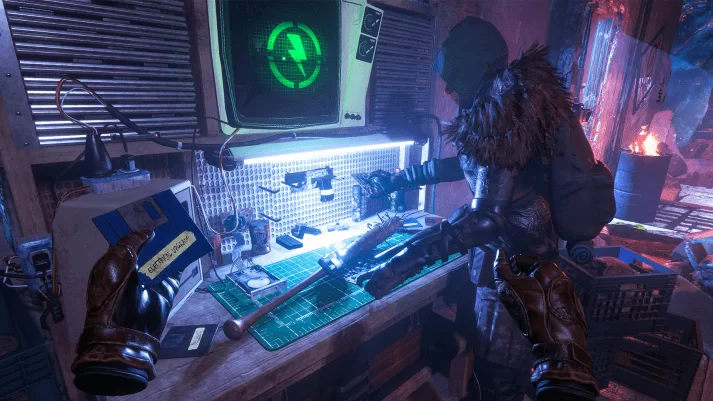 The End
Fear not, completing the game and getting to the end is just the beginning! With the story completed, you're free to venture into the world of blood-pumping encounters, missions and events.
What are your thoughts of the After the Fall? Is it better than Arizona Sunshine? - Share your thoughts with me using the comment box below.