About Drop Dead
From the developers of Warhammer; Age of Sigmar and Warhammer; 40,000 Freeblade. Pixel Toys brings you Drop Dead - a fun action, horror, wave shooter. Game modes supported are; Multiplayer, Co-op and Single User play.
Drop Dead is compatible with the following controllers; Oculus Touch, Touchpad, Gear VR and Gamepad. Developed for virtual reality headsets - Oculus Rift, Rift S, Quest, Gear VR and the Oculus Go. The game is rated for players aged 16+.
Game Languages: English, English (US), French (France), German, Japanese, Korean, Spanish (Spain)
Game duration: Expect about 4 - 5 hours of gameplay (replayable)
Drop Dead by Pixel Toys was originally a Gear VR game that has now been ported to the Oculus Rift. It's not the same experience, though and this version has more hands-on action and loads of difficult stuff to overcome.
First things first, don't be put off by the fact that this is yet another wave shooter game, Drop Dead is really fun!
Gameplay
This game uses some typical game tropes – a Nazi doctor seeking to create a supreme race. You're good, he's bad and there are zombies. You travel through three timelines and can stop the future apocalypse from happening. Every time you take a trip into the future, the game's objective gets a new spin. Ultimately, you need to stop this evil doctor from growing his army of apocalyptic zombies, gather new weapons wherever you go, and make huge numbers of zombies blow up. In terms of weapons, you get to use a lot of weapons in the game, but you don't necessarily get to upgrade them or keep them. In general, weapons appear as you shoot at a zombie. They include all sorts, from submachine guns to pitchforks. These are always found in the level, you can't get them at a market or anything and can only have them temporarily.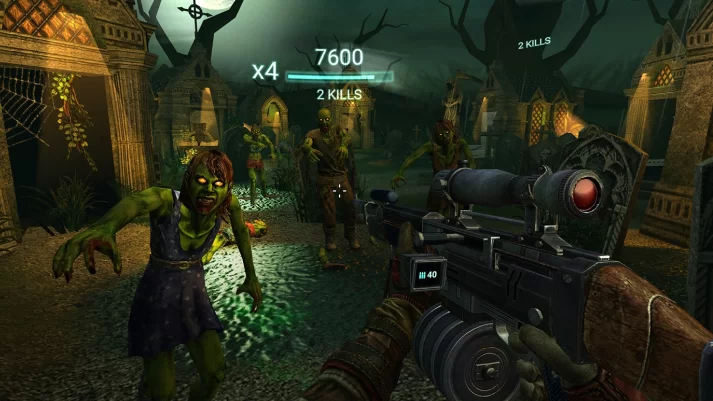 It might seem quite basic but Drop Dead has a surprising number of levels (in the three timelines) – 27 in fact. It also has many different weapons to use, lots of enemy units, some great voice actors, and a bit of a cheesy plot. Aside from leaderboards online, single and multiplayer (online) survival modes also make the game much more replayable.
In terms of graphics, you don't get incredible scenery as you would in say, Skyrim, and, at times, the art style makes you think of a smartphone game. It is likeable though.
Watch the trailer
The downsides?
There are a few. Some people might find shooting at zombies a little repetitive, but that's kind of what you should expect from a wave shooter game anyway. Some definite cons of Drop Dead include not being able to hold dual guns. If, for example, you go for a pistol in your holster, you will automatically drop the shotgun you're holding. Secondly, you can't skip through Doctor Monday's speeches so you'll have to listen to them repeatedly until you finish the level. In terms of moving around, your movement is controlled by the game as you complete it – you don't get to climb buildings or run around. Finally, you can't change the level of difficulty in the game, which might not suit some players, however if you're one that enjoys a good Zombie shooter, give Arizona Sunshine a go. Arizona Sunshine gives you far more freedom regarding movement, you can also play solo, or co-operative style with a buddy... Better still, if really want to experience VR in all it's glory and haven't already done so, buy Half-Life Alyx - it's by far the best first-person, VR horror-shooter you'll ever play.
Comfort and Immersion
The game has two modes, normal or comfort. In normal mode, you POV transition automatically to your shooting positions, whereas comfort mode relies on automatic teleportation instead. Neither is more immersive than the other, particularly, but normal mode is pretty nausea-inducing.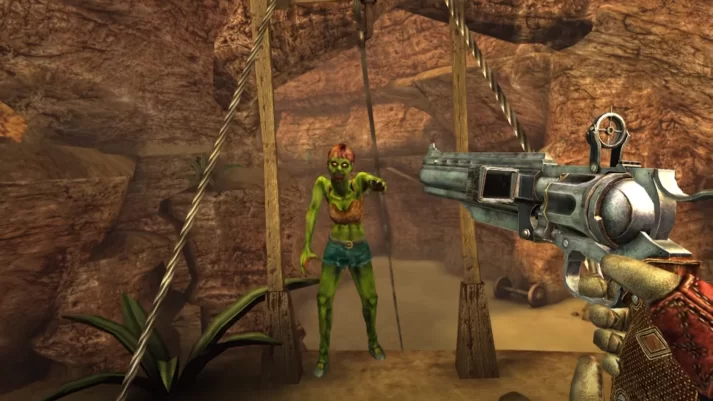 Final Verdict
Despite its few flaws, Drop Dead is great fun. It's easy to grasp and you don't need to play it for a long period of time. The art direction and plot are pretty cheesy, but this is intended and expected in this wave shooter, arcade-style game. The game is great at building up tension and adrenaline as you shoot at zombie swarms approaching you. The graphics aren't the best we've ever seen, but then they don't need to be for what you're playing. It's also not the most immersive game you'll ever play, but it's definitely the sort of VR game you can pick up easily, even if you can't put it down with the same ease!
Did you know, Drop Dead is listed in our review: Best Oculus Quest Games..

What was your experience playing Drop Dead? Share your thoughts with me using the comment box below.