The next Generation GPU: Nvidia Ampere
The newest and fastest graphics card (GPU) yet. Check out the keynotes, specs, performance and release date of Nvidia's latest GPUs.
What is Ampere?
Ampere, or the A100, is Nvidia's new GPU architecture, the most powerful Graphics Processing Unit (GPU) to date. In fact, it's the largest 7nm GPU ever designed, at 826 mm2.

Why choose the Nvidia Ampere?
In extracts from Nvidia's keynote presentation, on May 14th 2020, the developers describe what makes the A100 so revolutionary:
It was NVIDIA founder and CEO Jensen Huang that introduced the new NVIDIA A100 GPU - based on the new NVIDIA Ampere GPU architecture. Through the diversity of computer-intensive applications running in modern cloud data centers, it has driven the rapid expansion of NVIDIA GPU-accelerated cloud computing. These include applications such as AI deep learning, training and inference, scientific computing, data analytics, graphics rendering, cloud gaming, and so much more. NVIDIA GPUs already provide most of the necessary processing power to accelerate a wide array of complex and unpredictable workloads running in today's cloud data centers.
The A100 GPU includes a revolutionary new "Multi-Instance GPU" (or MIG) virtualization and GPU partitioning capability that is particularly beneficial to Cloud Service Providers (CSPs). When configured for MIG operation the A100 is able to deliver up to 7x more GPU Instances at no additional cost. MIG is especially beneficial for CSPs who have multi-tenant use cases, and it ensures one client cannot impact the work or scheduling of other clients, in addition to providing enhanced security, reliability and allowing GPU utilization guarantees for its customers.
We're pretty certain that the A100 is going to take cloud gaming to a whole new level.
You can read more about the Nvidia Amphere Architecture here.
Nvidia's Consumer GPU: Variants of the A100
It's widely rumored that a consumer version of Nvidia's Ampere graphics card technology could be released as early as autumn 2020. If all the rumors are true regarding a consumer-grade version of the A100, code-named the GA102, a new range of Ampere-based graphics cards could quickly dominate the graphics card market.
It's a bit early to speculate, but we're positive that the possible introduction of the GA102 is going to be a major step-up from the RTX 2080 series.
What could the GA102 GPU look like?
To be honest nobody really knows exactly what NVIDIA's new GA102 will look like, even its official name. With that aside, we've knocked-up this visual of the new RTX 3080.

What to Expect
Nvidia has been keeping very quiet about what they're developing. Although leaks and rumors are commonplace nowadays, they're best taken with a pinch of salt; it's still early days and nothing has been fully confirmed. From our perspective and from the information we've sourced, it goes without saying: the new Turing to Ampere architecture is going to be particularly big for Nvidia, with the hope that they introduce a large portion of this technology into their next generation of consumer Graphics Cards. As with previous Nvidia GPUs, our guess is that there will be multiple variations of the Ampere GA102.
We can only speculate on what the outcome of the Ampere based GPUs (GA102) is likely to deliver to us gaming fanatics. Firstly, it will undoubtedly support the PCI-Express 4.0 x16 interface. Secondly, with the expectation that variants of the GA102 card will utilize 10 - 24 GB of GDDR6X memory, have a CUDA core count in excess of 5,000 with memory speeds likely to be in the range of 17 - 21GBps, come with either a 256-bit, 320 or 384-bit memory interface and a bandwidth-boost clock speed of around 1800-1950Mhz. Having said that, as rumors suggest, Nvidia are likely to release three models varying in specs and cost.
Keeping in trend with Nvidia's GPU naming convention, just like the RTX 20 Series, we'll probably see the newer cards following suit, eg. RTX 3070, RTX 3080, RTX 3080 Ti (or super), to the top of the range flagship model, the RTX 3090.
Nvidia RXT 3000 Series Benchmark (GA102)
Speculative data analysis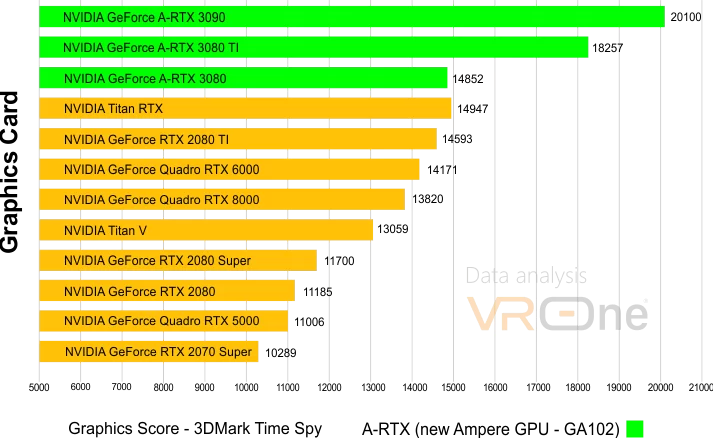 Nvidia RXT 3000 Series Specifications
Like us and many other gaming and hardware gurus out there – spec-wise, we can only imagine what Nvidia's latest GPUs are going to deliver. We all know the 30 series is based on the GA102 graphics processor, but what can we expect in the way of power and performance?
Here are some hypothetical specs for each graphics card. If you'd like to share any information with us, please use the comment box below.
Nvidia RTX 3070 Specs (GA102 v1)
GDDR6X memory: 8 GB 256-bit memory interface
Memory speed: 14 Gbps GDDR6
Base Clock Speed: 1735 Mhz
CUDA cores: 5,888

Nvidia RXT 3070 Cost
Expect to pay £499 for the Founders Edition and anything up to £580 for variants
Nvidia RTX 3080 Specs (GA102 v1)
GDDR6X memory: 10 GB 320-bit memory interface
Memory speed: 19 Gbps
Base Clock Speed: 1535 Mhz
Bandwidth-boost Clock Speed: 1905 Mhz
Bandwidth: 560.0 GB/s
CUDA cores: 4,352

Nvidia RXT 3080 Cost
Expect to pay between £799 - £850 for the RXT 3080
---
Nvidia RTX 3080 Ti Specs (GA102 v2)
GDDR6X memory: 12 GB 354/384-bit memory interface
Memory speed: 21 Gbps
Base Clock Speed: 1770 Mhz
Bandwidth-boost Clock Speed: 1925 Mhz
Bandwidth: 672.0 GB/s
CUDA cores: 5,376
Nvidia RXT 3080 Ti Cost
Expect to pay between £999 - £1,199 for the RXT 3080 Ti
---
Nvidia RTX 3090 Specs (GA102 v3)
GDDR6X memory: 24 GB 384-bit memory interface
Memory speed: 17 Gbps
Base Clock Speed: 1410 Mhz
Bandwidth-boost Clock Speed: 1935Mhz
Bandwidth: 672.0 GB/s
CUDA cores: 5,376
Nvidia RXT 3090 Cost
Where to buy the RTX 3090
Expect to pay between £2,000 - £2,500 for the RXT 3090
---
Nvidia RXT 3000 series Launch date
It would be nice to see the RTX 3000 series launched by fall and there's certainly enough evidence collated from industry observers to suggest this, but I feel that's a little optimistic. I think we're all going to have to wait a little longer; hopefully by Christmas, if there are no further delays due to COVID-19. Otherwise, we may be looking at the first quarter of 2021. Find out where to buy the RTX 3080.
Nvidia RXT 3000 series Price
It's anyone's guess as to what the Nvidia's new GPU will cost. You're always going to pay premium prices for anything new, but AMD also have new cards in the pipeline with the forthcoming lineup of RDNA2. So hopefully the competition will lower the price.
On launch of the RTX 3000 series, we're likely to see a slight drop in the price of the 2080 and 2080 Ti. It's my guess that the RTX 3080 will probably be priced similar to that of its predecessor at launch. Only time will tell, but we should have a better idea in the next few months.
Rest assured, between the Nvidia GA102 and AMD's RDNA2, pro-gamers around the world are about to experience one of the most competitive GPU launches in the last few years.
Have any comments? Please leave them in the comments section below...