Skyworld: Kingdom of Brawl is a simulation strategy game developed by Vertigo Games, creators of Arizona Sunshine and Wolfdog Interactive. Available on the Oculus Rift, Rift S and the Oculus Quest virtual reality headsets. The game fully supports the Oculus Touch controllers and gamepads. The game is rated for players aged 7+
Game Modes: Multiplayer, Single User
Supported Languages: Chinese (China), English, French (France), German,Italian, Japanese, Korean, Russian, Spanish (Spain)
Gameplay duration: Expect about 7 - 10 hours of gameplay (replayable)
Synopsis
Skyworld Kingdom of Brawl is a collection from the original Skyworld. It is an award-winning, interactive, strategic VR game that combines accessible turn-based strategy and addictive real-time battles, all set in intricately animated miniature worlds, where you build and command your forces right on the battlefield, conquer all Skyworlds as a single player or online multiplayer.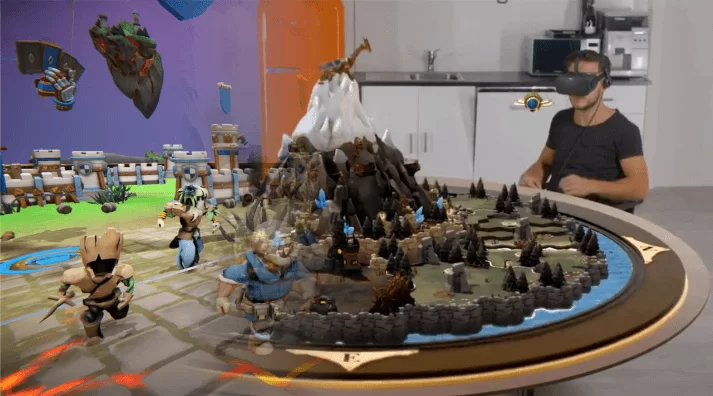 Game and features
Skyworld Kingdom Brawl is a competitive multiplayer, card driven battle game, built specifically to be played in VR. You can play standing or seated, it's entirely up to you, personally I preferred playing the game seated.
Within Skyrim the Kingdom Brawl you battle various enemies and earn coins to spend on creating new cards, so you can upgrade your deck, fortunately it's fairly easy to earn coins so purchasing one of the dozen or so cards doesn't take too long. You can also upgrade your cards, with each upgrade increasing an attribute like resistance to fire but also reducing something else like speed or attack damage.
As you play to create your own personal deck, you'll learn what face value you like and how to setup your deck up properly.
When you jump into a match you take cards from your hand to place on the battlefield and the card comes to life and starts attacking or defending your fortress with the goal of destroying the enemy's stronghold, before your own is destroyed.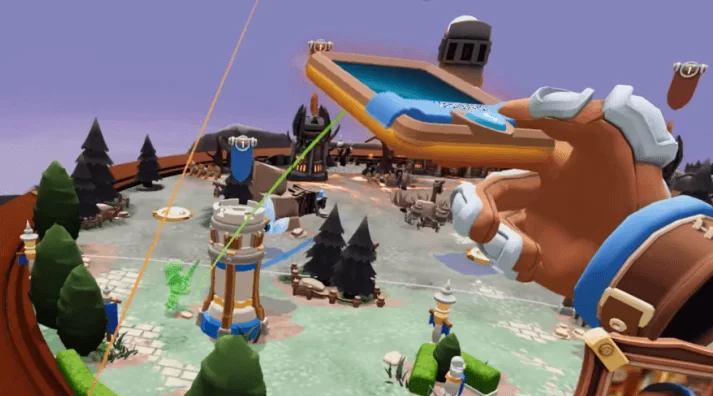 There's also a game timer and whoever has inflicted more damage wins the match, if the time runs. There are different types of cards you can play for an aerial attacks like a blimp or floating Fortress, to ground troops such as basic soldiers and arranged troops like archers and snipers. There are magic spells you can buy that allow you to specifically target enemies or the enemy strongholds.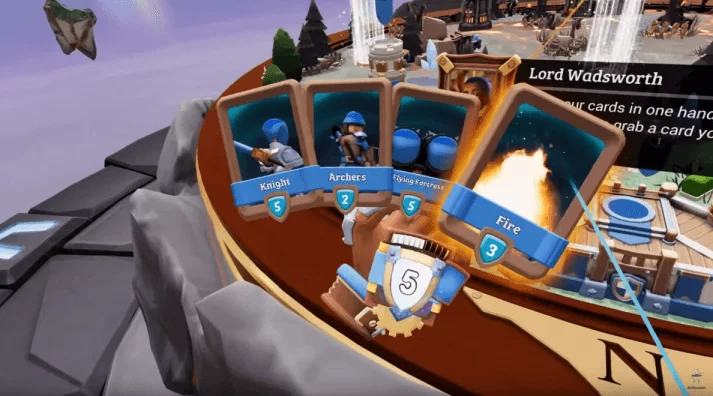 As you buy your cards you unlock new troop types like the Dragon. The gameplay in Skyworld is fast-paced and sometimes can be very hectic as you stand beside the stone war table as you watchover your troops, as your enemy stares at you from the other side. Each card you play uses mana (power/authority) and you have to wait for your mana to regenerate based on how many mana points the card you laid down takes.
When it comes to matches you can either play against an AI opponent, on various difficulty levels or you can battle against other players online… although when trying to play online multiplayer, I was only able to find a limited number of matches. The online multiplayer does work well and it's fun, plus you're given the ability to join one of two clans and earn points for your clan as you defeat online opponents from the other clan and increase your online leaderboard ranking.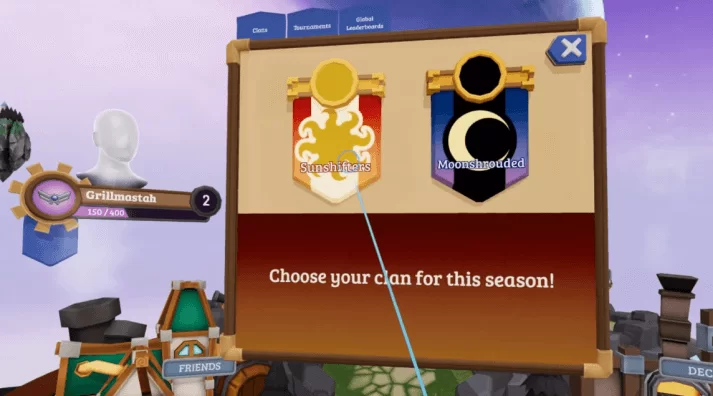 There are over 20 different batterallys in a game for you to battle it out on, with each one having its own look and feel to it, which is cool.
When it comes to visuals the game uses a more simple and cartoonish style, however, I feel like it fits well for the world in the style of this game, it's nothing stunning per say to look at, but the colours and textures do look good and the character and anime animations also look pretty good.
Soundwise, the music is sweeping and epic, while the battle sound effects are just your usual battle sound effects you'd come to expect.
The tracking seems to work really well and I really like the way you take the card from one hand to the other and place onto the battlefield.
There's not much of a story mode to this game, it simply comes down to how much you enjoy the mechanics and online play. You can pretty much get your deck you want it in a few hours or less, after that it's all about the leaderboards, tournaments and online play to keep you busy.
Watch the gameplay
Verdict
If you're into this type of strategy game, I'm sure you'll love Skyworld Kingdom Brawl, but if you're looking for a story based game with lots of blood and carnage or a challenging puzzle game, then you may be disappointed with this game.
What's your view on Skyworld Kingdom Brawl? Share your thoughts with me using the comment box below.