About Boneworks
Boneworks is a physics-based, puzzle, shooter game developed by Stress Level Zero. Available on the Oculus Rift, Rift S, HTC Vive, Valve Index, and Windows Mixed Reality VR headsets. The game fully supports handheld VR controllers. The game is rated for players aged 16+
Game Mode: Single User
Supported Languages: English,
Game lenght: Expect about 8 hours of gameplay.
What happens when you mix weapons and advanced physics in a dystopia? You get Boneworks! Paying homage to Half-Life 2 and developed by Stress Level Zero, Boneworks uses VR to give you free rein in this action-packed adventure.
You're a Virtual Security Director exploring the inner workings of an AI Operating System, Myth OS. Boneworks's advanced physical mechanics means universal rules are consistent and players are encouraged to interact creatively with the virtual world.
Your combat approach is always physically consistent and you have a whole arsenal of weaponry including physics traps, firearms and found objects. You can also use clubs, swords, axes, hammers and spears, mysteriously nonsensical tools and experimental weapons.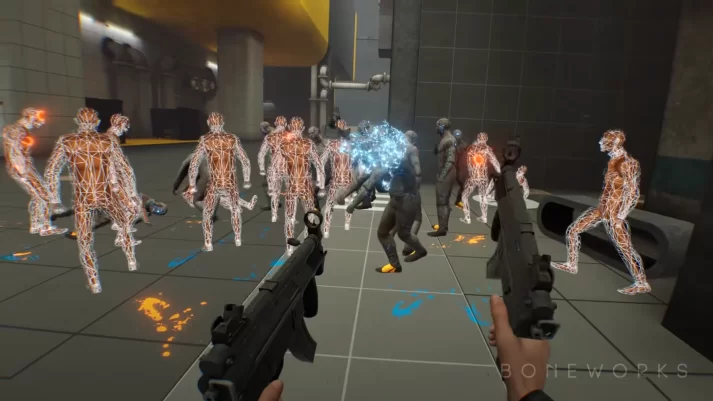 Physics-based gaming
Games like Gorn and Blade & Sorcery have been favourites of virtual reality enthusiasts for many a year. However, Boneworks is the first to provide a plethora of objects all with their own modelled heft and weight for players to use to solve puzzles as well as in combat. Everything you see in the game can be moved, touched, lifted or manipulated according to their weight and size in real life.
The campaign is vast, with almost thirteen different levels. The game also features a great soundtrack with retrowave vibes, giving it a Tron meets Half-Life feel.
Campaign details
Depending on your skill, the campaign lasts between seven and nine hours with a variety of physics puzzles and satisfying if predictable combat.
However, there's nothing that really makes this campaign stand out in terms of level design. You're relegated to urban settings, sewers and warehouse environments.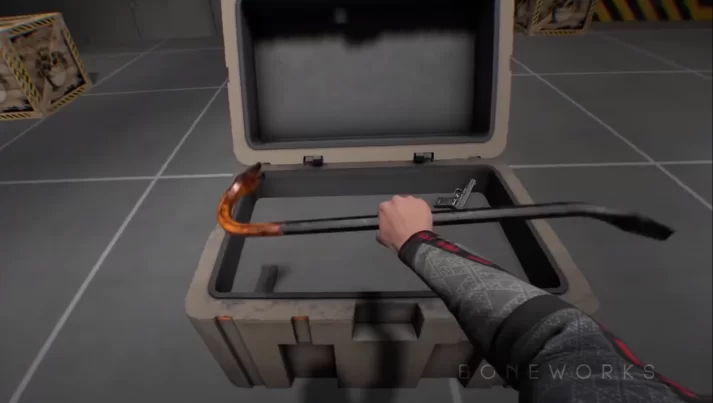 Protagonists and plot
The protagonist is a mute computer hacker who manages to break into Myth OS. It isn't awfully clear what the motivations are, but for the most part its use of physics makes up for the weak story.
If you like your games to be action-packed, you'll appreciate Boneworks's restricted cast. The only NPCs are Alora and Hayes, competently played by Heldine Aguiluz and Mike Diva, an actress and a YouTuber respectively. These characters speak to you through your monitors as you progress.
Easter Eggs and modes
Another way that Boneworks makes up for its sparse plot is its wide array of unlockables and Easter eggs. The game rewards curiosity. For example, you might stumble into some nondescript nook hiding a key to a secret room.
One of the most exciting unlockables is the subtly hidden Sandbox mode. Minor spoiler alert – this is hidden behind a false wall in level two. Here, you can put to good use any collected items that you have dropped into the Reclamation Bins during the campaign. It's easy to spend a good few hours tinkering with your kit. You can even build crazy death traps to take on the next batch of enemies.
Arena mode is also pretty fun and very replayable. It contains lots of clever and customisable challenges that you can beat in many ways. Each of the three modes – Challenges, Survival, and Trials – are equally enjoyable and make Boneworks a game to keep coming back to. These modes also offer interesting mechanics that aren't explored a lot in the main campaign. This includes a balloon gun, allowing you to lift objects, yourself or your enemies into the sky. For a tougher challenge, there's even a trial that makes you fight your way through droves of headcrabs without any health regeneration.
Creativity in gameplay
No matter the mode you play in, the real fun happens when you get creative. There are some items, like shelving units, that initially seem useless. However, you can easily use these the next time you're caught in a tight spot: just tip it over and squash your enemies.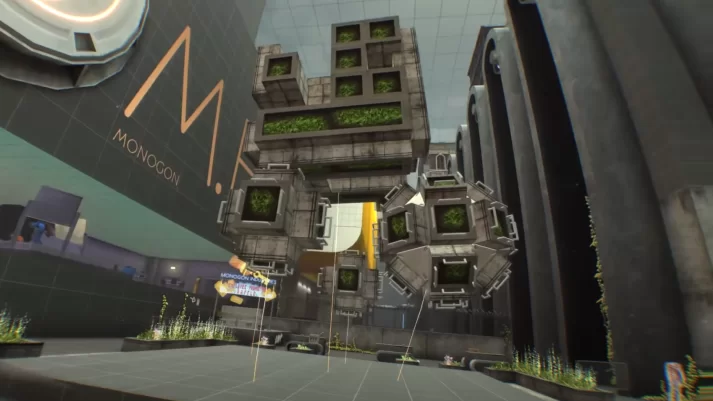 Pushing VR to new edges
One of the greatest surprises of VR gameplay in Boneworks is that you can move your own body in the real world to execute a shoulder tackle virtually in the game. Other great VR features include fluid gunplay and fighting off multiple attackers. For example, you might be shooting an opponent in the distance while tackling a headcrab with your other arm. Boneworks's VR movement systems and combat are truly outstanding in this respect.
Thoughts
Diving through Myth OS in your physically-present body is an engaging experience. The fact that everything around you reacts to the in-game physics is a great concept, even if it does take a little while to get used to. Boneworks is rife with opportunities: stuck behind a stationary object? Just pick up another to use as a shield or gather a couple of boxes to create a set of steps. You have so many options in this VR world and your problem-solving skills will definitely be tested.
Verdict
Boneworks has plenty of puzzles on offer: some of which are really engaging and interactive, others frustrating and repetitive. More than half the game is spent repeating the same action over and over: jumping over a gap and missing the ledge and having to go through the entire scenario all over again.
Any newbie to VR would certainly find this game difficult and frustrating. The game certainly doesn't handhold, meaning that players have to find their next objectives alone. To top that off, the game doesn't respond well to movement, so I wouldn't recommend Boneworks to anyone new to VR.
To be perfectly honest Boneworks is pretty buggy overall and I certainly wouldn't class this as a AAA title by any means. If you want to experience a proper AAA game with all the nuts and bolts, I'd have to recommend you read the Half-Life: Alyx Review. Admittedly it's almost twice the price but ten times better and worth every penny. The puzzles are great fun (not frustrating or too taxing) and you get a good sense of achievement upon completion. Half-Life: Alyx has everything you could ever wish for. It's amazingly immersive and its mechanics and visuals are simply out of this world!
In my opinion, Boneworks is overrated and only worth a dabble if you have some spare cash.
What were your experiences playing Boneworks? Share your thoughts and opinions with me using the comment box below.