About Espire 1: VR Operative
Espire 1: VR Operative is an action, narrative-based, single player shooter, developed by Digital Lode for the Oculus Rift S, Rift, HTC Vive, Valve Index and Windows Mixed Reality virtual reality headsets. The game is rated for players aged 16+.
Game Modes: Single User
Supported Languages: English, French (France), German, Japanese, Korean, Spanish (Spain)
Game duration: Expect about 5 hours of gameplay
The Developer
Digital Lode, a Melbourne-based VR developer, teamed up with Tripwire Interactive, developers of the award-winning Killing Floor, to publish this...unique, let's say, VR experience. Espire 1 is a single-player, stealth, first-person action game, which was released with great fanfare. But has it lived up to the hype?
Compatibility
Espire 1 is compatible with the following VR headsets; Oculus Rift S Rift CV1, Oculus Quest, HTC Vive and Vive Pro, Windows Mixed Reality, PlayStation VR and the Valve Index.
Key features
Complete single-player story, rich in detail: Developed as a single-player VR experience, Espire 1 is replete with individual story missions and scenario missions that use the environment for short challenges.
Voice control: Using the VR headset's built-in microphone, you can make commands and perform actions simply by speaking. The noises you make can draw the enemy to your location or act as a distraction, giving you a unique edge.
Controls that mimic real life: Interaction in this game is incredibly intuitive. Instead of memorising dozens of button combinations for every action, you perform them as you would in real life. Precise position tracking allows you to crouch and enter cover by physically using your body. However, to avoid the inevitable thigh cramps you can just use the crouch button.
Smart enemies: The adversaries in this game are clever and will hunt you down if you give yourself away. The artificial intelligence (AI) of the enemy responds to sight, sound, and other stimuli. Enemies will react to with varying levels of suspicion based on your stance, speed, cover and location.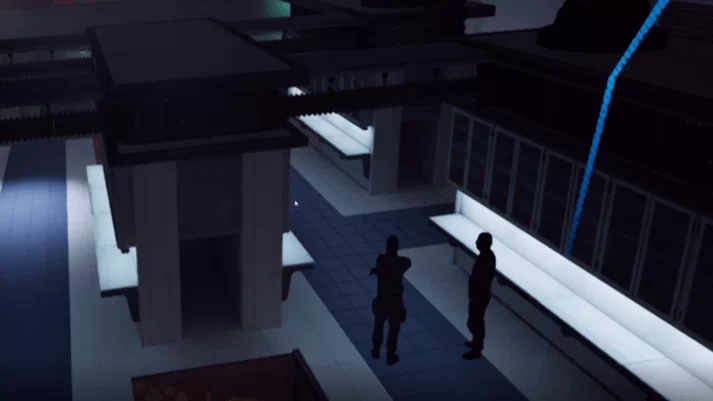 Reduced motion sickness
The technology behind the Control Theatre and the game's approach to movement lie at the heart of Espire 1's gameplay. Always visible in your peripheral vision, this 'VR within VR' system allows for precise, full freedom movement, while managing to maintain immersion, and eliminate VR sickness for just about everyone. The gameplay is relatively comfortable even without the Control Theatre, as you're frequently stopping to hide, assess guard patrols, set cameras and wait for the right moment to move, which reduces motion sickness anyway.
The Control Theatre is fully customisable, and can be fully disabled for those already comfortable moving around in VR.
Tip: For those used to VR looking for a more immersive game experience, we suggest you disable the Control Theatre, since it's rather distracting. Bring up your menu, select 'Settings', then choose 'Comfort' and deselect the following; Artificial crouch and Espire Control Theatre. Click 'Apply' to finish.
About Espire 1: VR Operative
Espire 1 is as a single-player, story-driven VR experience focused on stealth, espionage and action. Your mission, if you choose to accept it, is to become an Espire agent and complete objective-based missions utilising an arsenal of weapons and Bond-worthy gadgets. It's wildly replayable with challenges and leaderboards, somewhat similar to the game Defector.
After initial set-up, you're immediately injected into a classified mission briefing on the 'Espire Project'. You're tasked with remotely controlling the Espire Model One, and you start test-driving the drone straight away.
Your first training mission is Operation Sinon. Everything is pretty straightforward, taking you through the basics such as walking around, climbing and calibrating your utility belt. More importantly, you also get tips on avoiding detection, like crouching behind objects, crawling through air vents and shimmying across pipes in the ceilings above. Get used to this, as stealth is the name of the game here.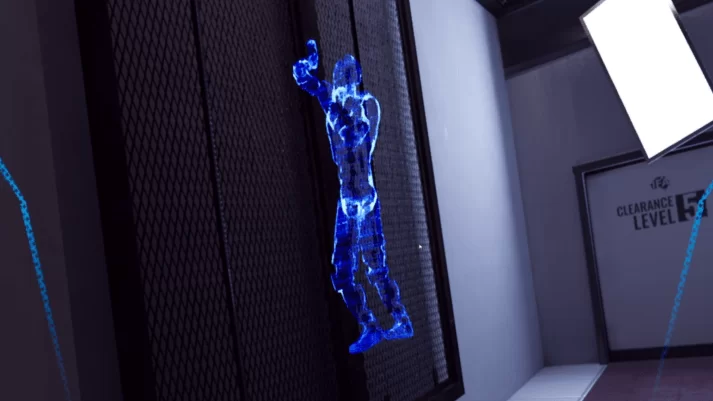 As you'd expect for a high-tech spy, you acquire some pretty neat gadgets and weapons. One such is the repair tool, which predictably mainly fixes your drone but also acts as a map. When thrown to the floor, it projects a blue line that makes a waypoint towards your objective. You're also equipped with a throwable spy camera, ideal for discovering your enemies' whereabouts. Toss the camera around a corner or into a room to plan your attack.
When disabling or killing the enemy, it's good practice to drag the body into a corner, or somewhere out of view. You can also throw objects to distract guards, such as an ammo clip. This will help you to further avoid detection.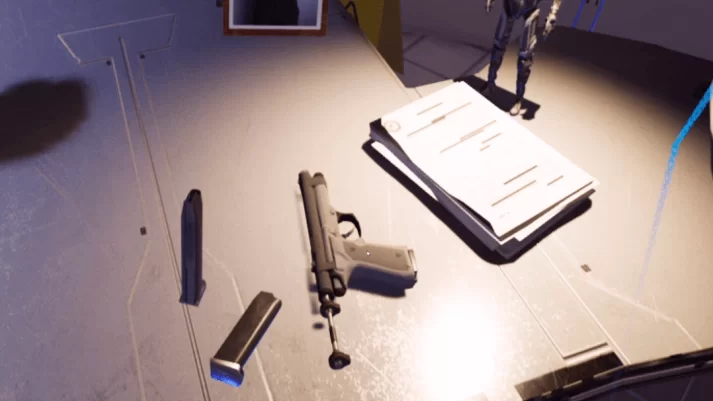 The first weapon you pick up is the tranquiliser pistol. It's practically silent when fired and a must when operating undercover. The pistol only stores ten darts and has a manual reload function, so don't forget to reload after each shot.
The game's mechanics are great at giving you dynamic play. For example, when stealing a guard's gun to neutralise him, using the voice command "Freeze" will stop him dead in his tracks. You can then swat him across the back of the head with the butt of your gun, or take his weapon off his hands. Just take caution when using this option; baddies can decide to sprint off at any moment to get help.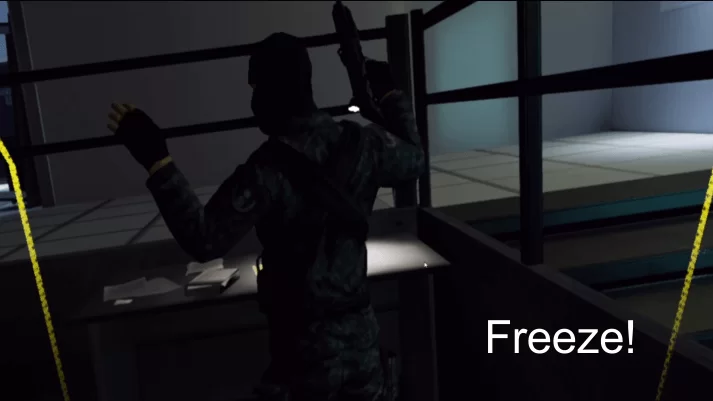 Another feature is the ability to slow down time. Activate this to headshot multiple guards. Since it smooths out your hand movements it lets you to get a better shot. It's fast-paced action but in slow-mo.
All enemy guards have alert indicators, a marker which floats directly above their heads. When the marker is white, the enemy is unaware of your presence. It turns yellow when they're spooked, such as when you throw an object, or they think they've spotted movement. If a guard spots you, his marker will turn red as he sounds the alarm. This alerts all guards within the vicinity to attack.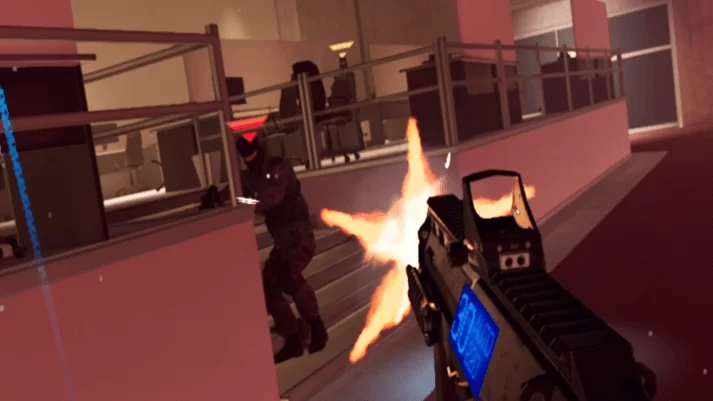 Verdict
There was so much hype around Espire 1 being the best stealth game ever. Gamers who had the opportunity to play the game pre-release in 2019's E3 said it was a fantastic interactive experience and couldn't wait for its release. I just wonder how much of the game they were actually allowed to play!
Espire 1 was originally penciled in for launch on the 24th September 2019, but just one day before, Digital Lode and Tripwire Interactive announced that the game would be delayed for several weeks. Allegedly, this was down to technical issues, but many feel the delay was due to the developer making radical changes to ensure it was compatible with a wider range of headsets. In anticipation, gamers counted down to the new launch date set for November 22nd. But was it worth the wait?

For me, Espire 1 was a short-lived and disappointing experience, as I never felt fully immersed. After about 40 to 50 minutes I just had enough.
Firstly, I felt that the game lacked in level design, especially by today's standards. The levels are very basic, with too many open lines of sight and too few hiding places. Eventually, you'll find yourself in half-empty copy-and-pasted rooms with randomly-placed enemies.
There are many rooms that are completely inaccessible. It would have been a nice touch to be able to swipe an access card taken from the guards to explore the surroundings - but that might have been expecting too much, considering how sparse the rest of the environment is already. It's simple things like this that add a great deal to the gaming experience.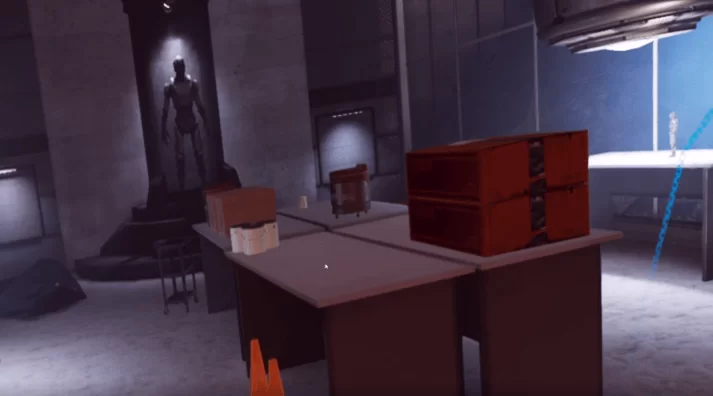 The weapons system in the belt really frustrated me. They just felt too close together. I often ended up with the repair tool in my hand instead of the tranquiliser pistol.
The grip mechanics took some getting used to, especially when opening vents. You need to squeeze the grip to slide them open, but you also have to press it again to release your hand. Not very intuitive by any means!
My main gripe were the frustratingly inconsistent enemy A.I. The guards' detection range is everywhere from ridiculously sensitive, to completely blind. I've had times where I've been instantly detected, despite my best efforts, and others where I've stood in plain sight, frantically waving my arms around and have gone totally unnoticed. To be honest and in my opinion, the game is of a low standard and fairly buggy throughout.
The campaign is allegedly a reasonable length, lasting around five to six hours, with around twenty short challenge missions on top of that. So, good value for money if you like this sort of game.
Final thoughts
I wonder how Espire 1 will compare to the eagerly awaited Phantom: Covert Ops. From what I've seen in recent reviews, the true next level VR stealth game might be on the horizon. Phantom: Covert Ops has already been awarded best VR game at E3 in 2019, as well as the Game Critics award. Developer nDreams has announced launch sometime in 2020. Covert Ops is expected to be compatible with all the Oculus headsets, including the Quest. Let's hope that this one lives up to the hype.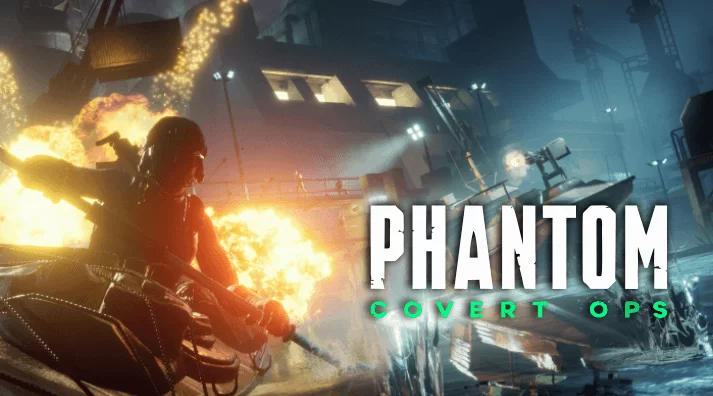 Should you buy Espire 1?
Personally, I thought this was a total waste of money. At best, I feel Espire 1 should still be an early access game and priced appropriately at around £9.99. I think it would take a substantial amount of work to make it into the game it should be.
Nobody here at VROne was overly impressed by this game. Yes, there were a few things we liked, but the negatives far outweigh the positives. Sorry, Digital Lode.
What do you think? How did you find Espire 1? Share your thoughts and opinions with me using the comment box below.