About Edge of Nowhere
Edge of Nowhere is an edge-of-your-seat thriller by the acclaimed independent developer Insomniac Games. It's available on the Oculus Rift and Rift S headsets. The game fully supports Oculus touch controllers and Gamepads. Edge of Nowhere is a single player game. The game is rated for players aged 16+.
Supported Languages: English (US), French (Canada), German, Korean, Spanish (Mexico)
Game duration: Expect about 5-8 hours of gameplay.
Edge of Nowhere is a cleverly crafted psychological thriller, strongly influenced by Lovecraftian horror. This unique genre has been described in turn as;
The "fear and awe we feel when confronted by phenomena beyond our comprehension, whose scope extends beyond the narrow field of human affairs and boasts of cosmic significance".
A "contemplation of mankind's place in the vast, comfortless universe revealed by modern science" in which the horror springs from "the discovery of appalling truth".
"A naturalistic fusion of horror and science fiction in which presumptions about the nature of reality are "eroded"."
Frightened yet?...You will be.
Synopsis
You play as Victor Howard, a 1930's explorer on a journey to find his missing fiancée, Ava Thorne. She took part in an expedition to Antarctica, that never returned. Your rescue mission takes a sudden turn as you venture deeper into a monstrous world where reality warps around you. Desperate to find the one you love, you must brave disturbing monsters and scale looming ice walls as you descend further into madness. In Edge of Nowhere, nothing is what it seems and the unexpected dogs your steps.
The game starts off in a dense, overgrown rain forest, where Victor and Ava are searching for exotic plants. You're suddenly interrupted by a heart-wrenching scream. As Ava runs off to investigate, you quickly lose sight of her. Damn!
Next, you find yourself on a rickety plane and it's not long before you crash somewhere in the Antarctic to begin a mind-bending fright fest. A strange series of hallucinations and flashbacks take over as the line between reality and illusion starts to blur. These flashbacks will recur throughout the game, revealing more about Victor and Ava's history.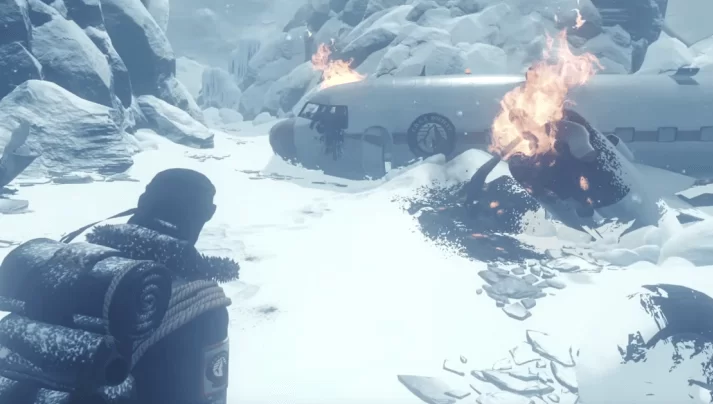 Is Edge of Nowhere a good game?
The Edge of Nowhere has a good storyline and the overall gameplay is pretty impressive. The sound design is fantastic - it makes you feel like you're really there. That's what makes it so scary! The howling arctic winds, the snow crunching beneath your feet and the disturbing scurrying noises when deep underground, certainly keep you on your toes. Visually, Edge of Nowhere boasts some breathtaking scenes, often peopled by Antarctic wildlife. Other in-game mechanics, like falling icicles, rocks and collapsing bridges up the tension, keeping you on your toes. This attention to detail intensifies the gameplay experience, and lays the groundwork for horrors to come.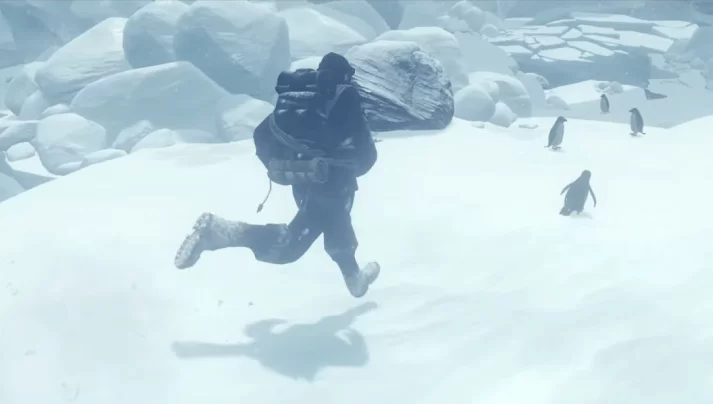 The Edge of Nowhere is not a game for the faint-hearted. It's pretty scary, especially when you're navigating dark caverns with only a small torch to guide you. Experiencing this in VR makes it all the more intense, as you can't just turn the lights on during the bad bits. Yes, you could just shut your eyes, but that might just make it worse!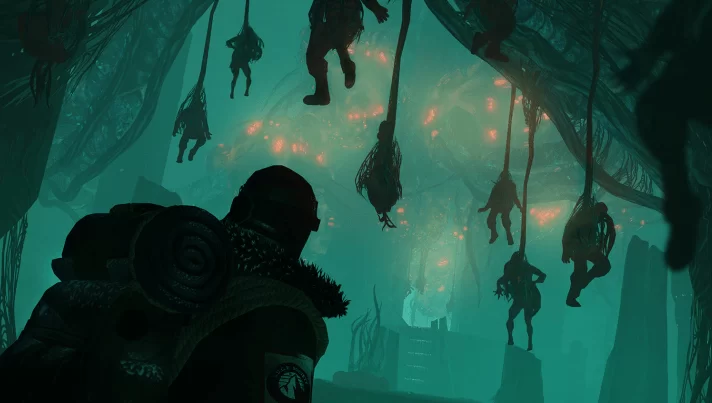 Edge of Nowhere has three difficulty settings; 'Equipped' for easy-peasy gameplay, 'Measured' which requires stealth and combat, and 'Desperate', should you want a real challenge or you're just plain crazy!
Edge of Nowhere has a third-person perspective, which isn't quite my cup-of-tea in VR. However, I adjusted to it fairly quickly. I came to like the awareness of your surroundings that third-person gives you, especially during the creepier parts.
Movement is pretty fluid, much like in Tomb Raider. You can walk, run, duck, ascend ropes and ladders, climb and shimmy around cliff edges, and even leap across to other cliff faces. Not one if you suffer from vertigo, since there's a fair bit of high-rise climbing to do.
Amongst the features I really enjoyed was the game's ability to dynamically shift from day to night. Beyond this, the head torch mechanics work very cleverly. You control the light beam by turning your own head, with Victor following suit.
Like most games, the music intensifies when something scary is about to happen or an attack is imminent. I wouldn't worry too much about checkpoints: if you die you start off in roughly the same area, only to experience the horror all over again!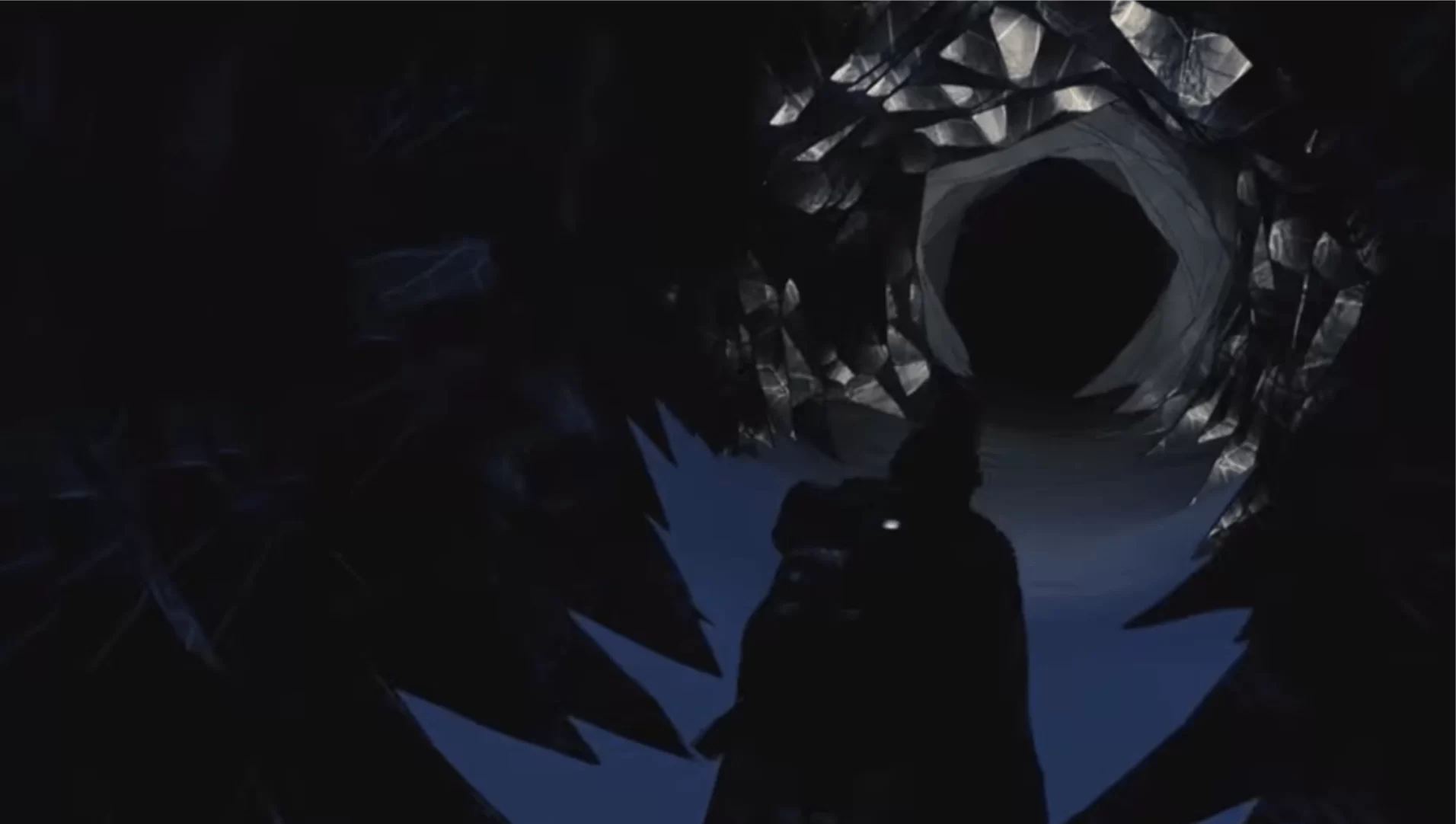 Hints and tips
Journals
Edge of Nowhere is heavily story-driven, so keep a look out for lore to help you to stay on Ava's trail. Read the journal entries carefully, they'll assist you on your quest.

Weapons
If you happen to find a gun, there are usually bullets nearby. Just remember to use them sparingly, since the game doesn't provide much in the way of ammo.
The hand picks that you use for climbing double up as a handy weapon. You can also throw rocks to distract enemies. When thrown at the spiky orbs, they'll open up a path for you. If you don't have any rocks on you, just wait until their spikes retract and make a run for it. You've been warned, so don't get too close to these prickly nasties.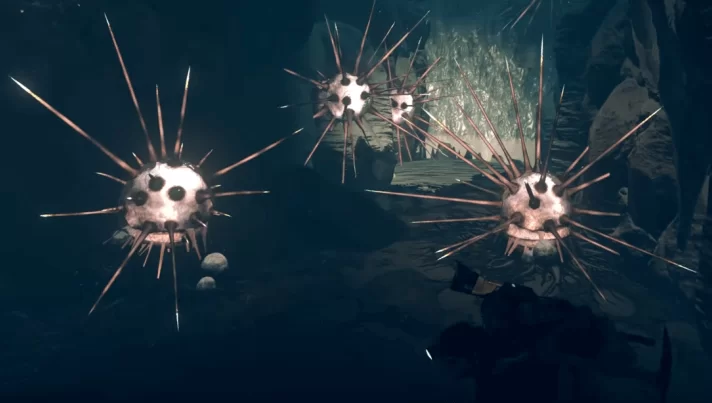 Bridges
Many of the bridges are flimsy and will collapse if you just stroll across them. Sprint to the other side, and you should make without falling to your death.
Ice walls
Some ice walls will crack as you're climbing them, leaving only bare rock. Avoid plummeting to your death by moving quickly.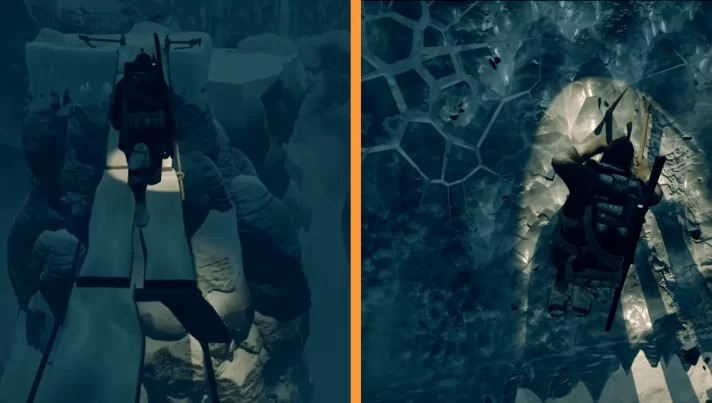 Verdict
Edge of Nowhere is a AAA thriller VR game. If you enjoy being scared out your skin, this is the game for you. Only Chez managed to complete the entire game, the rest of us were too frightened and gave up after about an hour. Chris gave in shortly after entering the first cave! Don't get me wrong, it's an excellent game, just a shame that it was too scary for most of us. Although Edge of Nowhere has an age rating of 16+, most of us have already had nightmares, so be warned!
Edge of Nowhere comfortably sits up there with Resident Evil 7: Biohazard, another terrifying game from PlayStation 4 VR. That's one I'll definitely never play. But maybe a game for Chez to check out, he's tough as nails… eh Chez… Chez! He was here a second ago.

How did you find Edge of Nowhere? Were you shaking in your boots like me, or were you as cool as Chez? Share your thoughts with me using the comment box below.