About The Walking Dead: Saints and Sinners
From the developers of ArchAngel, Skydance Interactive brings you - The Walking Dead: Saints & Sinners. The game is an action packed, survival, adventure horror. The Walking Dead: Saints & Sinners is a single player game - Compatible with the Oculus Rift, Rifts S, Valve Index, HTC Vive and Windows Mixed Reality headsets. The game is rated for players aged 18+.
Supported Languages: English, French (France), German, Japanese, Korean, Portuguese (Brazil) Spanish (Spain).
Gameplay duration: Expect between 15 - 20 hours of gameplay.
Synopsis
This new adventure in VR lets you face a plethora of horrors from both the dead and the living in the world of The Walking Dead. Explore the walker-infested ruins of New Orleans, fighting, sneaking, scavenging and surviving each day as you unravel a mystery within the iconic cityscape. You'll come across lone survivors and desperate factions – are they your friend or your foe? Every choice and every decision you make will have consequences. Do you help others or do you take what you need first? It's up to you. This is a free-roam adventure about surviving horror. You're free to scavenge for whatever you can, be it food, weapons, clues and tools. You must be wary of both the dead and the living. Build your crafting skills as you create makeshift guns, blades and even medicine from scrap materials. Survive in your own way – be it steal or combat. Work for others or scavenge? Your morals will surely be tested as you make tough decisions for other people as well as yourself.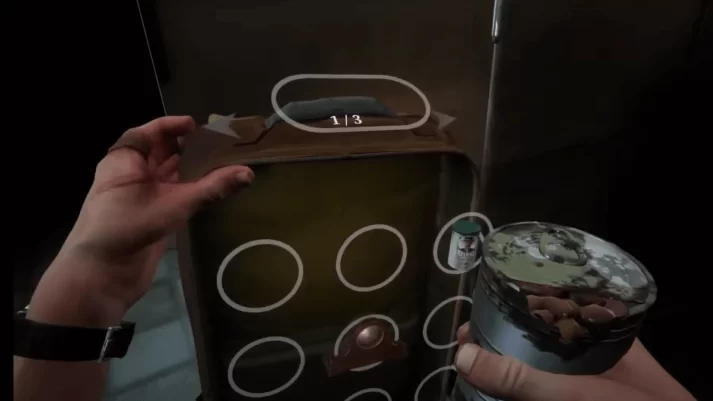 Zombies
You think you know how to kill zombies right? Destroying the brain is enough, but how do you do that when zombies are attracted to the loud noise of guns blasting? Piercing the skull with a blade for a silent, quick and clean death perhaps? Not in The Walking Dead: Saints and Sinners! You'll find their skulls so hard the blade won't penetrate. You'll panic as the zombie grabs you and you'll begin to jab away trying with all your might! You might find that right angle, just in time, and hear the sickening noise of the blade on the brain and bone; but what next? You'll discover that your successfully chosen weapon is firmly stuck, as you see two more undead approaching. It'll certainly get your heart rate going, that's for sure.
Watch the game trailer
The Walking Dead: Saints and Sinners is excellent in this regard. While the interaction between the skull and the knife is harrowing, it's certainly remarkably realistic. No zombie encounter will ever be the same, apart from the same fraught apprehension you'll feel with each approach! Your first zombie kill will be a messy affair filled with nervousness and adrenaline, but soon enough you'll learn the best techniques to tackle any zombies in your path. You'll perfect your swing and you'll have access to bigger and better weapons.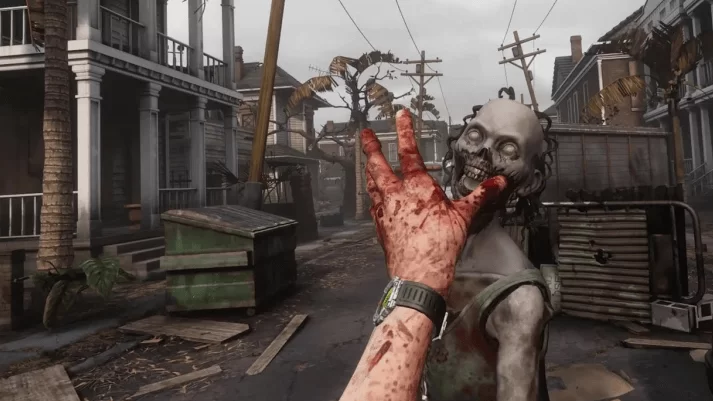 The Tourist and the campaign
Killing the zombies alone could actually be enough for this game, but there is so much more that adds to its appeal – it's a VR game that is mechanically very rich. Your protagonist is an unnamed survivor who goes by the title of "the Tourist" and is on the trail of the Reserve, a military bunker. Through a contact in the reserve, Casey, the Tourist knows it has everything survivors need. The place, however, is also filling up with floodwater and the access key is in the possession of a vigilante who is not letting go of it until the Tourist helps exact revenge on a local faction fighting for the city.
You're based inside a local cemetery from whence you venture forth each day, visiting different districts with a view to completing a specific objective – retrieving parts for fixing a radio or seeking 'intel' from a faction base, for example. You'll also need to scavenge around to find resources, like discarded guns or broken shoes, to bring back to your base for crafting into new equipment and weapons.
VR in Saints and Sinners
There are solid Virtual Reality foundations in this game. The majority of your interactions will demonstrate the same attention to detail as the combat. If an injury occurs, you'll have to sort out a bandage to restore your health. You're also able to 'hide' from zombies by disguising yourself in their presence. How? By pulling out their innards and covering your clothes and skin with them!
Use of weaponry has a pleasantly authentic feel, with real-feel reload mechanisms on double-barrelled shotguns and revolvers etc.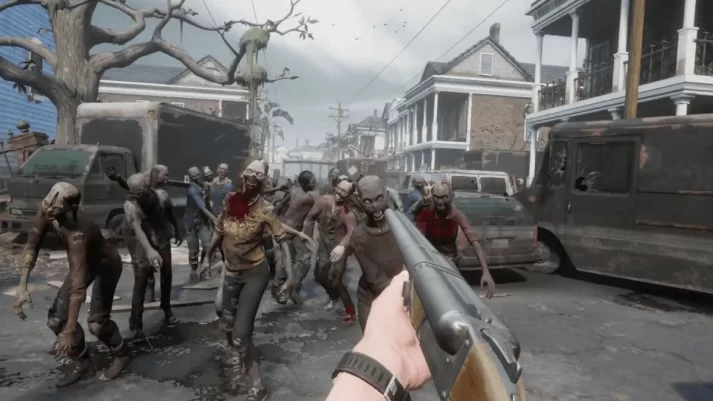 The VR in Saints and Sinners is pretty special when compared to other games. All the individual VR interactions together form a long and detailed campaign experience that features a decent plot as well as decent overarching gameplay systems. As every day in the campaign goes by, you have fewer supplies, but are faced with more and more zombies, leading you to craft new equipment that can keep up with the growing threat. All of your decisions matter, making it an exhilarating tension engine, especially since you have half an hour of being out and about before the church bells ring and zombies cascade in their masses.
A game of survival?
While Saints and Sinners is notionally a game of survival, arguably it has a lot in common with Dishonored. It's a question of combining both combat and stealth in situations that are constantly changing. You'll have to plan actions and will rarely get used to their consequences. You'll improve your knife skills for sure, but there'll always be that deep anxiety in the pit of your stomach as you know how much can go wrong at any given moment.
Saints and Sinners is also a game of morals – do you choose to rescue a Tower guard's brother from the Reclaimed (another faction in the city)? Or do you kill the guard's brother, exacting revenge in the Tower yourself?
And the cons?
There are a few, but they're mainly nit-picking. Firstly, the guns work fine, but they aren't as satisfying or intuitive as melee weapons. Also, the fact that you can't manually save the game, could cause frustration, but there is the advantage that when you die in the game, you can recover any loot you have lost.
Final Thoughts
All in all, The Walking Dead: Saints and Sinners is an excellent virtual reality game that will keep you on your toes from start to finish. Despite a few minor issues, this game is quite easily the best of its genre in virtual reality to date. There is plenty of depth between crafting mechanics and survival systems and the adventure is dense and large, making it unlike any other game out there.
If you're into Zombie shooters, I recommend you try Arizona Sunshine. Not quite the same kind of game, but it offers cooperative play and is great fun!
What was your experience with The Walking Dead: Saints and Sinners? Share your thoughts with me using the comment box below.