BHaptics TactSuit
Haptic responses are nothing new in the gaming world; we feel this feedback in almost every gaming platform out there – the DualShock controller and the JoyCon, as well as gaming chairs with built-in subwoofers. BHaptics, however, have created a haptic solution that gives a new experience. The TactSuit is a wearable device that gives the gamer haptic feedback while in play.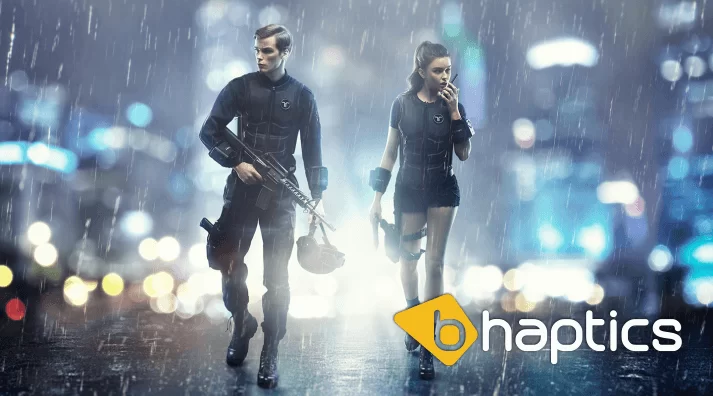 TactSuit
BHaptic's TactSuit is a combination of devices that run through Wi-Fi. The suit comprises of a Tactot vest, Tactosy arm, hand and feet units, and the Tactal, which is a mask that fits on to your HMD display. The TactSuit is wireless and since there are no wires, there is no latency. The BLE connection means that users can enjoy the freedom that wireless technology brings without having any latency.
How does the TactSuit feel?
The TactSuit gives vibrating feedback, which instantly lets the gamer feel what is happening. For example, the player can feel when they are being shot at and can tell from which direction the shots are being fired. What's more, environmental noises are fed into the vest and vibrate in real-time, so you can really feel when someone is close by in the game. This has its advantages because feeling the direction of an approaching enemy is much better than finding out through audio, where you can't tell the direction. This means the player can respond much more tactically while playing.
The TactSuit can be used for around 15 hours on a full charge. The battery is heavy duty and long-lasting. BHaptic say there are 15 hours of power when all feedback points are being used for one second in every ten seconds, at the maximum intensity. Obviously, this means that the battery might last a longer or shorter amount of time depending on how the suit is being used. The battery has 30.1Wh.
Haptic feedback and VR
Every once in a while, there is a new attempt to integrate haptic feedback with VR, but most end up not being all that convincing. For a start, they are usually expensive and aren't ready to be marketed to the general public. BHaptics might just have got it right with their TactSuit, though. The suit, when worn with all its parts, has 87 feedback channels. This is much more generous when compared with similar devices. Secondly, the cost of the TactSuit is much less than you would expect – you will pay in the £100s rather than the £1000s.
Feedback points in the TactSuit
The 87 feedback points get their power from mass vibration motors that rotate. There are seven points on the face, twenty on the vest at the front, twenty on the vest at the back and twenty on each arm. With such a great feedback point density, this suit has a great advantage. Games played with the TactSuit are much more immersive for the players. The feedback points work individually, so the player is able to make out a sword's cutting lines or an enemy's claws from behind.
The possibilities are endless
What's really exciting about the TactSuit is that there are endless VR possibilities. Imagine playing a game where a snake slithers around the top of your body and you are able to feel what that is like. Imagine sparring with an opponent and feeling them punch you in the face. How about feeling the recoil of your weapon, or feeling the blast wave of an explosion? The BHaptics software claims to be able to do all of that and more.
Sound compatibility
BHaptic has recently announced an update. It now has audio-to-haptic features for a 7.1 sound channel. The software for the TactSuit will convert the content sound output automatically into haptic feedback. It supports both stereo sound systems and 7.1 channel systems and happens in real-time. Users can also customise the frequencies across a wide range, able to select specific frequencies if they wish.
Headset compatibility
The Tactal is the TactSuit's face mask/cushion and it supports a good range of VR headsets. These include the Oculus Rift, the Oculus Quest, the HTC and the Pimax.
PC games with the TactSuit
If you are a PC gamer, you can still take advantage of the TactSuit and its haptic feedback. With the TactSuit being based around 7.1 sound channels, it delivers positional haptic feedback precisely. This means that you can feel things instinctively that you weren't able to see in the PC game. Essentially, the TactSuit gives a PC gamer enhanced spatial realism, which leads to more intuitive gameplay.
Wearing the TactSuit's vest during gaming on a PC means the player receives positional haptic feedback in real-time through the tactile actuators that surround the torso. There are 40 tactile actuators. This means the player can detect and feel the dangers surrounding them, as well as the direction the danger is coming from. What's more, a PC gamer will be able to feel rifle recoil, the direction of explosions and gunshots, and the trembling feeling of riding in a helicopter. This makes gameplay much more vivid and entertaining!
The TactSuit for developers
It's no secret that BHaptics are aiming a lot of their sales towards developers. Their website lists the compatibility of the suit with the following PC/mobile operating systems:
Windows
Mac OS
Android
iOS
The following VR equipment:
Oculus Quest
Oculus Go
Vive Focus Plus
Vive Focus
The following SDKs:
Unity 3D
Unreal Engine
C++
C#
Python
Java
BHaptics also has its own designer tool called BHaptics Designer. This is a haptic feedback authoring tool that is based on the web. The tool allows designers to create and integrate haptic patterns for their content simply by a click and drag movement of the feedback points. This means that both effort and development time are minimised significantly.
Notable Compatible Games Titles
There are only two titles that are entirely compatible with the TactSuit so far. These are Thrill of the Fight and Sairento Untethered. These are available on Oculus Quest. Other titles, while not compatible, can still be played using the sound function so that players can 'feel' the sound. This is not as immersive an experience, however.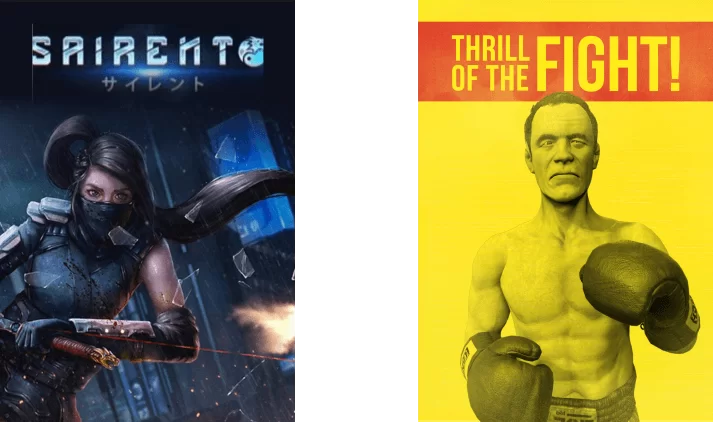 Social VR Channels
Of course, there are many uses of VR other than gaming right? BHaptics are interested in developing a social side to the TactSuit and its components. For example, when families are separated physically (this would be useful for the Covid-19 situation we're experiencing right now), then the TactSuit would allow people to connect in a new way. Imagine video calling your loved ones across the globe and feeling their hug, handshake or a pat on the back.
Music and Movie Immersion
As mentioned above, the TactSuit can be used for a music-immersion experience. BHaptics audio-to-haptic system is unique. It works by converting the audio signals into real-time haptic feedback. This means you can physically feel all of the actions, beats and rhythms that are normally expressed through sound. It is even possible to monitor specific bands of frequency too, which means that you can protect your ears and feel certain sounds instead.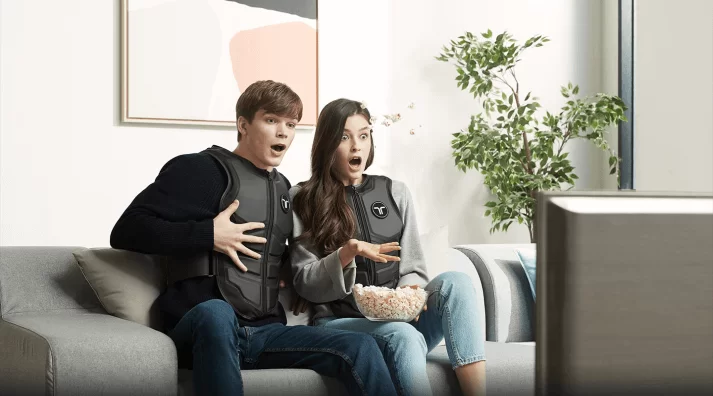 Training using the TactSuit
What is really impressive about TactSuit's software is that it can be used in the military, work environment, sports or in medical rehab patients to deliver training. This provides a safer training experience for what could be dangerous if training occurred in real life situations, eg. firefighters or soldiers. Its cost isn't too prohibitive for companies and organisations either, unlike similar setups.
Pros and Cons
The TactSuit is clearly unique in that it offers 87 feedback points for a relatively low price when compared to similar products. It's also not too heavy and isn't cumbersome to get on and off. In terms of hardware, the kit is not clunky and there is no delay between the game and the haptic feedback. For its price, it is certainly one of the more promising haptic feedback ventures at the moment. The feedback and possibilities this suit provides will really make virtual reality gameplay new and exciting again.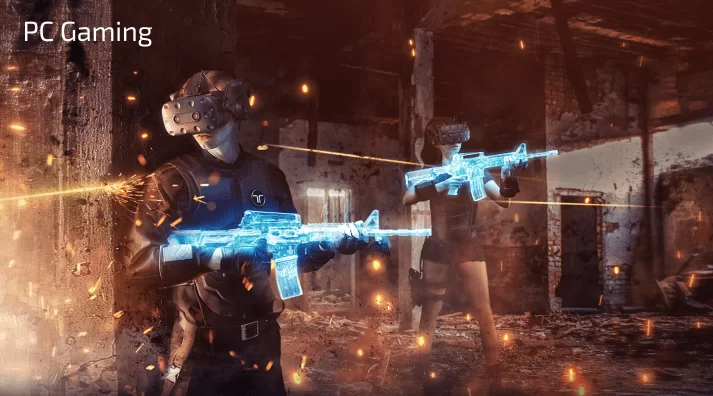 Unlike other, similar suits, the TactSuit is a one-size-fits-all affair, which means that it can be shared among others in the household or work environment. It will fit anyone in their teens or older. As with any wearable, however, you also need to consider how sweaty the TactSuit will get, even after just a short gaming session.
At first, BHaptics wasn't making all of their suits available to your average Joe gamer. While anyone was able to buy the sleeves (which are very good on their own), BHaptics initially made the whole TactSuit components (i.e. the vest and the mask) only available to game developers. As disappointing as this was, it was actually quite a good move because it encouraged game developers to take a lead on it. Now, however, the vest is available to buy directly from Amazon, which will please many gamers, although they are still unable to buy any other components in this way.
Checkout Arizona Sunshine for Location Based VR (LBVR) at vertigo-arcades.com
There are some other downsides, too. Those who need to wear glasses will struggle with them when using the haptic mask, although this can be counteracted by adjusting the VR headset.
As mentioned above, there are only a couple of games available that fully support the TactSuit, which makes it seem an expensive purchase for not much variety in gameplay. For games that don't support it, however, you can link up the sound so you still have a new VR experience when playing.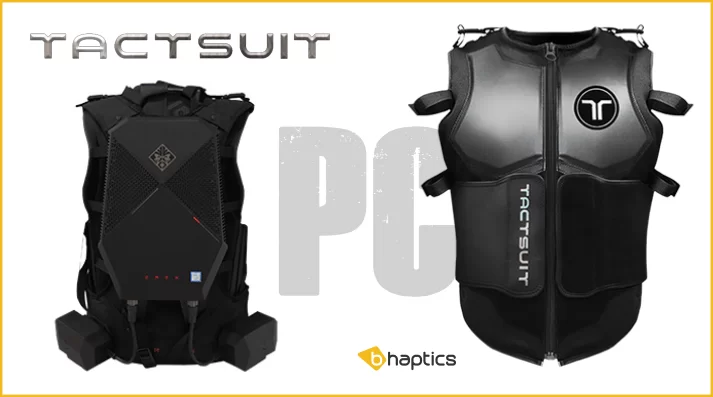 Verdict
This suit might have an entry-level price tag in comparison to other, similar suits but it is certainly not entry-level when it comes to what you can experience with the TactSuit. All we need now are more games that are completely developed to be fully immersive with it!
Where to buy the TactSuit

Do you own a TactSuit? Write your experiences and comments in the box below...