About the World of Diving
World of Diving is an early access simulation diving game developed by Vertigo Games. Available on the Oculus Rift, Rift S and the HTC Vive. The game fully supports the Oculus Touch controllers and gamepads. The game is rated for players aged 3+.
Game Modes: Co-op, Multiplayer, Singleplayer
Supported Languages: English
Synopsis
World of Diving is a VR diving game that delivers an exhilarating multiplayer diving adventure, all without getting your feet wet. The game enables you to freely explore the ocean and progress through exciting challenges. It's a beautifully crafted and relaxing game that enables you to interact with amazing sea life, discover the sunken remains of history, salvage ancient treasures and much, much more.
Gameplay
Upon starting the game you get to meet the game's main NPC, Ray, a local Thai man who runs the dive shop. He hands you a special underwater tablet that contains all of your tasks and missions, like taking a photo of Christ of the Abyss. You'll need to complete these missions in order to unlock the other dive sites.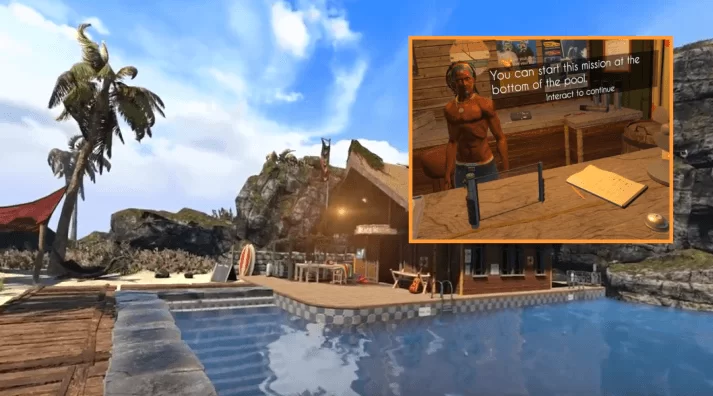 The tablet and the inventory window are very intuitive. The best item in your inventory is your compass, which guides you to your next objectives. It also has other features, such as your air tank oxygen level and your dive depth.
Although World of Diving naturally centres on exploring the oceans, you can still potter around the island to a certain degree. You can go just far enough to find some rubbish-covered beaches. Be sure to pick up any litter that you see, it'll come in handy later.
Once you're in the water, everything looks pretty amazing. The rocks glisten and shimmer with the reflections from the water surface, there are tropical fish swimming around and brightly coloured coral reefs to explore. It's quite an exciting experience, especially if you've never dived before.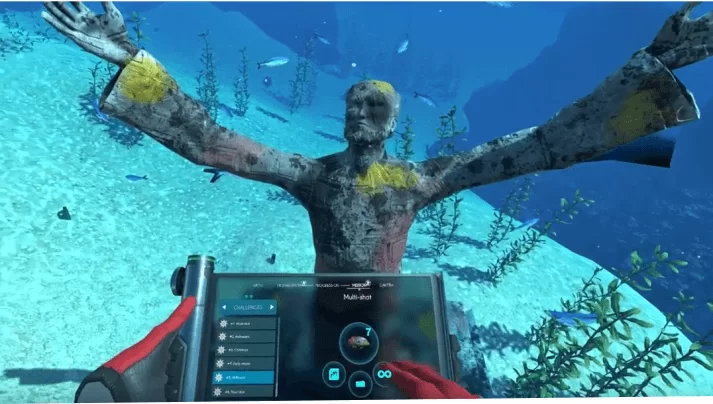 Although this virtual diving experience isn't an exact interpretation of what it's really like to dive, it's probably the safest. However, the game doesn't do much hand-holding. If you stay underwater for too long or travel too far away from your objective, you will black out and have to start all over again.
You can bring up the sub-menu at any time to use your unlocked items, like the sub scooter - a much quicker way of getting around.
One mission involves taking photos of a rare fish, but you can't complete this until you find its marker, which will trigger the objective into an active state. It's now a case of exploring further to take a couple of good shots.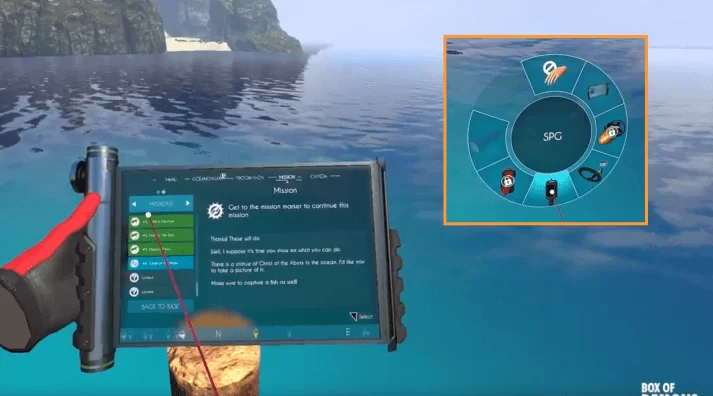 The tablet is an integral part of the game and is very easy to use. At the touch of a button you can bring up your mission log, should you forget what you have to do next. When you've completed you can head back to the dive shop to start a new one. Once you've finished all of the Thailand dive missions, you'll unlock a new game level and a whole new adventure will begin.
Verdict
Overall, World of Diving is a stunning diving experience. The game is easy to get to grips with and I had a lot of fun playing it. The dive wrecks were particularly interesting and are allegedly based on real-life wrecks.
The game sound is pretty good and does give you a sense of being underwater to a certain degree. There's also an option for a Quick Multiplayer experience, which is pretty good fun as it allows you to interact with friends and family in-game.
Personally I think this game is ideal for kids, say... six years and up. Although for those interested in marine life, this may be your cup of tea.
What were your experiences with World of Diving? Share your thoughts, comments and opinions with me using the comment box below.