Beat Saber Dual Handles
Meet the new craze in controller accessories for the Oculus. Get your hands on the AMVR Dual Handle Controllers and experience Beat Saber at a whole new level. The AMVR handle extends the touch controller handle grip of the Oculus Quest or Rift S, so you can experience Beat Saber like never before. Feel a new level of fun and control holding a light bar in the cut box.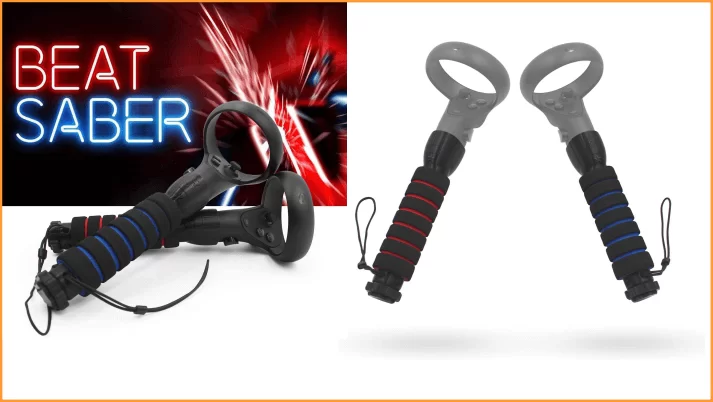 Features
The AMVR handle stabilises the touch controller handle. It simply plugs around the lower part of the controller handle and is tightened and secured using a simple twist of the knob at the base of the handle. The handles also have a tether cord that can be looped around your wrists.
The handle stabilisers are tightly coupled to the controller handles with a silicone cup. This protects the Quest/Rift S touch controller from scratches and prevents any loosening.
The handle is soft and comfortable and utilises sweat-absorbing materials.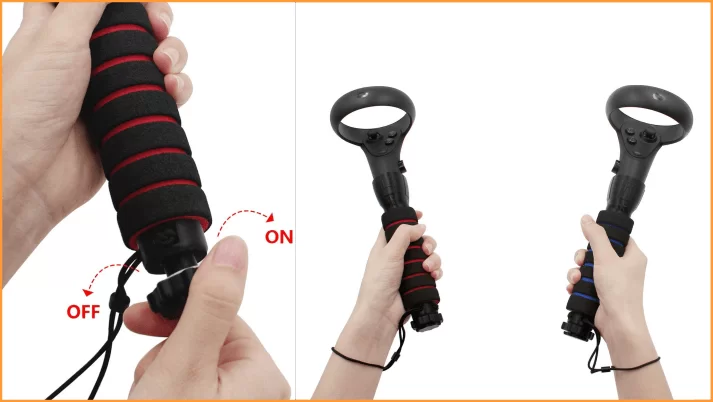 Verdict
The AMVR handle is a must-have accessory for Beat Saber, but not so much for anything else, such as frying eggs or tossing pancakes… It feels way better and more comfortable than holding the basic Oculus Touch controllers and gives you more flexibility for moving your hands. The handles add to the immersion making the controllers feel more like actual sabers. In fact, they're that good, my gameplay has significantly improved since getting them.
A small drawback is that they can be a bit of a challenge to take off, but I guess they need to be secure otherwise they'd fall off. Maybe it's because I overtighten the grip.
Admittedly these do add additional weight to the controllers, but this really helps with the workout.
Overall the handles do take a little time to get used to. As a personal preference, like me, you may want to reset your position in the game, by taking a step backwards. It wasn't long (about 10 minutes) before I was slicing through blocks like a master Jedi. These handles make Beat Saber on the Quest so much more fun, especially for the price.

Do you own a set of Beat Saber Dual Handles? Tell us what you think of them in the comments box below...