Introduction
PCI motherboards have come a long way since their introduction in 1990. It wasn't until 2004 that we saw the development of the new generation of PCIe 1.0, which has returned in various iterations ever since. We're now at version 5.0, although it will probably be several years before most PC owners get to benefit from it. PCIe 4.0 however is here, alongside one of the biggest steps forward of the newest generation - AMD motherboards. Thanks to AMD's Ryzen 3000 series CPU and their B550 and X570 chipset, these motherboards are unique in supporting the next generation of PCIe 4.0 compliant cards.

PCIe 4.0 is suited more towards high-end users, with the real benefit coming from the next-gen NVMe M.2 SSDs. These are capable of double the speed of PCIe 3.0, as well as better RAID speeds and performance. As far as graphics cards are concerned, PCIe 3.0 has been the standard for several years now, but I envisage AMD and NVIDIA developing a 4th-Gen GPU within the next three to five years.
PCIe 4.0 vs PCIe 3.0
PCIe 4.0 is capable of providing double the bandwidth, or data throughput, to version 3.0. An x16 lane PCIe 3.0 slot is capable of 15.8 GB/s, whereas PCIe 4.0 can deliver an impressive 31.5 GB/s.
It's also good to know that PCIe 4.0 is backward compatible with PCIe 3.0 components (cards), so there's nothing preventing you from using 3.0 cards in a PCIe 4.0 compliant motherboard. Just bear in mind that the older cards will still only be capable of their original bandwidth.
When You Should Upgrade
When upgrading your PC, always try to consider how the upgrade will benefit you. Keep in mind what you're actually using your computer for: just because something's faster and shinier than the last model, doesn't necessarily mean that you need it.
Many hard-core computer and gaming enthusiasts will generally upgrade their rig when something better comes along. Whether they want better performance, like to tinker, or simply want to keep up with the latest technology, this is the group most likely to appreciate the hottest upgrades.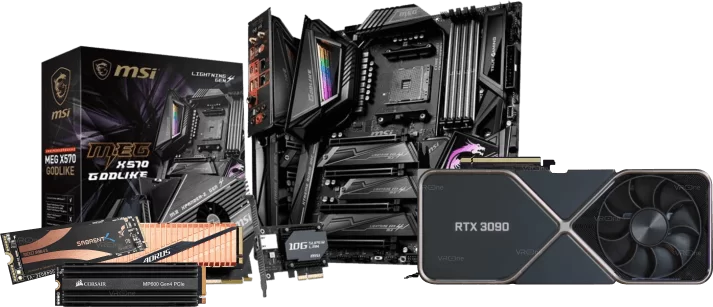 My advice is: if you can warrant the upgrade, and you have the funds to do so, then by all means, go ahead. Just make sure you do some research first. Ask Google, he knows everything!
---
The Motherboard
Many of you probably already know that one of the most important components of a PC is the motherboard. The motherboard acts like a computer's brain, forming the foundation which everything connects to; including the CPU, system memory, graphics card, hard drive, amongst many others.
There are literally hundreds of motherboards to choose from, and for those who aren't computer savvy, it can be really difficult to know which one to buy. On top of all that, there are different models and variants to contend with; some have built-in ethernet or Wifi, M.2 SSD connectivity, BIOS switches and overclocking features. The list goes on. To top it all off, there are now the new PCIe 4.0 motherboards to consider.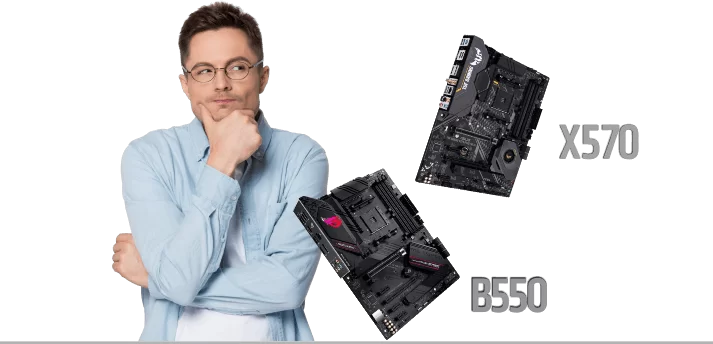 PCIe 4.0 Motherboards
The latest generation PCI express 4.0 motherboard has arrived… but do we really need it? As far as graphics cards are concerned, no. PCIe 3.0 is more than fast enough to handle the amount of throughput of data to support even the latest generation GPUs - NVIDIA's 3000 Series as well as the new AMD Big Navi graphics cards.
So, what are the benefits of PCIe 4.0, if not for graphics cards? Well, if you happen to own a PCIe 4.0 NVME SSD drive, that's an entirely different kettle of fish. The new Gen4 M.2 SSDs, such as the Corsair MP600 or the Samsung 980 Pro, would certainly take advantage of the faster technology. For example, a Samsung 980 Pro paired up with a PCIe 4.0 motherboard would be capable of read speeds up to 7,000 MB/s and write speeds up to 5,000 MB/s… now that's fast! And let's not forget Nvidia RTX IO with Windows Direct API. However, we probably won't see the advantages in game loading times until the first quarter of 2021, as we're dependent on game developers to implement the API into their games. But at the moment, RTX IO is still just so much smoke in the air as far as I'm concerned.
I guess we'll see more PCIe 4.0 compliant cards come out within the next year or so, perhaps a faster 10 gigabit Ethernet Card or possibly the next generation graphics cards, like the RTX 4000 Series. I'm sure Nvidia is working on this right now.
At this moment in time, if you're intending to upgrade your PC's motherboard to the next-Gen PCIe 4.0, you'll be stuck with AMD I'm afraid. Intel has yet to release a PCIe 4.0 compliant motherboard, although rumours suggest that we should see something from Intel within the 1st quarter of 2021, in line with their upcoming 11th-Gen Core that will support PCIe 4.0.
Recommended AMD PCIe 4.0 Motherboards
AMD offer Socket AM4 boards with two chipsets to choose from;
The X570 is for those who want the very best. There are four high-speed PCIe 4.0 lanes for the uplink to the processor, with support for dual PCIe 4.0 graphics card slots. There's also PCIe 4.0 compatibility for NVMe storage. The X570 is compatible with AMDs Ryzen 2000, 3000 and 5000 Series processors.
The B550 is the slightly downgraded budget-version compared to the X570. The chipset supplies four PCIe 3.0 lanes and eight PCIe 2.0 lanes. You'll be happy to know it's NVMe PCIe 4.0 compliant. CPU wise, the B550 is only compatible with the AMDs Ryzen 3000 and 5000 Series processors. It is not compatible with AMD Ryzen 5 3400G and Ryzen 3 3200G CPUs.
Let's take a look at some of the best PCIe 4.0 motherboards.
ROG STRIX B550-F GAMING
The ROG STRIX is probably one of the best budget gaming motherboards. It's compatible with the Ryzen 3000 and 5000 Series processors. It has one PCIe 4.0 x16 (SafeSlot), one PCIe 3.0 x16 slot (x4) and three PCIe 3.0 x1 slots. There are four DDR4 DIMM slots (dual channel) supporting upto 128GB - 4600 MHz (OC). There's also one PCIe 4.0 M.2 socket to support 2242-22110 form factors, including four SATA modes. There's also a PCIe 3.0 M.2 socket, supporting the same form factors and SATA modes.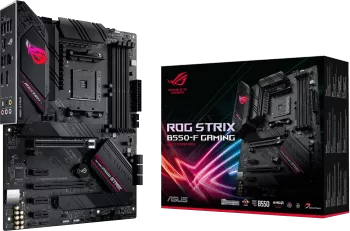 Amazon UK Price: £187.58
Amazon US Price: $184.92
There's quite a lot in the way of connectivity as well: 2 x USB 3.2 Gen 2 Ports, a Type-A and a USB Type-C. There are also 4 x USB 3.2 Gen 1 Ports, 2 x USB 2.0 Ports and a handy BIOS FlashBack Button, not to mention the typical HDMI, DisplayPort and audio outputs, common to most motherboards. On the motherboard itself, there are 2 x USB 3.2 Gen 1 Ports, 6 x SATA 6 GB/s and a Thunderbolt Header.
---
ASUS TUF Gaming X570-Plus (Wi-Fi)
The ASUS TUF is an ATX motherboard and one that is very popular with gamers and computer enthusiasts. It's yet another AMD AM4 Socket Ready board for the 2nd and 3rd generation AMD Ryzen processors. The board has dual PCIe 4.0 M.2 slots, with support up to type 22110, providing NVMe SSD RAID support for an incredible performance boost. This allows you to create a RAID configuration with up to two PCIe 4.0 storage devices to enjoy the fastest data-transfer speeds.
It features Intel Wireless AC-9260 Wi-Fi 5 (802.11ac) with 2x2 MU-MIMO and wide 160MHz channels, for wireless speeds of up to 1.73Gbps. As for keeping this beast cool, there's the Active chipset heatsink, VRM heatsink, M.2 heatsink, hybrid fan headers, not to mention Fan Xpert 4, a handy utility for controlling the fan speeds.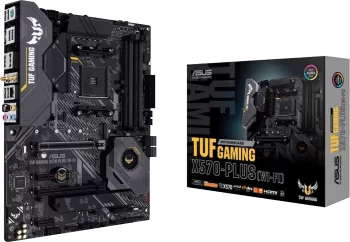 Amazon UK Price: £185.99
Amazon US Price: $189.00
For those of you more accustomed to Intel Core - here's a list of some of the best PCIe 3.0 Motherboards.
If you have any comments you'd like to share regarding PCIe 4.0 motherboards, please add your comments to the section below.