The motherboard is the most important component in a computer, so it's essential to do some research to find the right one. But really, where do you even start?There are literally hundreds of PCIe 3.0 motherboards out there, all with different features - and that's not even counting the new PCI 4.0 motherboards coming onto the market. However, given that to take advantage of the latest motherboard speed and performance, you'll be both tied to an AMD motherboard (at least for now), and forced to buy compatible PCIe 4.0 components, like the latest NVMe SSD. Even with a compatible SSD, this is really the only component that benefits from the PCIe 4.0. For general purposes, Gen3 motherboards using PCIe 3.0 are still extremely popular, and far from becoming obsolete anytime soon. So, what should you look for in a motherboard?
When purchasing a new motherboard it's important to remember that the board itself is the foundation for all the major components; the processor, storage and RAM to mention a few. It's worth keeping in mind all of the underlying technologies and features of the board itself; The amount of PCIe slots, SATA connectivity, on-board audio, LAN, Wi-Fi, etc.
When buying a motherboard you may want to consider the following:
Manufacturer: Decide whether you want AMD or IntelCPU: Before choosing a motherboard, you should already have a processor in mind. Check the processors' specifications on the manufacturer's website, and find out which socket it uses. Intel Processors - AMD Processors.
Chipsets Intel: Choosing the right chipset is important: it determines what features the motherboard has. The better the Chipset, the more expensive. Popular Chipsets for Intel are Z490, Z390 and the Z370. They offer lots of features, such as overclocking, and tend to be a popular choice for gamers. If you're not one for tinkering and overclocking, you may want to consider something like the Intel H370.
Chipsets AMD: As far as AMD Chipsets are concerned, the X470 and X370 both support the AM4 Ryzen Sockets. The X470 is slightly more expensive, but it does support higher memory speeds and has more USB 3.1 Gen 2 ports. For those who want to run multiple graphics cards the B350 and B450 motherboards are a good choice.
LAN and Wi-Fi: Most motherboards come with built-in LAN, but not all come with built-in Wi-Fi. If you can't find a motherboard that has Wi-Fi, or it's too expensive, you can always purchase a Wi-Fi card.
Form Factor: Your motherboard should be compatible with the form factor of your PC case - ATX case, so ATX motherboard.
Future proof: We all know that today's technology is evolving at a rapid rate and that by the time you purchase something new, it will soon be superseded by the next generation. The latest AMD PCIe 4.0 motherboards will generally offer support for the next generation hardware, but then again you'd be tied to the AMD architecture. Having said that, it won't be long before Intel launches their next Gen processor and PCIe motherboard, so you may want to hold off for the time being.
For those of you who are completely baffled by all of the options out there and are just looking for a simple solution, there are many online businesses that custom build PCs. Most are very reasonably priced too, so you may want to go down that route.
As mentioned in our article on PCIe 4.0 motherboards, the motherboard is essentially the PC's brain, connecting to and communicating with every component. If you are thinking about upgrading your motherboard and are content with PCIe 3.0, which in my opinion is still perfectly adequate, even for the serious computer enthusiast - here are some of my personal suggestions:
---
Recommended Intel PCIe 3.0 Motherboards
MSI Z490-A Pro - PCIe 3.0
If you're on a budget then go for something like the MSI Z490-A Pro (ATX - LGA 1200 socket). The board supports Intel 10th Gen Core (i9). There's dual channel support for DDR4 memory - upto 128GB (4800 MHz) across 4 slots and has twin Turbo M.2 storage points. It also has an on-board 2.5 G LAN, including Wi-Fi 6 (type 802.11ax). The Z490 has a great BIOS layout with quick BIOS flash options.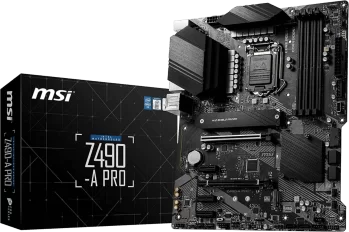 Amazon UK Price: £129.95
Amazon US Price: $134.99
---
MSI MEG Z390 ACE - PCIe 3.0
If you're after something mid to top-range with more connectivity and the ability to overclock your system memory and CPU, then the MSI MEG ACE Z390 might be your cup of tea. (ATX - LGA 1151 socket). The board supports Intel 8th and 9th Gen Core (i9). There's dual channel support for DDR4 memory - up to 128GB - 4500 (OC) MHz, x3 Turbo M.2 storage points, 3x Turbo M.2 with Shield Frozr, Dual Front USB 3.1 Gen2 Type-C. x1 Killer E2500 LAN connection as well as Wi-Fi connectivity. Supports RAID 0/1/5/10.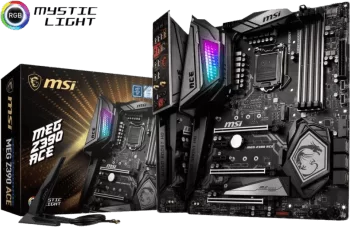 Amazon UK Price: £230.22
Amazon US Price: $149.99
---
Recommended AMD PCIe 3.0 Motherboards
ASUS ROG Strix B450-F - PCIe 3.0
This budget ATX motherboard is an AM4 socket ready board that supports AMD Ryzen 3rd, 2nd and 1st generation processors up to 64 GB of RAM. It supports dual-channel DDR4 3200 MHz and is overclockable. It has built-in Gigabit Ethernet and Wi-fi (802.11a). The B450-F also has overclocking and cooling profiles that are tailor-made for your rig.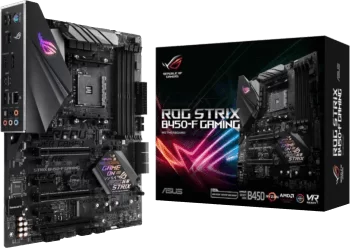 Amazon UK Price: £99.99
Amazon US Price: $129.99
---
ASUS TUF Gaming B450-PLUS - PCIe 3.0
The B450-PLUS is a popular choice for gamers. It's an ATX motherboard that is tailored for AMD AM4 Socket for 3rd/2nd/1st Gen AMD Ryzen, 2nd and 1st Gen AMD Ryzen with Radeon Vega Graphics and Athlon with Radeon Vega Graphics Processors. There are two full-length PCIe slots with the top slot operating at PCIe 3.0 x16 and the second full-length slot operating at PCIe 2.0 x4. The board also utilises six phase Digi+ power, with the phases operating in 4+2 mode. The B450-PLUS also has RAID storage configurations that can accommodate RAID 0, 1 and 10 arrays. It also has a single PCIe 3.0 x4 M.2 slot for drives up to a size of M.2 22110. The TUF B450- PLUS takes advantage of DDR4-3200 support with four memory slots, providing a total combined memory capacity of up to 64 GB.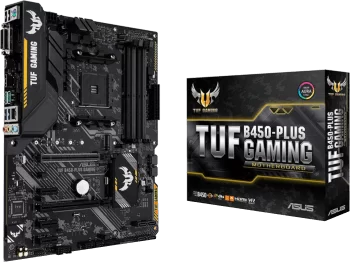 Amazon UK Price: £87.99
Amazon US Price: $109.99
If you want to find out more about PCI, check out this article: What is PCI and PCIe and how do they work?
If you have any comments you'd like to share regarding PCIe 3.0 motherboards, please add them in the section below.