Hello reader, I'm glad that you've found this topic interesting. I hope you find this article informative and that it provides you with some useful background on PCIe 4.0 and its benefits.
If you're not familiar with PCI and how it works, you may want to take a look at our article What is PCI and PCIe?. It covers the basics and a little background history on the different PCIe versions.
Summary
So, what is PCIe? PCIe stands for 'peripheral component interconnect express'. The PCIe slot (interface) is used for connecting components, like graphics cards (GPUs), network interface cards (NICs), Solid State Drives (SSDs) extension and many other devices to the motherboard. The motherboard is the primary circuit board of a PC. Some components provide data for external peripherals such as a monitor, such as the output of data from a GPU.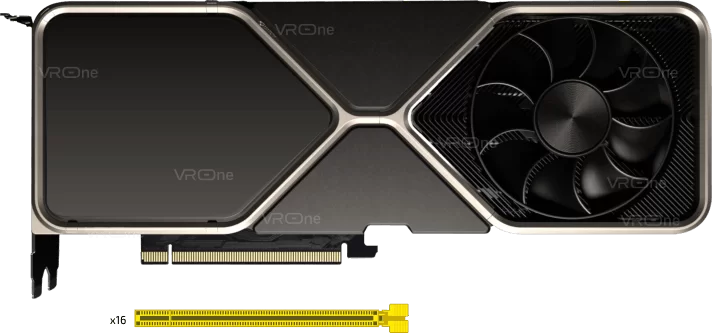 PCIe Versions
PCI Express, or PCIe, has come a long way since its first release in 2004. As with almost everything electronic, it wasn't long before a newer, improved version of PCIe came out. PCIe 2.0 was released in 2007. Three years later, PCIe 3.0 was born, an interface common with many of today's motherboards.
The next major leap only took place seven years later, with PCIe 4.0. Funnily enough, the 5.0 was released only two years afterwards. I'll discuss PCIe 5.0 in a later article.
PCIe 4.0
Everyone's talking about PCIe 4.0 - but why? What's so special about version 4, what can you expect, what are the key advantages and should you upgrade? I'll answer all of these questions below.
Speed
Each generation of PCIe has roughly doubled in speed, or data throughput, from one version to the next. However, you'll only be able to take advantage of the faster speed if the component you're plugging in is PCIe 4.0 compliant. For example; If you had a PCIe 4.0 motherboard and you were to plug-in an RXT 2080 graphics card, which is a PCIe 3.0 card, it would still run at 3.0 speed. The data transfer rate of the GPU is determined by its hardware and will run at the speed it was designed to run.
The chart below shows how each generation of PCIe has evolved. Though PCIe 5.0 is already out, you'll have to wait a few years before it is fully introduced into the market by motherboard manufacturers. Even Ver 4.0 still has a long way to go - more on that later.
---
PCIe Versions and Speeds

GPU Compatibility
Today's modern graphics cards, such as the Nvidia's RTX 3000 series and AMD's latest Big Navi GPUs are all PCIe 4.0 compliant. They are also backwards compatible and still work perfectly well in a PCIe 3.0 slot. Technically, there's no reason why they wouldn't even work in a x16 2.0 slot either, for that matter.
To be honest, the data throughput of a modern graphics card, via a PCIe 3.0 x16 slot is more than fast enough in my opinion - even for the Nvidia RTX 3090. Most GPUs don't even use half the bandwidth available from PCIe 3.0. You'll barely notice any difference between PCIe 4.0 and 3.0, if at all! So, for those of you thinking about ditching your motherboard solely based on getting better performance from your GPU, think again. PCIe 4.0 is mainly for improvements to fast storage, so not a huge benefit for graphics card performance. That being said, you shouldn't write off PCIe 4.0 altogether, it has plenty of other advantages.
Benefits
Where PCIe 4.0 could get really exciting is with Nvidia's RTX IO. In short, RTX IO is a set of tools that uses the GPU for file compression, with the aim of improving storage performance with larger games. This works in collaboration with the Windows DirectStorage API, mainly to improve game compression on SSDs. It also allows for faster loading, by enabling your PC to open files faster. This is similar to the technology built into the latest game consoles, including the Xbox Series X and the Sony PlayStation 5. RXT IO processes data directly to the graphics card, vastly increasing performance at 100x throughput. This relieves the processor's CPU load by approximately 20%, and allegedly, depending on the power of the GPU, can even bypass the processor altogether. Nvidia and Microsoft plan to start releasing DirectStorage API for Windows in 2021, however, there's a little more to it than that. It's up to game developers to integrate API into their games. When they do, the GPU load should be almost instant. It's certainly going to be a big improvement for gamers, although we'll probably have to wait sometime before we see it implemented in the mainstream.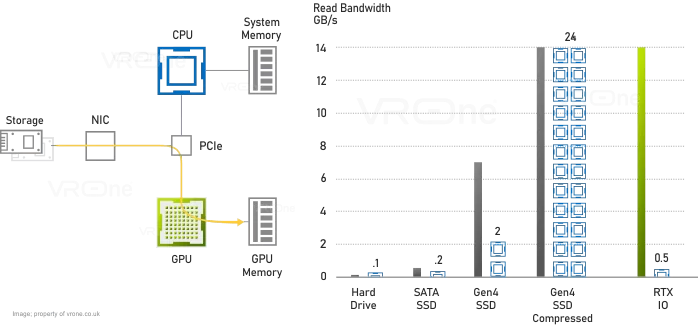 For further information, see: RTX IO
---
NVMe M.2 Gen4
There is one piece of hardware that benefits from the faster speeds offered by PCIe 4.0, and that's the latest Gen4 M.2 SSDs - providing, of course, that you have a PCIe 4.0 compliant AMD motherboard. These are primarily motherboards which utilise the X570, B550 or TRX40 chipset. It won't be until mid-2021 before Intel release their first PCIe 4.0 motherboard - they've been a bit slow to jump on the bandwagon, if you ask me.
A PCIe 4.0 NVMe SSD will definitely improve load times significantly. As for gaming and any possible increase in FPS, I very much doubt there will be any significant difference, if at all. Then again, we'll see what happens with Nvidia's RTX IO.
The previous generation of NVMe M.2 SSDs (3.0) had a maximum read speed of upto 3,500 MB/s. The newer generation, PCIe 4.0, can reach read speeds of up to 7,000 MB/s - all of which are backward compatible with PCIe 3.0. Let's take a look at the latest NVMe M.2 PCIe 4.0 SSDs, starting with the best.
Samsung 980 Pro - PCIe 4.0 NVMe SSD
At the number one spot - the Samsung 980 PRO. These SSDs are lightning fast. The 980 Pro NVMe SSDs are capable of delivering sequential read speeds of up to 7,000 MB/s and write speeds up to 5,000 MB/s. The 980 PRO is up to 2 times faster than PCIe Gen3 SSDs and up to 12 times faster than Samsung SATA SSDs. The 980 PRO is a compact M.2 2280 form factor size, ideal for desktops and laptop computers.

Available Storage Capacities: 250GB, 500GB and 1TB
Size: 22.15 wide x 80.15 long x 2.38 thick (mm)
Amazon UK Price: £246.62 (1TB)

Amazon US Price: $348.88 (1TB)
---
Sabrent Rocket NVMe 4.0
Sabrent has to be one of my favourite M.2 drives, both for speed and cost per MB. Utilising the latest TLC NAND Flash memory, with read speeds up to 5,000 MB/s and write speeds up to 4,400 MB/s when using a PCIe Gen4 motherboard. The SSD is backward compatible with PCIe 3.0, but will run at the lower speed of 3400 MB/s (read) and 3000 MB/s (write). The format factor, or size of the Sabrent 1TB Rocket is M.2 2280.

Available Storage Capacities: 500GB, 1TB, 2TB, 4TB
Size: 21.8 wide x 80 long x 2.8 thick (mm)
Amazon UK Price: £169.89 (1TB)

Amazon US Price: $179.99 (1TB)
---
Gigabyte AORUS NVMe Gen4
The Aorus PCIe M.2 drive is the first PCIe 4.0 SSD to use the Phison PS5016-E16 controller, with 28nm manufacturing technology. The chip also supports the NVMe 1.3 protocol, LDPC error correction, and Wear Leveling, Over-Provision technologies to improve reliability and durability of SSDs. The AORUS NVMe PCIe 4.0 SSD has read speeds up to 5,000 MB/s and write speeds up to 4,400 MB/s (PCIe Gen4 motherboard required).

Available Storage Capacities: 500GB, 1TB and 2TB
Size: 22 wide x 80 long x 2.3 thick (mm)
Amazon UK Price: £177.84 (1TB)

Amazon US Price: $189.99 (1TB)
---
Corsair MP600 Gen4
The Corsair MP600 utilises the latest PCIe 4.0, next gen technology. This SSD delivers incredible storage performance, delivering up to 10x the sequential read and sequential write speeds of many SATA SSDs and up to 50x the speed of some traditional HDDs. The MP600 is capable of read speeds up to 4,950 MB/s and write speeds up to 4,250 MB/s. It is also fully backwards compatible with current PCIe 3.0 compliant motherboards.

Available Storage Capacities: 250GB, 500GB and 1TB
Size: 23 wide x 80 long x 15 thick (mm)
Amazon UK Price: £184.75 (1TB)

Amazon US Price: $184.99 (1TB)

That's all, folks. I hope this article has been helpful and clear on the benefits that PCIe 4.0 has to offer. One thing I would say, if you have an AMD set-up and you intend to upgrade your motherboard, definitely go PCIe 4.0. For those of you who have Intel Core set-ups, such as LGA 1151, you'll need to wait until mid-2021 before you can upgrade to a compatible board.
Interested in the next-gen motherboard? Check out some of the latest PCIe 4.0 Motherboards from AMD.
If you have any comments, please add them to the box below.