Which Solid State Drive is best for gaming
With the ever increasing size of games, the demand for faster data access has become more important - after all no one wants to sit there for 5 minutes waiting for a game to load...no, we want games to load in the fastest possible times!
For those of you who aren't quite sure as to what a hard drive is, it's the hardware component that stores your operating system, as well as your digital content - your photos, music, videos, programs and, more importantly, your VR games.
Many of the hard disc drives we use today are hidden from view, whirring away inside our PC box, however hard drives don't have to be internal. External hard drives are also very common. An external drive is usually added as an extension to the existing drive to provide added space for when the internal one gets too full. The main benefit of an external drive is that it can be used as an emergency back-up, should your primary hard drive fail. Another advantage is that it's portable, ideal if you want to take your data with you - maybe you want to share the data with a friend, or use it to boot-up your operating system from a different PC.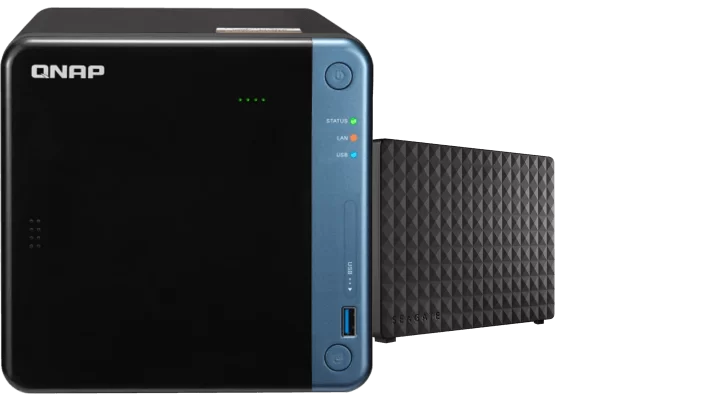 What is the best size hard drive for VR games?
Depending on your budget, the bigger the hard drive the better, certainly if you're into VR games, as they generally take up a lot of space. We recommend a minimum drive size of two terabytes (2 TB). Choosing the right type of drive is just as important, and you also have to consider the cost. The cost of data storage (hard drives) has dropped considerably over the years. You can pick a fairly large, 2 TB BarraCuda hard drive for as little as £65, with the 4 TB version costing slightly more, at £88 for twice the storage space! But size isn't everything! There's also the speed and reliability that need to be considered. That's when things start to get expensive.
Is hard drive size important?
When it comes to PC and VR games, it's good to have a fairly substantial size drive. Many of today's top rated VR games, AAA titles mainly, are being developed for high-end graphic cards. So how and why would this affect the storage space you ask… good question! Many of the latest VR games have a high level of fidelity, making the games very large, and taking up a considerable amount of disc space.
As virtual reality experiences and games become more realistic, it's inevitable that they'll take up more space on our hard drives. For example, let's go back to 1996 and take a look at the classic hit game, Duke Nukem 3D. The game only took up 130 Megabytes (MB) of disc space. In 2000 the game Hitman: Codename 47, took up 400 MB of space, and just four years later we saw Half-Life 2 taking up a whopping 3.5 GB, that's almost nine times the size! Gears of War in 2008, jumped up to 10 GB. As far as VR titles go, Arktita.1, released in 2017, came in at 22 GB and the latest title to date (2020) Half-Life Alyx is at 66 GB. It's a technology trend that will continue to grow for years to come.
The data chart below illustrates the upward trend on how much storage space a typical game used to take up in the late 90's, to the present year and the prediction (shown in grey) over the next 10 years. If this trend continues, by 2030 we could see games exceeding the 200 GB mark.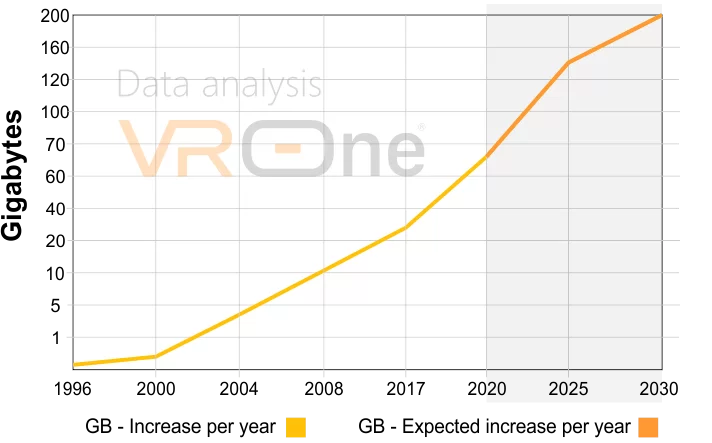 It goes without saying, advances in PC hardware need to keep up with everything else, as it has done since the very first computer.
What size hard drive should I get?
Well... to base it on the average heavy VR-gamer is difficult, remembering we all have our own favourite games, and some do take up more space than others. Considering that there're 1024 gigabytes in a terabyte and on the assumption that each game would average 64 GB, a typical 2 TB hard drive will store approximately 31 fairly high quality VR games. This is taking into account that the disk drive has a pre-installed operating system and some common programs installed. Obviously these figures are based on the games available now; if the current data trend continues to grow as steadily as expected, by 2030 you'll be lucky to get 8 or 9 games on a 2TB drive. Fear not, with the help of obsolescence you would have upgraded your PC and VR headset by then, probably 2 or 3 times!
What types of hard drives are there?
I'll try not to waffle on too much regarding the various types of hard drives, however, I will touch base on the different types and the benefits each has to offer.
Mechanical: There are two general types of hard disc drives, but first let's look at the standard type of drive typically found in a home PC. This type of drive is often referred to as a HDD. Hard disc drives tend to be the most common and cheapest type of storage. To keep things short and to the point, these drives have one or more rotating discs, commonly made of ceramic and are coated with a magnetic layer that stores the data. The internal parts in this type of drive are mechanical - there're no cogs, as such or Minions running around inside. The disk(s) spin at a high speed while a magnetic head, mounted on a moving arm is used to read and write data. Generally a typical HDD will spin at approximately 7,200 rotations per minute (rpm), with read/write speeds of approximately 120 MB/s. Some newer, more expensive drives operate at speeds of up to 15,000 rpm.
Where did the name Hard Drive come from?
Ever wondered why the 'Hard Drive' is called, well a hard drive? Well the old 5.25 inch floppy disc, was bendable (floppy). Okay, so that's where the name 'floppy disc' came from, so I'm told - but what about the name Hard Drive? What's that all about? Out of sheer curiosity and for confirmation, I consulted one of my techies, 'Scott'. He had the answer straight away, but said it would be far easier to demonstrate, rather than explain. Two minutes later he came back with a fairly old looking hard drive. "Let me demonstrate" he said... and with a swift whack on the head, I realised exactly what he meant - it hurt because it's hard! Simple when you think about it really.
Do you know how the hard disc got its name? Leave a comment at the bottom of this page...
Although mechanical drives are cheap, speed wise they're not great. A typical HDD is ideal for the average home computer, but not ideal for playing games. Don't get me wrong, you can still play games, but because of the slow read speeds, the time it takes to process and get the information from the drive disc(s) onto your computer screen is generally much slower than modern alternatives. People who are heavily into VR games; gaming fanatics who don't like having to wait long periods for a game to load and want the best gaming experience possible; the majority will choose a different type of drive. The SSD.
Solid State Drive (SSD): Unlike a hard disc, an SSD has no moving parts, so less chance of something going wrong, they're also more durable, run cooler and use less energy. The drive itself comprises a flash controller and NAND flash memory chips. Because of this some people refer to SSD's as a flash drive. You probably have one of these on your key fob or in your wallet.


The real benefit of solid state drives is that an SSD finds and retrieves data electronically and at lightning speeds, as opposed to the inferior mechanical HDD having to mechanically do the same thing, but not as quickly or efficiently as the SSD.
You can think of an SSD as a large USB drive; technically they use the same base technology. NAND, the technology utilised in solid state drives, is a kind of flash memory. Putting it simply, SSDs are newer technology, and as such, are more expensive than the typical hard disc drive. It used to be hard to find large-capacity solid state drives, but now they have become considerably bigger, with capacities up to 4 TB.
Is SSD Fast?
Upgrading to a SSD has so many advantages. Your PC will boot up and load your system programs quicker, and better still, by installing games on an SSD, you'll see a drastic reduction in the time it takes to load games. SSD's are fast! A typical SSD has data transfer speeds of anywhere between 400 to 520 megabytes per second. That's super fast when you compare that to an average HDD that generally delivers under 170 MB/s.
What game-load times can I expect to see?
The time it takes for a game to load depends on many factors - such as the read/write speeds of your SSD, and even whether it's installed internally or externally. The CPU and the graphics card also contribute to a certain degree, and I must point out - if you have a solid state drive and you're having frame rate issues of any kind, it won't be down to your SSD. Remember, your graphics card is the key component in any gaming set-up, and upgrading to an SSD won't make a difference if you have a inferior, old, out-dated GPU.

If you decide to go for an M.2 drive, then ensure that your system (motherboard) supports PCI Express on its M.2 slot. The newer high-end M.2 drives support PCI Express x4 (four lanes of bandwidth), working alongside a technology called Non-Volatile Memory Express (NVMe). The idea behind NVMe (superior drive) is to accelerate performance further, especially with hardy workloads. Again, ensure your motherboard supports PCI Express 4, should you go down this route!
Providing you have a modern PC set-up and a top of the range SSD, such as the Samsung Evo or Sabrent Rocket, expect anywhere between 65 - 90% reduction on your game load times. A game we recently used as a test-bed for load time was with the VR game; Asgard's Wrath, where we saw a significant reduction in load time from 52 seconds down to 15. Pretty damn good! Keep in mind, Asgard's Wrath is a whopping 132 gigabytes and over time games will become even more graphically detailed, so worth bearing that in mind.
Verdict
Firstly I'd like to point out that we've done some extensive research in picking out the best SSD for gaming and VR alike, and you're quite welcome to do some research of your own and tell us about it. We can't guarantee that other websites have done the same.
Best SSD for gaming and VR - M.2
The Sabrent 2TB Rocket
Voted by us, based on price and overall performance regarding both read and write speeds and the time it takes to load the most demanding games, the best SSD for gaming is the Sabrent 2TB M.2 drive.
All our gaming and VR PC's were upgraded to the Sabrent Rocket SSDs and the clue is in the name - they go like a rocket! Performance wise you won't notice any difference in the game load times between the Sabrent SSD and the Samsung 970 EVO Plus, but you will notice a difference in your pocket, as the EVO Plus is considerably more expensive. Almost £165 more to be exact!

The Sabrent 2TB Rocket is based on 3D TLC NAND Flash memory. Its performance speeds can reach up to 3450 MB/s (read) and 3000 MB/s (write). Users will also benefit from the lower power consumption, which is much lower than traditional hard drives, making it the best embedded solution for new, eco based PC systems.
The Sabrent 2TB Rocket; M.2 2280 Internal SSD High Performance Solid State Drive is a PCIe Gen3 x 4 Interface - PCIe 3.1 Compliant / NVMe 1.3 Compliant. It has power management support for APST / ASPM / Level 1.2. The Sabrent also supports SMART and TRIM commands and ONFi 2.3, ONFi 3.0, ONFi 3.2 and ONFi 4.0 interface.
For those of you who aren't shy of a penny or two, there's always the faster Sabrent - PCIe 4.0 version (Gen4 x4 Interface), providing you have a compatible PCIe 4.0 motherboard. There aren't many motherboards out there at the moment that support PCI express 4, but we're sure that with the introduction of the latest graphics cards, such as NVIDIA'S 3000 Series and AMD's Big Navi, more PCIe 4.0 compliant motherboards will become available.
Extra's: All Sabrent SSDs come with free Acronis True Image Software for easy cloning and for those techies who require a specific sector size to clone their existing SSDs: A newly released Sabrent utility enables users to re-format the Rocket SSD drive and choose the sector size of their liking, either 512-bytes or 4K bytes.
Best M.2 SSD for games; Price £250

Black Friday SSD deals
You may be interested to know, during Amazon's Black Friday sale in 2019, I set my sights on buying a whack of 2 TB M.2 drives. I'd previously spec'd-out my requirements in regards to how much storage space was required for all our office and gaming PC's - at the time I had my mind set on the Samsung 970 EVO Plus, M.2 SSDs, requiring seven 2 TB drives… I know! It wasn't until I realised how much this was going to cost me, I decided to do some heavy research to find an alternative and somewhat cheaper solution for my storage requirement...anyway, as previously mentioned, The Sabrent 2TB Rocket came-up trumps with regard to speed and performance, so that's what I went for. Better still, being it was Black Friday, Sabrent had a deal on their Sabrent 2TB Rocket SSDs, heavily discounted from £250 to just £188 a unit! That's a saving of £62 a unit. With a deal like that it couldn't go unmissed so we purchased 7 units, admittedly we shelled-out £1,316. Yes, it sounds a lot, but putting this in perspective to what I intended to buy (Samsung 970 EVO Plus - also reduced to £385) I ended up saving £197 per unit, a total saving of £1,379!
So, word of advice: If you're after the best deal on an fast SSD and don't necessarily need to upgrade your storage right away, you may be better off waiting until the Amazon 2020 Black Friday deals for SSD drives.
Samsung 970 EVO Plus
The Samsung SSD storage memory: Samsung V-NAND 3-bit MLC offers the ultimate in performance, upgraded to be faster than the 970 EVO, the newer 970 EVO Plus is powered by the latest V-NAND technology and firmware optimisation. EVO Plus maximises the potential of NVMe bandwidth for unbeatable computing in capacities up to 2TB, with reliability of up to 1,200 TurboWrite boost.
Samsung 970 EVO Plus is a superfast SSD that has read speeds up to 3,500 MB/s and write speeds up to 3,300 MB/s and is up to 53% faster than the 970 EVO.

The Samsung 970 EVO Plus comes with Samsung Magician making it easier to unlock the potential of your SSD than ever before. Samsung Magician's intuitive user interface puts an advanced suite of optimisation tools at your fingertips. Monitor drive health, customise your SSD, and maximise performance just like a professional.
Our second best SSD for gaming; Price £285 (2TB) - £165 (1TB)

---
What If my motherboard doesn't have an M.2 slot?
If you don't have an M.2 slot on your motherboard, but have a spare PCIe slot, there is a solution - you can purchase an M.2 adapter. Ideally you want to choose an adapter that supports the various M.2 sizes, as some vary in length. Although there's a wide range of adapters out there for you to choose from, we highly recommend you take a look on Amazon. There are so many adapters available, however, if you want to play it safe then we recommend you choose the SupaGeek PCIe Express adapter card.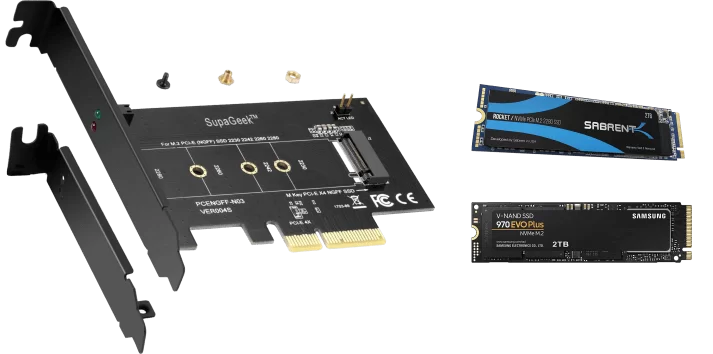 Expect to pay about £12.99 - £17.00

The SupaGeek M.2 SSD adapter card is an excellent choice, in that it's universal, supporting M.2 NGFF M Key interface, NGFF, NVMe or AHCI solid-state drives. The adapter supports SSD's such as Sabrent, Samsung XP941, SM951/950 Pro Series, 960/970 EVO Series, Plextor M6e Series, Kingston HyperX Preda-tor M.2 SSD, In-tel 600P 512G NVME or 600P 512G SSDs, and many more.
The adapter has movable M.2 NGFF stand-off and multiple plated-holes to support SSD module types of 2280, 2260 and 2242 - supporting sizes of 80mm, 60mm, 42mm SSDs, including dual-sided M.2 SSD modules with a 1.5mm component height on the top and bottom side. There's no requirement for any power lead as such, as the 3.3V SSD adapter gets all the power it needs from motherboards' PCIe bus slot.
Important: If you are considering buying the SupaGeek M.2 SSD adapter, please ensure you have at least one available PCIe (PCI Express) x4, x8 or x16 slot on your motherboard. The SSD adapter is compatible with PCI-e 3.0 motherboards and is backwards compatible with PCIe 2.0 and PCIe 1.0, but does not support PCIe x1 or PCI ports - So to be clear, the SupaGeek M.2 SSD adapter card only works with 'M' key M.2 PCIe SSD and is not compatible with 'B' key M.2 PCIe x2 SSD or 'B' key M.2 SATA SSDs.
Note: If your NVME SSD is recognised by your system, but cannot be recognised by the BIOS, it's probably likely that your motherboard is too old to support NVME. If this is the case you'll need to download the NVME firmware from the website where you purchased your motherboard, alternatively there is a tool that enables you to modify the BIOS, but is not recommended unless you know exactly what you are doing. If you are in any doubt, please contact your motherboard supplier, many will be more than happy to help.
The SATA alternative
If your motherboard doesn't have an M.2 slot or don't want the hassle of installing an SSD adapter card. There are other alternatives - providing your motherboard supports SATA that is, and many motherboards do, so it shouldn't be a problem!
Best SATA SSD drives | Best SSD for gaming and VR - 2.5"
Crucial MX500 2 TB (3D NAND, SATA, 2.5 Inch, Internal SSD)
The Crucial MX500 internal SSD is certainly an excellent choice for upgrading your system storage, it's fast and reliable, so a drive you can count on. Crucial boasts, claiming that they've spent thousands of hours of pre-release validation and dozens of SSD qualification tests to ensure that the MX500 has been thoroughly tried, tested, and proven. The Crucial MX500 is the perfect solution to securely store your most important files, but more importantly your favourite games, a drive with established dependability and the advanced features MX-series SSD's are known for.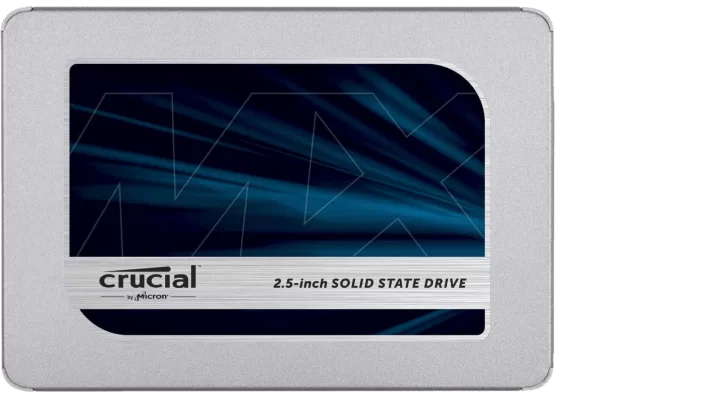 The Crucial MX500 SSD is a fast little number… offering sequential reads up to 560 MB/s, writes up to 510 MB/s and random reads/writes up to 95/90k on all file types and in case you didn't know, the MX500 is accelerated by Micron 3D NAND technology.
The MX500 SSD is a favourite with gamers. You probably won't notice any difference between the Samsung and Crucial in regards to copying, reading, writing or gaming for that matter. Well, apart from the price! Essentially they are almost identical, performance wise from a human perception, the Crucial MX500 is actually better in some aspects.
The 2 TB version of the Crucial MX500 SSD will set you back approximately £190 in the Amazon Black Friday sale - whereas the Samsung EVO with the same amount of storage will cost you £50 more.

Samsung 860 EVO - 2 TB - SATA 2.5 Inch, Internal SSD
The EVO 2 offers superior performance that is ideally suited for the huge files that are so commonplace today, such as 4K video content used in high-end video production. The Samsung range of SSD's, especially their M.2 drives, are very common with hard-core gamers… well for those who can afford them anyway.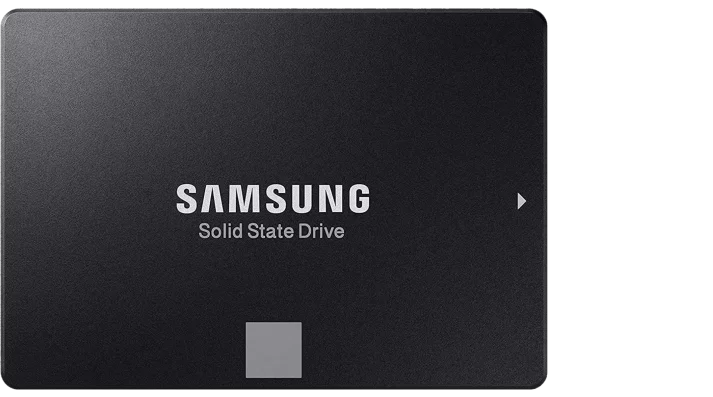 The Samsung SSD 850 EVO offers sequential reads up to 550 MB/s and writes with speeds up to 520 MB/s. The 850 EVO also utilises Intelligent TurboWrite technology, whereby TurboWrite increases buffer size and is upgraded from 12 GB to 78 GB for faster file transfer.
The World's first V-NAND
The Samsung SSD 850 EVO was the world's first line of consumer solid-state drives that utilised V-NAND 3bit MLC technology. The Samsung SSD 860 EVO drives to achieve industry-leading performance for today's SATA SSDs, offering vast improvements in reliability, speed and compatibility as well as capacity. The 860 EVO comes equipped with Samsung's newly designed and patented MJX controller along with the latest in V-NAND architecture makes this drive a force to be reckoned with.
For the TB version - expect to pay about £242 in the Amazon Black Friday sale.

Do you have something to say about the best and fastest SSD drives? Leave a comment in the box below.