New Shipment Date for Reverb G2
Latest update on those of you who pre-ordered the HP Reverb G2 from. Although HP officially announced in a blog, that all pre-orders for the HP Reverb G2, will not be Shipped until October 2020. The latest update from HP now suggests November! Any new orders, expect delivery sometime in December... allegedly.
However. For some of us who jumped on the bandwagon from the word 'GO', back in mid July, 2020 this may still be true. I spoke with a representative (SystemActive) who said - we were one of the lucky ones, and that we was first in-line for the shipment of the initial batch. Whether that still means mid, to late October remains to be seen, however, that's the impression we got. Having said that, others who pre-ordered later may have to wait until mid November and others may not receive there's until December! Certainly for new orders.
Order update: HP Reverb d

elivery

date UK.

Tuesday 13th November 2020: Latest update
People who live in the UK, who pre-ordered the HP Reverb G2 from 'SystemActive' before the end of July 2020, should receive the HP Reverb G2 on or just after the 1st of December, 2020.



Delivery aside...
There's some good news. HP have made some updates to the headset:
A quote taken from press.hp.com
A few updates we have made to the product since we first announced Reverb G2:


We have updated the lenses to reduce the Fresnel ring reflections and improve clarity.
The menu button on the controllers is now domed so you can distinguish between the Windows and Menu buttons by touch.
In addition to the full size to mini display port adapter, a USB-C® to USB-A adapter will be included in every box.
Our Engineers found an opportunity to lower persistence without lowering brightness and this required higher power draw, so the HP Reverb G2 will require the adapter to be plugged into the wall.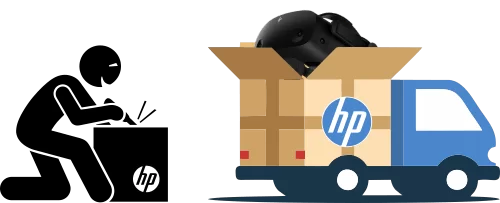 The Official Notification - in summary...
For those who ordered the Reverb G2 via SystemActive, would have receive a standard notification;
Hi Name,
Again, thank you for pre-ordering the HP Reverb G2. We have been informed by HP that shipments will take place in October. The demand worldwide has been extremely high, so there has been an impact on production, and it will be shipped at that time for all regions across the world.
Please feel safe in the knowledge that you will still be amongst the first to receive your order. All pre-orders will be delivered on Day 1. We will inform you immediately we hear any further news from HP.
There are a couple of things we'd like to bring to your attention.
The HP Reverb G2 ships with a Display Port cable, with a Mini Display Port adaptor included in the box. Also included in the box is a USB-C cable. You have to connect the headset to your computer via the USB-C cable for the headset to work. To do this you need a USB-C port on your computer or a USB-C to USB adapter cable to connect to a USB 3.0 port.
In anticipation of receiving the Reverb, we want to make sure you are fully prepared to start using the headset as soon as it arrives, so please check the connections on your machine as above.
For those of you having trouble signing into your account, the Login page for our site where you can check on your Reverb G2 order is : https://systemactive.co.uk/online/wp-login.php Your order will show "processing" which means the order is being processed. This will remain until we ship your order and then it will change to "Completed". You will also see that it is "on back-order". Do not be alarmed. This simply means it is not in stock yet.
---
13th November, 2020:
Hi Name,
The first batch of pre-orders for the UK has finally started to roll out of the factory. We have confirmation from HP that the first shipment has left the factory and will be in the UK for Thursday 26th November.
There are enough units in this first shipment to supply all pre-orders that were placed with us in July.
We will be getting weekly updates from HP about future shipments of the first batch and will communicate these to you as soon as we get them.
So, for those who pre-ordered in July, we expect you to receive these units on Monday, 30th November. Thank you for your patience.
---
25th September, 2020:
Hi Name,
HP finally issued a worldwide Press Release about the Reverb G2 delivery schedule last night. Here is a link to the Press release: https://press.hp.com/us/en/blogs/2020/hp-reverb-g2-vr-update.html
At this point the only information we have from HP is the information contained in the press release. We are working with HP UK to firm up actual delivery dates for all pre-orders placed with us.
Thank you for your patience.
If you have any other questions or wish to contact us please email [email protected] The SystemActive team
---
9th October, 2020:
Hi Name,
Just a quick note to say little has changed since the HP Press release of September 24. All is going to plan since that statement. Delivery to first pre-order customers is expected first week of November. There are too many variables at this point to give an exact day. Please be assured we will get them out immediately we receive them.
Thank you for your patience.
If you have any other questions or wish to contact us please email
[email protected] The SystemActive team
---
22nd October, 2020
Hi Name,
Just a quick note to say little has changed since the HP Press release of September 24. The press release said early November and we hoped to deliver first pre-order customers first week of November. This is now going to be the second week of November. This is the same throughout the world. We are fully geared up to get them out the moment we receive them. Once we know they are on their way to us we can firm exact dates up and let you know. Second release is still on course for early December.
Thank you for your patience.
If you have any other questions or wish to contact us please email [email protected]
The SystemActive team