The HP Keynote Announcement: Driving the Next Evolution of VR
I'm in!

Hi everyone,
I'm all signed up and ready for the online VR/AR Global Summit on September 30th. Although there are many interesting discussions taking place, I'm personally more interested in the HP Keynotes, as they have an exciting announcement about their latest VR headset, the Reverb G2 and I just have to be one of the first to know all about it. I also intend to join the HP Booth to ask some technical questions about the G2 headset with their Senior Fellow and Chief engineer, Chandrakant Patel. I'm interested to hear what HP's XR Product Manager, Brianna Havlik has to say about the global demand for the headset and firm dates as to when we're all likely to get our hands, or heads, on one.

Regarding the questions I intend to ask, if you have any specific questions in mind, please add them in the comments section below. I will compile all the sensible questions prior to the event and - unless someone else brings them up first - pursue the answers to all of them… that's if I can manage to get a word in.
The HP Keynote Announcement: Driving the Next Evolution of VR, is expected to last about 30 minutes. If you want to join in, you can, but there is a cost. Why not save a few quid and leave it to us. Shortly after the event we will be updating this very page with our minutes and comments about the event, and probably a video accompaniment.

Date, Place and Time
The VR/AR Global Summit takes place online on September the 30th. HP Keynotes are at 11:00 am EST, that's 16:00 for those of us in the UK (BST).
What is VR/AR Global Summit?
The VR/AR Global Summit Online is an online conference brought to you by the VR/AR Association, connecting the best virtual reality and augmented reality solution providers with enterprise and media entertainment companies.
This event is a content-driven VR / AR show, featuring important conversations, talks, exhibits, and events led by global leading companies and organizations, who are sharing practical and valuable real-use cases from the immersive industry! The last live, online summit had almost 12,000 attendees!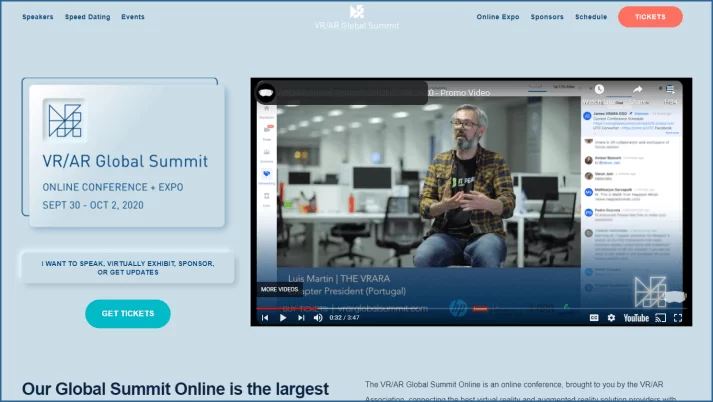 How to Partake in the VR/AR Global Summit
Anyone can partake of the online VR/AR Global Summit conference, however there is a cost. Tickets to the event on September the 30th costs $55 / £43. If you're privileged enough, and are a VRARA Member, the cost is $44 / £35.
Check back here after the event for the updates.
See you soon.
Pedro