The Future of VR: Anticipating the Meta Quest 3
Virtual Reality (VR) enthusiasts and tech aficionados eagerly await the next evolution in VR headsets, with all eyes on the highly anticipated 'Meta Quest 3.' This forthcoming VR headset is generating significant excitement, thanks to the promises it holds and the legacy of its predecessors, the Meta Quest and Quest 2
One of the most thrilling aspects of the 'Meta Quest 3' is its dedication to pushing the boundaries of VR technology. Building upon the success of its predecessors, this headset is set to feature even more advanced hardware and immersive capabilities. While details regarding its hardware and features are closely guarded, we can anticipate enhancements in resolution, field of view, processing power, and perhaps even more advanced tracking technologies.

One key reason VR enthusiasts are buzzing about the 'Meta Quest 3' is Meta's commitment to content. The Meta Quest platform already boasts an impressive library of VR games and experiences, and it's expected that the 'Meta Quest 3' will further enrich this ecosystem. With new and innovative titles designed exclusively for the headset, users can look forward to an ever-expanding universe of VR adventures.
As for the release date, while Meta has been discreet about specifics, industry insiders and enthusiasts speculate that the 'Meta Quest 3' could potentially hit the market in the coming year. Nevertheless, until Meta officially unveils the release date, we can only anticipate and speculate.
Advanced Hardware and Display Technology
The 'Meta Quest 3' comes armed with a formidable hardware stack, featuring the Snapdragon XR2 Gen 2—the first headset to do so. This delivers double the GPU processing power compared to Meta Quest 2, resulting in faster load times and a smoother gaming experience. It can handle demanding applications like fast-action gaming, high-resolution passthrough, and more.
Storage options include 128GB and 512GB, allowing users to explore a vast library of titles without concerns about space.
Mixed Reality for Immersive Experiences
The headset incorporates two RGB cameras with 18 PPD, offering 10 times the resolution of Quest 2 and twice the resolution of Quest Pro in passthrough mode. This provides full-color, high-fidelity views of your surroundings while virtual objects seamlessly blend into your physical space. Precise depth projection and room mapping offer freedom of movement and interaction with virtual elements in your environment.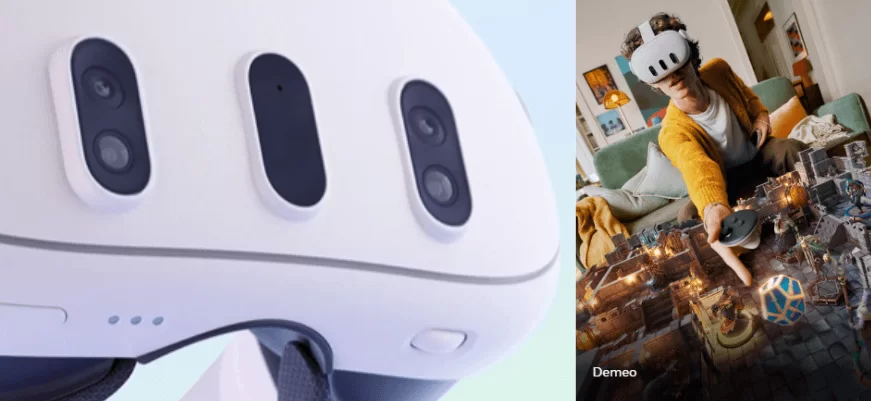 Enhanced Audio and Memory
Integrated stereo speakers with 3D spatial audio immerse you in your virtual space, with a 40% louder audio range, enhanced bass, and optimal L/R matching capabilities.
The headset boasts 8GB of DRAM, a 33% increase compared to Meta Quest 2, ensuring optimal performance when running your favourite apps.
Comfort and Design
The soft adjustable strap accommodates various head shapes and hairstyles, while a hard strap is available for purchase separately. Facial interface depth adjustment allows you to customize comfort and field of view.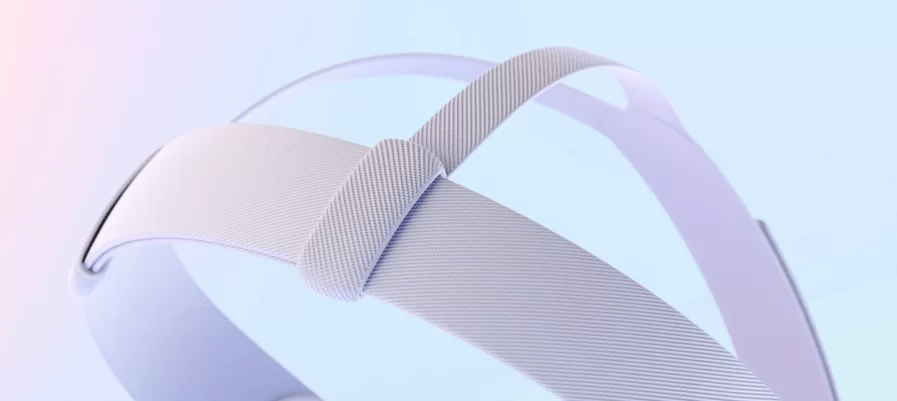 Despite its advanced features, the 'Meta Quest 3' remains lightweight at 515 grams, thanks to pancake optics that create a 40% slimmer optic profile compared to Quest 2, ensuring a comfortable fit.
Display and Optics Technology
The 'Meta Quest 3' raises the bar in display technology with a resolution of 2064x2208 pixels per eye, offering nearly 30% more clarity compared to Meta Quest 2. The 4K+ Infinite Display with 25PPD and 1218 PPI sets a new standard in visual fidelity across the entire Quest line-up.
Users can enjoy a 90Hz refresh rate, with an experimental option for 120Hz, enhancing the overall VR experience. The field of view has been expanded to 110 degrees horizontally and 96 degrees vertically, providing a more immersive viewing experience.
The pancake lens design not only maintains a slim optic profile but also increases sharpness by 25% in the center FOV, delivering an even more lifelike visual experience.

Lens adjustment allows for precise positioning and smooth pupil distance adjustment (Inter Pupillary Distance or IPD ranges from 58mm-71mm), enhancing fit and picture clarity.
So, Where can you buy the Meta Quest 3?
The Meta Quest 3 expected launch date is Early to mid October, however to avoid disappointment, you can place a pre-order for the headset on Amazon:
Amazon UK: Meta Quest 3 - 128GB
Amazon US: Meta Quest 3 - 128GB
In conclusion, the 'Meta Quest 3' is poised to redefine the VR landscape with its advanced hardware, an expanding content library, and the potential for groundbreaking VR experiences. As the release date approaches, VR enthusiasts and tech enthusiasts alike eagerly anticipate the arrival of the 'Meta Quest 3,' eagerly awaiting Meta's official announcement. Mark your calendars for October 10, 2023, when this groundbreaking VR headset is expected to make its debut in both retail and online stores. Stay tuned for more updates on this exciting new headset, and subscribe to VROne. Read the full headset review.