Cleanbox
If you've ever had to share your VR headset, or use someone else's, you'll appreciate this review! Imagine your excitement - you've had a long, hard day at work or school, and you come home all ready to head off into a virtual world to forget about it, but when you put your headset on, it's smelly and damp. Sharing headsets is no fun at all!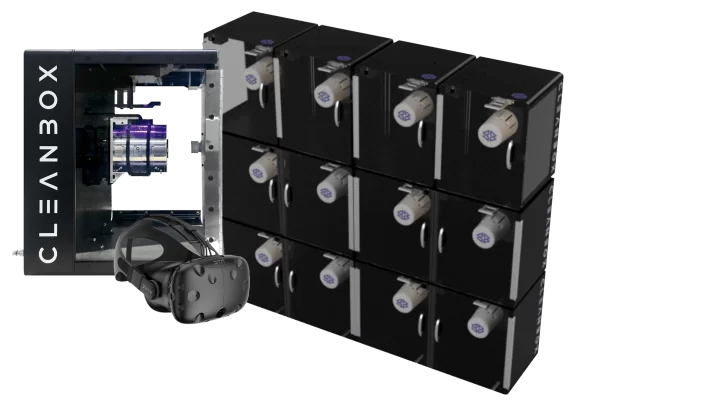 At our visit to VR Days Europe in 2019, we took the opportunity to interview Amy Hedrick, who explained the technology and benefits the CleanBox offered.
Living with other adults and teens who are all into VR is great, until you have to share their sweat too! In public venues, this hasn't been an issue because they often use foam inserts that are replaceable, or alcohol wipes and covers that are disposable too. These have their own downsides though; foam inserts, for example, are not at all cost-effective and create unnecessary waste. Alcohol wipes won't kill all the bacteria either, and they don't solve the sweat and damp issues. Disposable covers also create a lot of waste and make the VR experience less pleasurable. It's almost like having some sort of medical procedure while you're playing a game.
The Cleanbox alternative
Cleanbox is an exciting new alternative to keeping your VR headsets clean and dry. It is a solution to VR headset cleaning and decontamination.
How does it work?
We all know that heat kills bacteria but this can't be used with electronics as it could damage them. Instead, Cleanbox uses light – specifically medical-grade ultraviolet directional lighting. This means that 99 per cent of viruses, bacteria and fungi are eradicated. How long does this take? Unbelievably, less than 60 seconds!
As well as the light, your VR headset is also blasted with compressed, high-velocity air. This dries it out really quickly, meaning you can share your VR headset without delay. This compressed air also removes any detritus left in the VR headset.
Because the light is directional, it gets everywhere it's needed. An alcohol wipe can't get into all the nooks and crannies that UVC light can and so microorganisms can linger.

How does UVC light kill harmful germs?
UVC light penetrates the cells of pathogens and microorganisms and disrupts their DNA structure. This happens because it destroys genetic information that is contained within the microorganism's DNA. These pathogens and microorganisms can no longer replicate or reproduce which means they are inactive and are no longer harmful.
How does it operate and how do you know it works? You can't really see what's happening inside, other than beading of moisture on the surfaces. Since the technology uses light, you won't see any changes on the VR headset fabric – this is because there is nothing soaking into it to cause discolouration. You won't smell anything either, as bacteria are being killed and therefore won't create a scent and - since microorganisms are invisible to the naked eye - you won't see them being destroyed. The company does, however, test the Cleanbox and produce lab test reports to prove that bacteria, fungi, and viruses are all eradicated by the device. Other than that, you will simply notice that your VR headset remains both dry and clean and without stains. Then you know the Cleanbox is working!
What is the nanotech coating?
These coatings help prevent sweat, oils and other fluid from penetrating and permeating both hard and soft surfaces. This is because the coatings are hydrophobic and superhydrophobic. Effectively, the nanotech coating will prevent almost anything from sticking. Coatings like makeup, for example, might leave some sort of residue, but this will be really easy to wipe away using a dry cloth made from microfibre. The powerful jets of air will remove everything else, and the need to give it an extra wipe will be very rare.
Let's talk smells. These come from bacteria, detritus, oils and fluids that stick to the headset surface. As the nanotech coating prevents things from sticking and microorganisms like bacteria are killed by UVC light, you don't have a problem with smells!
When you buy a unit, you get a 2oz bottle of this coating. This will be enough for applying to around 8 to 10 headsets once each. According to the manufacturers, the coating will wear off depending on how much the material flexes. Some people can get up to 12 months out of one application, while others may need to reapply sooner. You can test whether the coating is still working by putting a bead of water onto the mask. It should roll (they provide a demo video of this on their website). If you don't see it behaving like the demo video, you need to re-apply the coating to your headset. This is also why they don't recommend using anything but a dry cloth to wipe makeup residue from the mask as wiping it will reduce the length of time the coating lasts.
Innovations
First came the exciting VR headsets, then the 'problems' of sweat and germs followed behind. It's really exciting to discover how companies like Cleanbox are trying to solve these new VR issues, especially since VR is gaining in popularity all over, in entertainment centres and pop-ups too.
Environmentally friendly
Cleanbox doesn't have the waste of disposable foam inserts or disposable covers. Models available Cleanbox offers four different models CX1, CX2, CX4 and CX6 and the main difference is the size of the product. For example, CX1 is 18" x 15", CX2 is 16" x 24", CX4 is 52" x 20" and CX6 is 46"x 22".
Final thoughts
If you are bothered about hygiene and your VR headset, Cleanbox offers a really good solution that guarantees the elimination of 99.9% of harmful bacteria, viruses and fungi. It's also a really good idea for those of you who share headsets with family or friends – especially since it only takes one minute or less to complete the clean! You can experience virtual reality fun without having to spend ages cleaning or drying a shared VR headset.
It's exciting to think about the new technology that is being invented because of the increased interest in virtual reality gaming!
Have any comments? Do you have anything to say about the Cleanbox? We'd love to hear what you think. Post them in the comments section below...