We've all heard about NVIDIA's DLSS for their RTX cards, but which games support it? And what about DXR and DLSS 2.0 - how does that all work and what are the benefits for us gamers?
Well, for those of you who are a little unsure as to what DLSS actually does in regards to gaming, allow me shed some light on the matter…
DLSS vs Supersampling
DLSS, or the AI technology that drives it, is simply a way to make games look and perform better. It is similar to Supersampling or Frame Scaling, whereby game images are scaled to a resolution beyond what your monitor supports. For example, running a game at twice the density of your display panel. In some cases, the benefits of Supersampling are sharper smoother images on diagonal and round objects, similar to how antialiasing works. Since pixels are square they tend to look blocky, giving those edges a step-like effect. However, the negative impact of Supersampling, if scaling up, is more often than not a loss in frame-rate. That's where DLSS comes into the picture, quite literally!

DLSS is quite different to standard Supersampling and is less taxing on your GPU. Instead of forcing your GPU into rendering higher resolution frames from scratch, it uses special technology to determine what the frame should look like.
To do this, DLSS draws on information from NVIDIA's supercomputer, which is housed in their own data centre. The key part to the supercomputer in regards to DLSS is the powerful neural network and its ability to serve the correct frames from compatible DLSS games to help it learn how to generate extra pixels accurately. That's why it's called DLSS or Deep Learning Super Sampling, with the idea that it's constantly learning by collating information about the game's particular physics: the layout, shadows and composition, in order to optimise user experience. As it does this again and again, it becomes increasingly proficient over time.
"That's great - but how does it all work?" I hear you asking. Well, in a nutshell, the AI aspect of DLSS, uses high resolution, 16K reference images which have already been examined by the AI. It compares each of the game's frames to these high resolution images. The DLSS can then translate this high-level of detail into an AI model which is then sent to your GPU for processing - well, providing that you have the correct graphics card and GPU driver installed in order for it to run locally.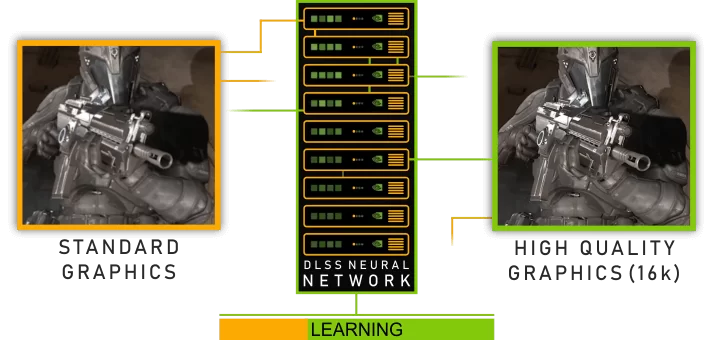 It's far easier for your GPU to run this neural network when you're playing a graphically intense game running at a low frame-rate, than it is to keep drawing new frames from scratch. DLSS uses a fixed amount of time per frame as opposed to a non-DLSS game. You can thank the tensor cores for this, as they've been specially designed to run AI. To date, only RTX cards have access to this feature, as they have specific hardware designed for Ray Tracing and AI processing built-in.
DLSS 2.0 aims to provide near native resolution quality while requiring the GPU to render under half the pixels it would generally need to handle. There are also other efficiency improvements to 2.0, enabling it to process images faster, thus boosting frame rates and further increasing game performance.
Another big advantage is that the neural network is more advanced and generalised than ever, so instead of constantly having to train it for every game, NVIDIA now uses more general visual content which represents a wider variety of different games. This means improvements can be delivered to gamers more quickly, and that more game developers may be tempted to integrate API technology into their games. With DLSS, gamers can now decide how they want to manipulate this technology rather than leaving up to their GPU and driver. They can choose between three modes: Performance, Balanced and Quality. These control the game's internal rendering resolution, producing higher quality images or better frame-rates. Choosing Quality mode vastly increases the details in a scene, such as the sharpening of distant objects which would normally be lost, detached or appear jagged (anti-aliasing). Text also becomes much crisper. Even in Performance mode, it's possible to enable up to 4x super resolution - so from 1080p up to 4K!
Conclusion
In some cases DLSS can make games look more detailed than they normally would at their native resolution. Some may say DLSS in some parts of the image are inferior compared to that of standard rendering. However, processing power is increasing at neck-breaking speeds and as algorithms are finely tuned by the AI's deep learning process, we can expect it to become easier to run as it evolves to provide smoother frame rates without compromising on game quality or performance.
How Do I Ensure That My GPU is RTX Ready?
As mentioned previously, you need an RTX capable graphics card, such as NVIDIA's 2nd-Gen or 3rd-Gen GPU: the RTX 2000 or 3000 Series cards. You should also make sure your GPU drivers are up to date and that you have enabled the game optimisation setting within the GForce Experience App. Finally, ensure that your version of Windows 10 is equal to or greater than version 1809.
DXR vs RTX
I guess some of you may have heard of DXR as well as RTX and are wondering what the difference is between the two. To put it simply, RTX is the generic technology used by NVIDIA RTX graphics cards and DXR is Microsoft's DirectX ray tracing, which is pretty universal. NVIDIA supports DXR on some of their Pascal GTX 10 and Turing GeForce 16 series graphics cards, if only at lower RT (ray tracing) quality settings and resolutions, while GeForce RTX cards have up to 2-3x faster performance thanks to the dedicated RT Cores. These enable the use of higher quality settings and resolutions at higher frame-rates.
What about AMD, do their graphics cards support ray tracing? AMD has already announced full ray tracing support for Radeon RX 6000 Series RDNA 2 GPUs, utilising Microsoft's DirectX 12 ray tracing (DXR API).

The list of NVIDIA cards that support DXR via the latest GeForce drivers are as follows:
NVIDIA Titan V
NVIDIA Titan XP
Titan Titan X
NVIDIA GeForce GTX 1080 Ti
NVIDIA GeForce GTX 1080
NVIDIA GeForce GTX 1070 Ti
NVIDIA GeForce GTX 1070
NVIDIA GeForce GTX 1060 6 GB
NVIDIA GeForce GTX 1660 Ti
NVIDIA GeForce GTX 1660
You can read more here on GeForce GTX and DXR ray tracing on NVIDIA's website.
How to Enable RTX
You will generally find the option to enable RTX, or even DXR or DLSS for that matter, within the advanced settings under video or display. After applying the change, you may be required to restart the game in order for the settings to be applied.
With some games, like Battlefield 5, these settings can be found in the section More > Options > Video > Advanced. You will see the option for DXR, but you won't be able to enable it until you turn on DX12 (DirectX). Then it's just a case of going back and turning on DXR.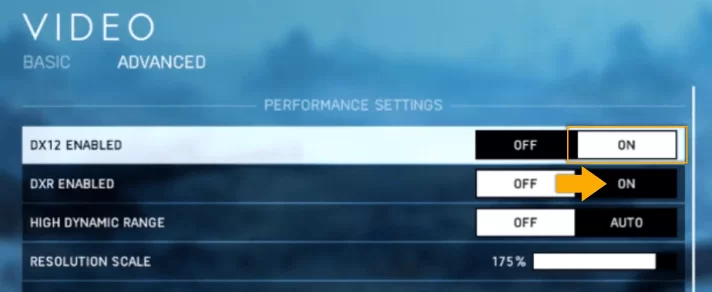 DLSS 2.0 Games
At present, only four games support DLSS 2.0 Here is the current list:
Control (8k in ultra performance mode)
Cyberpunk 2077 (Dec 2020)
Deliver Us The Moon
MechWarrior 5: Mercenaries
Wolfenstein: Youngblood (8k in ultra performance mode)
DLSS Games
There are currently 26 games that support DLSS.
Anthem
Battlefield V
Bright Memory
Call of Duty®: Black Ops Cold War
Death Stranding
Edge of Eternity (2021)
Enlisted
F1 2020
Final Fantasy XV
Fortnite
Ghostrunner
Marvel's Avengers
Metro Exodus
Minecraft
Monster Hunter: World
Moonlight Blade
Mortal Shell
Mount & Blade II: Bannerlord
Port Royal (3D Mark)
Pumpkin Jack
Ready or Not
Ring of Elysium
Shadow of the Tomb Raider
War Thunder
Watch Dogs: Legion
Xuan-Yuan Sword VII
If you want to add your own comments, please share them in the comment section below.